The easiest and most delicious Pulled BBQ Jackfruit Sandwiches, made in the Instant Pot! A perfect meal for the middle of summer when it's too hot to turn on the oven.
This post contains affiliate links, which means I receive a small commission if you make a purchase using these links.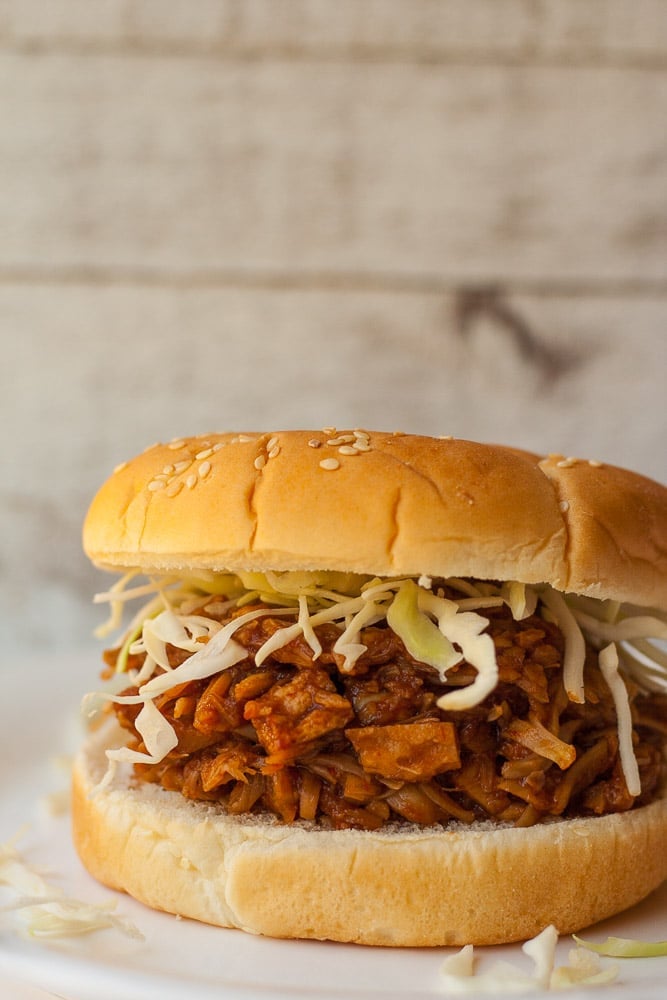 Have you guys tried jackfruit yet? I was hesitant for so long, and I don't know why now! This stuff is pretty incredible and totally drool worthy. This recipe, 6 Ingredient Pulled Jackfruit, from Sam over at the amazing blog, It Doesn't Taste Like Chicken, was my introduction to the stuff. And oh my goodness, if you want to drop what you're doing right now and go make that recipe, that's okay with me! It's fantastic. Jackfruit is crazy; when you cook it up a little bit, it shreds really well and resembles pulled "meat". It's actually a fruit with little calories, and takes on whatever flavor you mix with it or cook it in.
I wanted to make Sam's recipe once again, but suddenly it's 100 degrees here in the Portland area, and I don't want to turn on my oven!
So I decided to give it a try in the Instant Pot, and what do you know, it turned out pretty great. I hesitate to even call this a "recipe" because it's 2 ingredients…. But it was so fantastic and easy I wanted to share it.
If you want to make things more difficult, you could always make your own barbecue sauce. 🙂 This one from The Vegan 8 looks pretty great. But if you're in a hurry like I seem to be lately, use a high quality store bought sauce. Just look out for high fructose corn syrup, and any animal products that might be hiding in there. I use the Kansas City Barbecue sauce from Trader Joe's. It has a handful of natural ingredients, and it's so yummy!
My kids give this a thumbs up, though they've never had pulled pork before, so they don't really get what it's mimicking! It's kind of funny with kids who have never really eaten meat, they don't crave the kind of things some other people do (like bacon, pulled pork, whatever it may be) that have been eating animal products for a long time. So if you are transitioning your family to plant based living, I recommend giving this pulled jackfruit a try!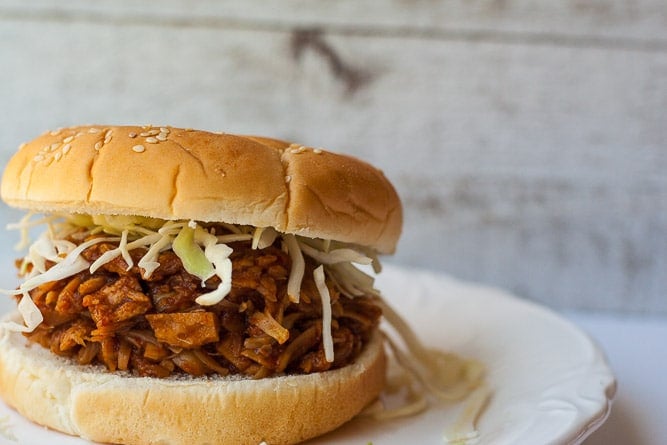 Inspired by this recipe.

Instant Pot Pulled BBQ Jackfruit
The EASIEST Instant Pot Pulled BBQ Jackfruit. A super simple and delicious meal, especially in the middle of summer when it's too hot to use the oven!
Ingredients
2 20 ounce cans jackfruit, drained and rinsed
18-19 ounce bottle barbecue sauce, or make your own
Hamburger bun (white, whole wheat or gluten free) or corn tortillas
Shredded cabbage, optional
Instructions
Pour 1 cup of water into your instant pot. Then add your drained and rinsed jackfruit to it. I buy my jackfruit at Trader Joes and it is already chopped up. If yours is different, then chop it into 1-2 inch pieces.
Bring to pressure and set for 5 minutes.
Allow the pressure to release naturally for 10 minutes, then release any remaining pressure manually.
Drain the jackfruit in a colander, then add back to the instant pot.
Mash with a potato masher, until it resembles pulled pork and is shredded.
Now add in about half of the barbecue sauce and mix well. Add more barbecue sauce to taste.
Serve on buns or corn tortillas with optional cabbage.