Date Sweetened No Bake Chocolate Bites
This post may contain affiliate links. Read my full disclosure here.
A healthy, guilt-free chocolate treat that is sweetened only with dates and filled with healthy fat from raw walnuts. These Date Sweetened No Bake Chocolate Bites are guilt-free, vegan, no bake and just 3 ingredients!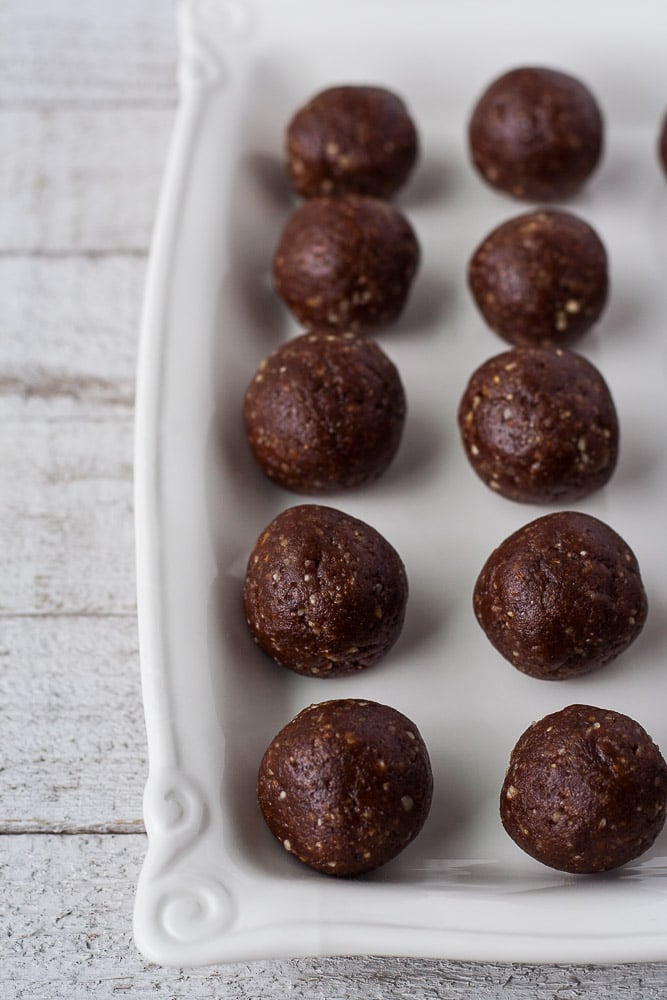 My kids give these Date Sweetened No Bake Chocolate Bites a huge thumbs up! They make a great after school snack or dessert. These are super amazing for toddlers because whole nuts are a choking hazard, and with these the walnuts are ground up so no worries! Just make sure there are no large pieces when you are rolling the balls if you are feeding these to your young child.
My kids don't love snacking on most nuts. They like roasted almonds and peanuts but that's about it. So I often make various types of nut/date balls to increase their intake of raw nuts. Why do I want them to eat nuts you might ask? Well, raw nuts and seeds such as walnuts, almonds, cashews, pepitas, flax, sesame, chia and hemp seeds are:
Nutrient Dense- full of antioxidants, minerals and micronutrients
A good source of plant based protein
A rich source of Omega 3 fat
Read more about the health benefits of nuts and seeds from Dr. Furhman.
Just make sure your nuts and seeds are raw, or lightly toast them yourself. We aren't talking about the jars of roasted, salted (or sugared) nuts that are coated in oil. That's not health food!
These Date Sweetened No Bake Chocolate Bites couldn't be easier to make.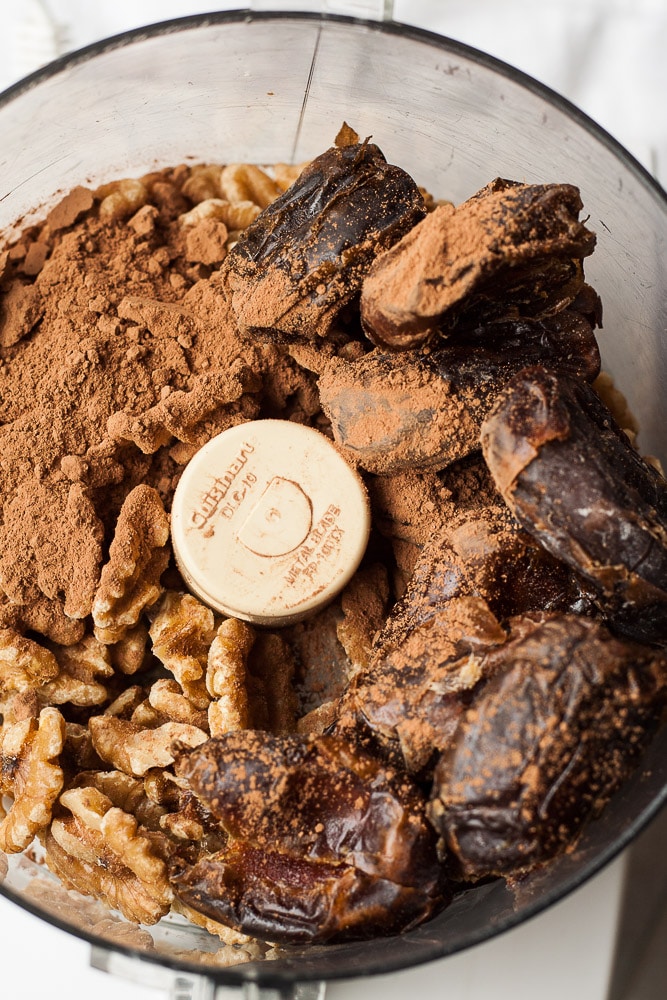 Simply throw the ingredients in your food processor  with the "S" blade and mix until a sticky dough is formed. Then roll into tablespoon sized balls. That's it! Depending on the moistness of your dates, you may need to add a tablespoon or so of water.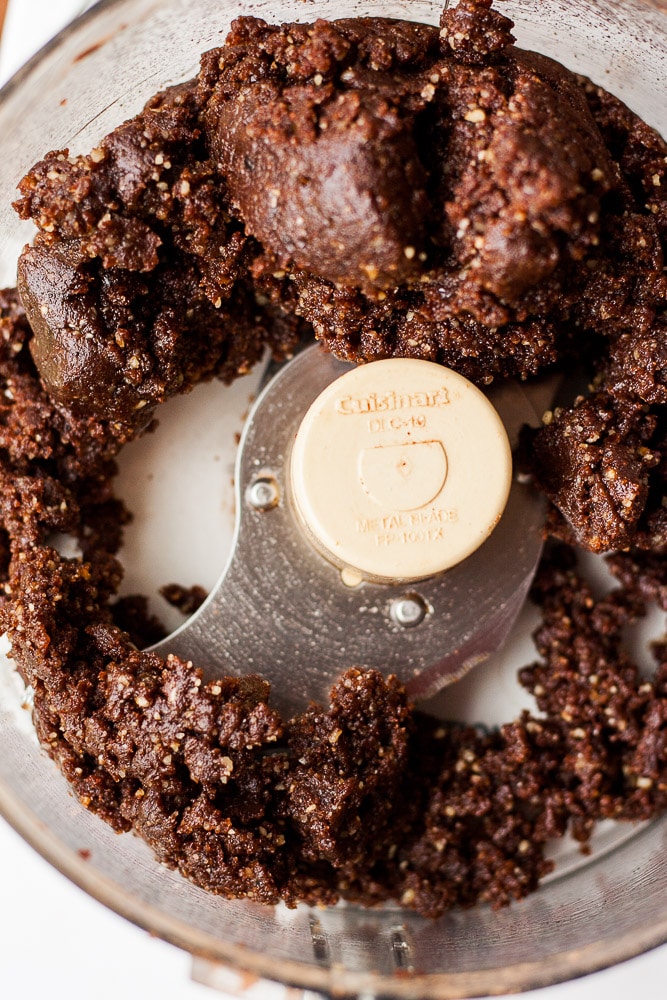 I store these in the fridge but you could freeze them as well. I like to double the recipe because these go FAST in my home! Enjoy this guilt-free chocolate dessert.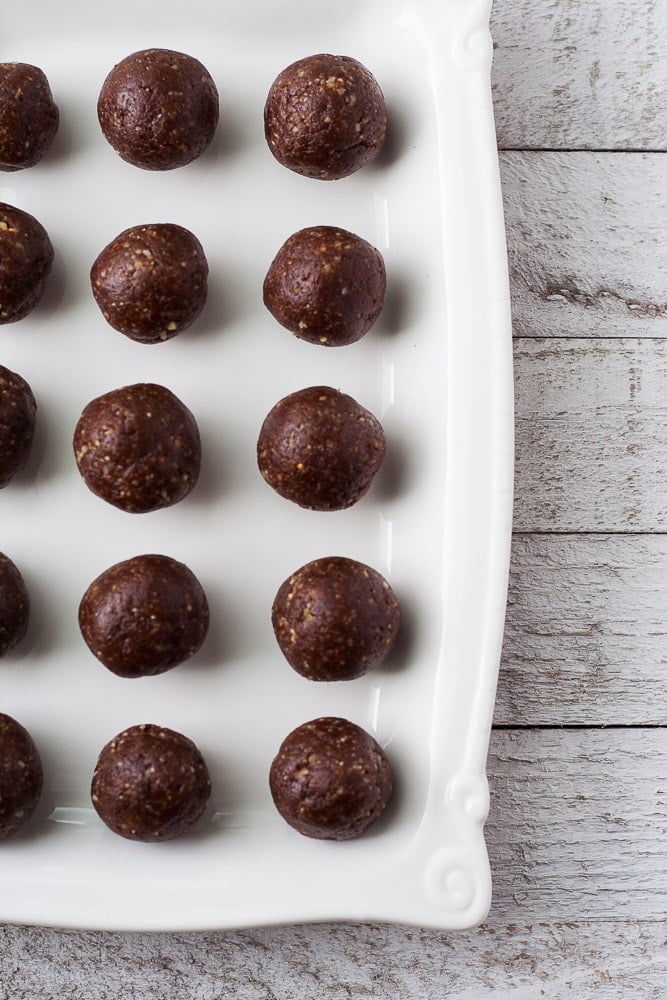 I like to sneak nuts into all sorts of things, especially dessert recipes such as these:
Almond Meal Chocolate Chip Cookies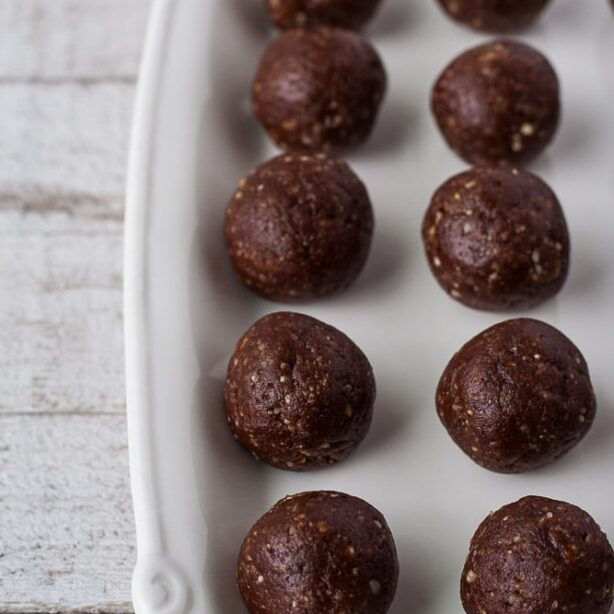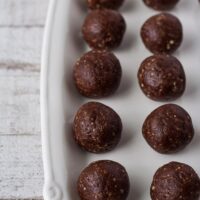 Date Sweetened No Bake Chocolate Bites
Healthy, guilt-free no bake treats that are sure to satisfy your chocolate cravings.
Ingredients
1 1/2

cups

raw walnuts

10

large soft medjool dates

,

pitted

4

tablespoons

cocoa powder

1

tablespoon

water

,

optional
Instructions
In a food processor with an "S" blade, add the walnuts, dates and cocoa powder.

Process until a sticky dough is formed, about 1-2 minutes. You may need to scrape the sides of your food processor a few times so that it will come together. You should be able to easily roll it into balls without the dough falling apart.

If it still seems dry, add 1 tablespoon of water at a time until the dough is sticky and uniform, being careful not to add too much water.

Roll into tablespoon sized balls and place in a container. Store in the fridge or freezer.
PIN THIS IMAGE–>


We are a participant in the Amazon Services LLC Associates Program, an affiliate advertising program designed to provide a means for sites to earn advertising fees by advertising and linking to amazon.com. Read my full disclosure here