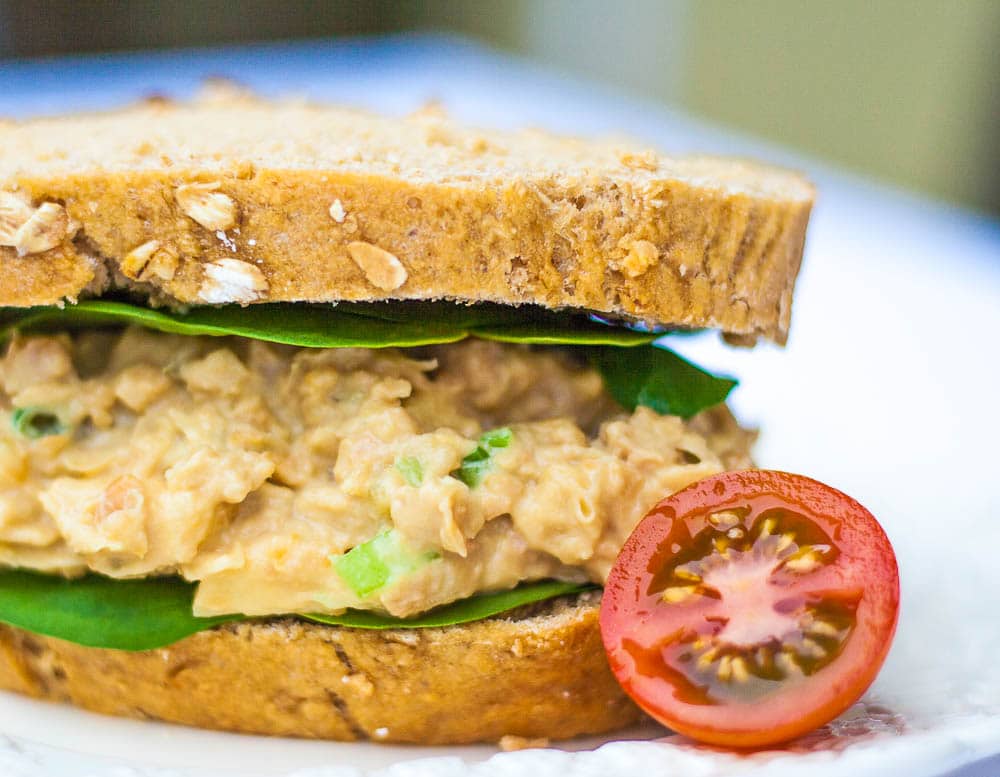 My daughter loves this Easy Apple Chickpea 'Tuna'. She actually thinks it's just what "tuna" is, since she's never had the real fishy stuff. She begs me to send it in her school lunch and reminds me to make it quite often. Right alongside bean burritos, these are definitely one of her favorite meals.
I used to really enjoy a tuna fish sandwich as a kid and I'm telling you, if you haven't already, you've got to give Chickpea Tuna a try! Something magical happens when you mash up chickpeas; they really do resemble flaky tuna. And with the addition of the rest of the ingredients it's just incredible. And SO EASY. And it's not fish, which makes it a winner in my book. 🙂
Why shouldn't you eat tuna or other fish for that matter?
Check out these articles for more information:
PCRM: Fish is NOT a health food
Top Ten Reason Not to Eat Tuna
Back to the recipe… There are a TON of chickpea tuna recipes out there, but most call for vegan mayo, which is okay but tends to be full of oil, which I try to avoid as much as I can (I'm not perfect!). If you need to use it that's fine though. I like the 'Just Mayo' brand you can find at Target and other places. Also, if you don't like the idea of apples in your 'tuna' you can leave them out, but I think they're a really yummy addition!
This Easy Apple Chickpea Tuna will be ready in 15 minutes, and almost gets better overnight for leftovers to take to school or work. Serve on whole grain bread with lettuce, tomato slices and maybe some avocado and red onion as well. Or have some over chopped lettuce with veggies for a delicious salad. Either way, it's going to be delicious!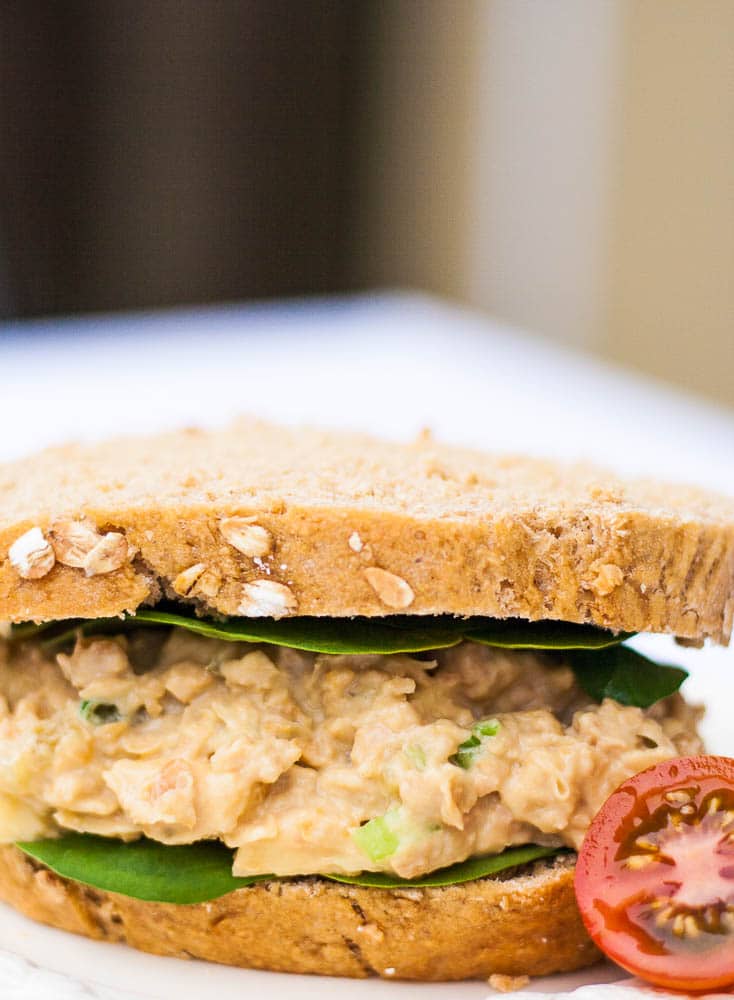 Inspired by this recipe.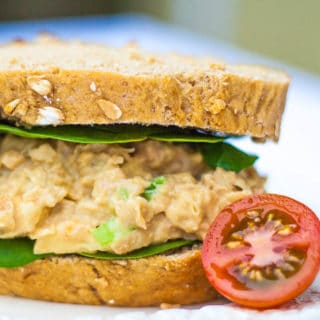 Ingredients
3

cans

chickpeas, drained and rinsed (or 4 1/2 cups cooked chickpeas)

1/2

cup

celery, chopped small

2-3

pickles, chopped small

1/4

cup

nutritional yeast

3

green onions, chopped

1

small apple, peeled and chopped

1

tbsp

low sodium soy sauce
Cashew Mayo
1

cup

raw cashews, soaked for an hour in warm water

2

tbsp

lemon juice

1/2

tsp

salt

2

tbsp

apple cider vinegar

1/2

tsp

ground mustard

1/2

cup

water
Instructions
In a large bowl, mash the chickpeas with a potato masher (or fork) until they are mostly mashed. You can leave a few beans whole if you'd like.

Add the rest of the ingredients, and as much mayo as you prefer. I used 3/4 cup for a very creamy 'tuna' but you could certainly use less.

Cover and place in the refrigerator for at least 30 minutes if you can, to let the flavors come together and allow it to become cold. You can serve right away too, it will still be good!

Serve with whole wheat bread, lettuce, sliced tomatoes and mustard for a 'Tuna' Sandwich, or on a bed of greens. I like to make some Oil-free Sweet Potato Fries to go along with this; SO GOOD.
Cashew Mayo
Drain the soaked cashews. Add cashews and the rest of the mayo ingredients to a high powered blender and blend a few minutes until smooth. Store leftover 'mayo' in the fridge for about a week.