Fried Rice Vegan Meal Prep for the Week
This post may contain affiliate links. Read my full disclosure here.
I've got an easy, satisfying and tasty meal prep for you. Prep vegan fried rice and eat for lunch all week long! Save time and money with this budget friendly vegan meal prep for the week.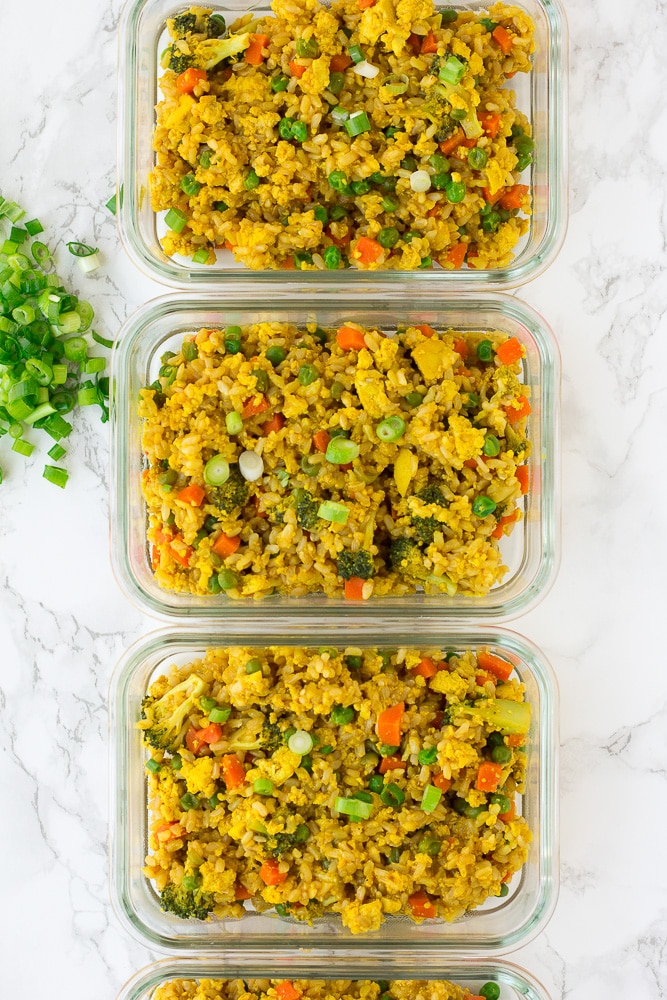 This vegan fried rice is perfect for powering you through your busy day. It's full of fiber (from the brown rice and vegetables) and protein (from the rice and scrambled tofu)! And best of all, it's SO delicious and satisfying. Gluten Free.
This meal prep includes:
1 recipe Golden Fried Rice with Scrambled Tofu
That's it!
Simply make the golden fried rice according to instructions, then divide it into containers (I got four 3-cup servings).
Notes:
I like this with Sriracha hot sauce.
For more filling power, sprinkle a few cashews on top (trust me, delicious!)
This recipe is quite flexible-add corn and other vegetables, or omit tofu if that's not your thing.
Prep some lettuce and salad vegetables and have alongside the fried rice for lunches if desired.
If you want to meal prep for 2, double the recipe. I often do this for my husband and I.

PLEASE NOTE THIS PAGE MAY CONTAIN AFFILIATE LINKS. I ONLY LINK TO PRODUCTS I ABSOLUTELY LOVE AND RECOMMEND. THANK YOU FOR YOUR SUPPORT.
What containers should I use?
I recently ordered these Glass Meal Prep Containers, and so far I love them! I did a lot of research on containers before deciding on these ones. I can't stand containers that are too small, because as a vegan we usually need larger portions to feel full and satisfied! These ones hold 3.5 cups, so nice and big, but not ridiculously so. I will be ordering more soon.
I hope you feel inspired to vegan meal prep for the week and enjoy! Check out this Nourish Bowl Vegan Meal Prep for another delicious meal prep idea.
Pin this meal prep idea to save for later and don't forget to follow me on Pinterest!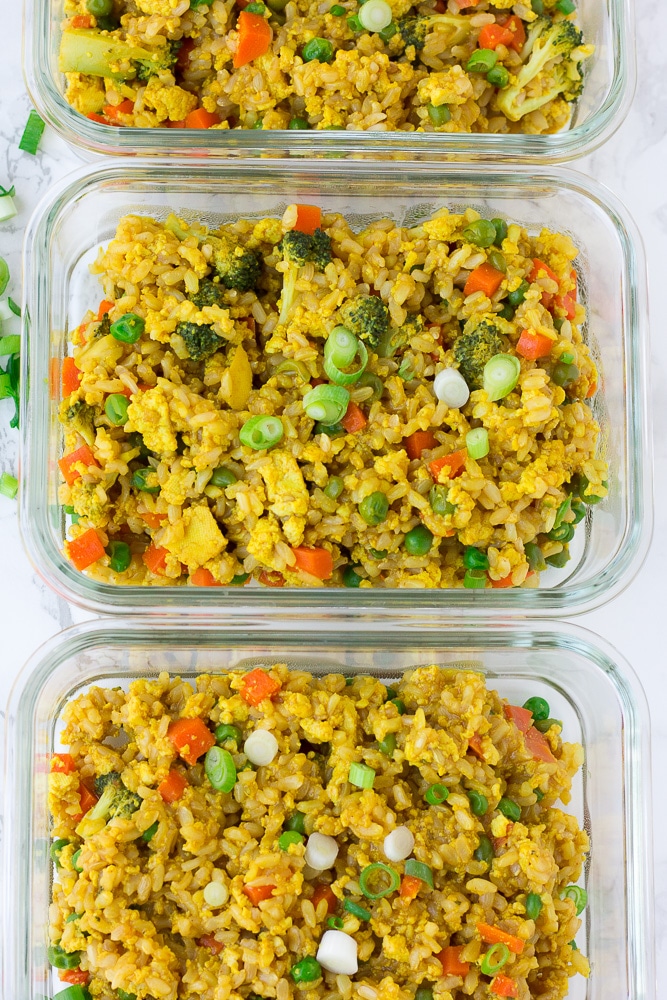 We are a participant in the Amazon Services LLC Associates Program, an affiliate advertising program designed to provide a means for sites to earn advertising fees by advertising and linking to amazon.com. Read my full disclosure here