Instant Pot Garlic Hummus
This post may contain affiliate links. Read my full disclosure here.
Make this super creamy Garlic Hummus in the Instant Pot in less than an hour! No need to soak your beans.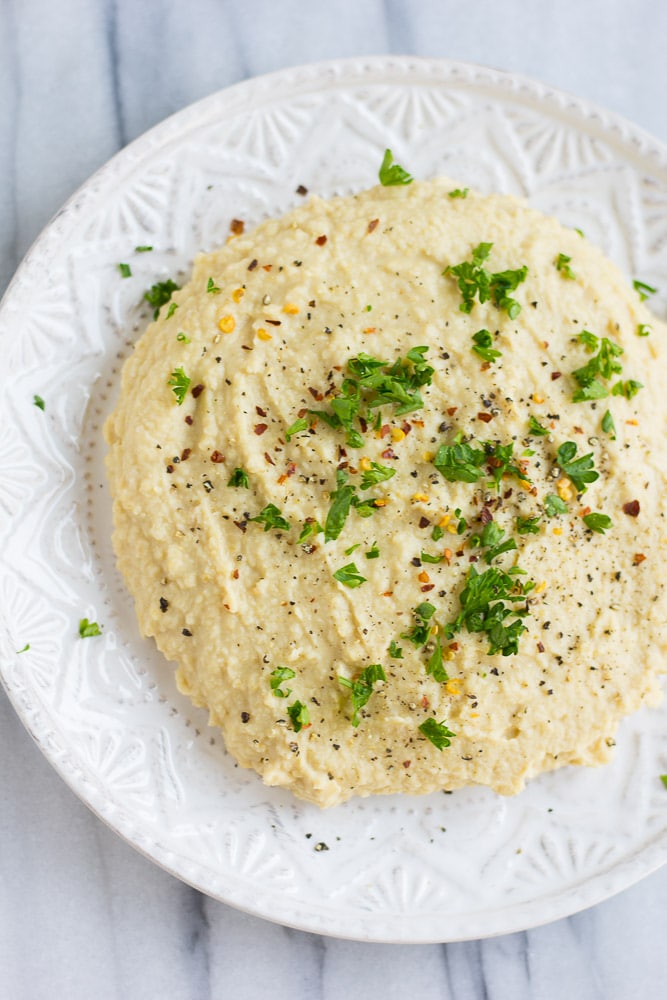 This post contains affiliate links, which means I receive a small fee if you make a purchase using these links. 
Do you have an Instant Pot yet? I got one for Christmas last year, and I'm still finding new and fun ways to use it. I'm especially loving using it right now, since it's been pretty warm in Oregon the last several weeks. The Instant Pot barely makes any heat AT ALL, so it's perfect for those hot summer days when you'd rather not turn on the oven or stovetop. I tend to make a lot of rice in it, like this Spanish Rice. The other day I cooked a bunch of dried chickpeas in it and made this Easy Chickpea Tuna, which we had for days.
Recently I've started experimenting more with cooking dried beans in it. I've heard from several sources that you don't need to soak beans before cooking them, even though I always have. The whole soaking thing is why I don't make beans from scratch more often. I just don't have it together enough to think about soaking beans the night before! So recently I have started cooking beans from dried without soaking first, and wouldn't you know, I haven't noticed a difference at all! Not in flavor or digestion. Who knew?
Well, this is how I will be making hummus from now on.
This Instant Pot Garlic Hummus is awesome. It's:
Super frugal, using dried beans
More flavorful than hummus made with canned beans
Easy to make
Super creamy and light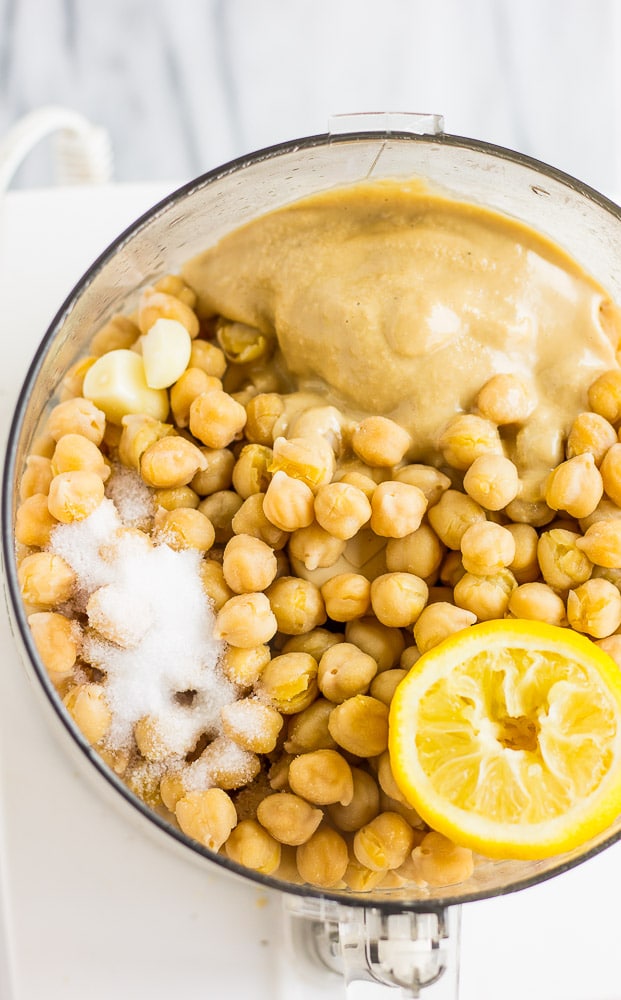 Occasionally I'll buy hummus at the store, but I try to make it at home to save money, plus it tastes better. You can also use this method for my Sriracha Lime Hummus if you're in the mood for some spice!
My kids love hummus thankfully. My daughter regularly has a hummus sandwich for lunch, which for her is just whole grain bread, hummus, lettuce, mustard and cucumber slices. Yummy. My toddler uses a spoon or any other device to get all the hummus into his mouth. 🙂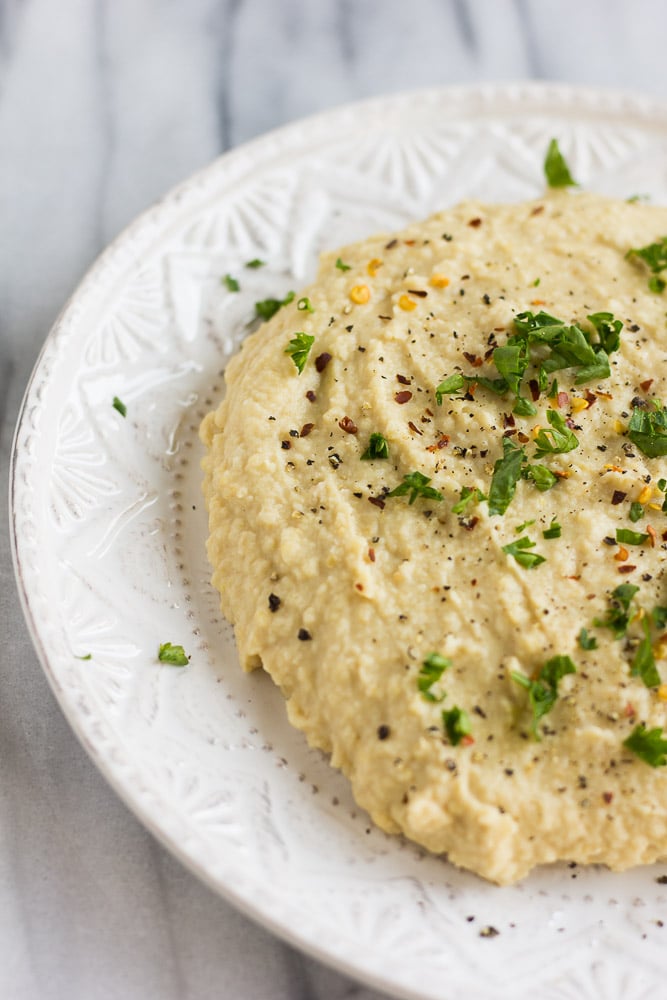 If you make this recipe, let me know how it goes! Rate it, leave a comment and tag a photo @noracooksvegan on Instagram. Enjoy!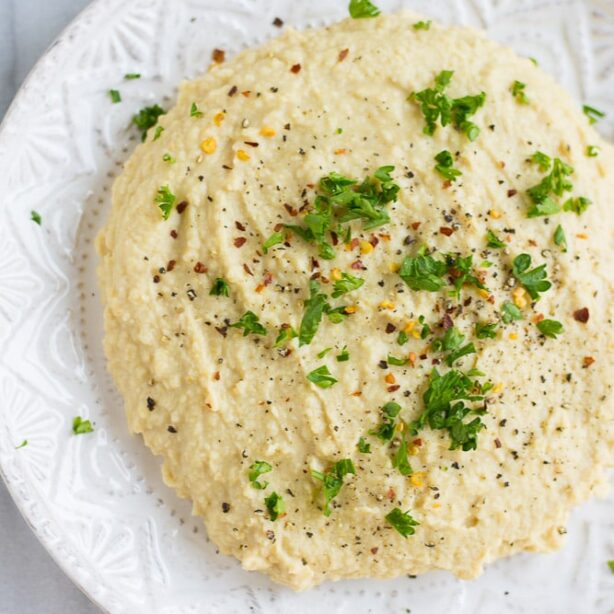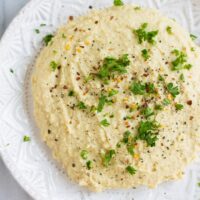 Instant Pot Garlic Hummus
Creamy and light garlic hummus, made from dried beans in the Instant Pot. No soaking required.
Ingredients
1 1/2

cups

dried chickpeas, rinsed

6

cups

water

1/2

cup

tahini

2

cloves

garlic

3

tablespoons

lemon juice, from about 2 small lemons

1 1/2

teaspoons

salt, or to taste

1/2-3/4

cup

bean cooking liquid

crushed red pepper, chopped parsley, paprika

,

optional
Instructions
Add the chickpeas and water to the Instant Pot. Cover, press the "manual" button and set the timer to 40 minutes. Make sure the valve is set to "sealing".

When the timer goes off, allow the Instant Pot to naturally release pressure for about 15 minutes. Then carefully change the valve to "venting" and allow the rest of the pressure to release.

Set a colander over a large bowl and drain the chickpeas, reserving the cooking liquid.

In a food processor, add the cooked chickpeas, tahini, lemon juice, garlic cloves and salt. Process until creamy and smooth. Add about 1/2 cup reserved bean liquid, or more, until you reach a smooth consistency. I added about 3/4 cup because I wanted it super creamy.

Season to taste and add optional toppings. I sprinkled with crushed red pepper and parsley. Paprika is also fun to sprinkle over the top.

Keep in a covered container in the fridge for up to a week.
Nutrition
PIN THIS IMAGE —– >


We are a participant in the Amazon Services LLC Associates Program, an affiliate advertising program designed to provide a means for sites to earn advertising fees by advertising and linking to amazon.com. Read my full disclosure here