Sheet Pan Marinated Tempeh Dinner
This post may contain affiliate links. Read my full disclosure here.
Cubes of tempeh are marinated in a tahini-maple sauce and baked alongside some red potatoes and brussels sprouts. Talk about a high protein and satisfying plant-based dinner!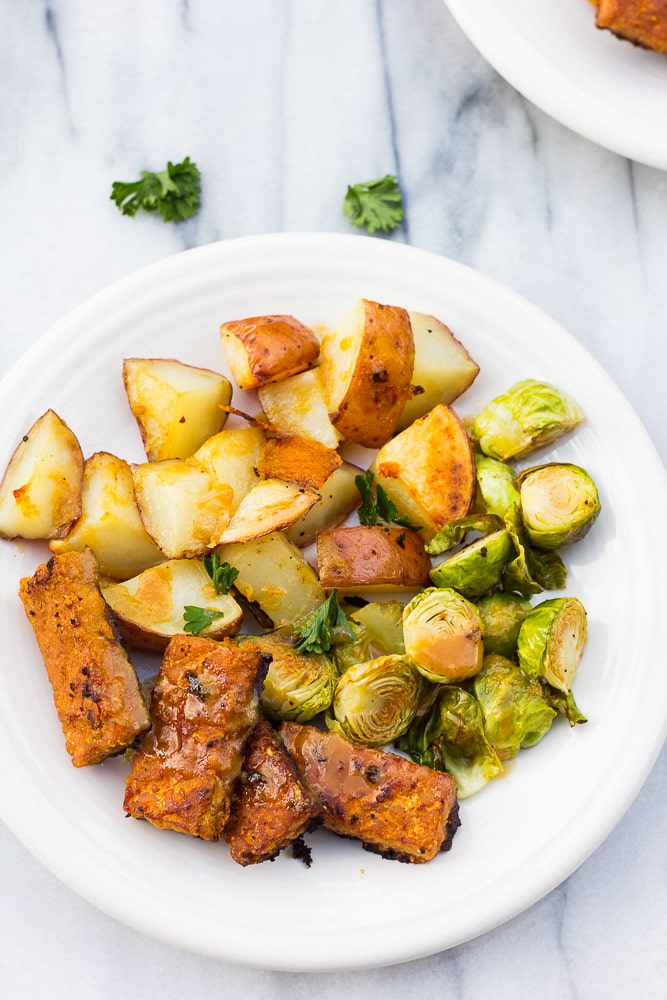 Have you tried tempeh yet?
Tempeh is traditionally an Indonesian food, made from cooked and fermented soybeans. Usually you find it fermented with some other grains, such as barley or brown rice. It has quite a distinct flavor and texture, much different than tofu. I LOVE them both! 🙂
It has 16 grams of protein per 3 oz serving, and the flavor is quite mild; a little nutty. It takes on whatever sauce or flavor you prepare it with, and it's a perfect candidate for marinating. 
*If you are gluten intolerant, make sure to look for gluten-free tempeh, which is available at Whole Foods and other natural grocers. I usually get mine at Trader Joe's because it is the least expensive, but it is NOT gluten-free.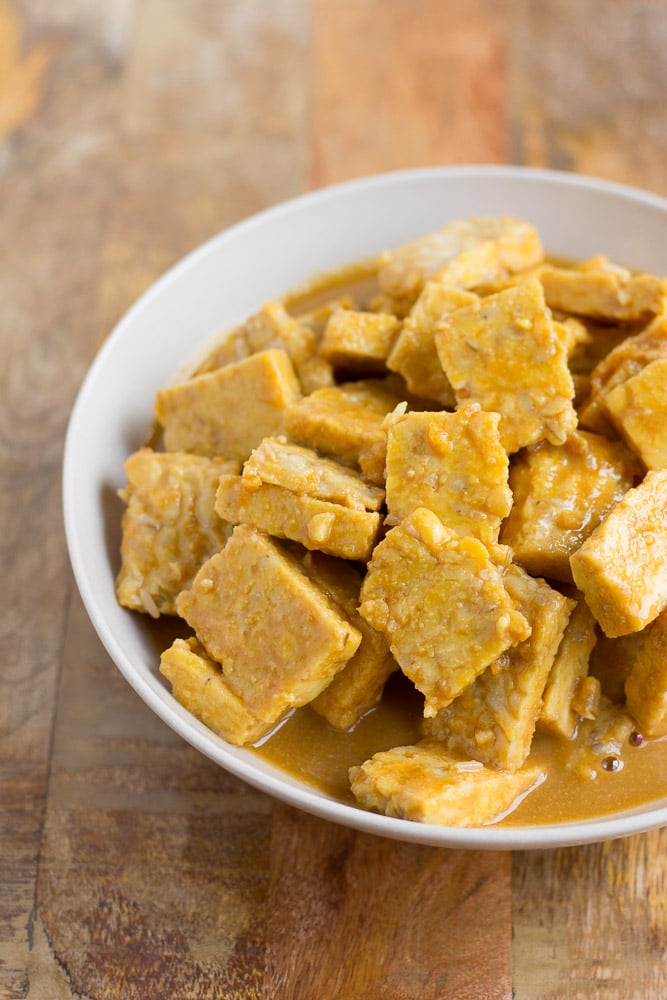 I adore sheet pan meals. Have you tried my Sheet Pan Cauliflower Fajitas yet? It's one of the most popular recipes on the site and one of my personal favorites!
I just love tossing a bunch of ingredients on a sheet pan and sticking it in the oven. One pan meals really cut down on dishes as well. Awhile ago, I got this huge pan primarily for roasting vegetables and potatoes in, but find I use it ALL THE TIME. If you do a lot of vegetable roasting or one-pan meals, I recommend you picking something like this up!
Please note this page does contain affiliate links. I only link to products I absolutely love and recommend. Thank you for your support.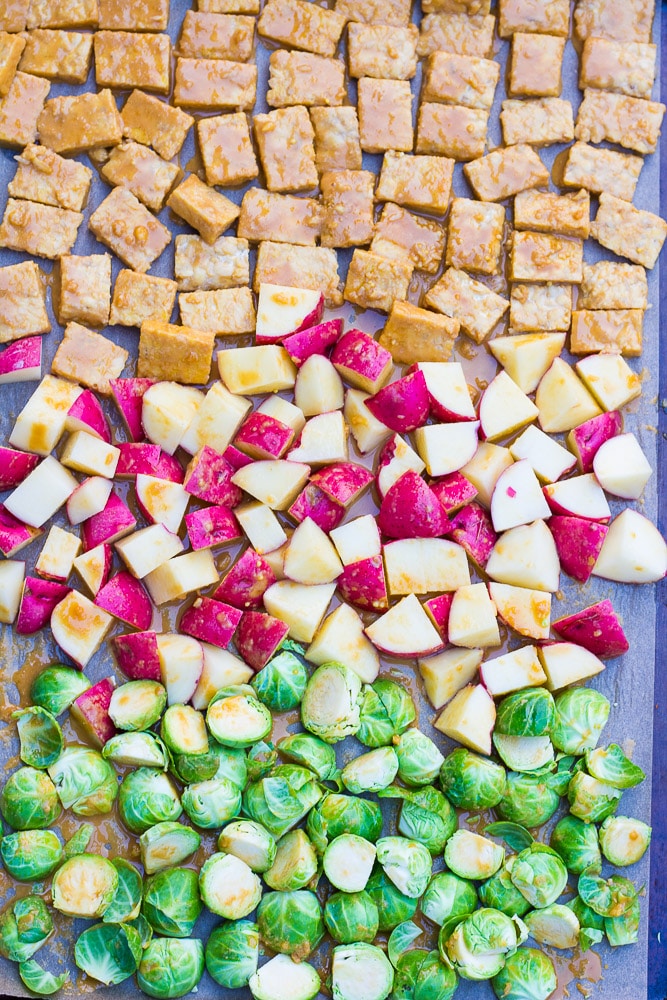 This Sheet Pan Marinated Tempeh Dinner is super simple to make and uses some of my favorite ingredients: tempeh, red potatoes and brussels sprouts.
Whisk together the tahini-maple sauce, marinate the tempeh in it for 30 minutes.
Prepare the red potatoes and brussels sprouts and place it all on a pan lined with parchment paper.
Bake. And serve. Drizzle with extra sauce.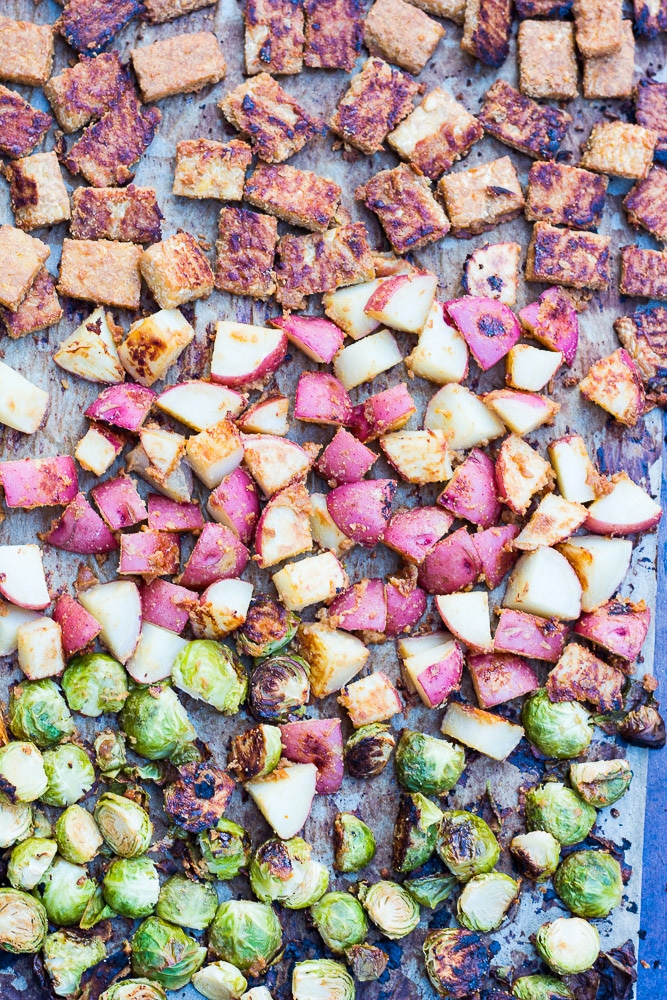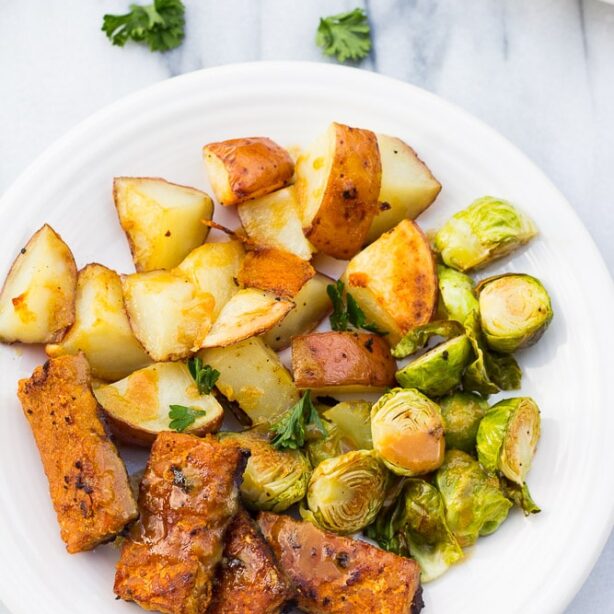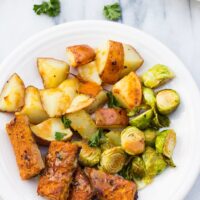 Sheet Pan Marinated Tempeh Dinner
High protein tempeh is marinated in a tahini-vinegar-maple sauce and baked in one pan alongside some red potatoes and brussels sprouts. An easy, savory and satisfying dinner.
Instructions
In a large bowl, whisk together the tahini, rice vinegar, pure maple syrup and soy sauce until well combined. Set aside.

Cut the tempeh into bite size pieces. I prefer to cut it in half lengthwise, and then cut into 1-2 inch squares or rectangles.

Add the tempeh to the marinade bowl and gently stir to make sure all the tempeh pieces are covered in the sauce. Cover and place in the refrigerator for 30 minutes while you prepare the potatoes and brussels sprouts.

Trim and halve the brussels sprouts. Wash, dry and quarter the potatoes.

Preheat the oven to 400 degrees and line a large sheet pan with parchment paper. If your pans are small you may need two.

Add the marinated tempeh to the pan, reserving the sauce for once it's done cooking. Add the brussels sprouts and quartered potatoes as well. Spray the brussels and potatoes very lightly with oil, or omit if you are avoiding oil.

Bake for 15 minutes. Remove, give the potatoes and brussels a shake and flip the tempeh over. Return to the oven and bake for 20 more minutes.

Remove from the oven and check the potatoes. Once the potatoes are cooked through, you are done. If you have large potatoes, they may take a little longer to cook. In that case, simply remove the cooked tempeh and brussels from the oven and allow the potatoes to cook a little longer.

Now brush some of the marinade onto the tempeh, drizzle a little on each serving of potatoes and brussels sprouts, and serve.
Notes
-Try to cut your potatoes small-ish, about 1 inch big, so that they will cook more quickly.
-This would also pair well with cooked rice, farro or quinoa.
-For a slight variation, use sweet potatoes instead of red, or broccoli instead of brussels sprouts.
-To make this gluten-free, simple use gluten-free tempeh and tamari in place of the soy sauce.
Nutrition
PIN this image for later! —— >


We are a participant in the Amazon Services LLC Associates Program, an affiliate advertising program designed to provide a means for sites to earn advertising fees by advertising and linking to amazon.com. Read my full disclosure here