Oil Free Super Crispy Fries
This post may contain affiliate links. Read my full disclosure here.
You will not believe just how crispy and delicious these Oil Free Super Crispy Fries are! No one will ever guess that they are virtually fat-free, low calorie and healthy.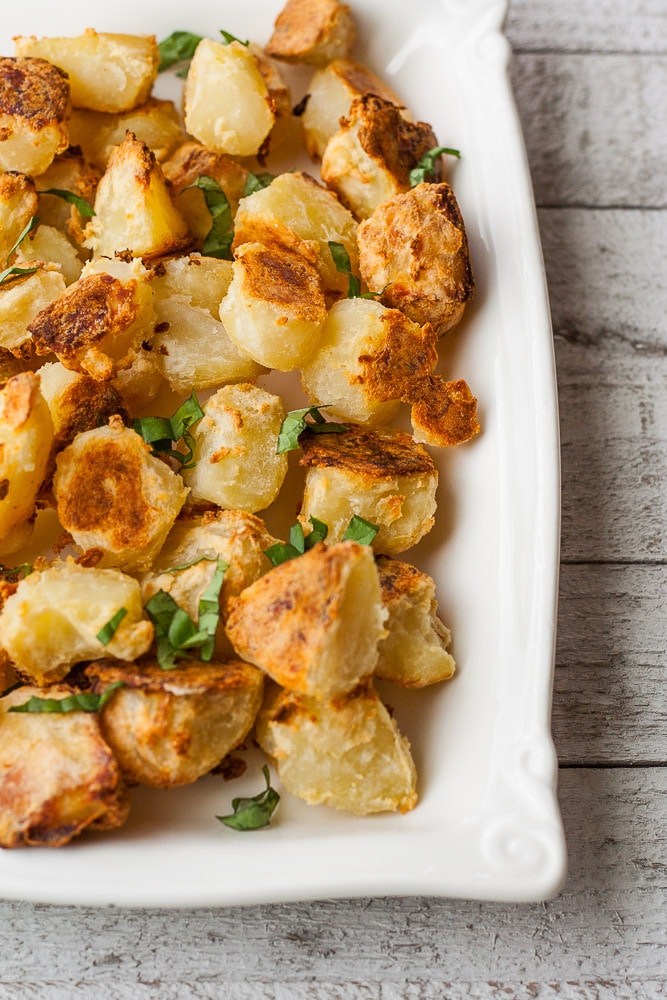 These Oil free Super Crispy Fries are my new favorite side dish. Actually, they make a great main dish, too! They are filling and healthy, and go really well with a large salad, roasted vegetables or alongside some homemade veggie burgers.
Some of you might be asking, "but I thought potatoes were bad for you"?
Well, I'm here to tell you that's simply not true! Which is great news, because potatoes are among the most satisfying foods on the planet. Let me tell you some quick facts about the humble potato:
They are:
Only 110 calories per serving
A good source of potassium (more than a banana!)
A good source of Vitamin C and Vitamin B6
Fat-free, sodium free, and cholesterol free
A good source of soluble fiber, the kind that keeps you full and may help lower blood cholesterol
I know it's pretty trendy right now to talk about how bad all carbs are for you, and how they will make you gain weight, but I don't believe that for a second. Carbohydrate-rich foods provide us with an array of vitamins and minerals, as well as tons of fiber. Not all carbs are created equal. High-carb processed foods are not healthy of course, that's a no brainer. But high-carb plant foods in the "whole" form are healthy, such as potatoes, sweet potatoes, rolled oats, brown rice and butternut squash. They give us energy and are important for satiation, or feeling satisfied after meals.
Just check out this guy who ate only potatoes for a year, and lost 117 pounds, improved his cholesterol, blood pressure, and improved his depression and anxiety!
In short, it's okay to eat potatoes, so enjoy! The reason why potatoes get such a bad rap is because of what we add to them. Think about it, we usually either eat them fried in who knows what kind of oil, or baked with a ton of butter, bacon and sour cream on top. Don't blame the potato! 🙂
Anyways, back to this amazing recipe! The trick to these Oil Free Super Crispy Fries is to boil the potato chunks first for about 10 minutes. Then you drain them, add the rest of the ingredients, shake them up, and transfer to a roasting pan. They will look like this and have a kind of potato paste covering them. That's good, it will make them super crispy!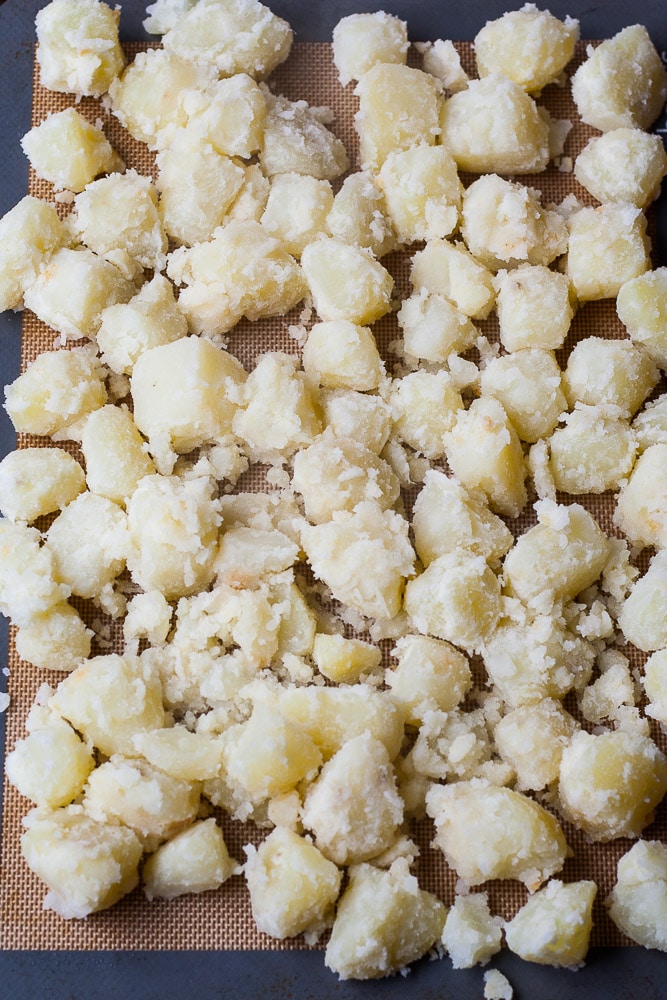 Then you roast them for 30 minutes, flip the potatoes, and roast for about 30 minutes more. Now they should look like this and be incredibly crispy and ready to eat. Enjoy!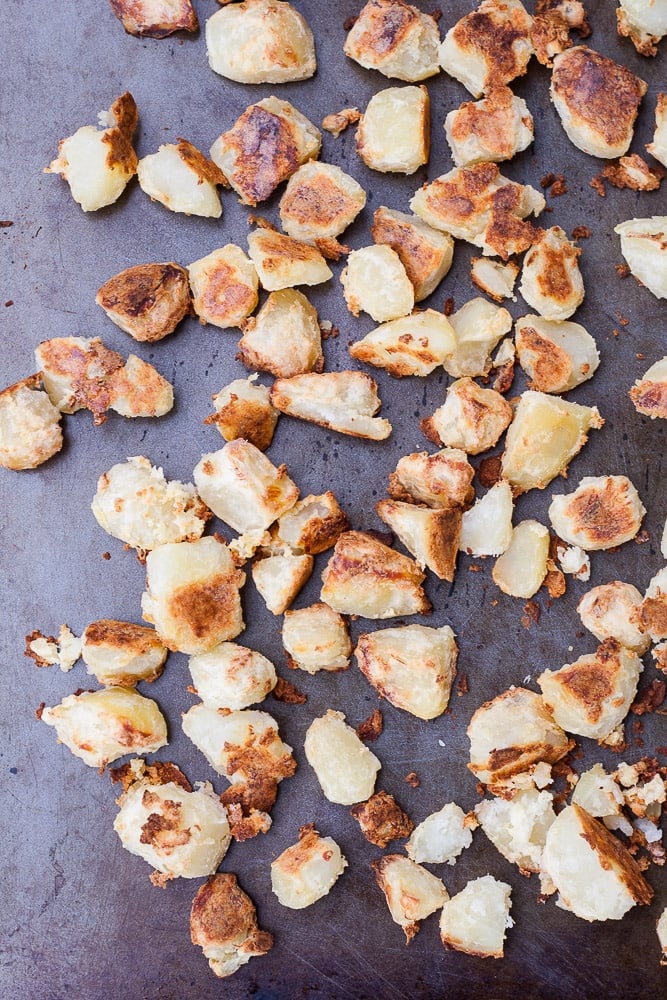 Inspired by this recipe.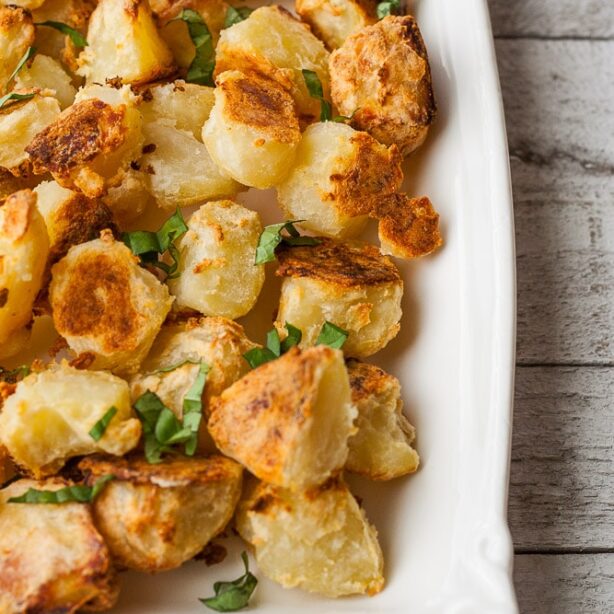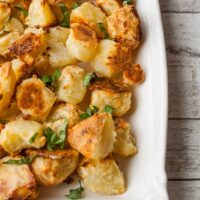 Oil Free Super Crispy Fries
Super crispy oil-free "fries". An inexpensive, kid-friendly side or main dish. Serve with your favorite vegetable such as roasted broccoli or a large salad, or alongside some veggie burgers.
Ingredients
4-5

pounds

russet potatoes

,

peeled and cut about 2-3 inches long

1/2

teaspoon

baking soda

2

teaspoons

salt

,

divided

1

teaspoon

garlic powder

1

teaspoon

onion powder
Instructions
Preheat the oven to 425 degrees and prepare a large roasting pan either with parchment paper or a silicone mat. If your pans are smaller you will need two.

Add the peeled and cut potatoes to a large pot. Cover with water and then add the baking soda and 1 teaspoon salt. Stir and bring to a boil.

Simmer for about 10 minutes, just until a little resistance is met when you insert a fork into the potato chunk. You don't want them super soft and overcooked at this point.

Drain the potatoes, and add to a large bowl with a lid, preferably.

To the large bowl with the potatoes, add the remaining 1 teaspoon salt, garlic powder, onion powder, and either stir very well, or put the lid on and carefully shake the bowl until all ingredients are well combined. There will be a thick paste on the potatoes at this point; that is what you want.

Transfer the potatoes to the roasting pan(s), spreading them out evenly.

Roast for 30 minutes, then turn the potatoes and roast for about 30 minutes more.

Remove from oven and serve.
Try these Vegan Cheesy Broccoli Twice Baked Potatoes for another delicious potato recipe!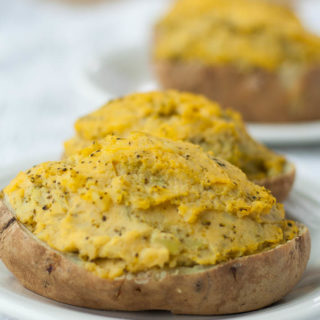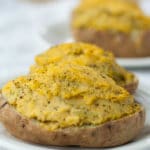 We are a participant in the Amazon Services LLC Associates Program, an affiliate advertising program designed to provide a means for sites to earn advertising fees by advertising and linking to amazon.com. Read my full disclosure here