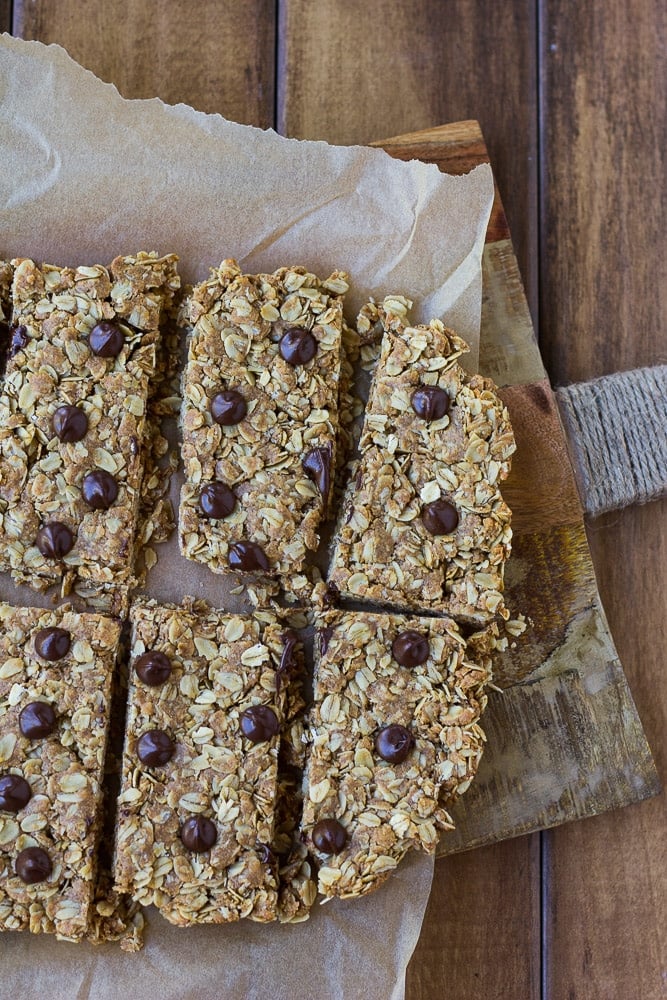 Lately, I'm really working on trying to save more money on groceries ( See this post for my best tips).
One area that can get insanely expensive fast are kid's snacks. Now, my little guy, who is almost 2, is pretty great and doesn't really know that much about what he should have for snacks. He will eat leftovers, fruit, veggies, toast, etc. He is CRAZY for hummus. Like, for real. Sometimes he just uses his finger and shovels it straight in. 🙂 He eats little meals all day long. We don't have goldfish, or gogurts (yuck, right!?), or any of the usual toddler snacks around.
Unfortunately, in the past we have developed some less than desirable habits in our older kids. They know about "snack" foods, and it's been a bit of a difficult transition for them. I think we are finally getting somewhere though! Now, when they come in the house apparently starving, I tell them to grab a piece of fruit. You would not believe how many bananas this household goes through in a week, it's ridiculous!
The other thing they love are bars, such as any granola bar or Clif bar. I don't mind them eating those now and then, but they're super expensive and not very healthy, and I just don't want to buy them anymore.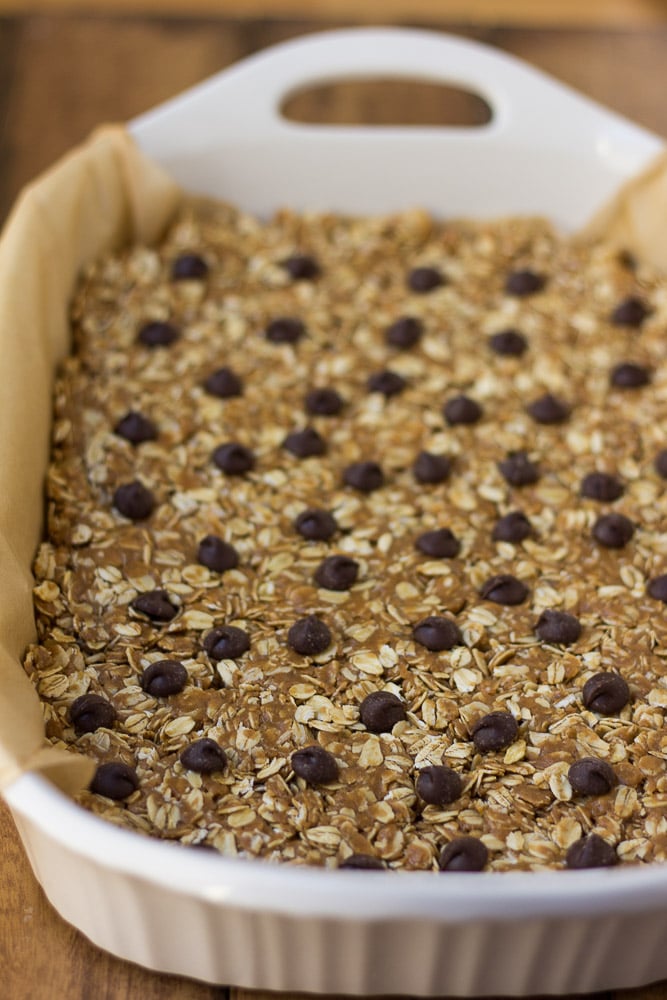 So I whipped up a batch of these Peanut Butter Oat Snack Bars. My kids LOVED them, and they were filled with energy to keep playing hard until dinner. Ah, summer. We shared them with a few of the neighborhood kids, who also loved these bars.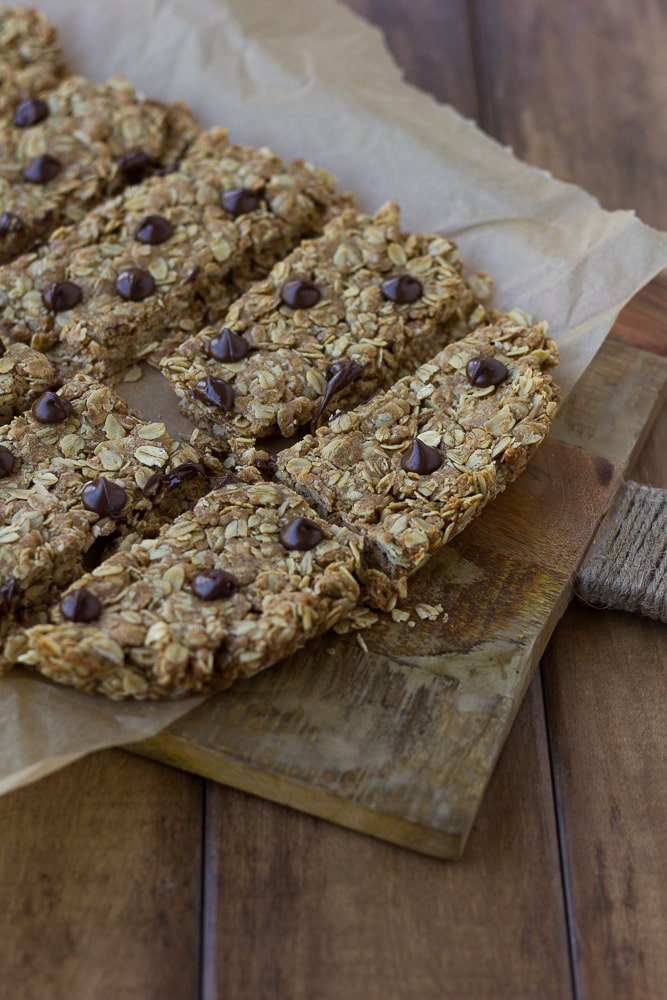 I think you will love these Peanut Butter Oat Snack Bars.
They are:
Chewy
Perfectly sweet
Peanut buttery
Protein & fiber rich
Easy to make (5-6 ingredients!)
& Delicious!
For some other homemade easy snack recipes, check out my Best Ever Oil Free Nut Granola, Pumpkin Molasses Mini Muffins or Date Sweetened No Bake Chocolate Bites.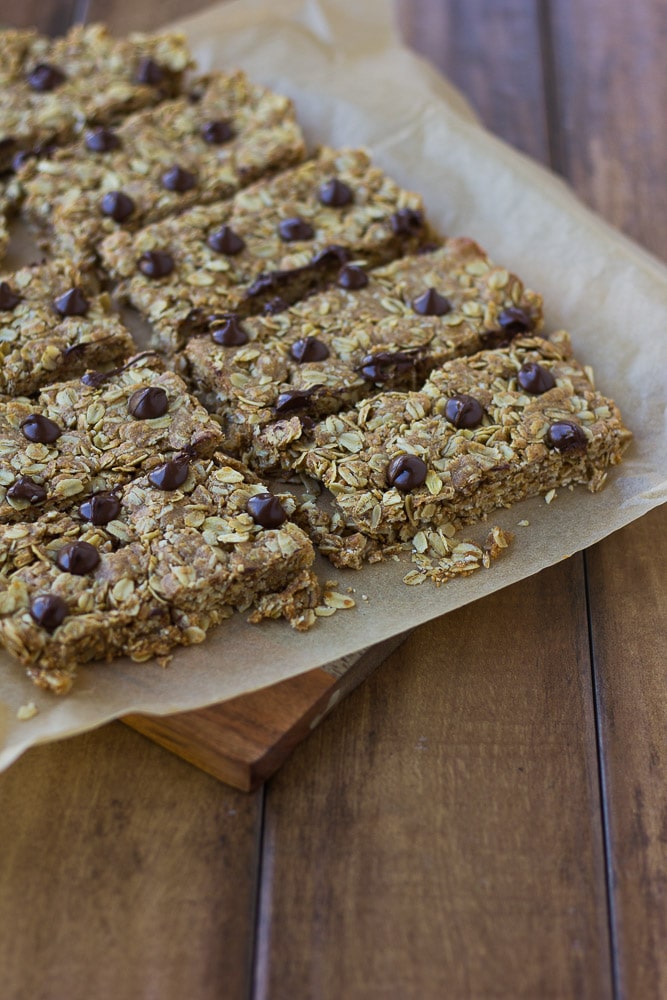 Adapted from Isa's recipe in the Forks Over Knives Cookbook.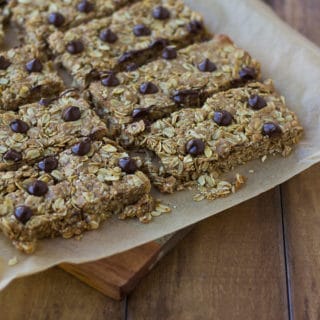 Peanut Butter Oat Snack Bars
These snack bars will keep your kids going through all their activities! They are a great homemade, easy oatmeal bar full of oats and peanut butter.
PRINT
PIN
RATE
Ingredients
1

cup

natural peanut butter (just peanuts and salt maybe)

1/4

cup

brown sugar

1/2

cup

brown rice syrup

2

teaspoons

pure vanilla extract

4

cups

rolled oats

non-dairy chocolate chips, optional
Instructions
Preheat oven to 350 degrees. Line a 9 x 16 pan with parchment paper and set aside.

In a medium saucepan, add the peanut butter, brown sugar and brown rice syrup. Heat gently over low-medium heat just until warm and well incorporated, stirring constantly.

Remove from heat and add in the vanilla. Stir and then dump in the rolled oats. Stir well to combine. The mixture will be quite thick.

Now wet your hands, and press the bar mixture into your prepared pan. Press down evenly and pack the bars as tight and evenly as you can. Sprinkle chocolate chips on top and push down with your fingers if desired.

Baked for about 20 minutes, or until the side of the bars are slightly golden brown.

Remove and let cool for about 10 minutes in the pan, then lift the bars out with the parchment paper. Let cool completely before cutting into bars or squares.

Use a heavy knife to cut into bars. You can wrap the bars individually for a quick grab option, or simply store in a lidded container at room temperature.
NUTRITION INFORMATION