Are you tired of trying to figure out what to have for dinner? Are you interested in simplifying and streamlining your family's meals and shopping each week? I know I am!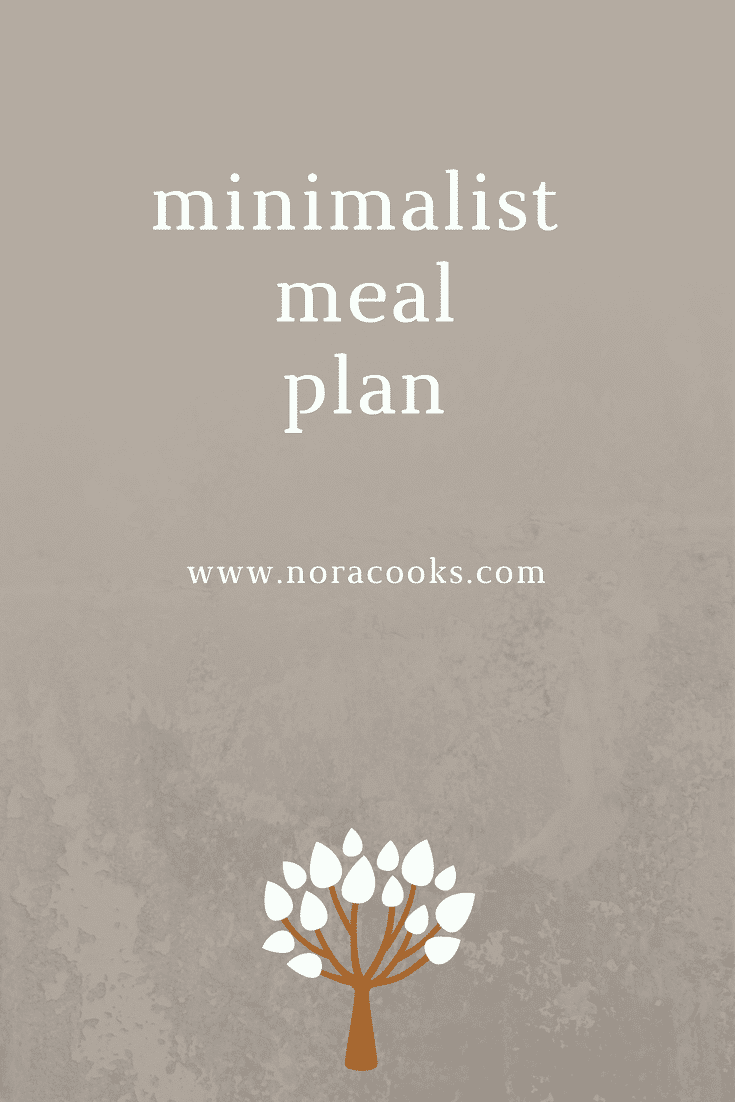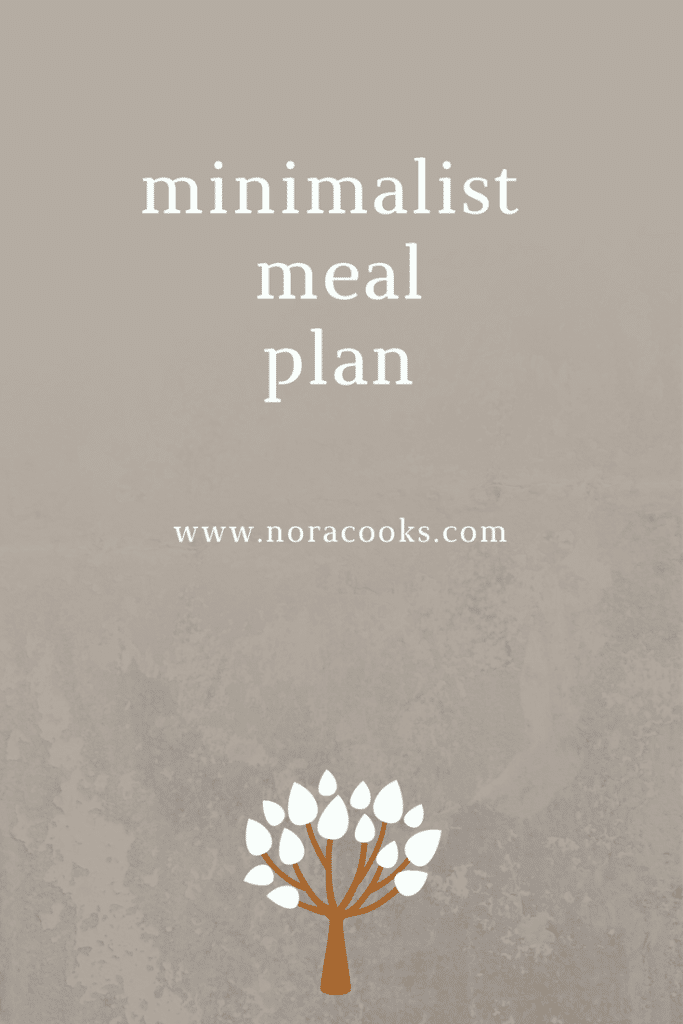 With 3 kids (particularly 1 toddler boy who is not quite 2 but definitely acting like it already!), a husband who works full time, housework, and my own aspirations (this blog), I have been working on simplifying different areas of our life, in order to make room and energy for the most important things. Like spending quality time with my kids and getting done what I hope to any given day.
I was listening to a podcast on my walk the other day about Minimalism + Meal Planning and it really resonated with me. Meal planning in the past has taken up a good hour of my time each week! First, I look in the cupboards and fridge to see what we still have, I think about what recipes I want to make each day of the week, then I make a detailed list, including categories and which store I will buy the items at (at least 2 different stores!). Then, I go on a big shopping trip that can be quite overwhelming!
So I decided to sit down and write out a Plant Based Minimalist Meal Plan. Which means we will be eating the same dinners (more or less) each week. I consulted with my kids about what meals we should pick for our weekly meal plan, and they are super excited! I'm convinced that kids don't want to be surprised when it comes to meals, they really thrive on knowing what to expect, and that it will be similar week after week.
I'm sure in the future there will be a time for more exotic or elaborate meals. But right now, even if I take the time to make them my kids don't appreciate it! And that's ok. It's the place I am in life right now, and I'm so happy with it. 🙂
The Minimalist Meal Plan has several benefits:
You will always know what you're making and eating for dinner. No surprises here.
You can use the same shopping list each week! This has got to be my favorite part of the idea.
Save money! By buying the same items week after week, you can stock up when they are on sale. Or if you end up having leftovers one night, you can still use the items for the meal next week.
Conserve your energy for the most important things, not stressing about what to make for dinner.
If you have kids and they're involved in choosing the meals, they will be more excited and willing to eat it. Repetition is great for picky eaters!
If you meal plan for the week, you are much less likely to eat out. Again, major money saver.
So here it is, my Plant Based Minimalist Meal Plan. Feel free to adjust it to your own preferences. You can use mine exactly if you want. Make a shopping list based on your recipes, as well as the things you eat for breakfast, lunch and snacks. I have mine as a document on my computer, so I just print out a fresh one each week. Cross off the things you don't need and already have, and go shopping!
*UPDATE* I wrote an eBook called Plant Based Family Dinners that includes recipes and meal plans for a month! Check it out!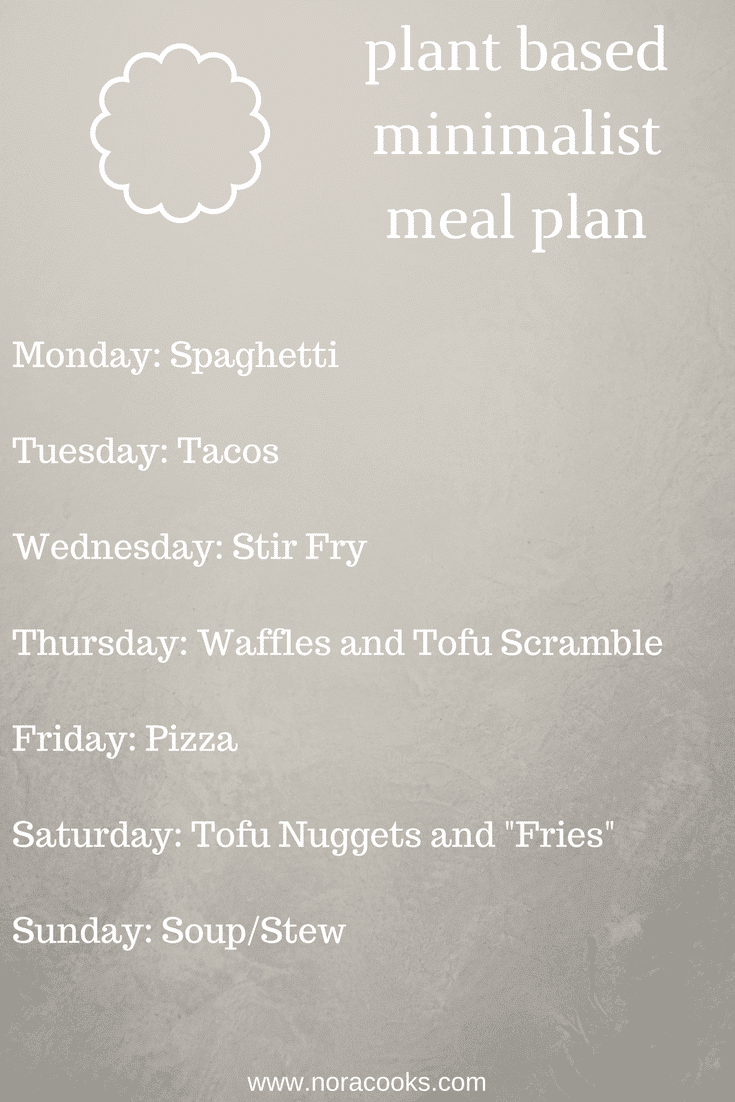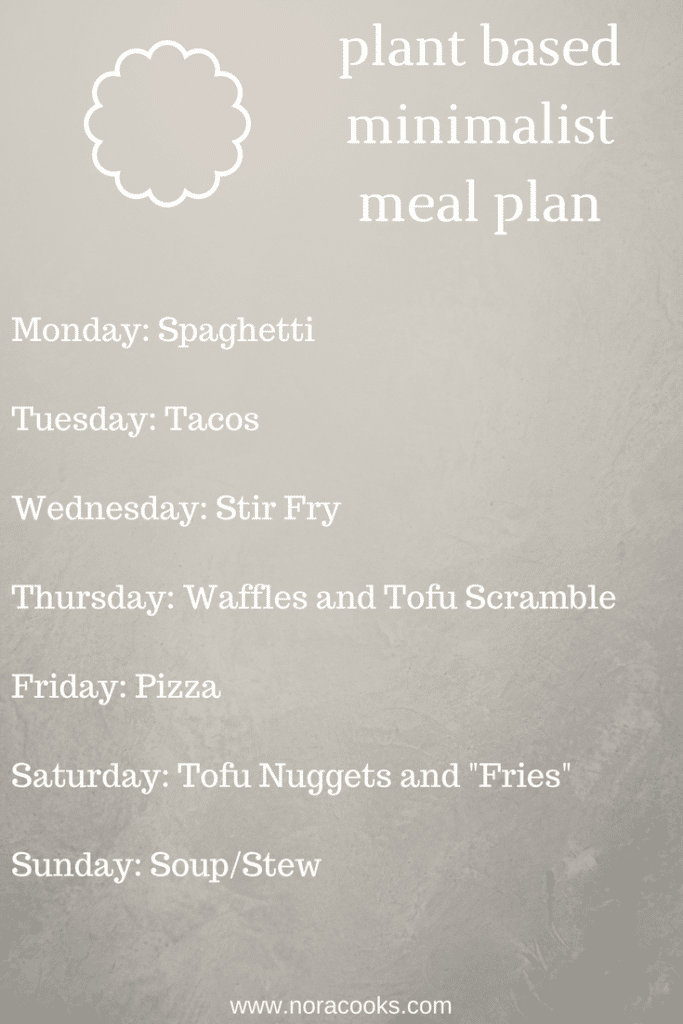 Monday
Spaghetti, "Beanballs", homemade marinara (or store bought), green salad
Tuesday
Taco Tuesday (or burrito bowls)- corn tortillas or homemade corn chips, cauliflower taco meat or cauliflower fajita veggies, black beans, avocado or cashew queso, salsa, lettuce. Spanish rice on the side.
Wednesday
Stir Fry- veggies stir fried with tofu or tempeh. Teriyaki, peanut or coconut curry sauce and either rice or rice noodles.
Thursday
Waffles and Tofu Scramble with lots of veggies
Friday
Homemade Pizza with tempeh sausage and green salad
Saturday
Tofu Nuggets, homemade sweet potato "fries" or these potato fries and roasted brussel sprouts or another cooked veggie
Sunday
Soup/Stew/Chili like one of these: Lemon Lentil Soup, Sweet Potato & Black Bean Chili, Creamy Cauliflower Soup
We eat sprouted toast with peanut butter, hummus or avocado for breakfast with some fruit. Or sometimes leftovers. The kids usually have either oatmeal, cereal, or pancakes/waffles I've made in bulk. Or toast and smoothies.
For lunch Alan likes to take leftovers, and I either have a large salad or leftovers. The kids eat sandwiches, burritos, leftovers or pasta with fresh fruit and veggies.
I hope this Plant Based Minimalist Meal Plan helps make it easier to feed yourself and your family. If you try it, leave me a comment below and let me know how it goes.
♥ Nora