Happy Monday! Today I thought I'd do a special post about Food Prep. I like to prepare several things for the week, including lettuce. I find that it is a huge money saver, and I am much more likely to eat salad all week long if I have it washed and ready to go. This is how I prepare my lettuce so I have fresh, crisp romaine for salads that will stay good for at least a week! Romaine is my favorite lettuce, ever. It's crispy and just has a fresh, clean taste. A vegan, nut based ranch dressing or Caesar dressing is amazing with crunchy romaine (Recipes to come in future weeks!). It's also good to have on hand for your plant strong burgers. 🙂
I know this takes a little prep work because you actually have to wash the lettuce, dry it, and pack it for the fridge, but it is well worth it, I promise! I've gotten so efficient at this that it only takes me 15-20 minutes to wash, spin dry and pack the lettuce for the fridge. I absolutely hate when I buy those tubs of mixed green lettuce from the store and if it's not all wilted by the time I get it home, it certainly will be within a few days, ugh… If there's one thing I can not stand for, it is wilted, slimy lettuce!!! Gross.
So here's what you do: Grab a bag of organic romaine lettuce. I found this at Costco the other day; 6 heads of romaine for $3.99!! Usually I buy a few at Trader Joes that cost twice that. It's still a pretty good deal for organic lettuce though, much more cost effective than the tubs of slimy greens that go bad quickly.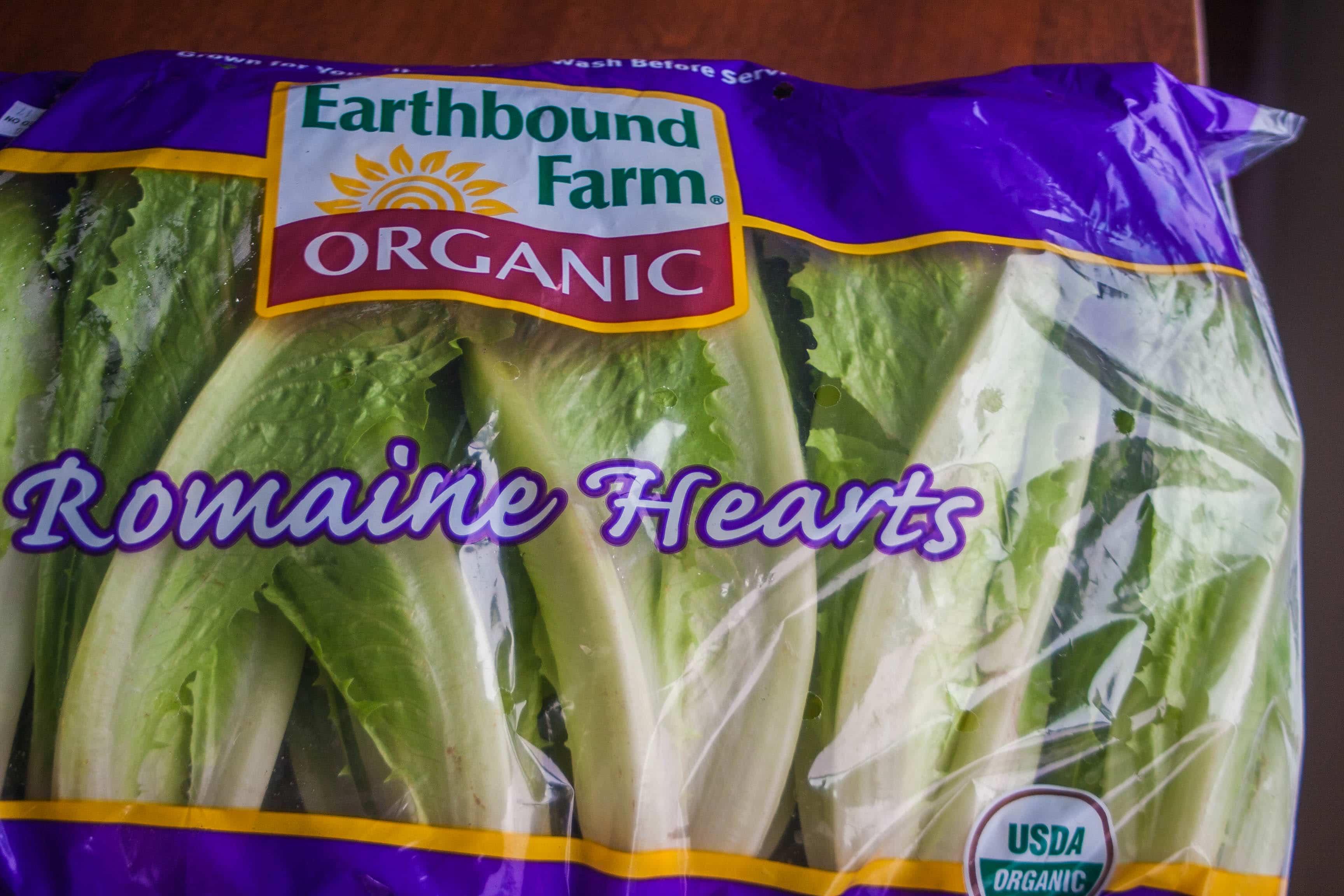 Take the heads of lettuce out of the bag, place on a cutting board, and chop off the ends, so they look like this: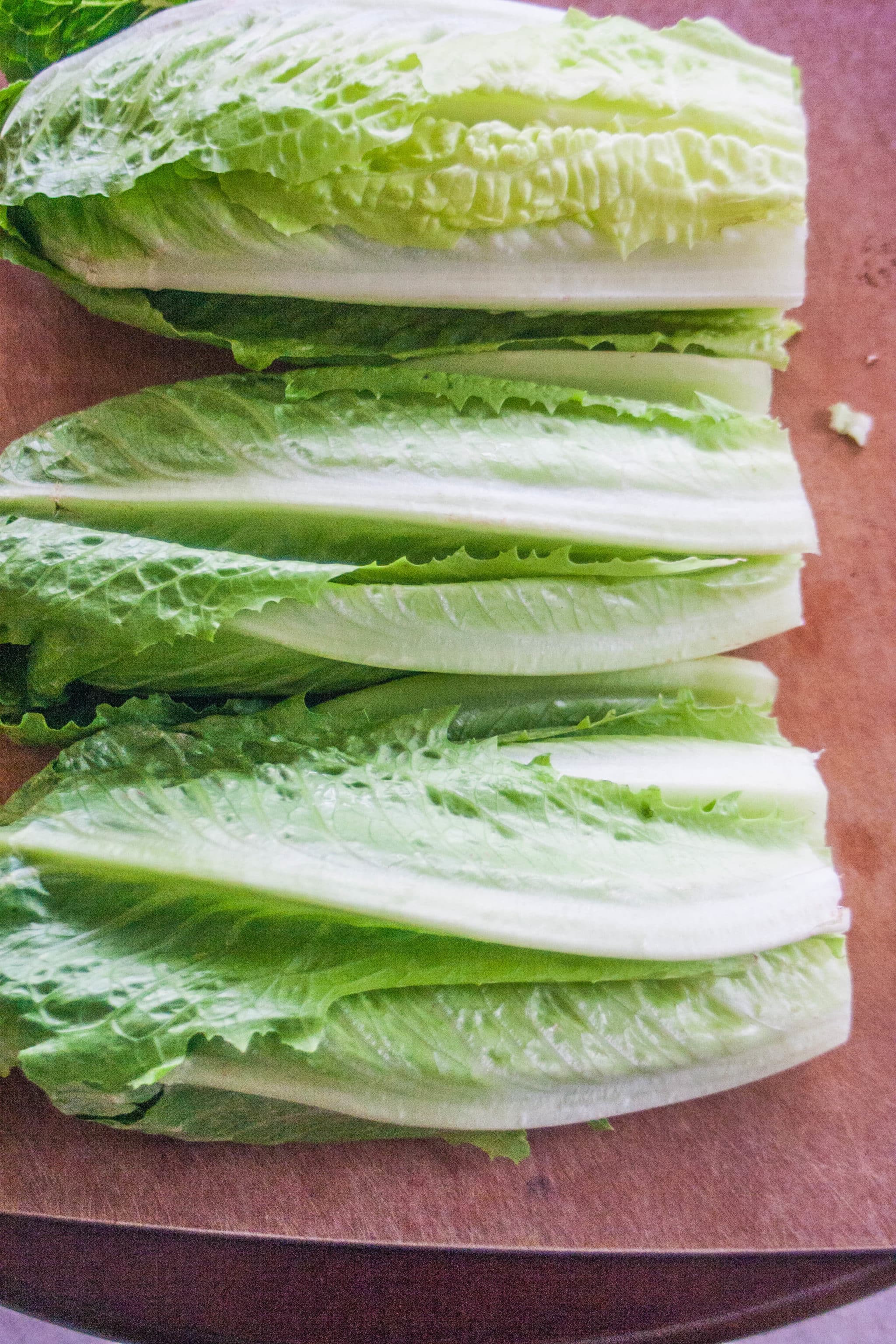 Fill up a large sink with very cold water. Separate the leaves as you drop them into the water.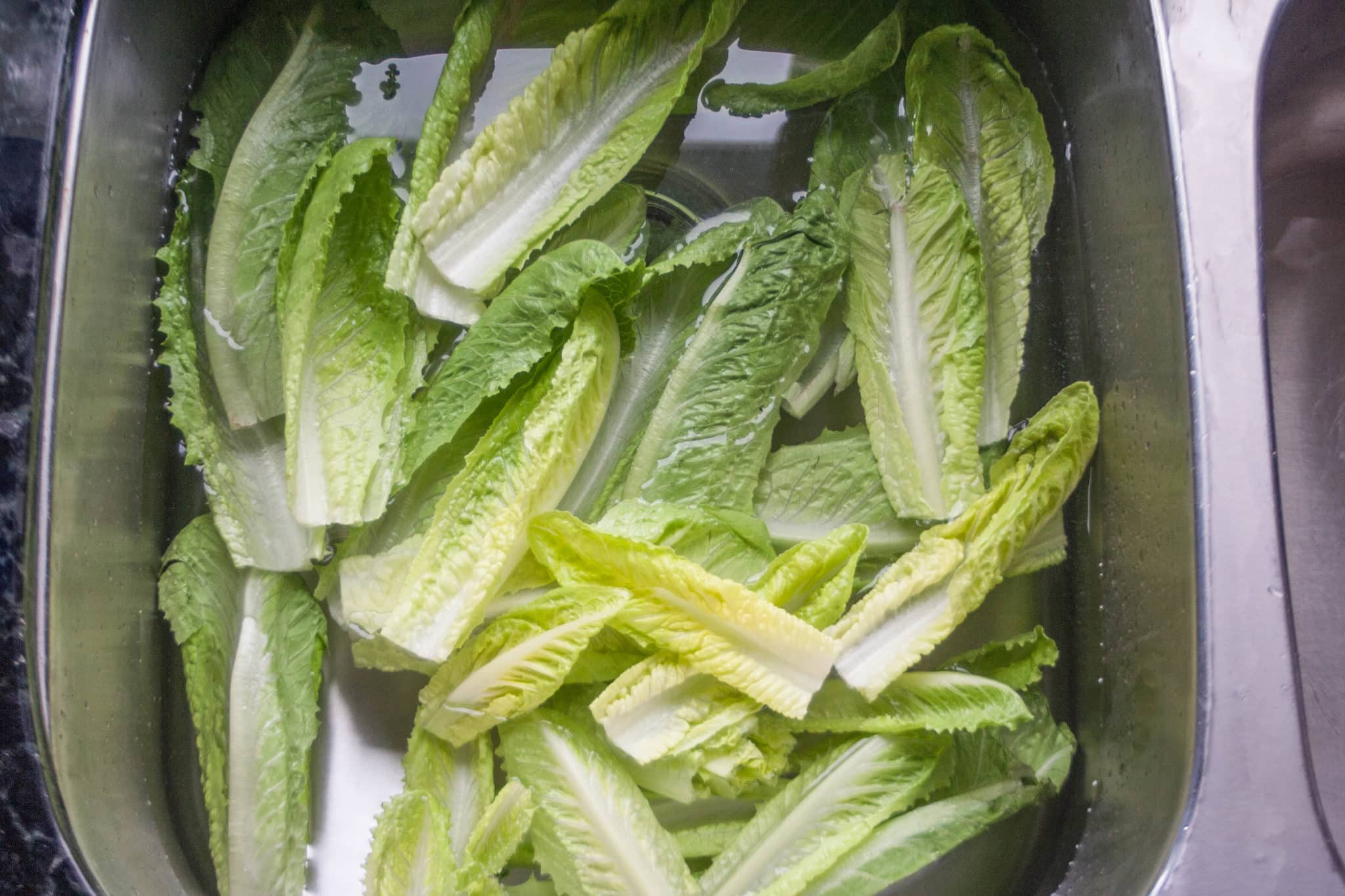 Swish the leaves around in the water to get them clean. Then remove the wet leaves, shaking them off a bit, and put them into a salad spinner. You will have to do this in batches as they won't all fit in the salad spinner. Fill up the spinner, spin the leaves, and then place them on prepared paper towels on a counter nearby. I like to spread out 2-3 paper towels for this.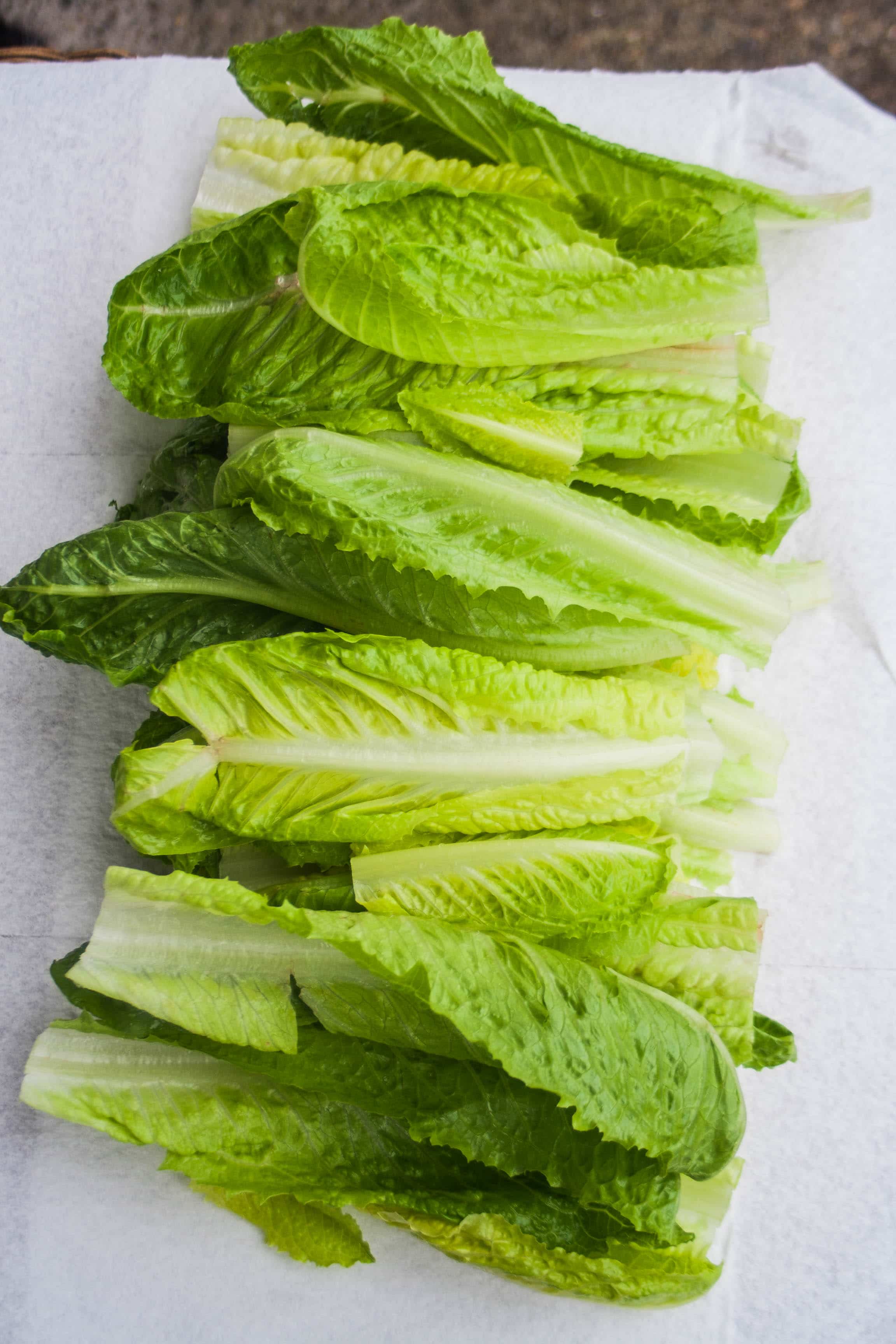 When you have quite a few lettuce leaves on the paper towels, maybe about 2 heads full, wrap them up in the paper towels and place them in a large ziplock bag. Then squeeze out as much air as you can as you close the bag. Then they are ready to go in the fridge. Then repeat the process until all your lettuce is washed, dry and packed up.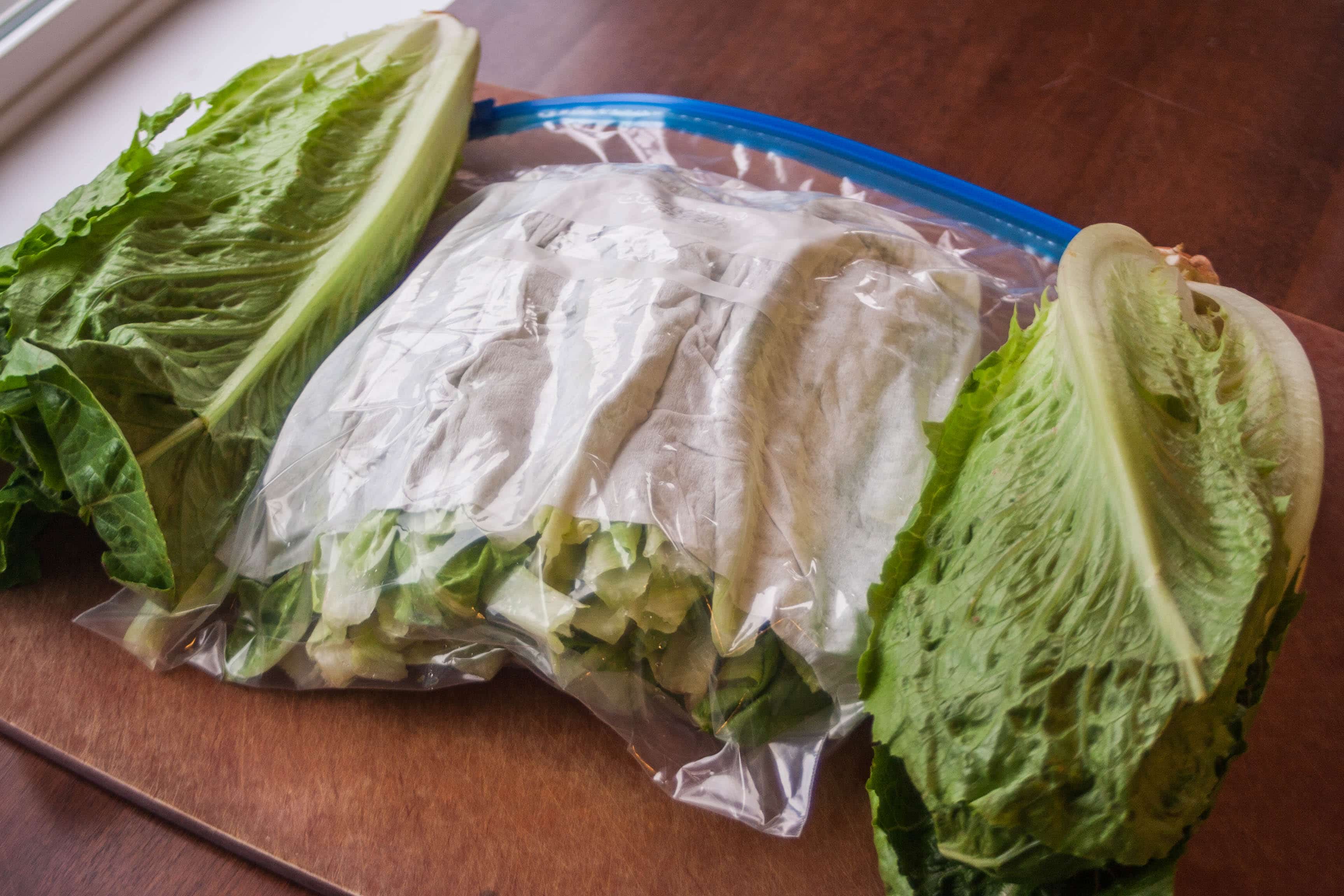 Romaine prepared in this way lasts me at least a week, sometimes closer to 10 days! Now you are ready to eat some delicious salads. I like to have a HUGE salad for lunch most days, though sometimes it doesn't happen with the 1 year old. Add some grated carrots, broccoli, cucumber, red onion, cherry tomatoes, chickpeas and a yummy plant strong oil free dressing and your set for a delicious lunch or dinner! Try having a huge salad every day, it will make you feel amazing. Just don't try to live on vegetables alone, put some beans on that salad and consider a nut/seed based dressing. You will get plenty of protein and fat that way. If you are trying to lose weight, try using salsa or Grand Reserve Balsamic Vinegar for your dressing.