Trader Joe's Vegan Shopping List
This post may contain affiliate links. Read my full disclosure here.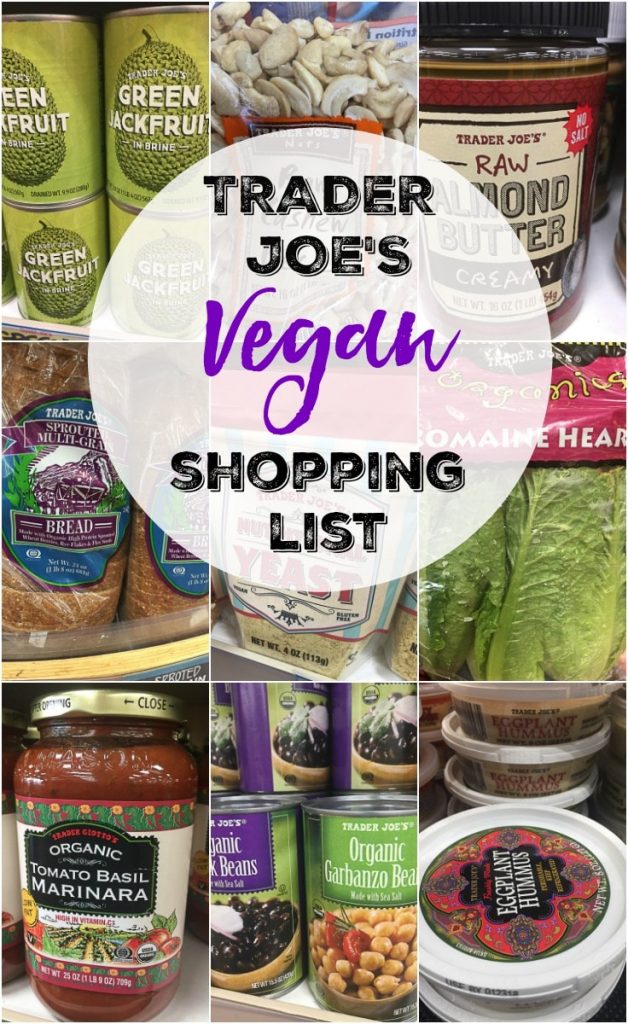 Since I'm always talking about what I buy at Trader Joe's, I thought it would be fun (and hopefully helpful) to do a post about it! I've mentioned it before, but we are still on a pretty tight budget. We are a family of 5, in a costly suburb of Portland, Oregon, and we don't have oodles of money to spend on food every month. This is where Trader Joe's really helps me out. I save a lot of money shopping there every week!
Trader Joe's is my absolute FAVORITE grocery store. By far. It's pleasant there, and fairly small compared to other stores. Everyone is so friendly, and there aren't a million brands of every product to choose from. They have cheaper produce (even organic!) than most stores and it tends to be pretty high quality. They are getting more and more vegan products every day, and I love trying them out!
I'm going to share the items I buy most frequently, but note that this is not an exclusive list, there is so much more I probably haven't listed. Here goes: My Trader Joe's Vegan Shopping List!
Produce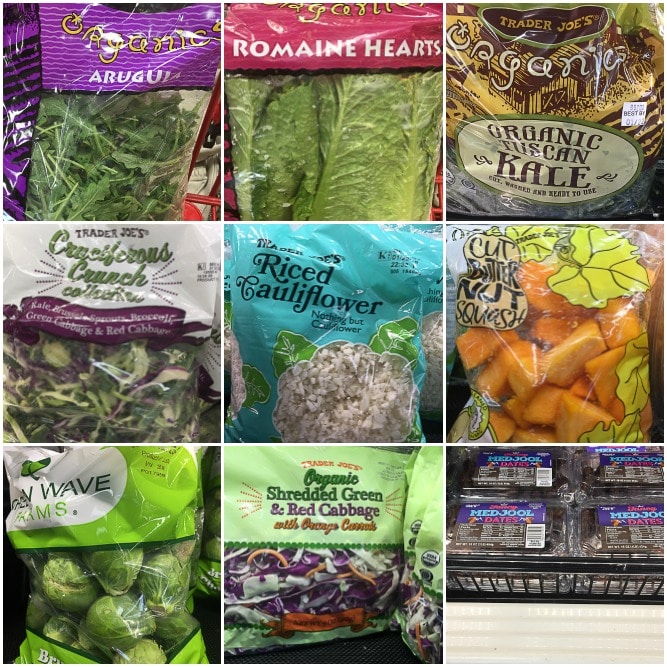 Salad Stuff: I LOVE organic romaine lettuce for my salads. It's crunchy and clean tasting and lasts quite a long time compared to other lettuces. Also, arugula, baby kale, spinach, that cruciferous crunch and the shredded red/green cabbage. All good choices and inexpensive! I usually get tomatoes, bell peppers, english cucumbers and sometimes avocados here.
Organic Bagged Kale: This stuff is great. I don't eat it raw, but it's absolutely perfect cooked in my Instant Pot. I put the whole bag in + 1 cup of water and cook on high pressure for 3 minutes. Add this to various rice bowls or use as a side dish.
Riced Cauliflower: Makes my Cauliflower Walnut Mushroom Taco Meat that much easier!
Cut Butternut Squash: I buy this often for soups and most of all Butternut Squash Mac and Peas.
Brussels Sprouts: At least once a week, for roasting. It's a must.
Medjool Dates: Dates are a good deal at Trader Joe's, though the price is comparable at Costco (at least where I live). For No Bake Chocolate Bites, smoothies and more.
*Not pictured: I also get sweet potatoes, onions, garlic, ginger and so much more in the produce section.
Cold Items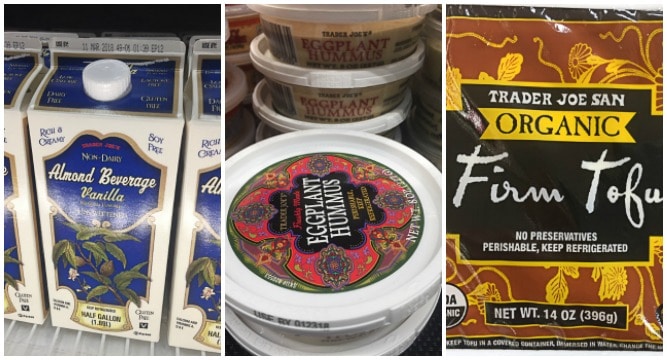 Almond Milk: I like this unsweetened vanilla one, and also the pink unsweetened almond milk with no vanilla flavor. I also like their soy creamer, soy milks and coconut milks.
Hummus: Sometimes I make my own hummus, but for convenience I like Trader Joe's variety. This eggplant hummus is great, as well as the Sriracha one, yum.
Tofu: This is the least expensive organic tofu, so I usually buy this one, but sometimes I will get the Super Firm one that doesn't need to be pressed. I use tofu for many recipes, from Orange Tofu to Nuggets, to Lasagna.
Frozen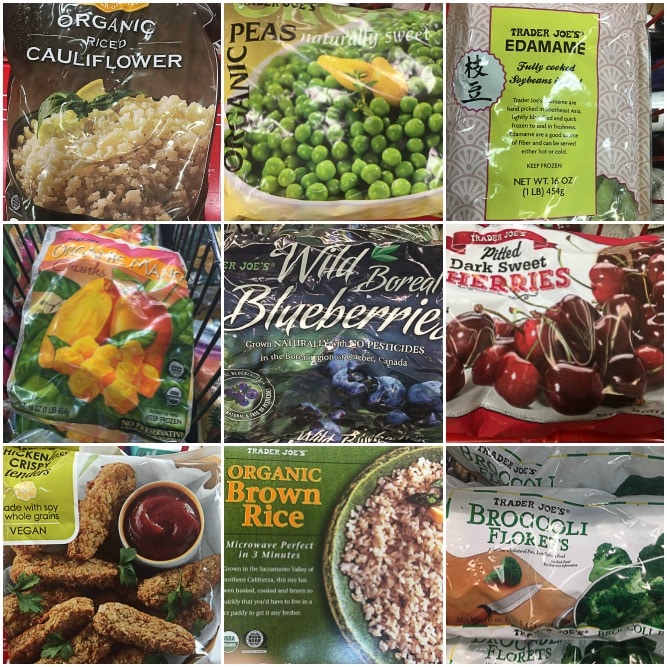 Frozen vegetables: Riced cauliflower (again, for those tacos), peas (toddler likes these cold), edamame, broccoli and green beans sometimes. They have a really great selection and they are always high quality.
Frozen fruits: They have a really large variety of frozen fruits. I often get the mango for smoothies, and we always have those frozen blueberries. They are the perfect little size for my toddler, he loves them! The cherries are for smoothies or this chocolate cherry ice cream.
Vegan Chickenless Nuggets: The kids love these, and they probably have them once a week. 🙂 Though I prefer to make these Easy Baked Tofu Nuggets.
Frozen Rice/Quinoa: They have these nifty frozen packages of brown rice and quinoa that are great. Kind of nice to have as a back up in case I run out of cooked rice, but I don't always buy these.
Nuts/ Seeds/ Jam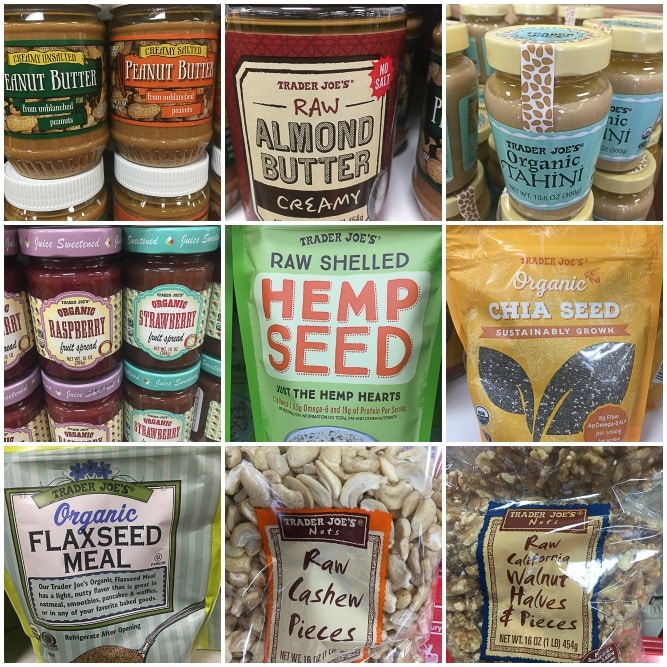 Nut Butters: We always get the salted creamy peanut butter, it's a family favorite, but they also have unsalted. The almond butter is a good price but still expensive so I don't always have that on hand. The tahini is great and I use it for this salad dressing and also for making homemade hummus.
Fruit Spreads: I like these fruit juice sweetened spreads. Also (not pictured) the fruit leathers and other dried fruits are a good buy and they have a lot of variety.
Nuts and Seeds: Hemp, chia and always flaxseeds. The raw cashew pieces are a good price and I use them all the time like in this Lasagna or my Nacho Cheese Sauce. Walnuts for those tacos, on oatmeal, or in date nut balls.
Breads and Dark Chocolate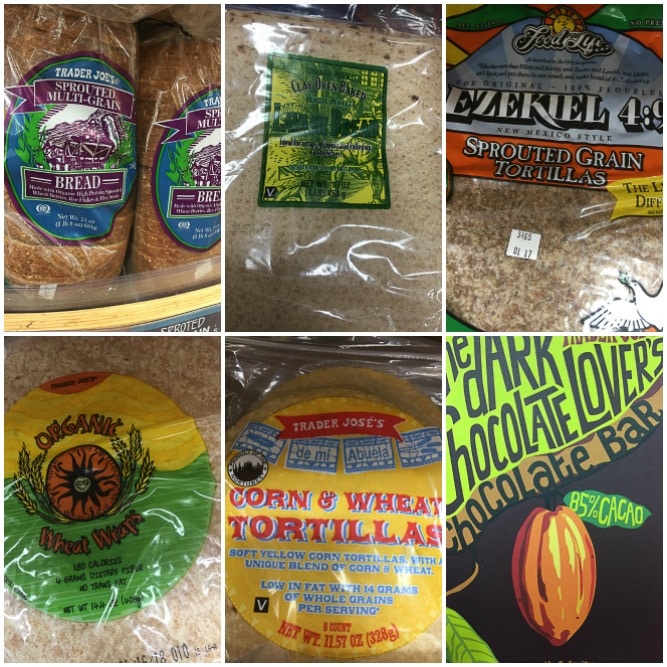 Sprouted bread: Pretty good price on this, and they also have a few other vegan sandwich breads that are good. You would be surprised at how often dairy is hiding in breads!
Tortillas and wraps: Those lavosh breads are fun for wraps or even quick pizzas. We also like the ezekiel tortillas, whole wheat wraps and those corn/wheat blended tortillas. They also have cheap but good quality corn tortillas (I use them in this Enchilada Casserole).
Dark Chocolate: Because it needs it's own category! 😉 We love this really, really dark chocolate bar. They have a few other good ones too, just check the ingredient list for dairy. Also, their chocolate chips are VEGAN! (I use them in all sorts of cookie recipes)
Pantry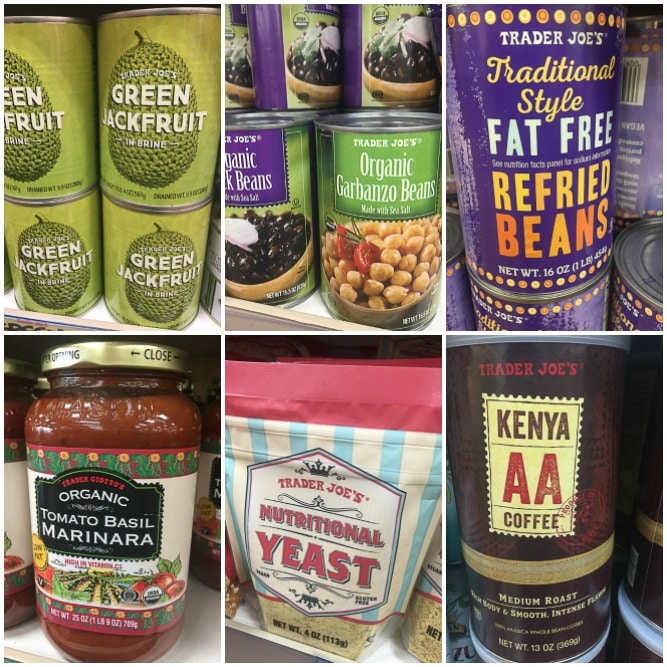 Jackfruit: For BBQ Jackfruit sandwiches.
Canned beans: I love the taste of their organic canned beans, and I believe they are BPA free. Those refried beans are a favorite of my kids, when I don't make my Instant Pot Refried Beans.
Pasta and Sauces: They have several whole wheat, gluten free and even lentil/bean pastas. I've loved every one I've tried, depending on what I'm in the mood for. The brown rice penne are good in Vegan Baked Ziti. I like the Organic Tomato Basil Marinara (especially in Lasagna), and the pasta sauces are a really great deal!
Nutritional yeast: I use this often, so I was thrilled to see them finally carrying it at a decent price!
Coffee: Yes, I drink coffee. This is the one we get every week. It's like $6.99 which is a crazy good deal.
10 Minute Farro and Barley: For something other than rice. Farro is my favorite!
Unsweetened Instant Oatmeal: Okay, this one is kinda weird, but my toddler loves opening packets of oatmeal, so I like that these are unsweetened and then I just add to them (bananas and other stuff). Convenience food for sure.
That's it! What are some of your favorite things to get at Trader Joe's? Let me know in the comments! 🙂
We are a participant in the Amazon Services LLC Associates Program, an affiliate advertising program designed to provide a means for sites to earn advertising fees by advertising and linking to amazon.com. Read my full disclosure here