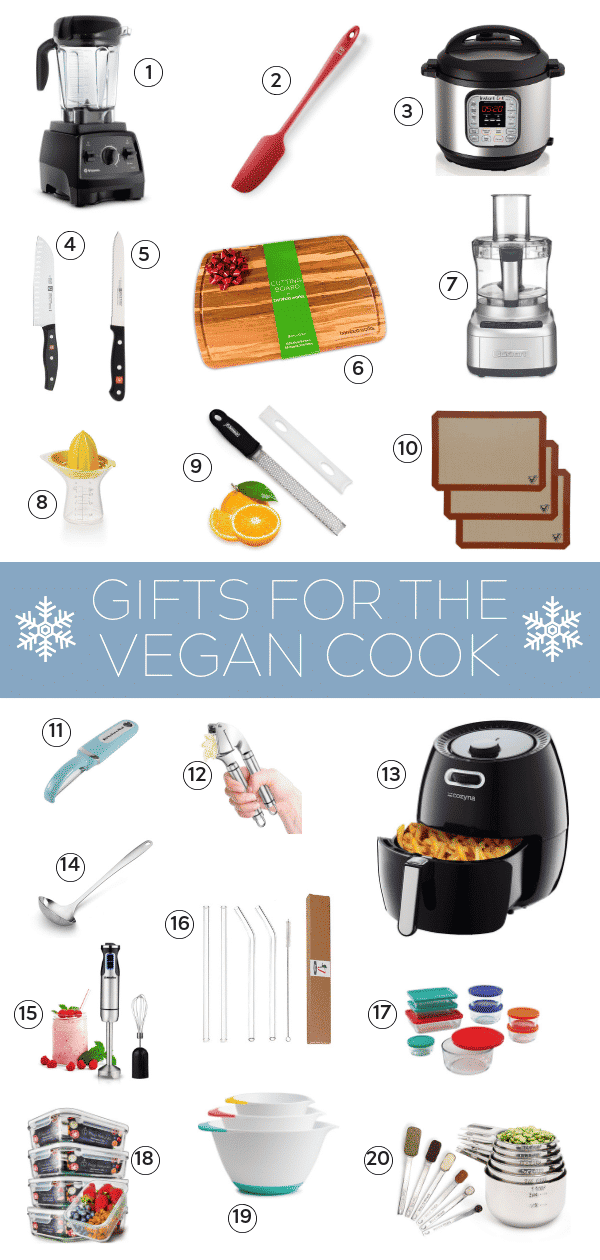 Whether you are shopping for a friend, family member or simply treating yourself this Holiday season, you will find something perfect in these 20 vegan gift ideas! I've included all of my favorite kitchen tools and appliances that have helped me so much on my vegan cooking journey over the years. Some items are quite pricey (like the Vitamix) but there are plenty of inexpensive gadgets that I find incredibly helpful here!
Often this time of year you can find some incredible deals, so it's the perfect time to buy something special for a vegan (or aspiring vegan) that you love. I hope you find the perfect gift on this list and have a wonderful, magical holiday season!
PLEASE NOTE THIS PAGE MAY CONTAIN AFFILIATE LINKS. I ONLY LINK TO PRODUCTS I ABSOLUTELY LOVE AND RECOMMEND. THANK YOU FOR YOUR SUPPORT.
1. Vitamix Blender: This is my #1 recommendation for vegan cooks and people who want to go vegan. It's pricey, but completely worth it! An inexpensive blender just can't break down nuts the way this blender can. It's a must have for making creamy, cheesy vegan sauces such as Vegan Queso, Easy Vegan Nacho Cheese, Stretchy Vegan Mozzarella Cheese, and creamy dairy free soups like this Broccoli Cheese Soup. Not to mention green smoothies, fruit based ice cream, and more!
2. A long, skinny Spatula: This is helpful for getting every last bit of goodness out of the Vitamix, so you have less waste. It's also a quality spatula for baking and other things.
3. Instant Pot: Next to my Vitamix, my Instant Pot is probably my second favorite kitchen appliance! It cooks grains like rice and beans from dried in much less time. I also have several Instant Pot recipes on my website that are amazing and SO quick, like Instant Pot Spaghetti, and Instant Pot Vegan Alfredo, Spanish Rice, Baked Beans, and more!
4. Chef's Knife: This is the exact knife I've been using for years now, and I love it. A good, heavy sharp knife is essential for any cook.
5. Serrated Knife: A good serrated knife is necessary for slicing tomatoes, bread and other things.
6. Large Cutting Board: Another essential kitchen item. I like a very large cutting board, and have a few of them. You could use plastic, but I prefer bamboo or wood cutting boards. Plus, they're pretty!
7. Food Processor: This is another one of my top used kitchen appliances that would be hard to live without. It's great for making vegan cheese (like my Cheese Ball or Vegan Quesadillas), hummus, pie crust, and much more.

8. Citrus Reamer/Juicer: Fresh lemon juice is such a common ingredient I use in cooking that I finally bought one of these citrus juicers, and I can't believe I didn't get one sooner! I was SO sick of the cheap lemon squeezer I had, and this is 100 times better. I get much more juice out of my lemons/limes/oranges it's not even funny.
9. Zester/Grater: Perfect for easily getting fresh lemon zest (especially for Vegan Lemon Cake!), and grating garlic, ginger and more.
10. Silicone Baking Mats: These are wonderful for baking cookies and roasting vegetables and potatoes. They also make clean up a breeze, since your pans stay clean! They are totally non-stick. I bake tofu on them which normally would stick to my metal pan, but on the mat it doesn't.
11. Peeler: For vegetables and potatoes. You want a good peeler!
12. Garlic Press: 
I don't know about you, but I love garlic and fresh is best. A good garlic press will make your life a bit easier in the kitchen.
13. Air Fryer: Okay, so I don't have this one in my kitchen (yet) but I've got my eye on this one, and you can find a lot of good deals this time of year. I plan on air frying tofu, potatoes (for fries), broccoli, brussels sprouts, and more!
14. Ladle: I love this silver ladle for soups, stews and chilis. It's so pretty and just what you need.
15. Immersion Blender: 
For blending soups and salad dressings. A really fun kitchen tool to have. I use mine all the time!
16. Glass Straws: We all have heard by now how plastic straws are terrible for the environment
, so these glass straws are a fantastic alternative. I just love drinking smoothies in a big mason jar with one of these straws.
17. Glass Food Storage Containers: 
Ditch the plastic and go with glass!
18. Glass Meal Prep Containers: I love these for leftovers but also for meal prepping. If you are a busy person who likes to prep food for the week (VERY helpful if you are new to the vegan lifestyle), you will love these glass containers.
19. Mixing Bowl Set: 
These are essential for baking and mixing all sorts of things. I like this set because they have a non-skid bottom so they won't slip around as you're mixing.
20. Measuring Cups and Spoons Set: 
This is such a nice set of measuring cups and spoons. I love that the spoons are skinny enough to fit into spice jars!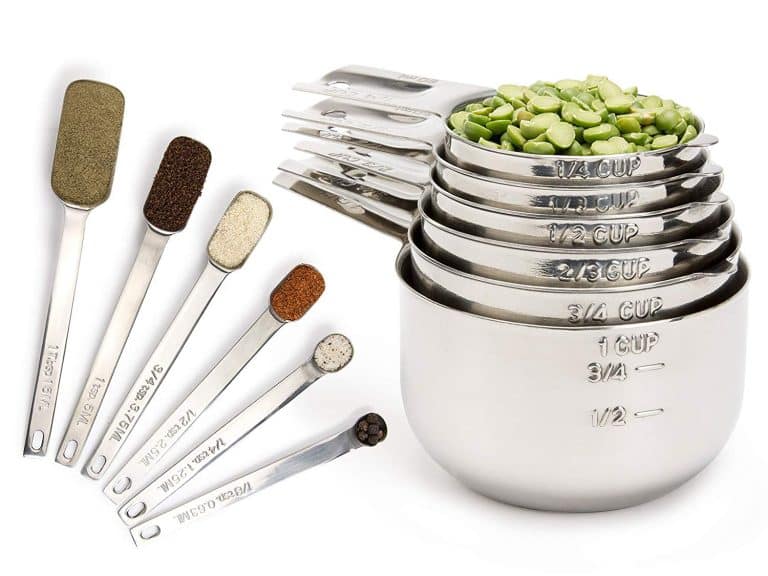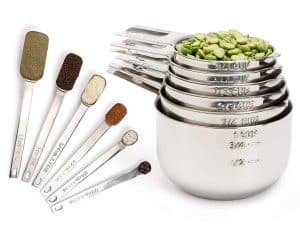 That's it! Happy Holidays, friends! 🙂