Perfectly crisp, tender on the inside Vegan Whole Grain Flax Waffles; made with health promoting ingredients. Oil free.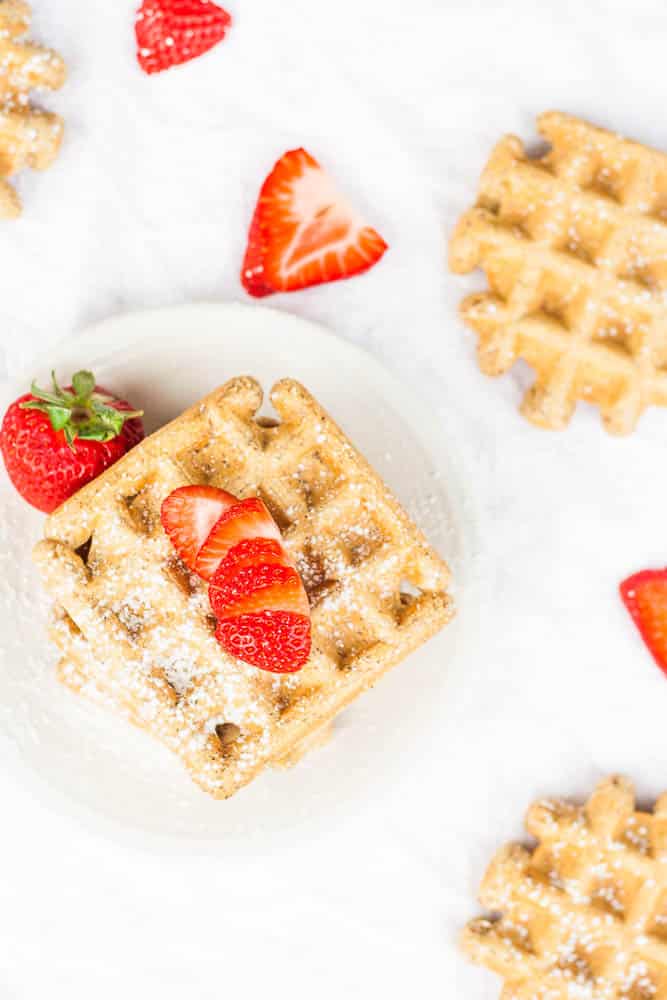 I know I've said this before, but I often make a ton of waffles (or pancakes) and then freeze them for my kid's daily breakfast. It's something I've done since they were really little, as I wasn't happy with the ingredients found in store bought frozen waffles. Also, the taste of the "healthier" versions out there can be awful, and they are super expensive when you have three kids who like to eat a lot in the morning! One box would only last us a morning or two, at most.
For a long time I made a waffle recipe that had oil in it, and didn't really know how waffles could be oil free and still delicious, but now I know!!
Aquafaba….Yes, that strange liquid from a can of chickpeas. I know it seems like such a strange item, but it's pretty magical. Plus it's cheap (way cheaper than OIL) and you don't have to go to Whole Foods to find it. Save your chickpeas for a salad or maybe this Chickpea and Eggplant Curry.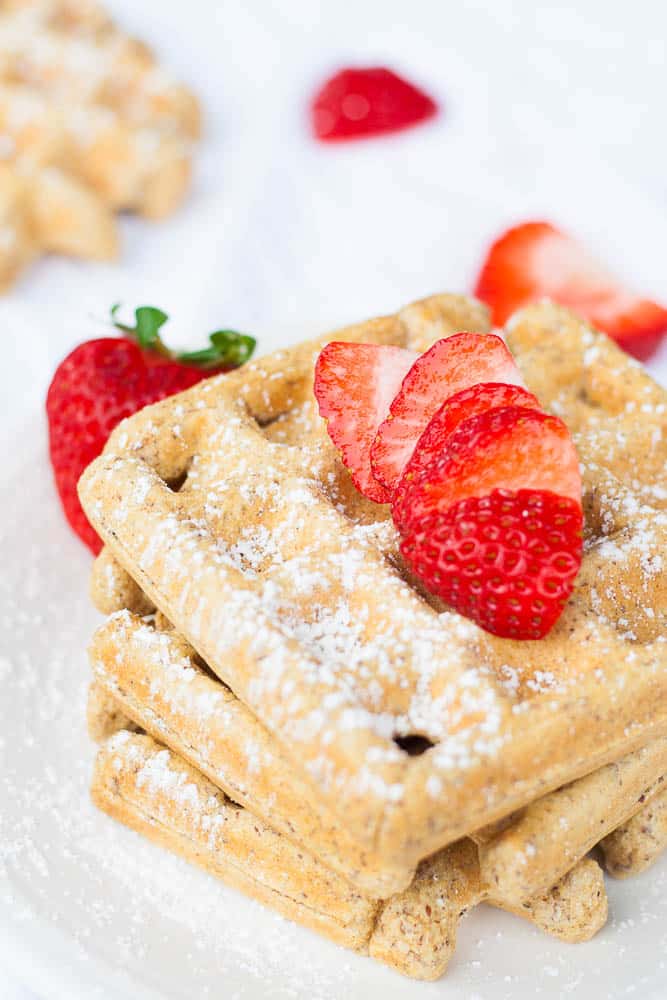 So even though these waffles are primarily for the kids, these Vegan Whole Grain Flax Waffles are healthy enough for my husband and I to eat without feeling any guilt!
I think you will love these waffles. They are
Wholesome
Oil Free
Perfectly crisp
Tender on the inside
Perfectly sweet
Hearty
Easy to make
These Vegan Whole Grain Flax Waffles freeze beautifully. I like to stick my waffles in the toaster and toast until heated through and crispy. You can also heat them up in the oven at 400 degrees until warmed through if you prefer.

Adapted from this recipe.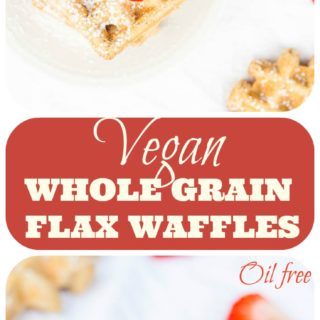 Ingredients
1

cup

ground flax

3 1/4

cups

white whole wheat flour

1 1/2

tablespoons

baking powder

1 1/2

teaspoons

salt

1/3

cup

organic sugar

or coconut sugar

1/2

cup

aquafaba*

3 1/2

cups

almond milk

2/3

cup

water

2

teaspoons

pure vanilla extract
Instructions
Mix all the dry ingredients in a large bowl.

Whisk the aquafaba, almond milk, water and vanilla extract in a separate bowl. Whisk until well combined.

Add the wet ingredients to dry and stir with a wooden spoon until well incorporated. Do not over mix.

Let sit for 5-10 minutes while your waffle iron preheats.

Once the waffle iron is ready, spray with oil if needed (unless you have a non-stick waffle iron), pour the waffle mixture on and cook according to the manufacturer instructions.

Serve and freeze the leftovers in a large ziplock bag.
Recipe Notes
For the aquafaba, simply open a can of chickpeas and drain the liquid from the can to use. Save the chickpeas for another use.