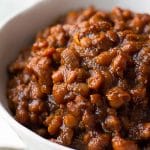 Print
Vegan Baked Beans (Instant Pot Recipe)
Perfectly cooked from scratch in the Instant Pot, you will never want to buy canned baked beans again. No pre-soaking required! They are sweet and savory, with just a touch of heat, and are the perfect addition to any barbecue.
Total Time
1
hour
5
minutes
Put the rinsed beans and 6 cups of water into your Instant Pot. Put the lid on, close steam valve and set to the "bean" setting for 25 minutes. Do a natural release when done and carefully drain the beans. Set aside.

Whisk all sauce ingredients together in a bowl. Set aside.

Pour a few tablespoons of water (or olive oil) into the Instant Pot. Turn the saute setting, and add the onion and garlic. Stir frequently for 2-3 minutes, until the onions have softened.

Turn off the saute, and add the sauce and drained beans to the Instant Pot. Give everything a quick stir.

Put on the lid, close the steam valve and set to "bean" setting for 15 minutes. Once done, do a natural release and lift the lid carefully. Let sit for 15-30 minutes if possible before serving, as they will thicken up as they sit. Enjoy!
If you like your baked beans less sweet, omit or reduce the brown sugar, and use canned tomato sauce in place of the ketchup.
For a BIG shortcut, use canned navy beans that have been drained and rinsed. Pick up the recipe in step two and cut down on cooking time by an hour +!
The only ingredient that may be difficult to find is the Vegan Worcestershire Sauce. I use Annie's brand, but if you can't find this you can leave it out.