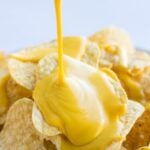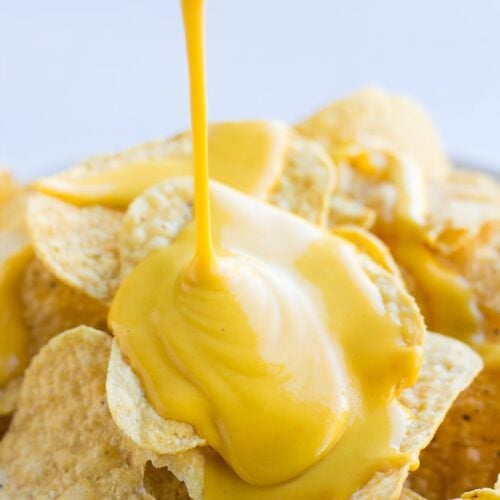 Print
Vegan Cheese Sauce (Nut Free!)
Silky smooth vegan cheese sauce that is also nut free! It's absolutely perfect over nachos, baked potatoes, steamed broccoli and makes a delicious mac and cheese.
1 1/2

cups

peeled and chopped russet potato (1 medium)

1

cup

peeled and chopped carrots (about 2-3 carrots)

2

cups

unsweetened non-dairy milk

1/2

cup

nutritional yeast

3

tablespoons

olive oil

1

tablespoon

lemon juice

1

teaspoon

salt

1/2

teaspoon

onion powder

1/2

teaspoon

garlic powder

1/2

teaspoon

smoked paprika

1

tablespoon

cornstarch

Optional for nacho cheese:

4 oz can diced green chiles, drained
Add the potatoes and carrots to a medium pot and cover with water. Bring to a boil, and cook for about 10 minutes, until fork tender.

While the vegetables are boiling, add all the other ingredients (including green chiles if using) to a blender.

Drain the potatoes and carrots and add them directly to the blender with the other ingredients. Blend on high until silky smooth. You don't need to warm it further, but if you want you could add it to a pot to keep it warm. Stir frequently if you do this; it will thicken even more.

Serve over tortilla chips, drizzle on baked potatoes or steamed broccoli. Mix into macaroni pasta to make mac and cheese! Store leftover vegan cheese in the refrigerator for up to 4 days, if it lasts that long.
May also use yukon gold potatoes, you will need 2 small potatoes.
The oil adds some richness to an otherwise low fat cheese sauce, but if you are avoiding oil you may omit it. 
You can use any unsweetened non-dairy milk that you like, I used coconut milk.