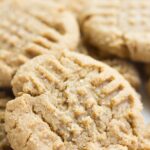 Print
Classic Vegan Peanut Butter Cookies (1 Bowl)
Easy to make in just 1 bowl, these Classic Vegan Peanut Butter Cookies are soft, chewy and melt in your mouth delicious! Made without any animal products and no dough chilling time required.
Preheat the oven to 350 degrees and line a baking sheet with parchment paper.

In a large bowl, cream together the vegan butter, peanut butter and sugars. Stir in the almond milk and vanilla until well combined. You can use a hand mixer or just a large wooden spoon.

Now add the flour to the bowl, and sprinkle the baking soda, baking powder, cornstarch and salt on top of the flour. Stir until just combined and a dough is formed. The dough will be thick, yet very sticky.

Add the extra 1/4 cup sugar to a small bowl.

Roll balls of dough (about 1.5 tablespoons) and then roll in sugar. Place balls on the prepared baking sheet, then press the tops to create the classic criss-cross pattern.

Bake for 10-12 minutes until the cookies are very lightly golden brown; they will appear a bit underdone and soft but they continue to set as they cool.

Let the cookies cool on the baking sheet for about 5 minutes before transferring to a wire rack. These cookies will stay good at room temperature for about a week.
Makes about 20-24 cookies.
May sub coconut oil, softened, for the vegan butter. I've tried both and either works well. For oil free, sub applesauce.
For crunchy peanut butter cookies, simply bake 2-3 minutes longer. I prefer them soft, but I know some people like crunchier cookies.
You can use crunchy peanut butter if you'd like. This recipe works better using regular creamy peanut butter, not the natural stuff. I like Trader Joe's creamy peanut butter because the palm oil added is sustainable.