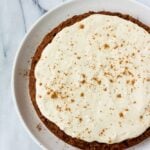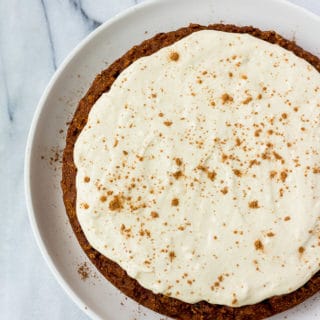 Print
Cashew Vanilla Frosting
The key to this easy frosting is to soak your cashews in very hot water for an hour if possible. This will become your go-to healthy frosting. It's super low in sugar compared to most frostings, and it is completely oil free!
Boil a few cups of water. I do this by heating water in a tea kettle. Once it's boiling, pour it over the cup of cashews in a small bowl or measuring cup. Just cover the cashews. Set aside to soak for an hour.

Drain and rinse the soaked cashews.

In a blender, add the cashews, lemon juice, almond milk, maple syrup and vanilla. Blend for a few minutes until very smooth. You may need to scrape the sides a few times.

Place the frosting in a bowl, cover, and refrigerate for at least 30 minutes before spreading onto the cooled cake. It can be used right away, but it will thicken up the longer it cools, which will make it easier to spread.