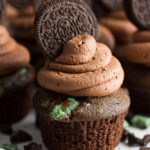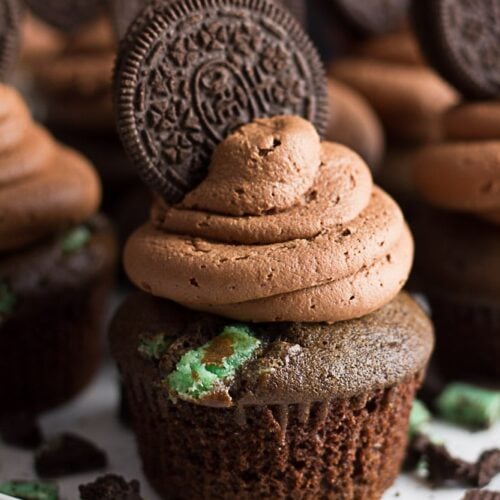 Print
Vegan Mint Chocolate Oreo Cupcakes
Mint Chocolate Oreo Cupcakes that are dairy free, vegan and totally delectable. Perfect for mint chocolate lovers everywhere! Make these festive cupcakes for St. Patrick's Day or even Christmas.
Frosting:
1/2

cup

earth balance vegan butter

1/2

cup

non-hydrogenated vegan shortening*

2 1/2-3

cups

powdered sugar

1/2

cup

unsweetened cocoa powder

1/4

cup

non-dairy chocolate chips, melted and slightly cooled

1

teaspoon

pure vanilla extract

1

teaspoon

peppermint extract

2-4

tablespoons

unsweetened almond milk
For the Cupcakes:
Preheat the oven to 350 degrees F and line a cupcake pan with 12 paper liners.

In a large bowl, stir together the almond milk and apple cider vinegar. Set aside for a minute or two to curdle.

Now add the oil, sugar, vanilla and peppermint extracts. Whisk to combine.

In a separate bowl, sift the flour, cocoa, baking soda and salt.

Add the dry mixture to the wet in batches, about 1/3 at a time, and mix well with a wooden spoon, or a handheld mixer (or stand mixer).

Gently fold in the chopped up oreo pieces, then pour into prepared cupcake liners evenly.

Bake for 20-22 minutes. Cool completely before frosting.
For the Frosting:
With a handheld or stand mixer, beat together the earth balance and vegan shortening on medium speed until light and fluffy.

Melt the chocolate chips by putting them in a small bowl and microwaving in 30 second intervals. Stir and set aside to cool.

Add the powdered sugar and cocoa powder and beat on low speed, then increase to medium. Add the melted, cooled chocolate chips and extracts and beat.

Now add a few tablespoons of almond milk, until you have a thick but pipe-able frosting.
You can use canola oil, melted earth balance spread or melted coconut oil. If using coconut oil, make sure the almond milk isn't too cold, or it will start to solidify when you try to mix it.
Try to find non-hydrogenated vegan shortening if possible. Spectrum is a good brand. You can use all earth balance and no shortening if desired, the shortening just makes for prettier, fluffier frosting that holds its shape better.