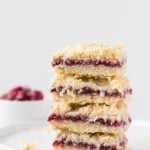 Print
Vegan Raspberry Bars
Only 5 ingredients and made in 1 bowl, these Raspberry Bars are simple to make yet quite fancy and crowd pleasing! They have a coconut oil shortbread crust + topping, and are filled with raspberry preserves.
Cooling time
2
hours
20
minutes
Total Time
1
hour
10
minutes
Preheat the oven to 300 degrees F. Line the bottom and sides of a 9 x 13 inch baking pan with parchment paper, leaving some overhang on the sides for easy removal.

In a large bowl, combine flour, sugar and salt. Now add the softened coconut oil, and stir until everything is well combined. The mixture should be rather crumbly. Use your hands if you need to.

Set aside 1 cup of the shortbread dough, in a smaller bowl. This is your crumble topping.

Press the mixture evenly into the baking pan. Bake for 15 minutes.

Remove from the oven and turn the oven up to 350 degrees F.

Spread the raspberry preserves over the warm crust. Sprinkle on the topping. Place in the oven and bake for 40 minutes. The filling should be bubbling on the edges.

Allow the bars to cool in the pan for 20 minutes, and then move them to the refrigerator to cool for at least 2 hours. Lift the bars out using the parchment paper, cut into squares and drizzle with optional glaze.
I haven't tried these with gluten free flour, but you could try a mix of gluten free all purpose and almond flour.
May also use softened vegan butter in place of the coconut oil.
Makes about 16 large bars. You may halve the recipe and make in an 8-inch square pan if desired.