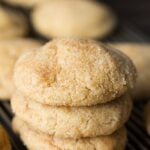 Print
Vegan Snickerdoodles - Soft, Thick & Puffy
The BEST and most PERFECT vegan snickerdoodles ever! Soft, thick and oh-so puffy, these cookies are sure to be a hit! They are easy to make and turn out perfect every time.
Preheat the oven to 375 degrees F and line two baking sheets with parchment paper.

Make the flax egg: Combine ground flaxseed and water in a small bowl and set aside to thicken.

Make the topping: In a small bowl, combine the sugar and cinnamon and stir. Set aside.

In a large bowl, cream together the vegan butter and sugar for about 1-2 minutes using a handheld mixer, stand mixer, or even just a wooden spoon. Mix in the flax egg and vanilla, scraping the sides as needed. Set aside.

In a medium sized bowl, add the flour, cream of tartar, baking soda, cinnamon and salt and whisk to combine.

Add dry to the wet ingredients, and stir by hand with a wooden spoon. The dough will be quite thick, you may even need to use your hands towards the end to get it all combined. You should be able to carefully roll the dough in balls, but it will be thick and not too wet.

Take about 2 tablespoons of dough and roll into a ball. Repeat, and roll the balls in the cinnamon-sugar topping. Place on baking sheets and bake for 11 minutes. The cookies will be very soft. Let them cool for about 10 minutes, then transfer to a cooling rack.
Cookies will keep for up to 1 week in an airtight container at room temperature.
I have not tried these cookies with coconut oil or any other oil. For best results use earth balance brand vegan butter.