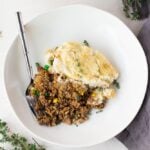 Print
Vegan Shepherd's Pie
Comfort food classic: Vegan Shepherd's Pie. Made with flavorful cauliflower mushroom walnut "meat" and the creamiest mashed potatoes. No one will miss the meat in this hearty, savory dish!
Cauliflower Mushroom Walnut "Meat"
1

small

head cauliflower, or 3 cups riced cauliflower

1

cup

walnuts

8

ounces

cremini or white mushrooms

2

tablespoons

olive oil

1

small onion, diced

3

tablespoons

low sodium soy sauce

1

teaspoon

vegan worcestershire sauce

1

teaspoon

dried basil

1

teaspoon

onion powder

1/2

teaspoon

garlic powder

salt, to taste (I used 3/4 teaspoon)
Make the Cauliflower Mushroom Walnut "Meat":
If you are using whole cauliflower, wash, chop off the florets and place in food processor. Pulse, creating cauliflower "rice". Add 3 cups to a large bowl.

Add the walnuts to the food processor, and pulse a few times until they are a bit crumbly, but do not over process or you will have a paste. Add the chopped walnuts to the bowl with the cauliflower. Now add the mushrooms to the food processor, and pulse until chopped small. Add to the bowl.

Warm the oil in a large pan over medium heat, then add the diced onion and cook, stirring frequently, for about 2-3 minutes until translucent. Now add the cauliflower, walnuts, mushrooms, soy sauce, worcestershire sauce and spices. Stir until well combined. Continue to cook over medium heat, stirring every couple of minutes, for about 15-20 minutes. Add salt to taste, and remove from heat.
Bake the Shepherd's Pie:
Preheat oven to 400 degrees F and lightly grease a large casserole dish (I used a 9 x 13 inch dish, a 2-quart dish would work).

Transfer the "meat" to the prepared dish and spread the mixture evenly. Sprinkle on the peas and corn, then carefully top with mashed potatoes. Smooth them down with a spoon, then use a fork to add texture to the surface of the potatoes, if desired. Drizzle a tiny bit of olive oil, if desired.

Bake for 25 minutes until bubbling on the edges and hot. For a more golden brown top, broil for an additional 2 minutes or so. Remove from oven and garnish with fresh thyme if desired. Serve.
You can find riced cauliflower in the produce section of most stores, or in the frozen section. You can also use whole cauliflower florets, and process them to rice.
For Gluten Free, use tamari instead of the soy sauce.
For Oil Free, omit the oil to saute the onion (use vegetable broth instead) and omit the oil drizzle.
Leftover Shepherd's Pie will save in the refrigerator for 3-4 days. I haven't tried freezing it.