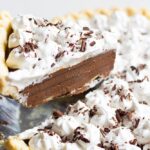 Print
Vegan Chocolate Pie
The filling for this luxurious, silky smooth vegan chocolate pie is made with just 4 ingredients! This pie is a chocolate lover's dream.
Total Time
2
hours
30
minutes
For the chocolate pie filling:
For the crust and topping:
Prepare the pie crust: If using my recipe for Easy Vegan Pie Crust, prepare as instructed, transfer to a pie pan, poke holes in the bottom several times with a fork, and bake for 15-20 minutes at 350 degrees F. Remove and let cool while you make the filling.

Make the chocolate filling: Melt the chocolate chips in a microwave in 30 second intervals, stirring in between, until melted. It took me 1 1/2 minutes. Let it cool for a few minutes. Then add the melted chocolate chips to a blender along with the silken tofu, almond milk and sugar. Blend until very smooth.

Pour the filling on top of the crust. Place in the refrigerator to chill for at least 2 hours. The pie will firm up as it cools.

Once the pie has chilled, top with coconut whip cream and chocolate shavings, if desired. You can also serve each slice with a dollop of coconut whip. Serve and enjoy!
I recommend Mori-nu silken tofu, but the water packed tofu will work as well.
May use any other non-dairy milk in place of almond milk.
Make sure to check ingredients on your chocolate chips, as many brands have dairy in them. Check out my friend Marly's Dairy Free Chocolate Chip Guide.
To make this recipe easier, you can buy a pie crust, either a cookie crust or vegan pie crust (Whole Foods has a good one). Or make my Gluten Free Vegan Pie Crust.
I used SoDelicious Coco Whip, but there are many on the market these days, or make your own.
Calories include 1/8th of my pie crust recipe, but do not include any coconut whip you add. The filling alone is only 235 calories (per serving, 1/8th of the pie).