Okay, so I wouldn't go so far to say this Chocolate Cream Pie is "healthy" but it is certainly healthier than most Chocolate Cream Pie recipes. It is dairy free, vegan, and filled with healthy fats from almond flour, tofu, and coconut milk. However, if you're trying to lose weight, don't expect this pie to help you out in that department! 🙂 This is a once in while kind of dessert!
This Healthier Chocolate Cream Pie is:
Rich
Chocolatey
Decadent
Loaded with Fluffy Coconut Whip
Indulgent
I created this recipe for Pi Day this past week and my whole family enjoyed it immensely! If you're afraid of tofu in a dessert recipe, don't be. Give it a try! You can't detect the taste of tofu at all in this recipe. Just make sure to use the kind of silken firm tofu in the airtight packages, the brand is usually Mori-Nu. It looks like this : Mori-Nu Silken Tofu. This kind of tofu works well in desserts.
Also, for the Coconut Whip, I like to use coconut cream instead of plain canned coconut milk. You can find that at Trader Joe's or sometimes a regular grocery store. It has more of the hard cream that you will use to make the Coconut Whip. And don't forget to refrigerate your canned coconut cream overnight so it will be ready!
Crust adapted from this recipe.
Filling adapted from this recipe.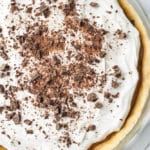 Healthier Chocolate Cream Pie
Ingredients
For the Chocolate Filling:
12

oz

Mori-Nu Firm Silken Tofu

1 1/2

cups

dairy free chocolate chips

1/2

cup

almond milk

3

tbsp

pure maple syrup
Instructions
For the Crust:
Preheat Oven to 350 degrees. Lightly grease a pie pan and set aside. Mix all crust ingredients in a medium bowl with a wooden spoon until combined.

Press into pie pan using slightly wet hands until some of the crust goes up the sides and you have a crust about 1/4 inch thick. It doesn't have to be perfect.

Bake for 10-12 minutes until golden brown. Remove from oven and let cool.
For the Filling:
Melt the chocolate chips in a microwave in 30 second intervals, stirring in between, until melted. It took me 1 1/2 minutes. Let it cool for a few minutes.

Add the tofu, cooled melted chocolate, almond milk and maple syrup to a blender. Blend on high a couple of minutes until smooth. Pour the filling on top of the crust. Place in the refrigerator to cool while you make the Coconut Whip.
For the Coconut Whip:
Open the can of coconut cream; do not shake. Scrape out of the can the hard white stuff, leaving any liquid behind.

Place the hard white parts in a large bowl. Add powdered sugar to taste and 1 tsp vanilla. With a hand mixer, mix on high for 4-5 minutes, until the whip thickens and becomes fluffy.

Take the pie out of the refrigerator, top evenly with Coconut Cream, and place back in the fridge to cool. Let the pie cool for 1-4 hours before serving. Top with chocolate shavings if desired.