Meet the easiest, most delicious pie crust you've ever seen. It's gluten-free, vegan, and so much healthier than your traditional pie crust! It's also much easier to make. This Gluten Free Pie Crust is made with almond flour and has just 1 tablespoon of coconut oil, though you could leave it out if you need an oil-free crust!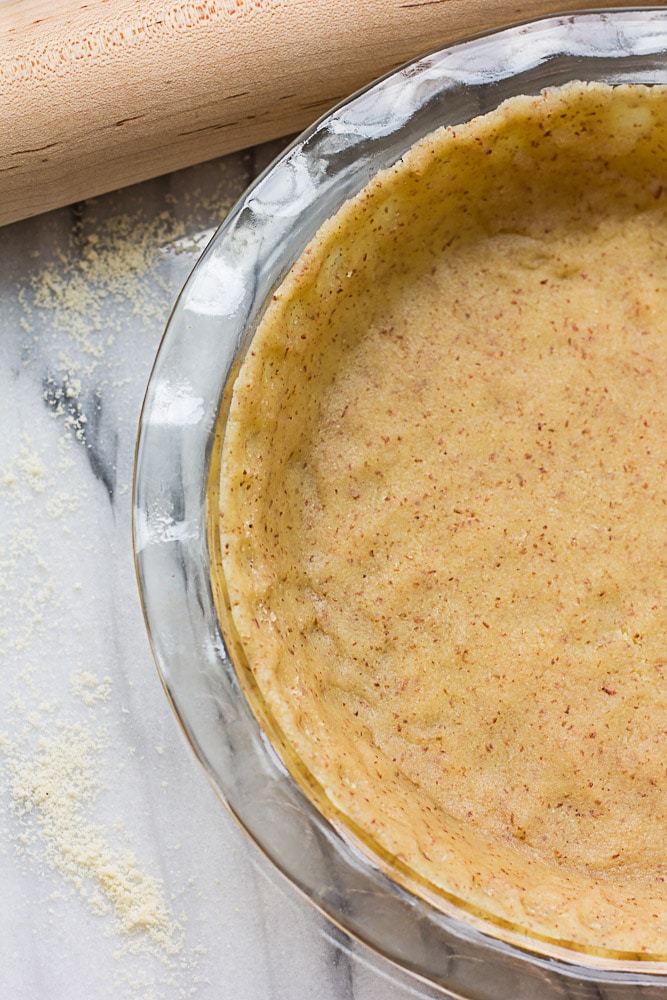 I have been working on this Gluten Free Pie Crust for a while now. I have tried a few other ones and never felt like they were good enough to share on the blog. But now, I finally have it! The perfect, easy and healthy pie crust! No butter, shortening or vegan butter. ONE tablespoon of melted coconut oil, but even that could be left out if you need to.
I have tried making this pie crust with almond meal which turned out well, but it's not quite as pretty. It's darker and more rustic. Sometimes I can find almond meal cheaper than almond flour, so if that's what you have on hand it will certainly work!
I made this Gluten Free Pie Crust in my food processor, but you could mix it up by hand if you want. I love to make things in my food processor, because my 2 year old likes to stand on a chair and push the buttons with me. That and the blender are his absolute favorite things to help me with!
He's my little chef-in-training, and always has to taste whatever we are making! Look at all this cuteness.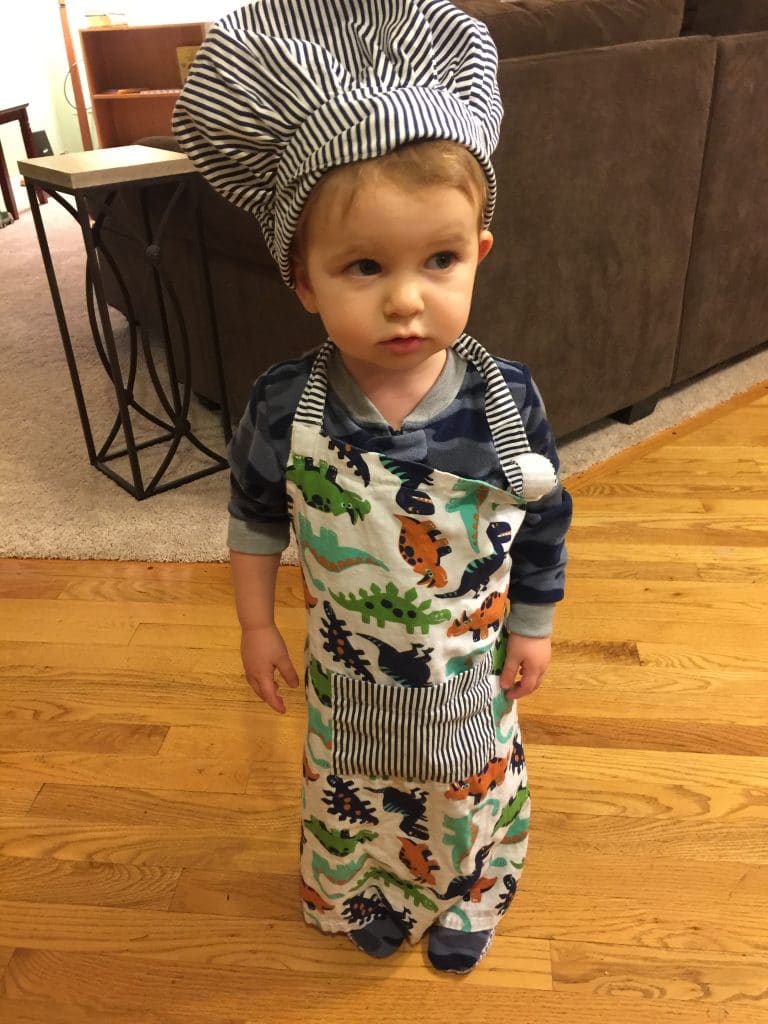 Anyhow, back to the recipe…..
So you put in the dry ingredients first and pulse. Then, while it's running, pour in the flax egg and melted coconut oil. It will form into a ball pretty quickly like this: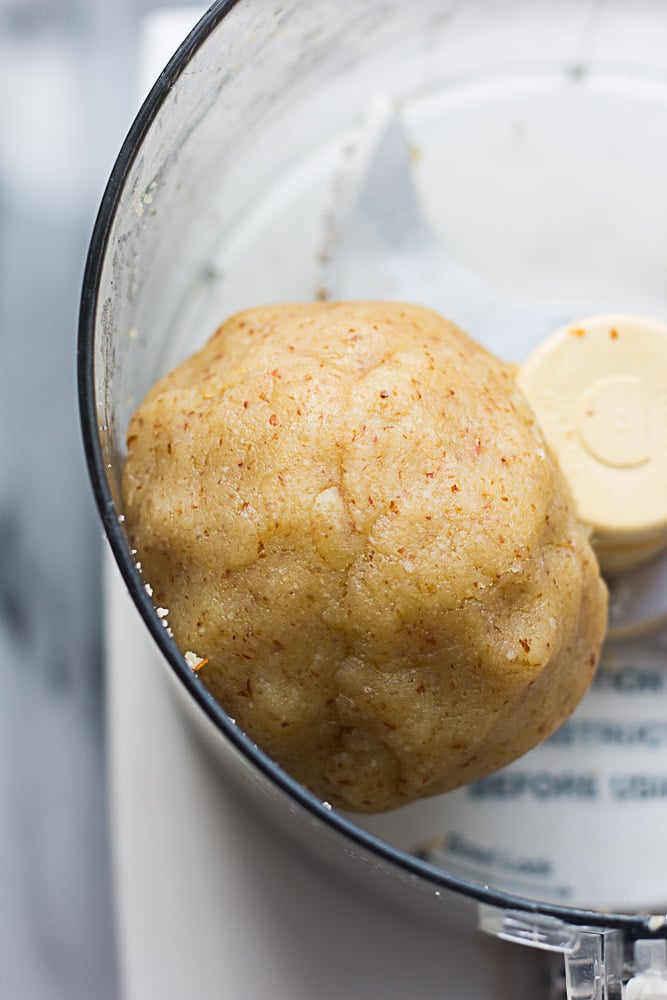 Now, refrigerate the dough in plastic wrap for 30 minutes. Roll it out between plastic wrap to prevent sticking as best as possible, then carefully place in the prepared pie pan.
It's okay if it doesn't look pretty at first, and if some pieces fall off in the process of getting it in the pan! Don't panic.
Just press it with your hands until you have an even crust.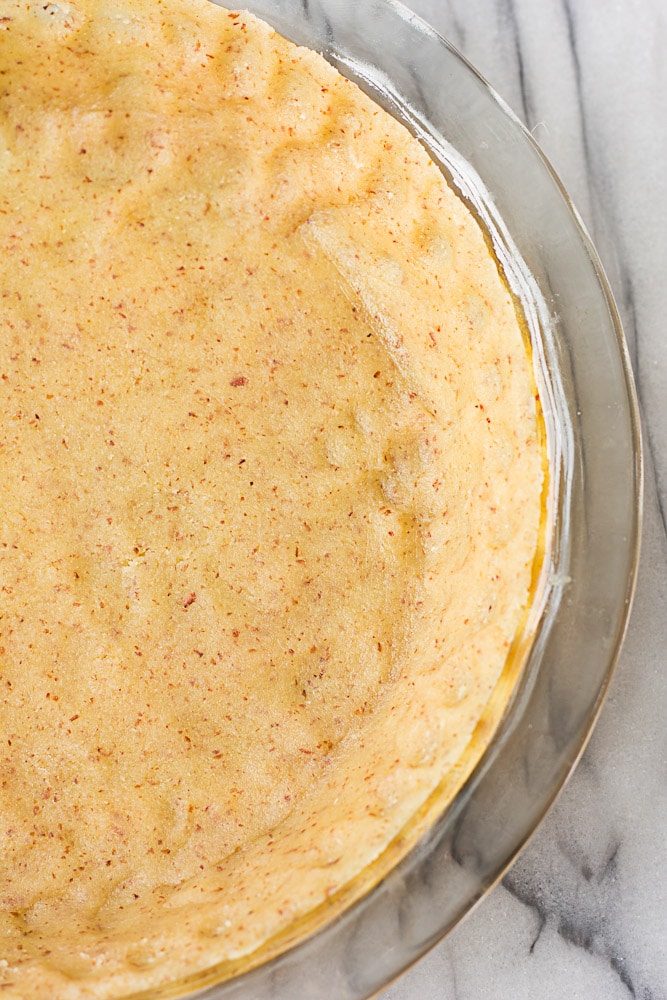 It should look something like this when it's ready to bake. It doesn't have to be perfect.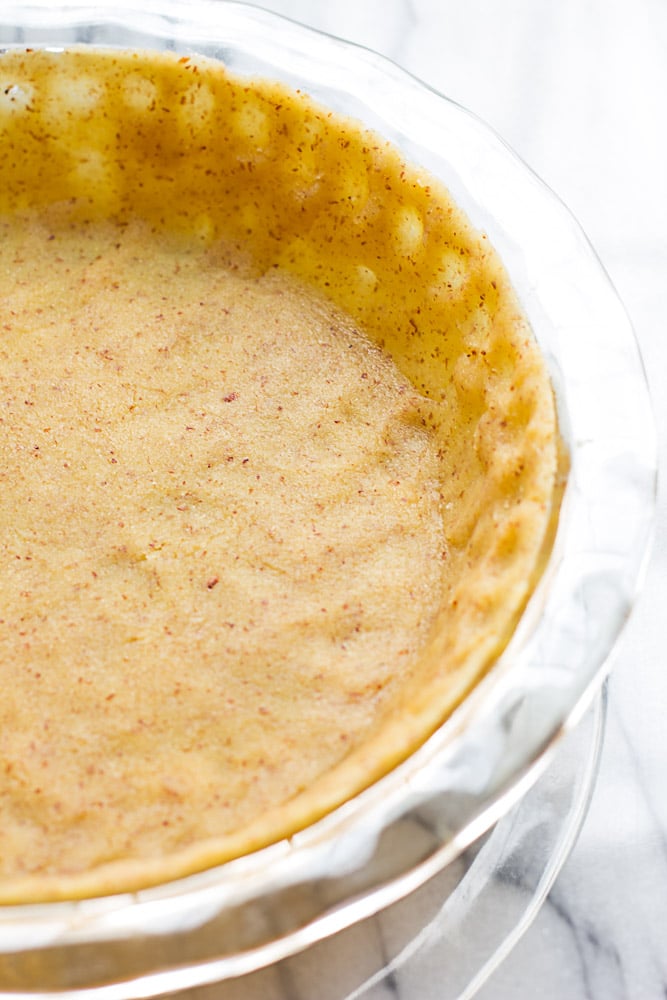 Then bake it for 10-12 minutes, until the bottom looks dry. Remove and fill with whatever you want (Apple Pie recipe is in the works!). That's it!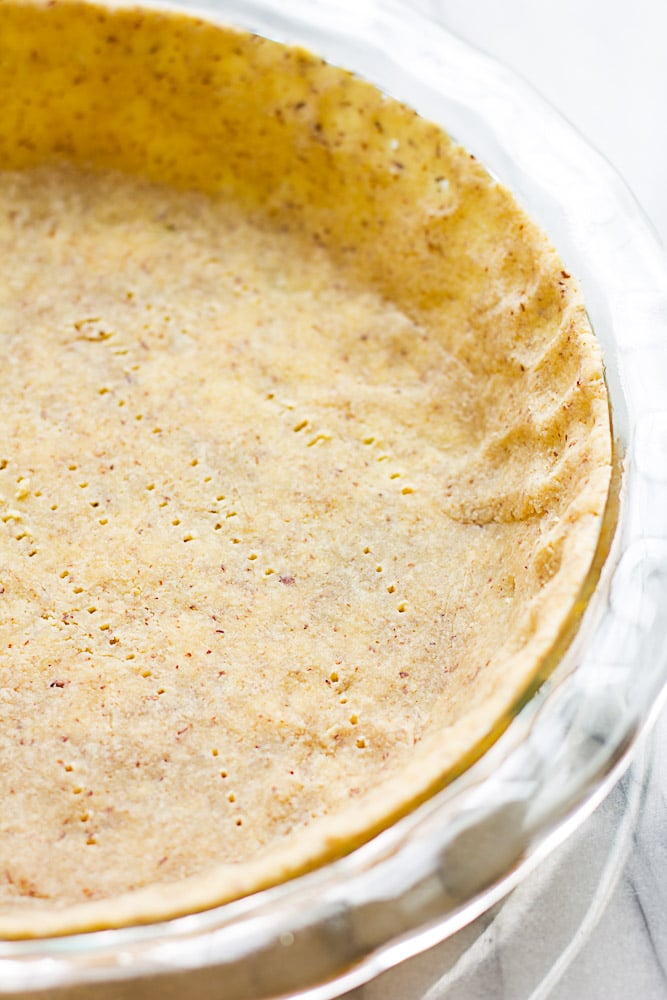 If you make this recipe, let me know how it goes! Rate it, leave a comment and tag a photo @noracooksvegan on Instagram. Enjoy!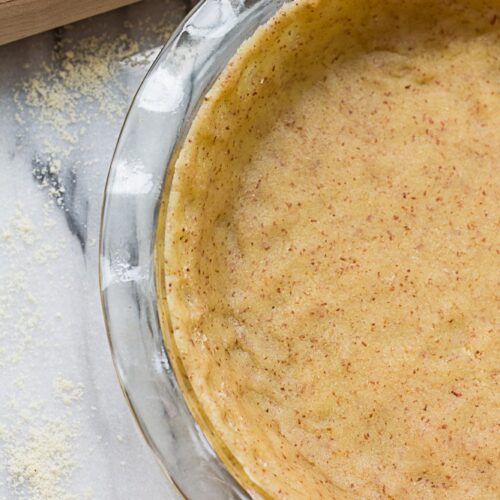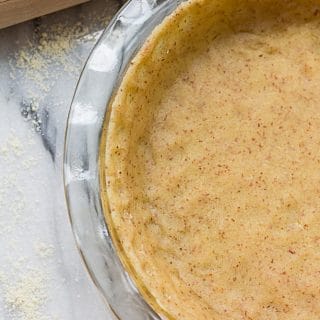 Gluten Free Pie Crust (Vegan + Healthy)
Only 4 ingredients (plus salt and water) and made quickly in the food processor, this healthy pie crust is not only gluten free but also vegan and made with good-for-you ingredients such as almond flour and ground flaxseed. You may omit the coconut oil if you need to, but 1 tablespoon of oil is so much healthier than the usual cup of butter!
PRINT
PIN
RATE
Instructions
Make the flax egg by combining the ground flax and water together in a small bowl. Stir and set aside for 5 minutes, until it thickens.

Melt the tablespoon of coconut oil in the microwave if it is solid.

To a food processor, add the almond flour, sugar and salt. Pulse several times.

With the food processor turned on, pour in the flax egg, followed by the melted coconut oil. Pulse until it forms a ball.

Wrap the ball in plastic wrap and place in the refrigerator for 30 minutes.

Preheat the oven to 350 degrees F. Lightly grease a 9 inch pie pan.

Place the ball of dough on a sheet of plastic wrap. Take another large sheet of plastic wrap and put it on top of the dough. With your hands, start flattening the dough. Use a roller and roll the dough pretty thin, about 1/4 inch thick. It's okay if it's not perfectly round yet, just do the best you can. It will stick without the plastic wrap.

Now, remove the top layer of plastic wrap and carefully flip the pie crust onto the pie pan, using the bottom plastic wrap. Some pieces might fall off, that's okay. Now use your hands and push the pie crust evenly into the pan. If pieces have fallen off or are going over the edge of the pan, push them into other areas that are bare, until you have an even crust, like in the photos above.

With a fork, prick the crust several times over the bottom. Bake for 10-12 minutes, until the bottom looks dry.

Now your pie crust is ready to be filled and baked in any way you want! Use for apple pie or even savory recipes like a vegetable pot pie.
Recipe Notes
-I used Bob's Red Mill Almond Flour, may use almond meal but the crust will be more rustic.
-May omit the coconut oil if you need an oil-free crust.
NUTRITION INFORMATION
Serving:
1
serving
Calories:
184
kcal
Carbohydrates:
8
g
Protein:
6
g
Fat:
16
g
Saturated Fat:
3
g
Sodium:
73
mg
Potassium:
7
mg
Fiber:
3
g
Sugar:
2
g
Calcium:
61
mg
Iron:
1
mg