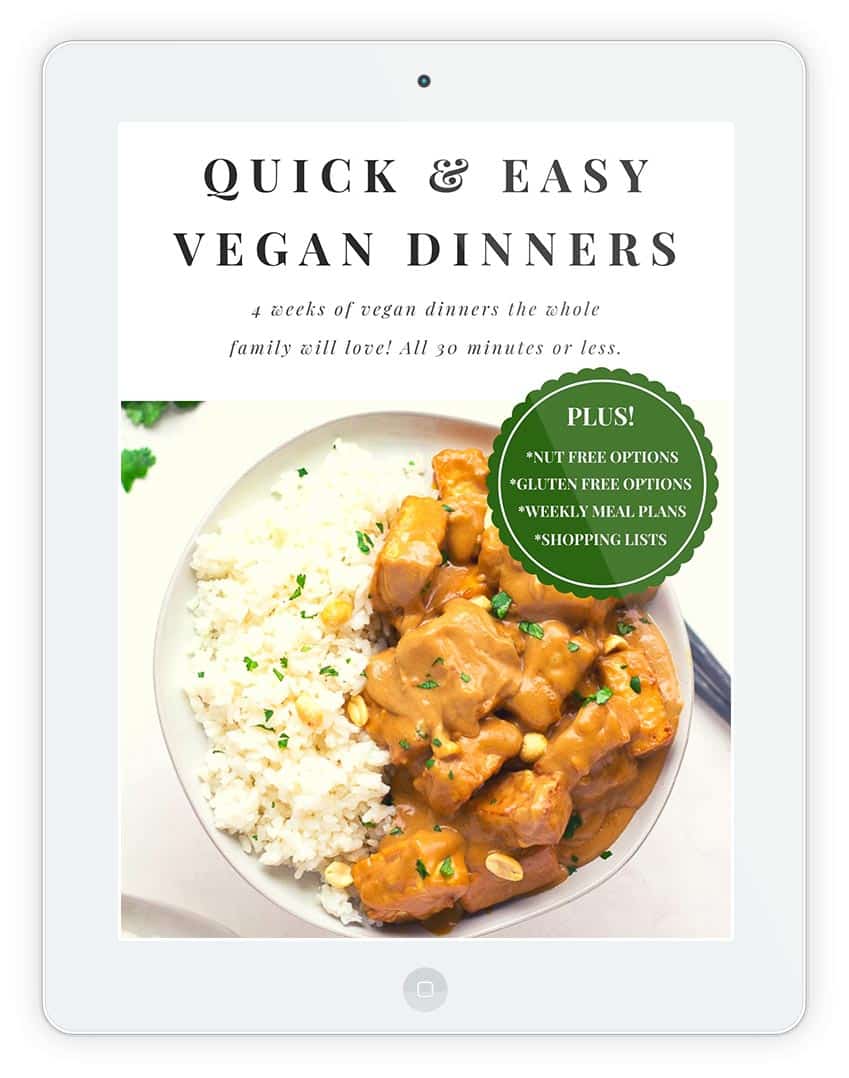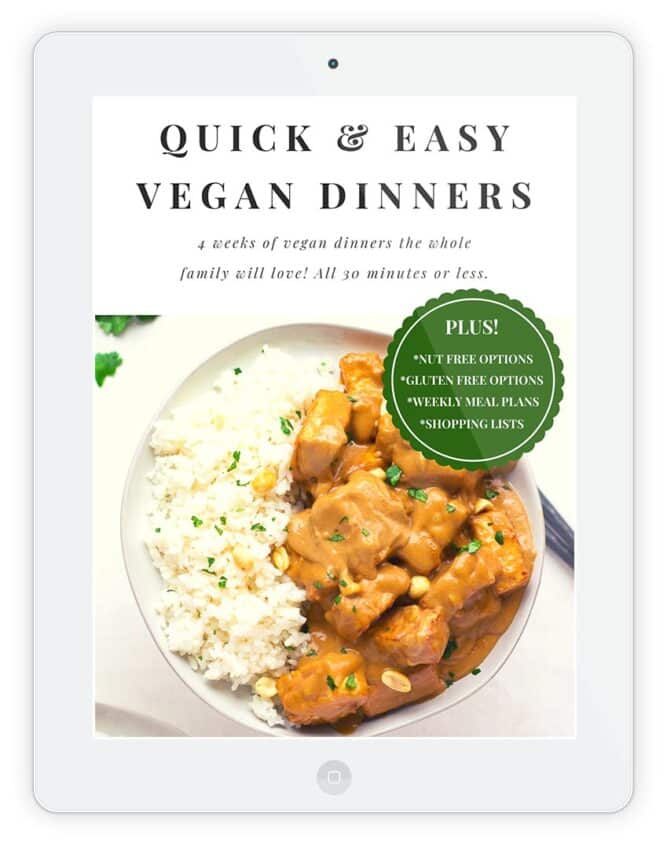 Buy My Ebook
Quick & Easy Vegan Dinners
28 delicious, all 30 minutes or less, kid-friendly, 100% vegan meals
Buy Now »
Would you like to have dinner planned this month? Congratulations! It's already done.
… and it's going to be delicious!
If you're anything like me, you struggle to get dinner on the table every night.
A recipe calls for an hour and a half, but you barely have 30 minutes. Or you find a bunch of interesting vegan recipes to try, but your kids won't touch the finished meal.
I understand! With 3 picky kids of my own, I've been there. Shoot, I'm there now! The recipes you will find in this book are just normal food. Familiar foods. Comfort foods.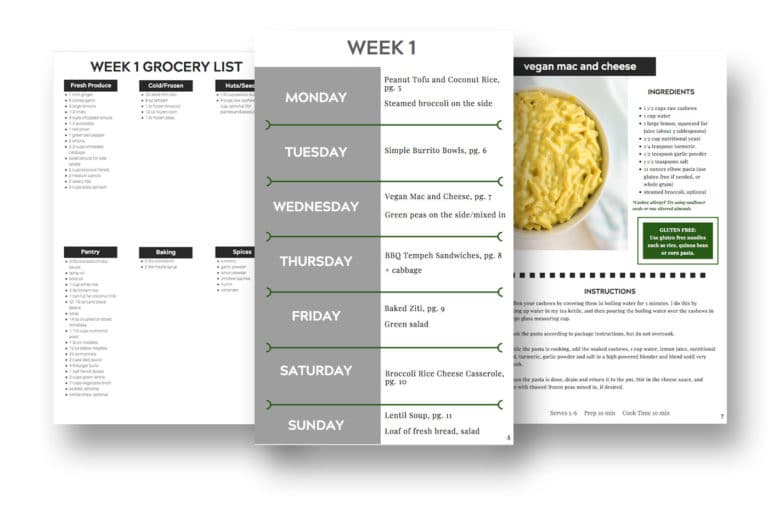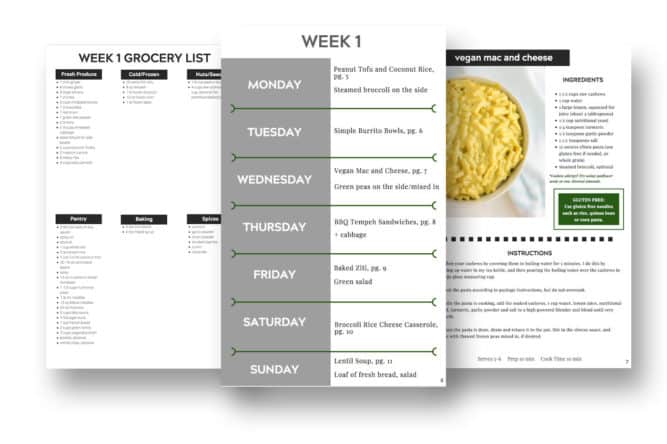 Maybe you're new to the whole vegan thing, or maybe you're a seasoned vegan looking for new inspiration! Wherever you are, this book will help you celebrate with delicious, mouthwatering vegan meals!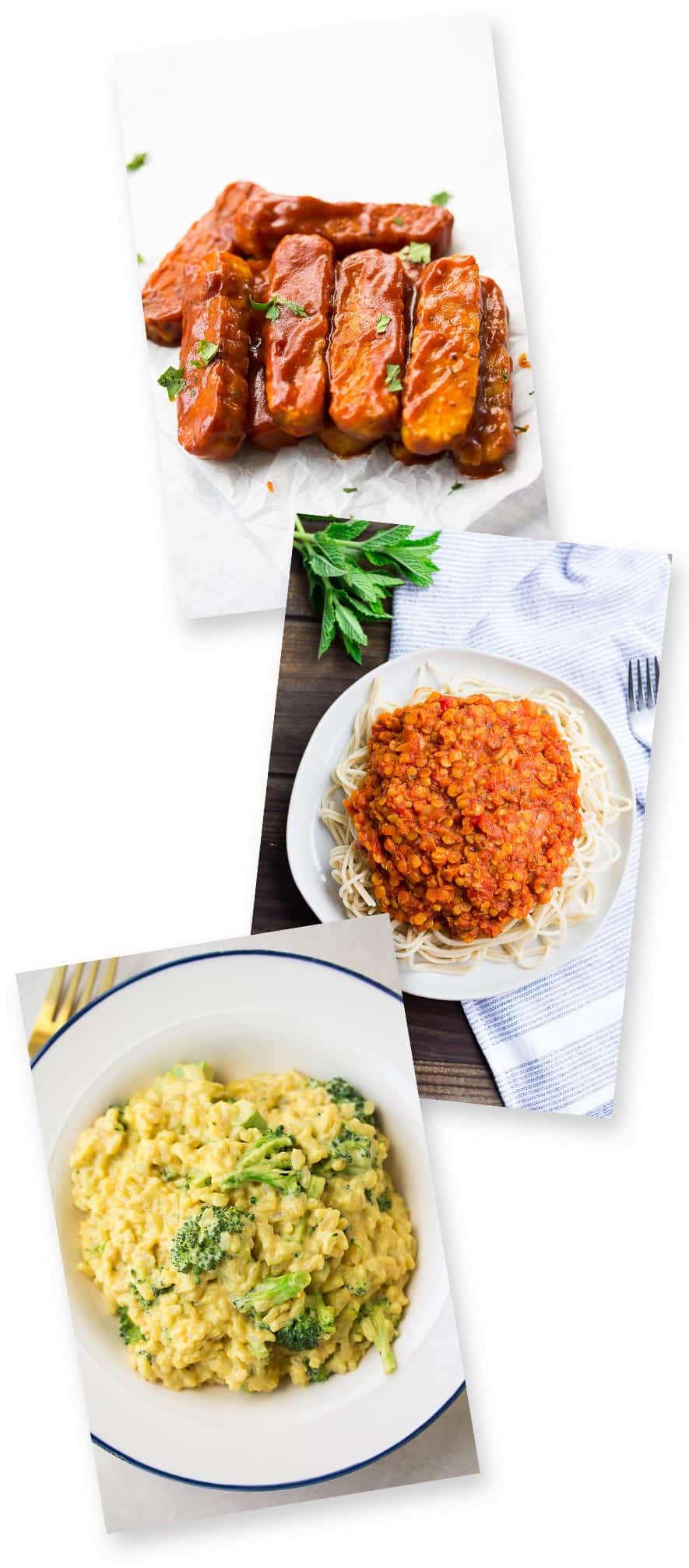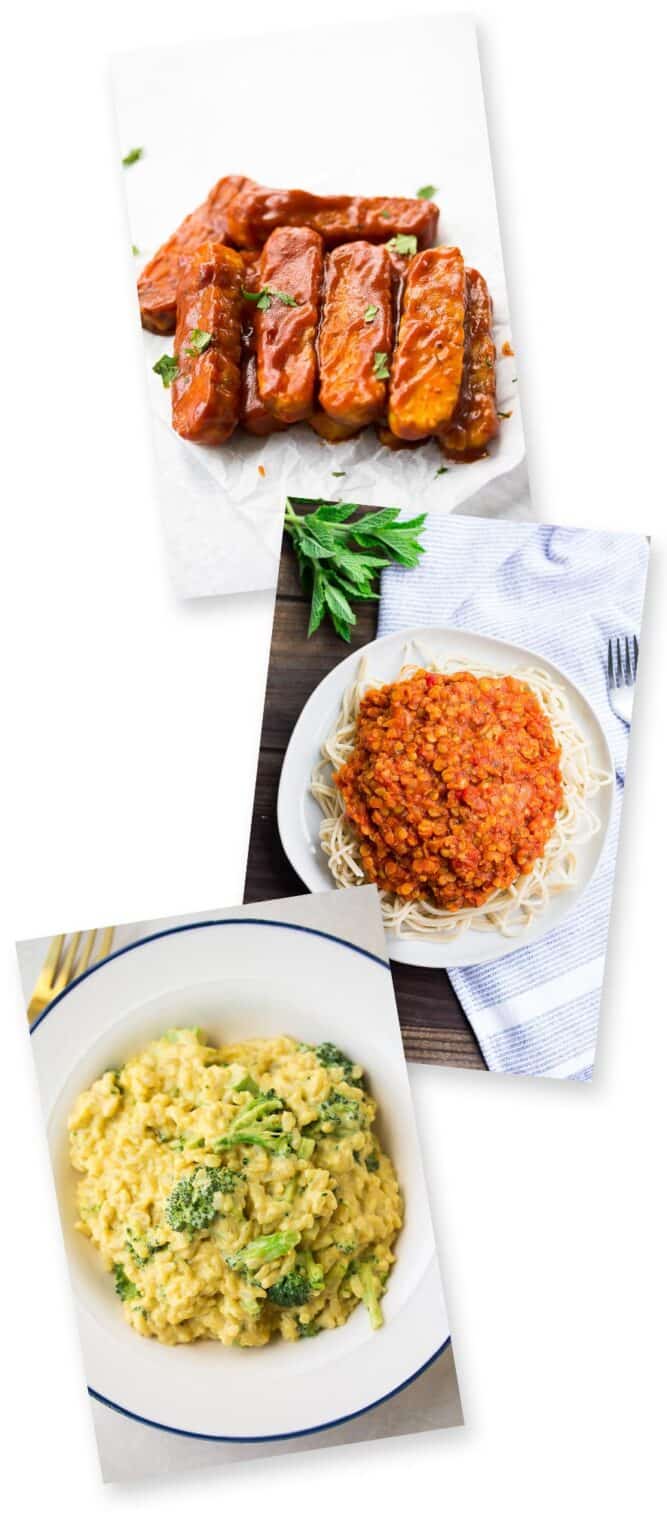 Here are just some of the recipes you will get:
Vegan Mac and Cheese
Broccoli Rice Cheese Casserole
Simple Burrito Bowls
Vegan Fried Rice
BBQ Tempeh & Mashed Potatoes
Black Bean Burgers
Fettuccine Alfredo
Cheesy Quesadillas
Lentil Bolognese
Chili and Cornbread
& so much more!
---
What's included in the book?
This digital book is a complete guide to planning dinner for 4 weeks.
Weekly Meal Plans
Weekly Shopping Lists (just print and go!)
4 weeks worth of 30 minute-or-less vegan recipes!
Simple instructions
A beautiful photo for each recipe
Gluten Free options for every recipe (many are already gluten free)
Nut Free options (many are already nut free)
Buy Now »
---
Common Questions:
Are all the recipes gluten free?
Most of the recipes are naturally gluten free, but the ones that are not I have included easy instructions on how to make them gluten free. Usually it is as simple as using gluten free pasta instead of wheat, gluten free corn tortillas or buns, or simply replacing low sodium soy sauce with tamari.
Are all the recipes vegan?
Yes, 100%!
Are all the recipes oil free?
They are not all oil free, however if you do not use oil don't worry! Usually I just use a tablespoon or two for sautéing onions/garlic in, so you can substitute water. In my cornbread recipe, it's easy to substitute applesauce for the oil. So all the recipes can easily be made oil free!
Do you call for vegan meat or cheese substitutes?
No, you do not need to purchase any expensive or hard to find vegan meats or cheeses for the recipes in this book. It's not that I have anything against them, but I know they are not accessible to everyone. Plus, I like to cook with whole, plant foods as much as possible. Vegan cheese shreds are an option for a couple of the recipes, but totally unnecessary.
How many people do the recipes serve?
The recipes serve a family of 4 or 5, and some of the recipes make a little more than that even. Yay for leftovers! We eat leftovers for lunch nearly every day. If you are only cooking for 1 or 2, you can cut the recipes in half, or maybe you will just need to cook a few meals a week for your dinners. Simply adjust the meal plan and shopping lists accordingly.
Are the ingredients expensive or hard to find?
No, the ingredients can be found at nearly any store. Depending on where you live, I understand that nuts and seeds can be expensive. I highly recommend finding a local discount or bulk store to buy nuts, you will save so much money!
Can I change the meal plan?
Of course! If you don't need to cook every day, simply choose a few meals to cut out each week. Maybe after following the meal plan for the month, you will find new favorites. Switch it up however you like.
Is this book in print form?
No, it's only in a digital format. However, you can print it out either in color or black and white if you would like to. I like to keep it in a 3 ring binder.
How many pages does the book have?
It is 45 pages long.
More questions? Send a comment through my Contact form here.
Buy Now »