Pumpkin Molasses Mini Muffins
This post may contain affiliate links. Read my full disclosure here.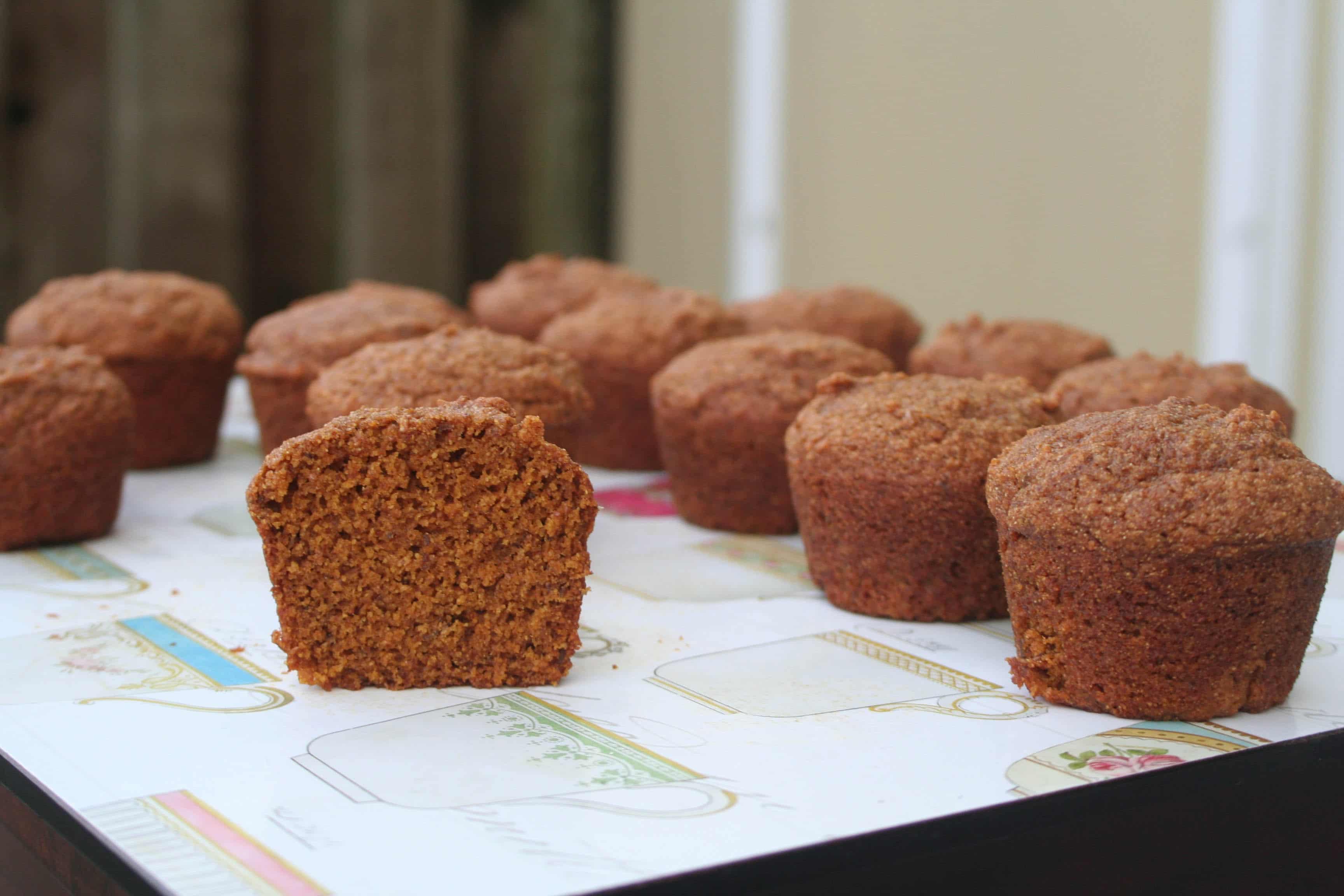 I found out a few weeks ago that my little man is a little low on iron. Not low enough to require iron supplementation, but low enough that I want to make sure he's eating foods rich in iron. It's actually pretty normal for babies to get a little low on iron sometime in the first year or after 1, because their iron stores from birth usually only last 6-12 months and then they need to get iron from food sources.
It makes sense, really, because Jonah loves to nurse and he adores fruit. Not a lot of iron in either of those! And I've sort of let him get by with that until now, because hey, fruit is good for you. 🙂 So, now that he is 16 months old, I'm trying to do a few things different. I still nurse first thing in the morning, and several times during the day (and sometimes at night), but I am attempting to usually offer him snacks and meals FIRST, and then nurse him as often as his heart desires. 🙂
I'm also trying to give him iron rich foods as often as possible, and combine them with foods high in Vitamin C. For example, for breakfast I might give him oatmeal with hemp seeds and some cut up oranges. Or apple slices and whole grain toast. So far, my plan is working and he has been eating very well, most of the time. Some other iron rich foods that are plant based are beans, tofu, soy, tempeh, brown rice, quinoa, fortified cereal like multigrain cheerios, nuts and seeds, raisins, dark leafy greens, and hummus.
These Pumpkin Molasses Mini Muffins are a winner with not only him, but my whole family! They are rich in iron due to the spelt flour and molasses. Molasses is a rich source of iron and natural sweetener. These are pretty sweet, and I'm sure you could cut the sugar in half if you want a less sweet muffin. These are perfectly moist, light and fluffy despite using whole grain spelt flour, and will make your house smell amazing.
Inspired by Oh She Glows and this book.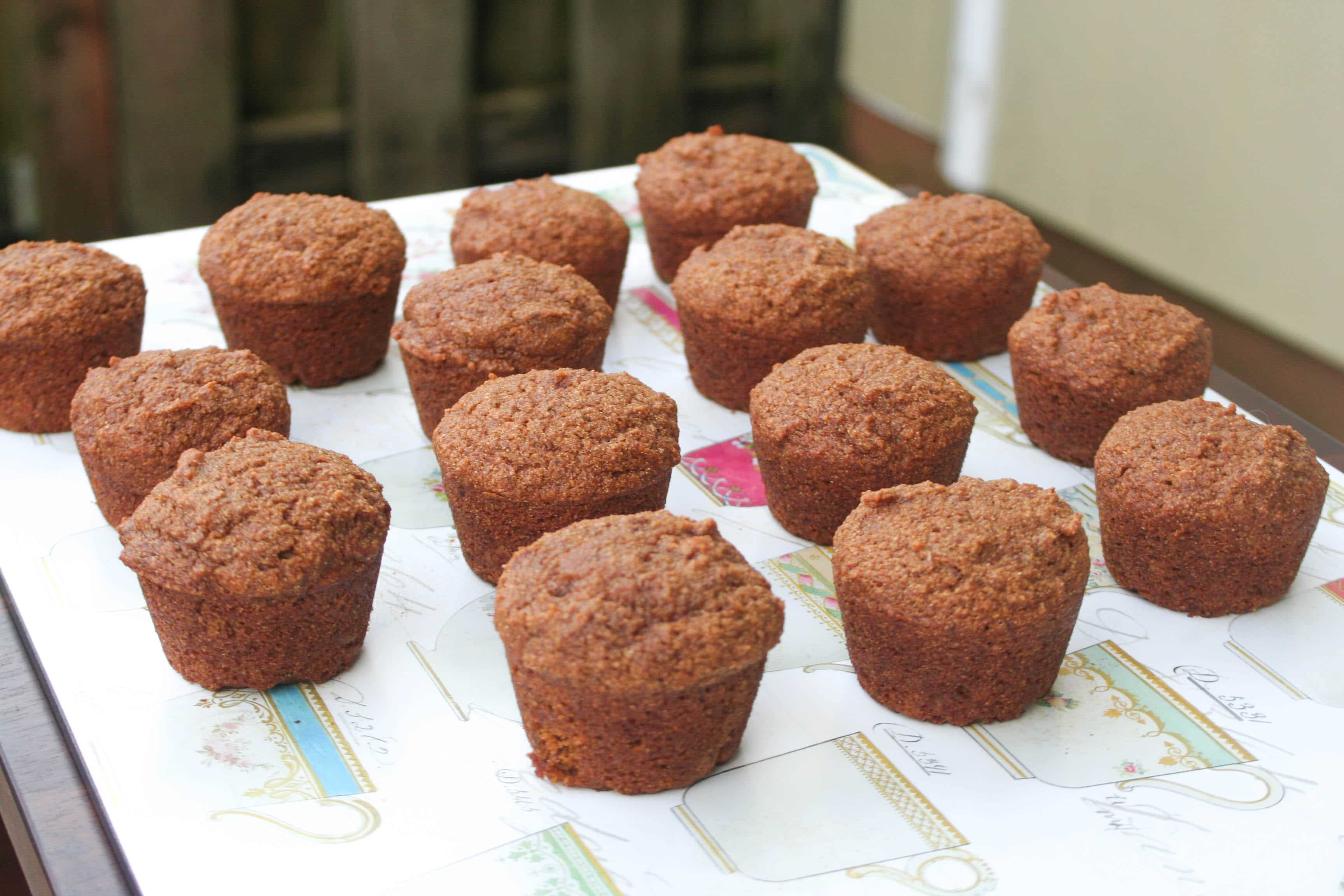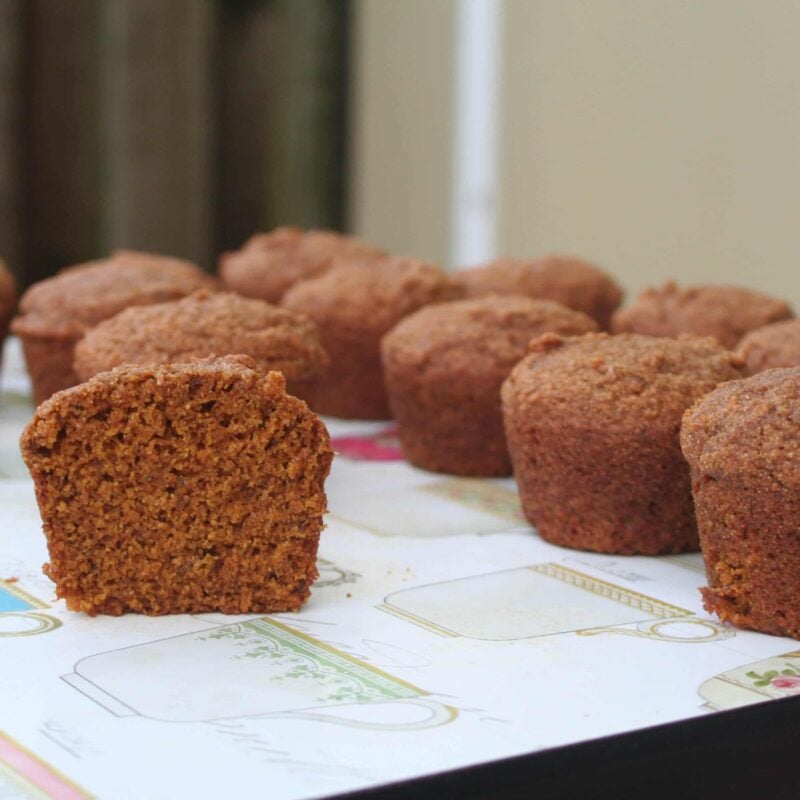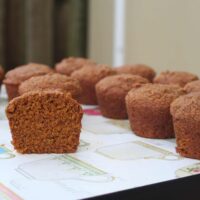 Pumpkin Molasses Mini Muffins
Ingredients
1

cup

canned pumpkin

1/3

cup

water

1/3

cup

canola or melted coconut oil

2

tbs

ground flaxseed

1

tsp

vanilla

1/4

cup

blackstrap molasses

1

cup

sugar

1 2/3

cup

spelt flour

1

tsp

baking powder

1

tsp

baking soda

1/2

tsp

salt

1/2

tsp

cinnamon

1/4

tsp

nutmeg
Instructions
Preheat oven to 350 degrees. Lightly grease mini muffin pan.

In a large bowl, whisk together canned pumpkin, water, canola or melted coconut oil, ground flaxseed, vanilla, molasses and sugar until well combined.

In a separate bowl, mix together the spelt flour, baking powder, baking soda, salt, cinnamon and nutmeg with a wooden spoon.

Add wet ingredients to the dry and stir with the wooden spoon until just combined. Do not over mix. The batter will be fairly thick.

Divide the batter into the mini muffin pan, filling them about 3/4 of the way full.

Bake for 18-20 minutes, until a toothpick comes out clean. Let cool for 5-10 minutes, and then serve to your little ones! These also freeze well.

Variation: Add mini chocolate chips to the batter before baking.
We are a participant in the Amazon Services LLC Associates Program, an affiliate advertising program designed to provide a means for sites to earn advertising fees by advertising and linking to amazon.com. Read my full disclosure here