Vegan Butternut Squash Mac and Cheese recipe using a combination of butternut squash, cashews and seasonings to create a creamy, non-dairy version of everyone's favorite kid-friendly pasta dish. Add peas for extra protein and fun!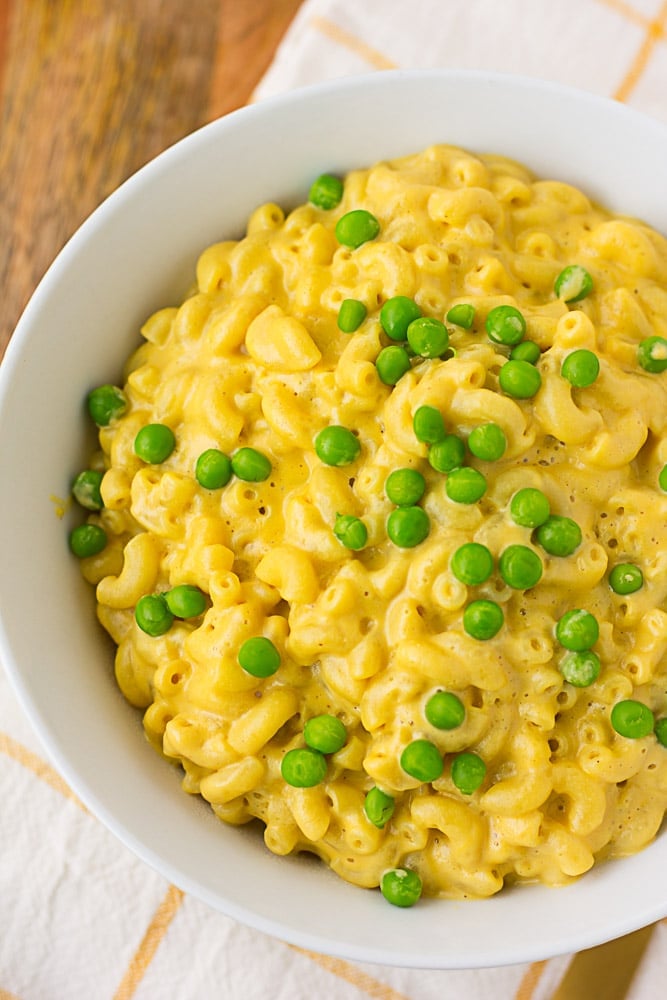 *I've updated this post with new photos and improved content. The original was posted in March 2017. The recipe in unchanged from the original.*
Cheese was definitely the HARDEST thing to give up when I stopped eating animal foods. I really never cared for meat or eggs, but I was pretty addicted to cheese in every form. It seems like most health and nutrition experts these days agree that dairy is not good for you, despite what we've been told all our lives!
It's pretty strange if you really think about it. We are the only mammal who consumes another specie's milk after infancy. Cow milk is made for baby cows, not for humans.
It's a myth that drinking milk makes your bones strong. In fact, just the opposite is true. You can read more about that here: Calcium and Bone Health. Bottom line: Ditch the dairy; get your calcium elsewhere! 🙂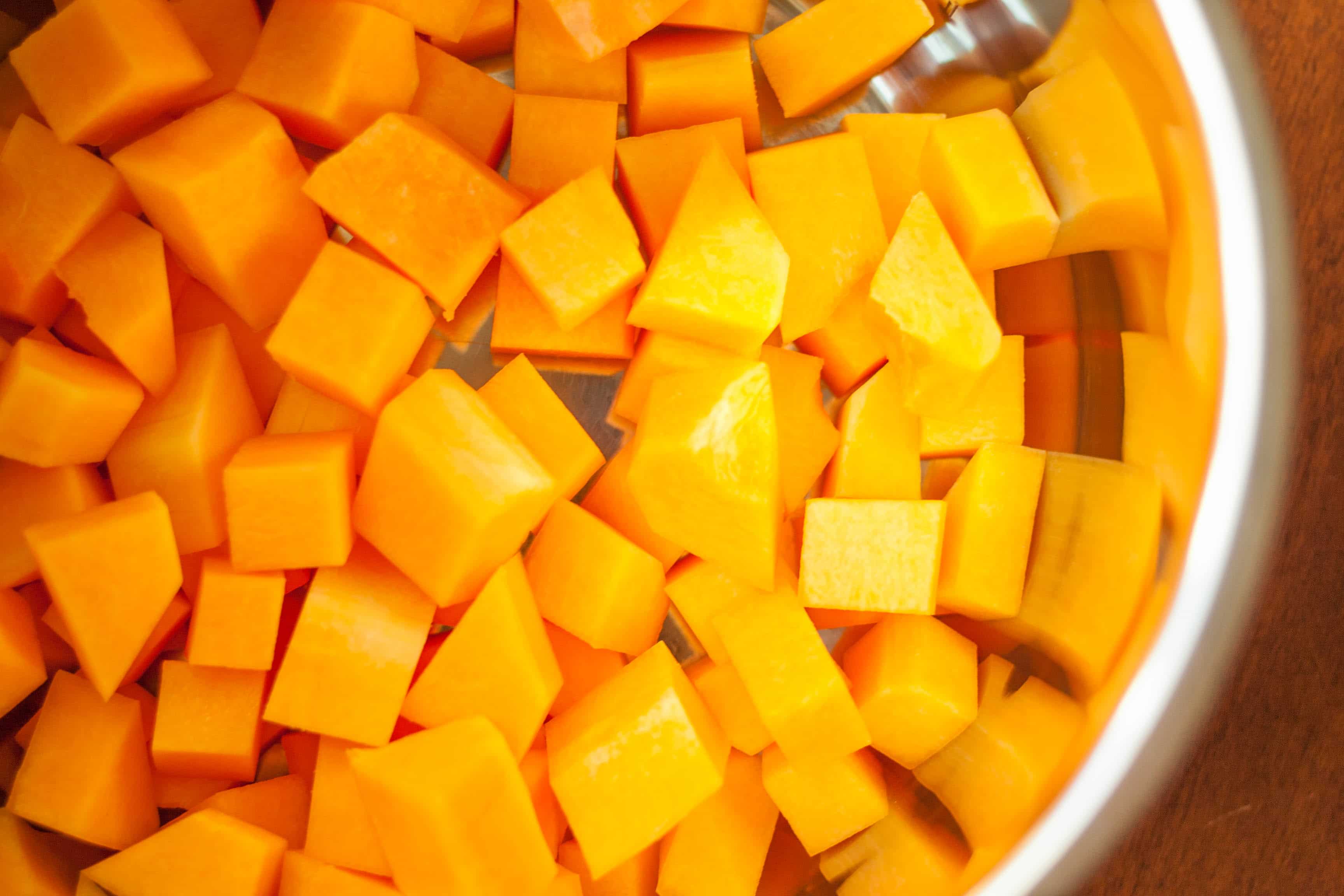 I have made many vegan "Mac and Cheese" recipes in my day. Some have been terrible, some pretty good. The one I have probably made and enjoyed the most is this recipe from Megan Gilmore at Detoxinista. It's really delicious, but a little too rich to eat on a regular basis.
Enter this Butternut Squash Mac and Cheese. Sure, it doesn't taste like Kraft or your normal mac and cheese dish laden with saturated fat and cholesterol; instead, this recipe will fill you with energy, nutrients and leave you feeling very satisfied.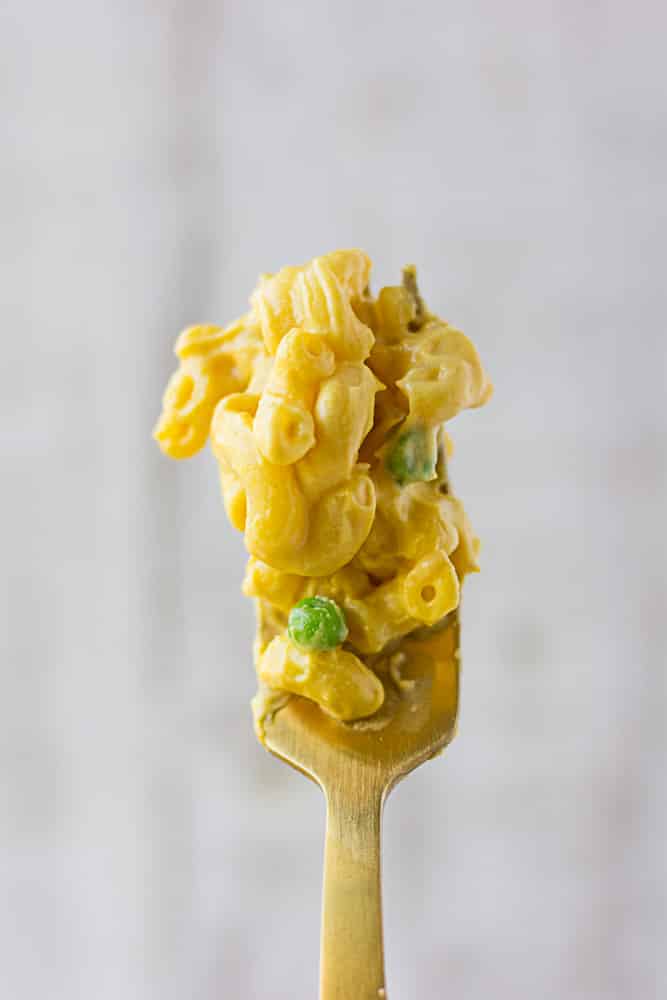 This Butternut Squash Mac and Cheese is:
Creamy
Flavorful
Cheesy
Comforting
Kid-approved
Easy to make
Versatile: Use whatever combination of veggies and pasta you want, or simply use the cheese sauce to drizzle on steamed broccoli, cauliflower, or baked potatoes!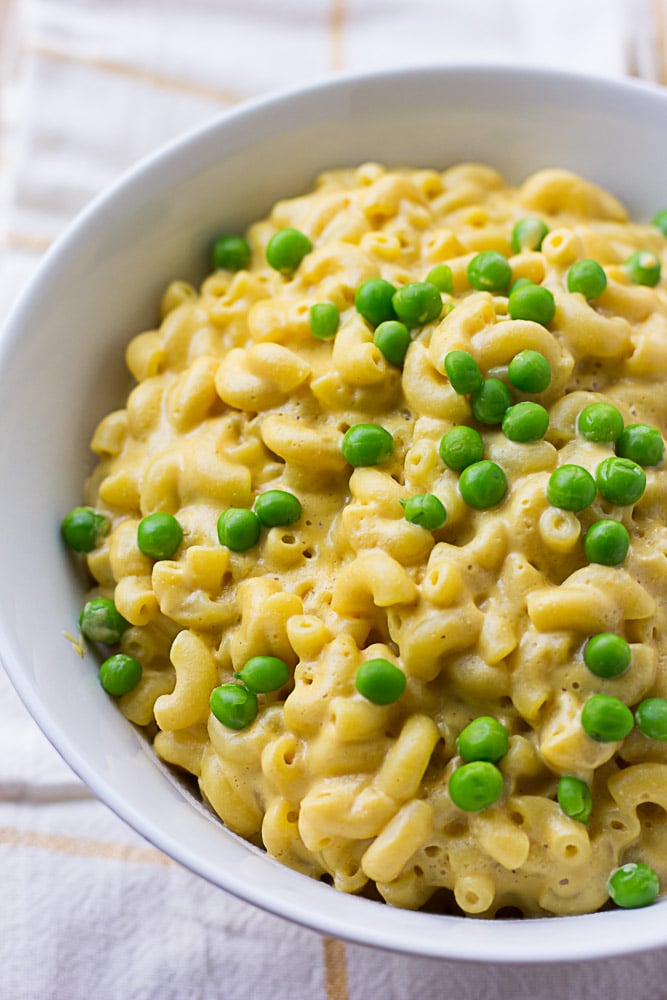 Whole grain pasta actually has a good amount of protein itself, but the peas provide an extra protein (and vitamin) boost if you are worried about that sort of thing. Feel free to use a different vegetable if you desire. Steamed broccoli or cooked kale are also excellent choices!
My kids absolutely gobbled this up! I hope yours will too. 🙂
If you liked this recipe, you might love my Easy Vegan Mac and Cheese!
 If you make this recipe, let me know how it goes! Rate it, leave a comment and tag a photo @noracooksvegan on Instagram or find me on Facebook. Enjoy!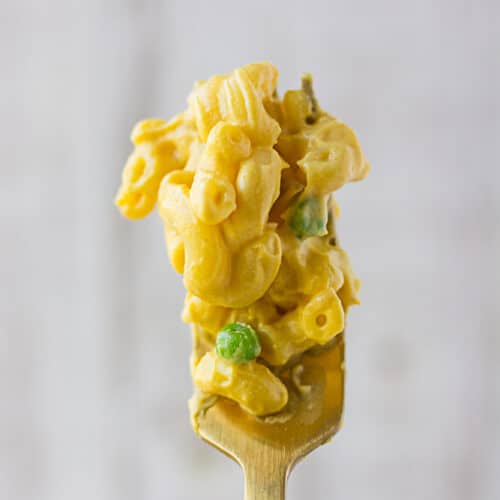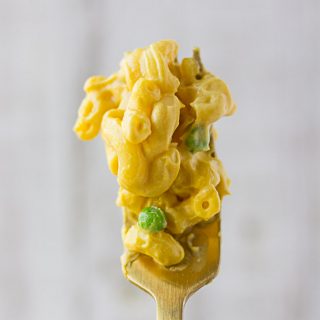 Butternut Squash Mac and Cheese
Butternut Squash Mac and Cheese (with peas) is made with a combination of butternut squash, cashews and nutritional yeast. You will be amazed by the creaminess of this non-dairy kid favorite dish! Add peas, steamed broccoli or cooked kale.
PRINT
PIN
RATE
Servings:
6
large servings
Ingredients
1

medium butternut squash, or 2 cups chopped

1/2

cup

raw cashews

2

cups

water

2

tbsp

cornstarch

1/2

cup

nutritional yeast

1

tbsp

dijon mustard

1/2

tsp

garlic powder

1

tsp

onion powder

2

tbsp

lemon juice

1 1/2

tsp

salt, or to taste

16

oz

elbow noodles, whole grain or gluten free if needed

2

cups

frozen peas
Instructions
First, cook the butternut squash. If using a fresh whole squash, peel and cut the squash into medium sized chunks. I used my Instant Pot: Add the squash and 2 cups of water to Instant Pot and cook on high pressure for 8 minutes.

You could also roast the squash chunks, or boil/steam on the stove until tender.

Make the pasta: Bring a large pot of water to a boil. Add elbow noodles. After about 7 minutes of cooking, add the 2 cups frozen peas and cook for 2 more minutes. Drain the noodles and peas and add back to the pot.

Make the sauce: In a high powered blender, add 2 cups cooked butternut squash along with the rest of the ingredients, except for the noodles and peas. Blend until very smooth.

Add sauce to the pot. Stir constantly over low-medium heat for a minute or two until the sauce thickens a bit. Serve immediately!
Recipe Notes
Nutritional information will vary greatly on the kind of pasta you use and what vegetable you add. I did my calculations using brown rice elbow noodles and peas.
The butternut squash cashew cheese sauce freezes well. To freeze, pour into a container, leaving an inch or so of space to allow for expansion. Reheat on the stove or in the microwave.
NUTRITION INFORMATION