Made entirely from scratch, this Cherry Galette is a cherry lover's dream come true. Buttery crust serves as the base to the most deliciously sweet filling that features plenty of fresh dark cherries. As elegant as this dessert appears, don't let it intimidate you – it's oh so easy to make!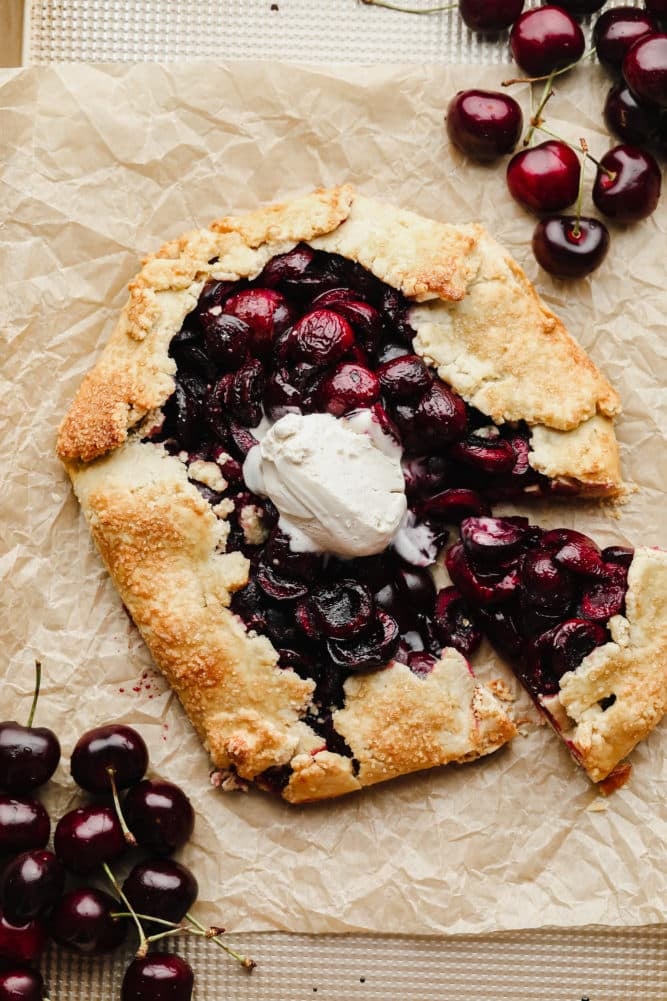 Galettes are just so pretty to look at! They have such a timeless rustic appearance to them that gives me all of the cozy feelings. If you also love the simplistic pleasures of fruity desserts that have all flavor and no frills, you simply must make Perfect Vegan Apple Pie and Easy Vegan Peach Cobbler.
The very best cherry galette
Cherries are at their ripest during the summer, so go grab some while they're still at their best! This simple, classic, and timeless Cherry Galette recipe features sweet dark cherries that are made even more delicious by the filling they're cooked with.
When you first taste the perfect bite of the homemade buttery crust, sweet filling, and fresh cherries, you won't be able to hide your smile! If you're a cherry lover (who isn't?!), this is most certainly the perfect summer send off for you. 
Why do I love this easy cherry galette?
It's simply stunning. Serving a galette always feels so much fancier than serving a pie, which is funny, because most pies require more effort to make from scratch! The appearance is gorgeous because of the perfect golden crust and vibrant cherry filling.
The seasonal fruit. I love cooking with fruits and veggies that are ripe and in season! This easy galette recipe is such a wonderful way to showcase fresh cherries. Whether you're just starting your summer or wrapping it up, you'll love digging into this dessert. 
So very easy to make! It may be made from scratch, but have no fear – this galette is still a real cinch to whip up! The ingredients are simple and inexpensive and the steps are clear and concise.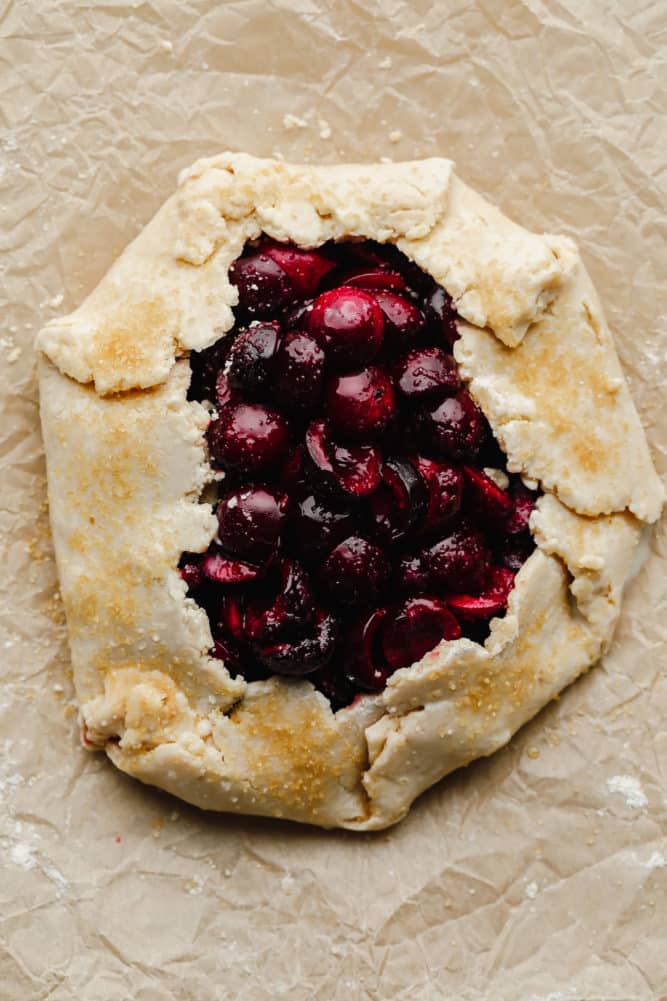 Ingredients needed (with substitutions)
For the crust:
Flour – This can be replaced with gluten free flour if needed. 
Sugar – I've found that granulated sugar yields the perfect touch of sweetness here, but coconut sugar can be used instead. 
Salt
Butter – I used Miyoko's plant butter and it yielded seriously delicious results! 
Ice Water
For the cherry filling:
Sweet Dark Cherries – They'll need to be pitted and cut in half. If you need to use frozen cherries, make sure they're completely thawed to room temperature and patted dry before using. 
Sugar
Cornstarch
Lemon Juice – Freshly squeezed lemon juice yields the best results.
Salt
Other essentials:
Plant Milk – You can use oat, almond, or coconut milk to brush the crust. 
Coarse Sugar – This extra sprinkle of sugar is the best way to finish off your Cherry Galette! 
Ice Cream – Treat yourself to The Best Vegan Ice Cream when you serve this galette. Or your favorite vanilla.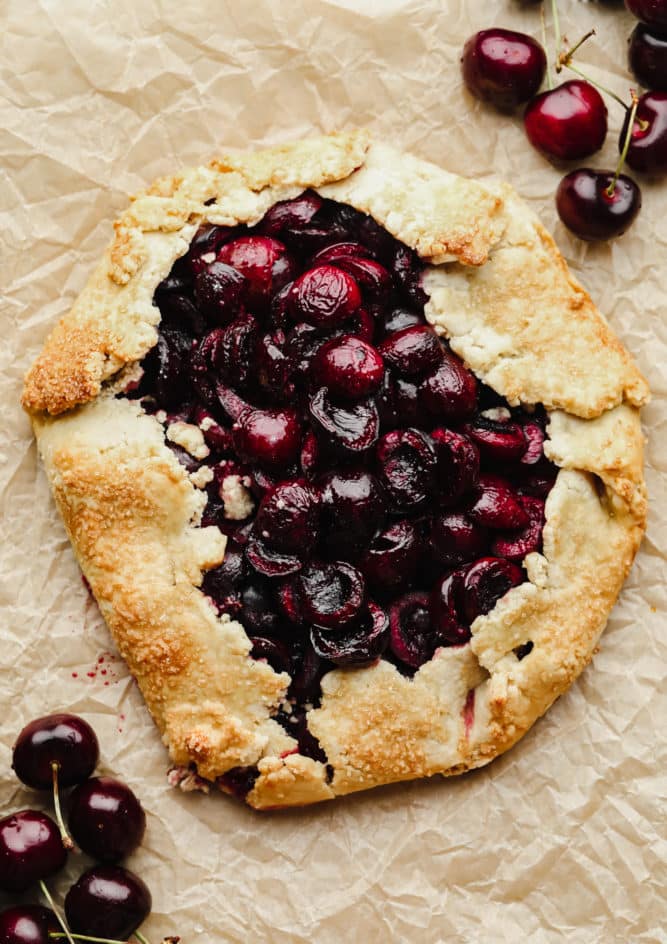 Frequently asked questions
What is the difference between a tart and a galette? Put simply, a galette allows you a little more freedom! A tart is made with a tart ring, whereas a galette falls into the free-form realm of baking. If it messes up a bit while baking in any way, it doesn't matter. In fact, any little mistakes just contribute to its more rustic appearance. 
How long will Cherry Galette stay fresh? In an airtight container at room temperature, this dessert will stay fresh for about 2-3 days. 
How do I prevent my Cherry Galette from getting soggy? If you've ever had a galette that was soggy at the bottom, that's because the filling wasn't made quite right. The amount of cornstarch in the mix should do a good job at keeping things from getting soggy, no matter how ripe and juicy your cherries are.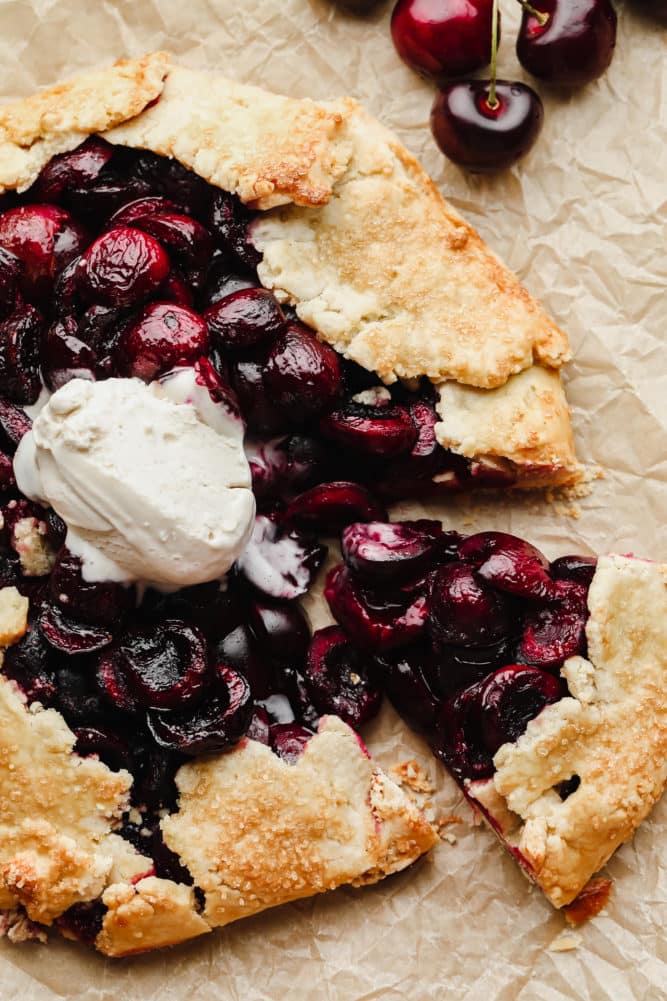 More fruity desserts to make before summer's over: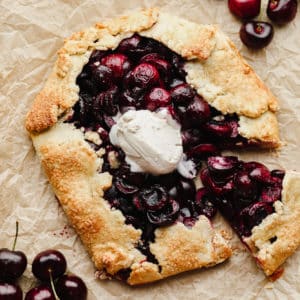 Cherry Galette
Made entirely from scratch, this Cherry Galette is a cherry lover's dream come true. Buttery crust serves as the base to the most deliciously sweet filling that features plenty of fresh dark cherries. As elegant as this dessert appears, don't let it intimidate you – it's oh so easy to make!
Ingredients
For the cherry filling
4

cups

sweet dark cherries, pitted and cut in half

1/3

cup

granulated sugar

3

tablespoons

cornstarch

1

tablespoon

fresh lemon juice

1/4

teaspoon

salt
The rest
plant milk, for brushing the crust

sprinkle of coarse sugar

vanilla ice cream

for serving
Instructions
Prepare the crust ahead of time
Make sure your butter is very cold before starting, do not let it sit at room temperature.

To a food processor, add the flour, sugar and salt and process for 10 seconds. Add the butter and process for 10-20 seconds, until it looks like coarse meal.

With the food processor running, drizzle in 3 tablespoons of ice water. When it begins to clump together, stop. Add another tablespoon of ice water if needed for it to come together.

Remove the dough with your hands and wrap it in plastic wrap. Place in the refrigerator for 30 minutes, or longer.
Prepare cherry filling and bake
After the pie dough has been chilling for 30 minutes, preheat the oven to 375 degrees F. Line a baking sheet with parchment paper.

Add the halved cherries to a large bowl along with the sugar, cornstarch, lemon juice and salt. Toss to combine.

Remove the crust from the refrigerator and roll into a sort of circle (it doesn't have to be perfect at all) about 1/4 inch thick. Place it on the lined pan.

Add the cherry mixture to the center of the dough, leave a 2-3 inch border all around the edge. Fold the crust over the top of the cherries and brush with plant milk. Sprinkle the crust with coarse sugar.

Bake for 40-50 minutes, until the crust is golden brown. Remove from oven and let cool for a few minutes, then slice and serve with vanilla ice cream, if desired. Enjoy!
Notes
Gluten free? Substitute a gluten free all purpose flour.
May use coconut sugar if desired.
Another fruit could be used here, such as blueberries, peaches or a mix of berries.
Nutrition
Serving:
1
of 8 servings
|
Calories:
275
kcal
|
Carbohydrates:
41
g
|
Protein:
3
g
|
Fat:
12
g
|
Saturated Fat:
2
g
|
Polyunsaturated Fat:
4
g
|
Monounsaturated Fat:
5
g
|
Trans Fat:
2
g
|
Sodium:
238
mg
|
Potassium:
183
mg
|
Fiber:
2
g
|
Sugar:
18
g
|
Vitamin A:
44
IU
|
Vitamin C:
6
mg
|
Calcium:
13
mg
|
Iron:
1
mg