These are the BEST Vegan Chocolate Peanut Butter Balls! With a creamy but slightly crispy peanut butter filling and chocolate coating, they are sure to be a hit! Only 6 ingredients.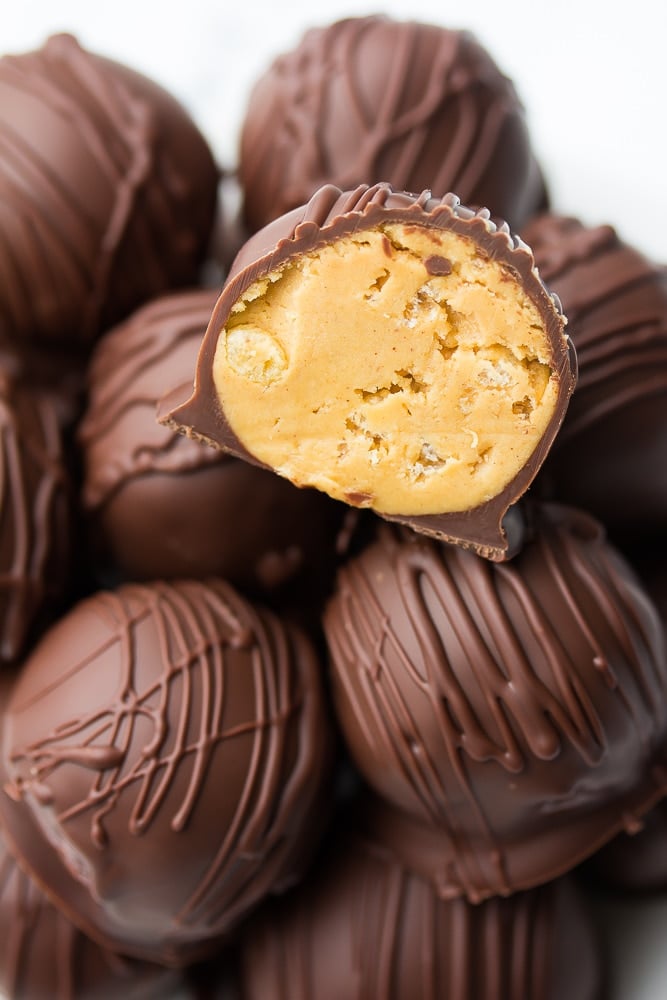 Chocolate Peanut Butter Balls are a classic favorite and are perfect for holiday parties. Chocolate and peanut butter are a match made in heaven, and these balls are made even more amazing thanks to a secret ingredient. Watch them disappear!
What kind of peanut butter should I use?
In this particular recipe, I recommend using creamy peanut butter, NOT the natural kind that is only peanuts and/or salt. The creamy stuff just works better here, and gives more consistent results. Natural peanut butter is more liquidy and oily.
You can use natural if you must, but you may need to add more powdered sugar to get a peanut butter dough that is thick and firm enough to roll into balls.
The secret ingredient…
Rice Krispies cereal! In my opinion, the addition of Rice Krispies in the peanut butter dough really brings these peanut butter balls to the next level of amazing! You get just a little "crunch" with each bite that is irresistible.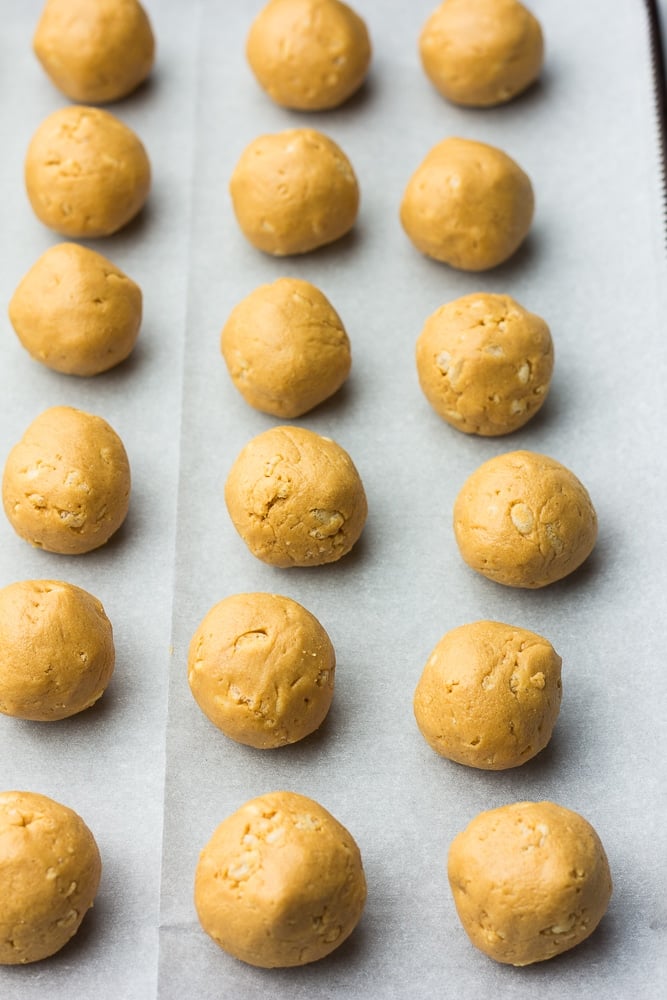 Making vegan chocolate peanut butter balls is easy
Make the peanut butter dough, roll into balls and refrigerate for 30 minutes.
Melt chocolate chips and coconut oil in a bowl.
Dip each peanut butter ball into chocolate
Place back in the refrigerator to set for 15 minutes.
Try not to eat them all at once!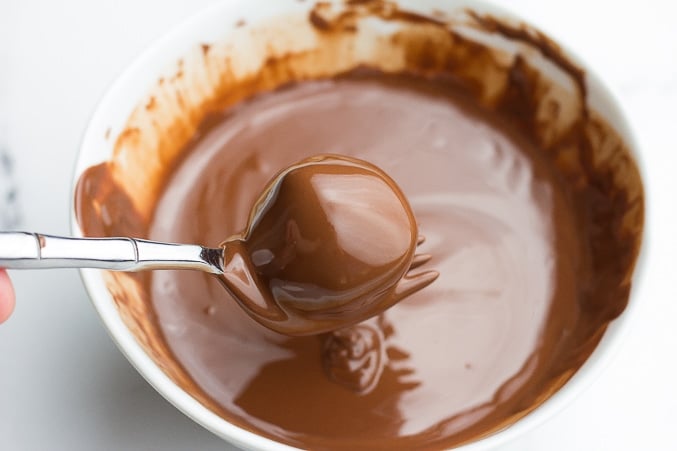 Tips & Substitutions
Peanut allergy? Use almond butter instead!
Gluten free? Use a gluten free brand of rice krispies type cereal.
Use refined coconut oil to avoid any coconut flavor in the chocolate coating.
Before you start, clear an area of your refrigerator so you have room to place a baking sheet in there.
The peanut butter dough should be thick enough to roll into balls easily, and shouldn't be overly sticky. If it's too sticky, add a tablespoon of powdered sugar at a time until you the perfect consistency is reached.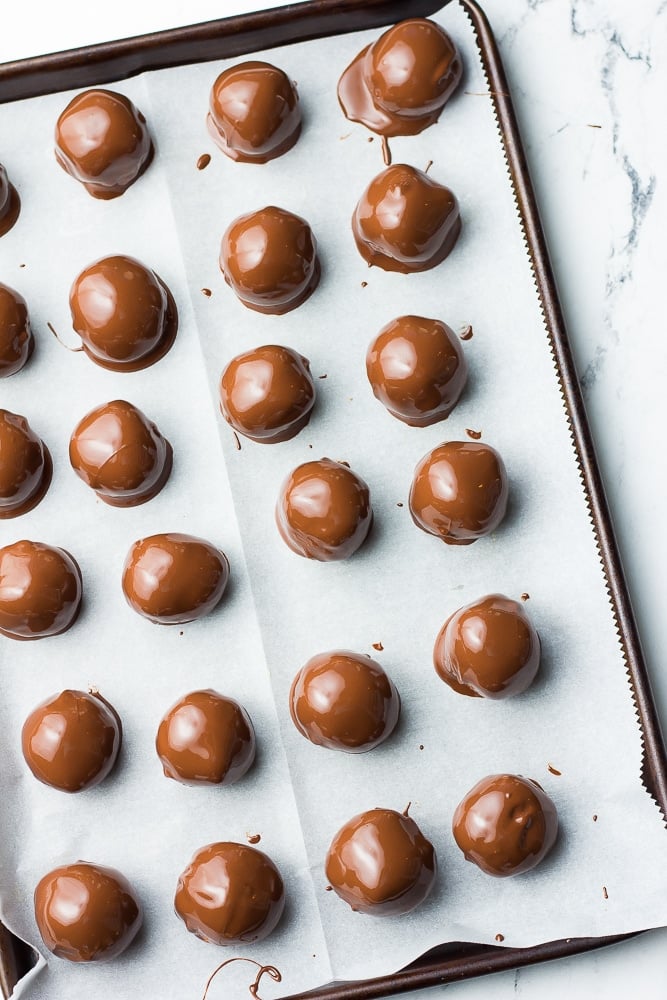 This post contains affiliate links. Read my full disclosure here.
Where can I find vegan chocolate chips?
I almost never buy chocolate chips that are actually labeled "vegan". They are too expensive! However, many brands are accidentally vegan, such as Trader Joe's semi-sweet chocolate chips and Guittard brand. Even my local discount store carries a generic brand of non-dairy chocolate chips.
Simply check the ingredients list for milkfat, butter oil, etc.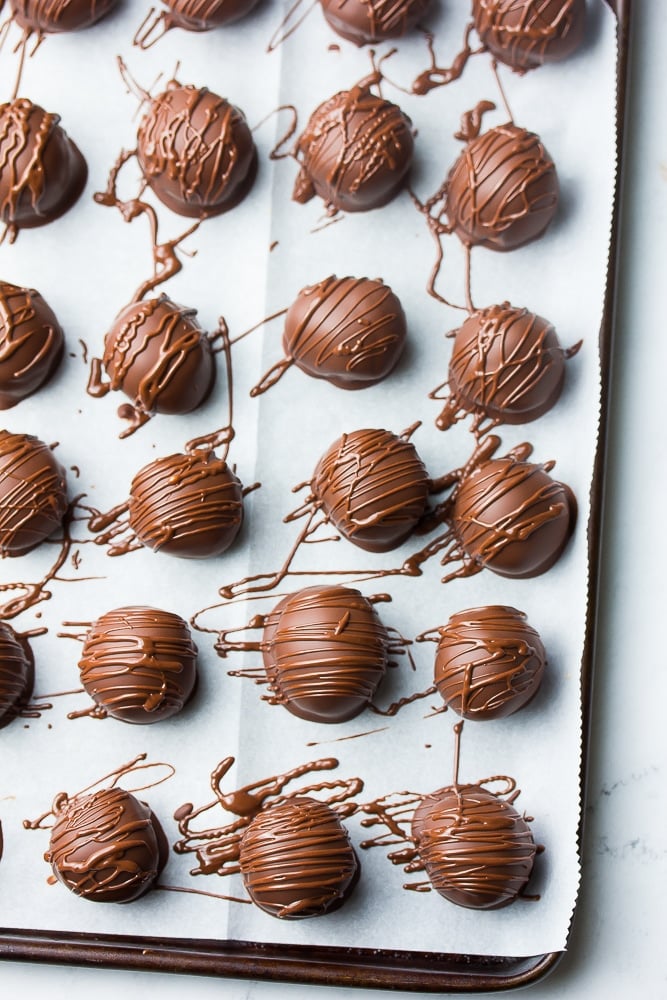 Want more peanut butter desserts?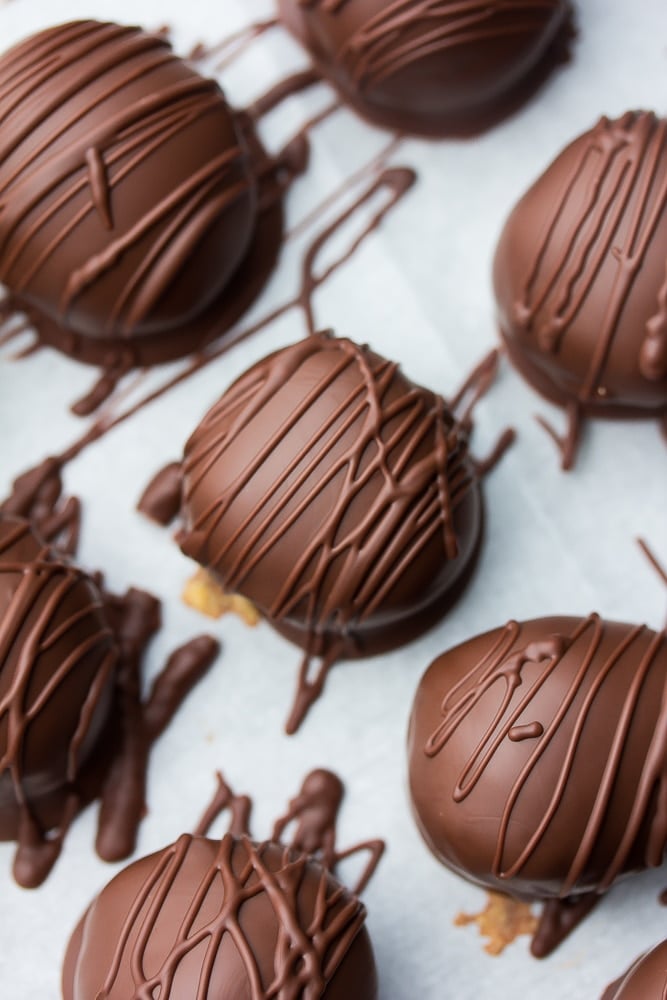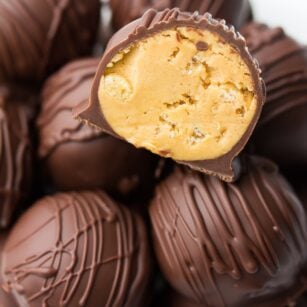 Vegan Chocolate Peanut Butter Balls
The BEST Vegan Chocolate Peanut Butter Balls! With a creamy but slightly crispy peanut butter filling and chocolate coating, they are sure to be a hit!
Instructions
Add the peanut butter and softened vegan butter to a large bowl. Using a hand mixer, mix until combined, about 1 minute. Now add the powdered sugar and Rice Krispies cereal. Mix together on low speed until combined, it will be thick.

Form tablespoon sized balls and place on a pan lined with parchment paper. Place in the refrigerator for at least 30 minutes to chill.

In a medium bowl, melt the chocolate and coconut oil in the microwave, or on the stovetop if desired. I microwave in 30 second intervals, stirring in between until melted.

Dip each peanut butter ball into the melted chocolate (I used a fork to help me). Tap off some of the excess chocolate and place back onto the parchment lined pan.

Once all the peanut butter balls are covered in chocolate, place them back in the refrigerator to set, about 15 minutes. Drizzle any remaining melted chocolate over the balls, if desired. Store peanut butter balls in the refrigerator, they will get quite soft at room temperature if left out for long.
Notes
I don't recommend using all natural peanut butter for this recipe, creamy peanut butter works best and will give more consistent results. 
I use refined coconut oil so there is no coconut flavor whatsoever, but if you don't mind the chocolate tasting like coconut, you can use unrefined coconut oil. 
These balls freeze very well, and can be made ahead of time. They will keep in the refrigerator for up to 2 weeks.
Allergic to peanuts? Use almond butter instead! 
For Gluten Free, use a different brand of gluten free rice krispies type cereal.
Nutrition
Calories:
182
kcal
|
Carbohydrates:
19
g
|
Protein:
3
g
|
Fat:
12
g
|
Saturated Fat:
5
g
|
Sodium:
67
mg
|
Potassium:
60
mg
|
Fiber:
1
g
|
Sugar:
15
g
|
Vitamin A:
181
IU
|
Vitamin C:
1
mg
|
Calcium:
21
mg
|
Iron:
1
mg