A whole wheat, oil free, vegan pizza dough recipe that will have you eating delicious homemade pizza in just 30 minutes.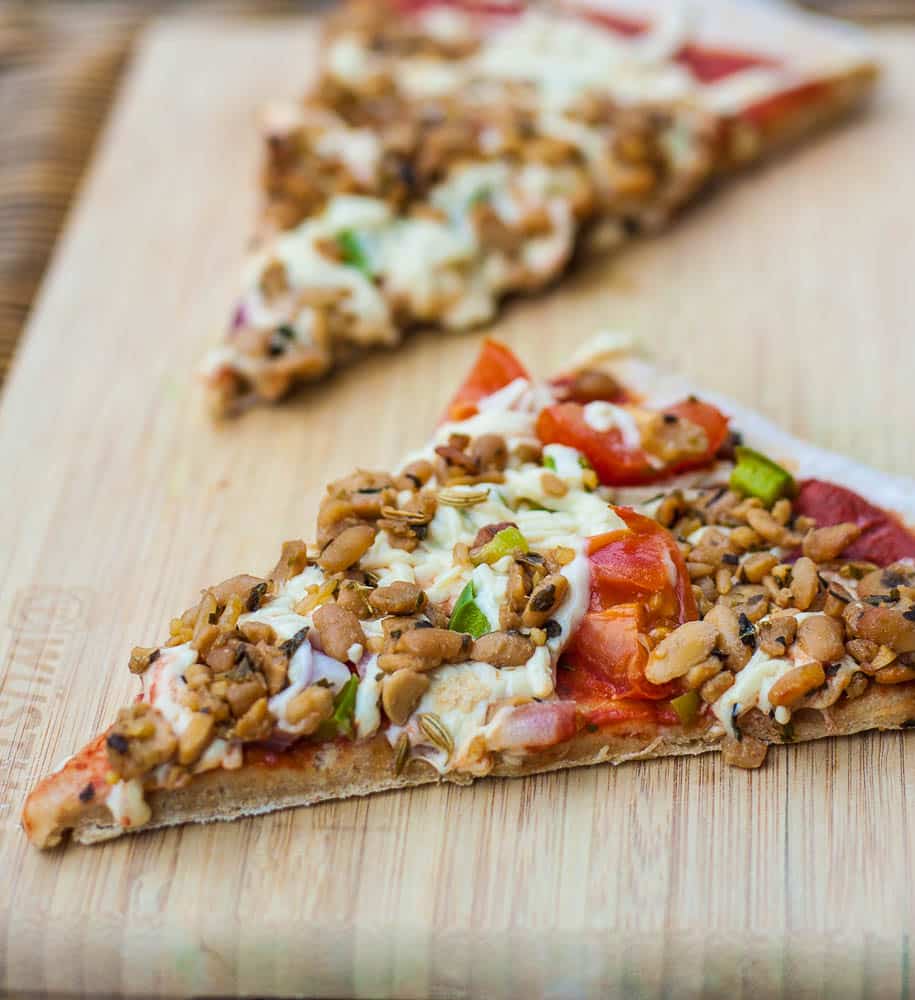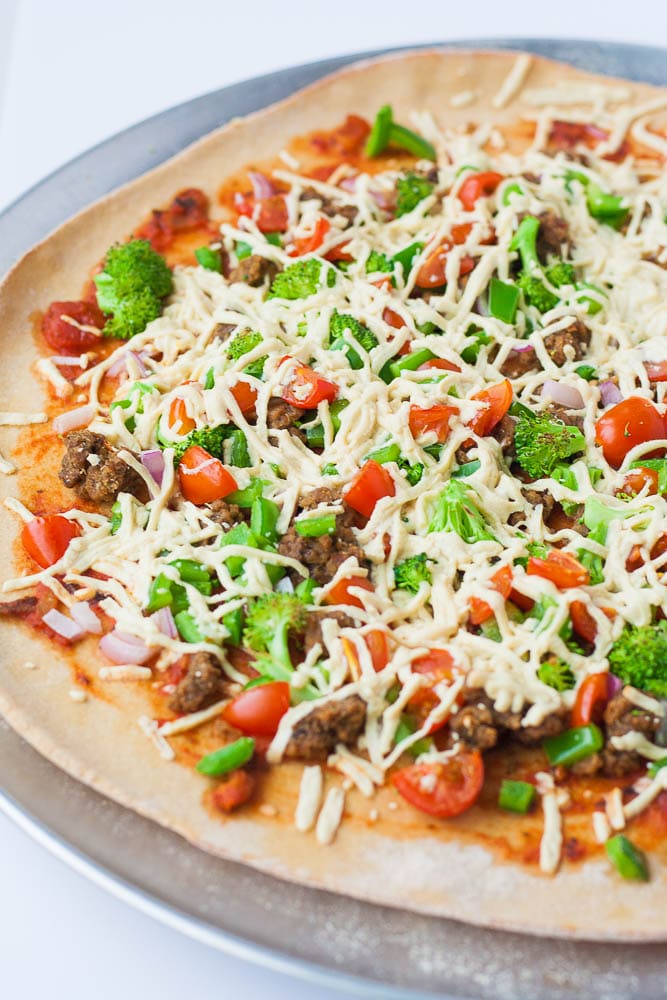 I have been working on a pizza dough recipe to share with you all for weeks now. Every recipe I can find seems to call for oil in the dough, or uses white flour or cheese. I really wanted to come up with a soft, doughy crust that was not only whole wheat but also oil-free and easy to make. FINALLY, I am so happy with this pizza dough I feel ready to share it!
I don't know about you, but Friday Pizza Night is kind of a big deal at our house. It started with Trader Joes' prepared pizza dough, which is pretty tasty but there isn't a whole grain option. We've used pita bread for a super quick and easy option which isn't too bad, but there is nothing like homemade pizza dough.
My kids prefer super small chopped mushrooms, tomatoes and spinach on their pizza, while my husband and I like all sorts of veggies, sometimes tempeh sausage and a tiny sprinkle of daiya cheese. You really don't need loads of cheese and meat to make a great pizza. I LOVE this vegan pizza, seriously. It's just as delicious, maybe more so. Bonus: it won't leave you feeling terrible like normal pizza! At least I always felt pretty awful after eating SAD (Standard American Diet) pizza.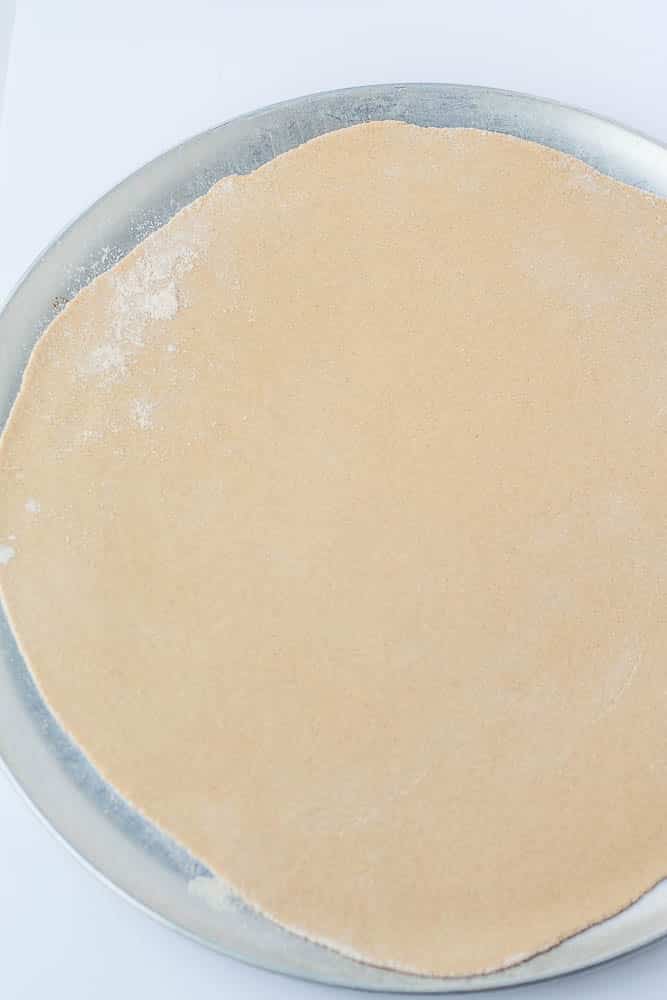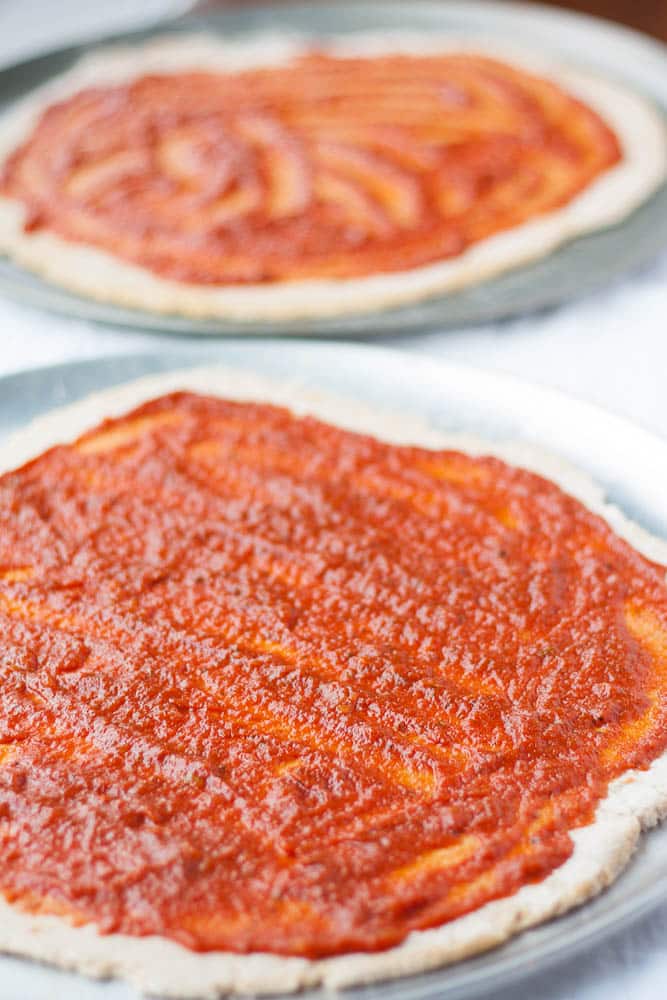 This pizza dough recipe is crazy easy! Let the yeast mix with the warm water for a few minutes, add the other ingredients, mix, knead for 5 minutes, roll out into 2 pizzas, place on a rack, top with sauce, veggies, tempeh sausage, non-dairy cheese if you like and bake for 8 minutes. Voila! Homemade plant-based pizza you don't have to feel bad about!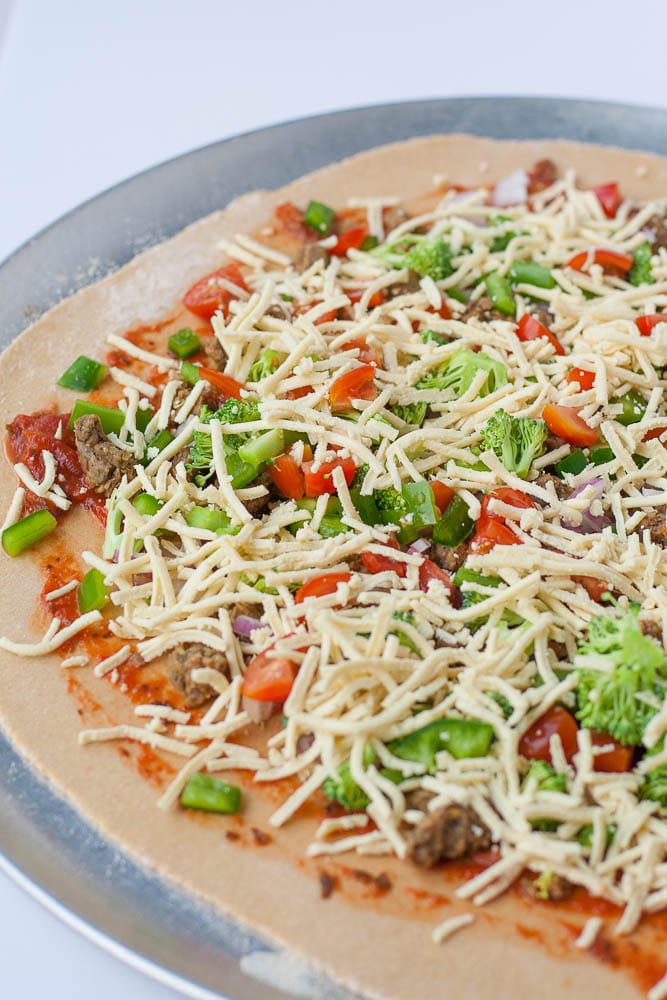 This pizza turns out just the way I like it. It is soft and chewy in the middle and has a bit of crisp on the bottom and edges, depending on how long you cook it. I love soft, chewy pizza so I only cooked it for 8 minutes. That was just right for me.
If you've been scared of making your own pizza dough in the past, have no fear! The most difficult part of this dough is the kneading, which is really quite easy and simple. Here's a video I find really helpful: How to Knead. To make this even easier, I recommend a Kitchen Aide Stand Mixer. If you make homemade pizza dough or bread often this is a lifesaver! It does all the kneading for you.
Now you can feel good about Friday Pizza Night! Top with tempeh sausage crumbles (recipe to come), a little non-dairy cheese if you please, and veggies. My favorite toppings are green peppers, red onions, tomatoes, spinach, broccoli, sun-dried tomatoes, mushrooms, artichokes and zucchini. Enjoy, and let me know if you make it!
If you need a gluten free pizza dough recipe, I highly recommend this recipe over at Minimalist Baker. It is the best gluten free crust!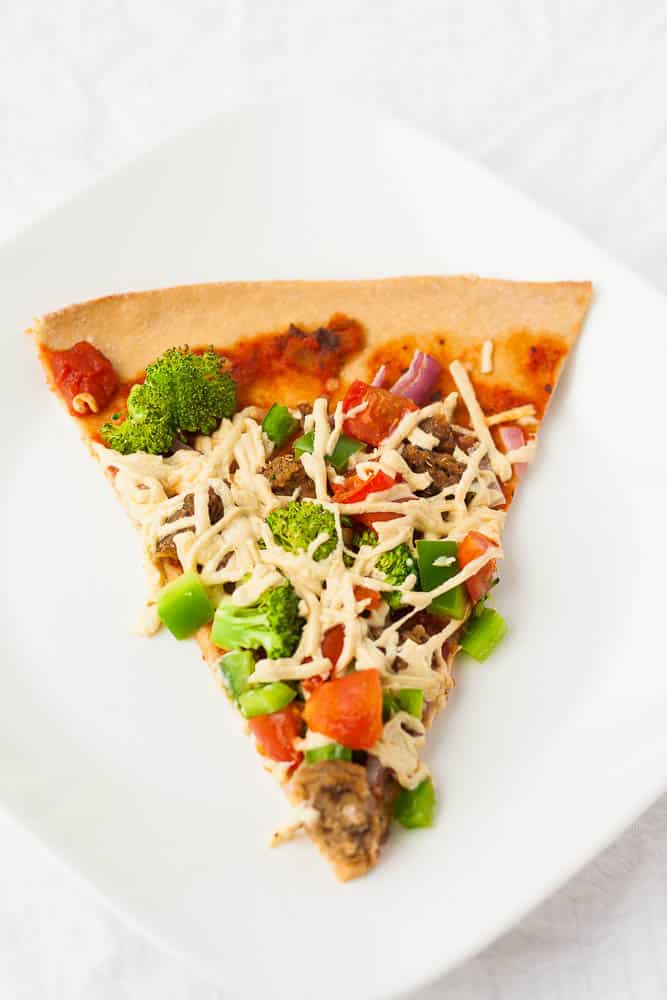 Adapted from this recipe.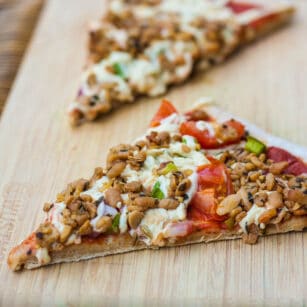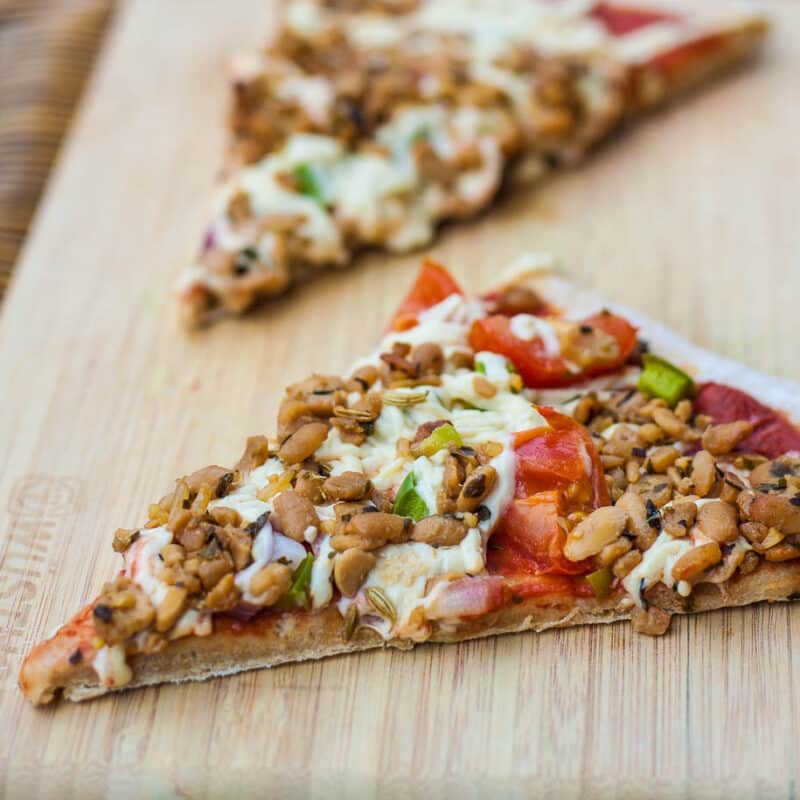 Easiest Whole Wheat Oil Free Pizza
Ingredients
1

cup

warm water, almost too hot for comfort (110 degrees)

1

envelope

rapid rise or instant yeast (2 1/4 teaspoons)

1

tbsp

sugar

2 3/4

cup

white whole wheat flour

1/4

cup

nutritional yeast

1

tsp

salt

pizza sauce, or tomato sauce

non-dairy cheese, optional *I prefer daiya brand

vegetables of choice- green peppers, red onion, tomatoes, etc.

tempeh sausage, optional
Instructions
Preheat oven to 425 degrees.

Quick whisk the warm water, yeast and sugar in a large bowl, or your standing mixer bowl if using. Allow it to sit for 5 minutes, it should puff up a bit.

Add the flour, nutritional yeast and salt to the bowl. If using a standing mixer, use the dough hook on setting 2 for 5 minutes. If kneading by hand, mix everything together with a wooden spoon until combined, then knead on a lightly floured surface for about 5 minutes until you have a smooth ball of dough.

Halve the dough. On a lightly floured surface (I just use my countertop), roll out the dough pretty thin, about 11 inches in diameter or to fit your pizza pans. You should get two good sized pizzas.

If you don't have good non-stick pans, you may need to lightly spray them with oil to prevent sticking. Use as little as possible if needed. Transfer the dough to the baking pans.

Now you can add your pizza sauce, veggies and other optional toppings. Bake for 8 minutes for a soft, chewy crust or 10 minutes for a crispier crust.
Notes
Calorie calculation is for the entire crust, and does not include toppings.
Nutrition
Calories:
637
kcal
|
Carbohydrates:
129
g
|
Protein:
30
g
|
Fat:
4
g
|
Saturated Fat:
1
g
|
Sodium:
1176
mg
|
Potassium:
420
mg
|
Fiber:
22
g
|
Sugar:
6
g
|
Calcium:
110
mg
|
Iron:
4
mg