Easy Vegan Falafel- made with just 7 ingredients! A simple, hearty classic Mediterranean inspired plant based meal. Serve in flatbread with Vegan Tzatziki and hummus. Pan fry or Bake options!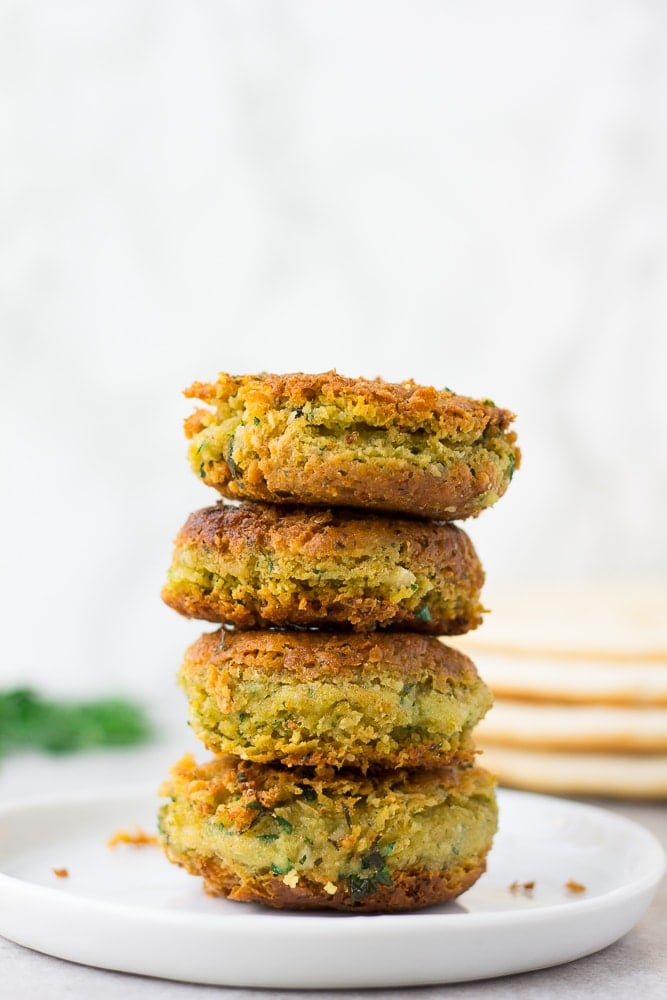 Are you a falafel fan? If you haven't tried this delicious Middle Eastern food, you are missing out! Falafel are Middle Eastern fast food, basically made of chickpeas, garlic, fresh herbs and spices. They are usually deep fried so they get super crispy on the outside, and remain tender on the inside.
My falafel recipe is not totally traditional, but it is delicious and easy to make at home!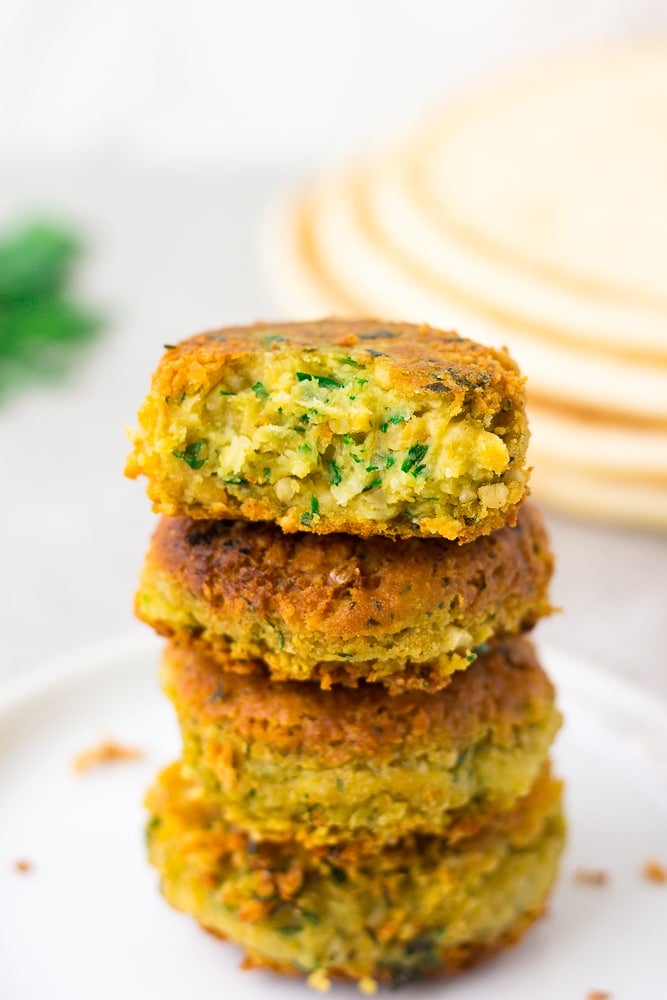 This Vegan Falafel recipe only requires 7 ingredients, and they are all easy to find foods. You will need:
Canned chickpeas
Garlic
Cashews (a few tablespoons)
Parsely
Cumin
Salt
& Flour
You will also need a food processor (or you could probably mash the chickpeas by hand but it won't quite be the same).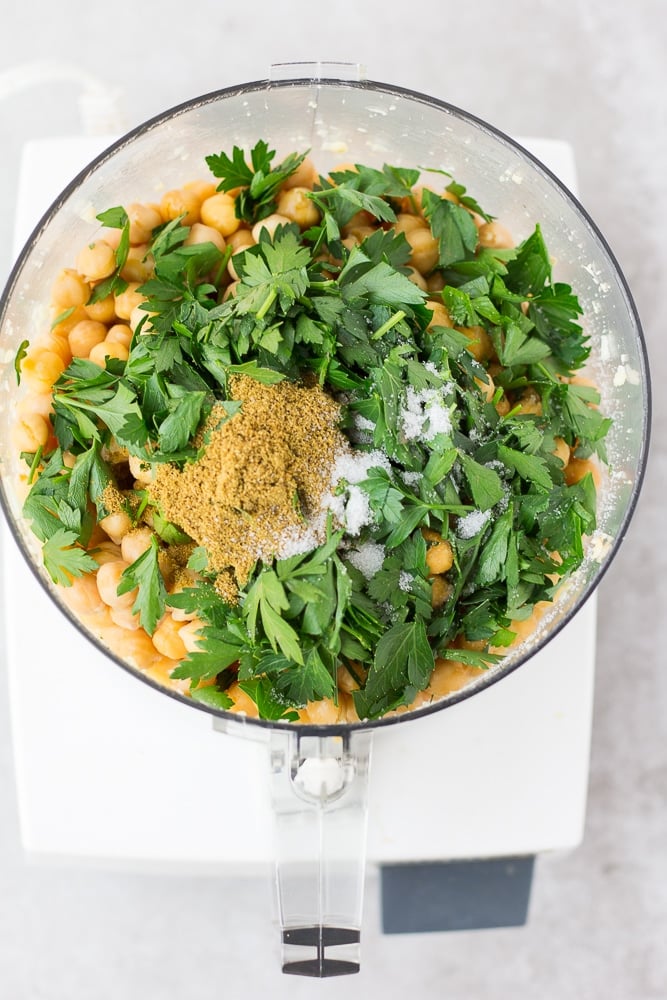 Traditional falafel are made with dried chickpeas that have been soaked but not cooked. To make things easier, I went with canned chickpeas that are drained, rinsed and patted dry. I also added in a few tablespoons of cashews, which help give some crumbly texture without having to use soaked but uncooked chickpeas.
Just make sure you don't over process the falafel mixture. You want it to be rather crumbly, but able to stick together.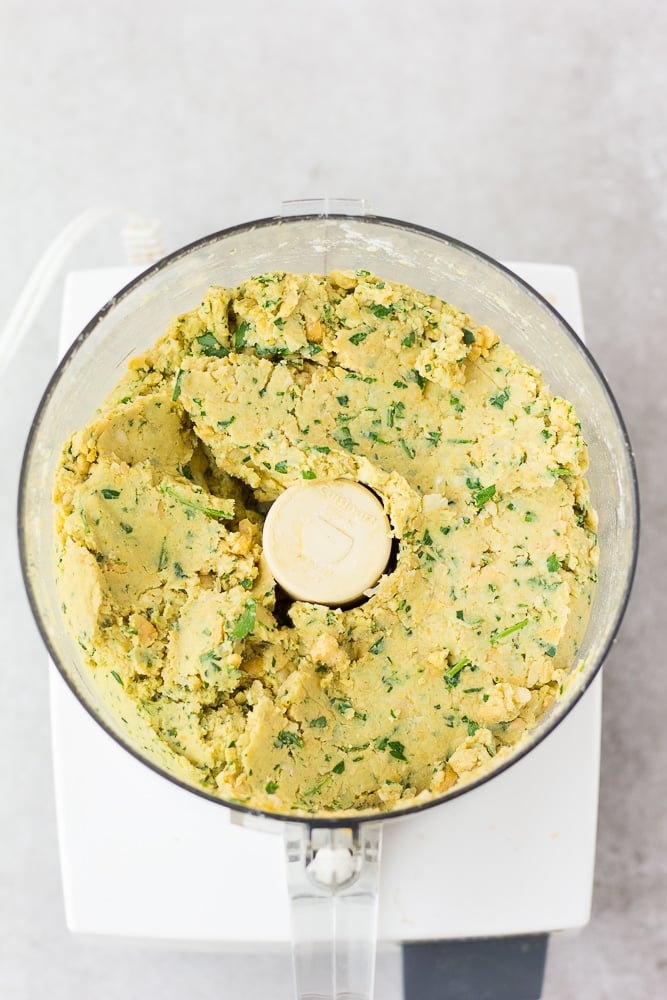 Please note this page does contain affiliate links. I only link to products I absolutely love and recommend. Thank you for your support.
How should I cook Easy Vegan Falafel?
You have two choices:
Bake, or
Pan Fry
I have done both, but went for pan frying here. I like the extra crispiness they get on the outside when pan frying, but they are pretty darn good baked as well. If you don't have a quality non-stick frying pan, you will probably need a few tablespoons of oil to prevent the falafel from sticking. The oil also helps them get a delicious crisp.
To avoid oil completely, just bake 'em. Both options are delicious.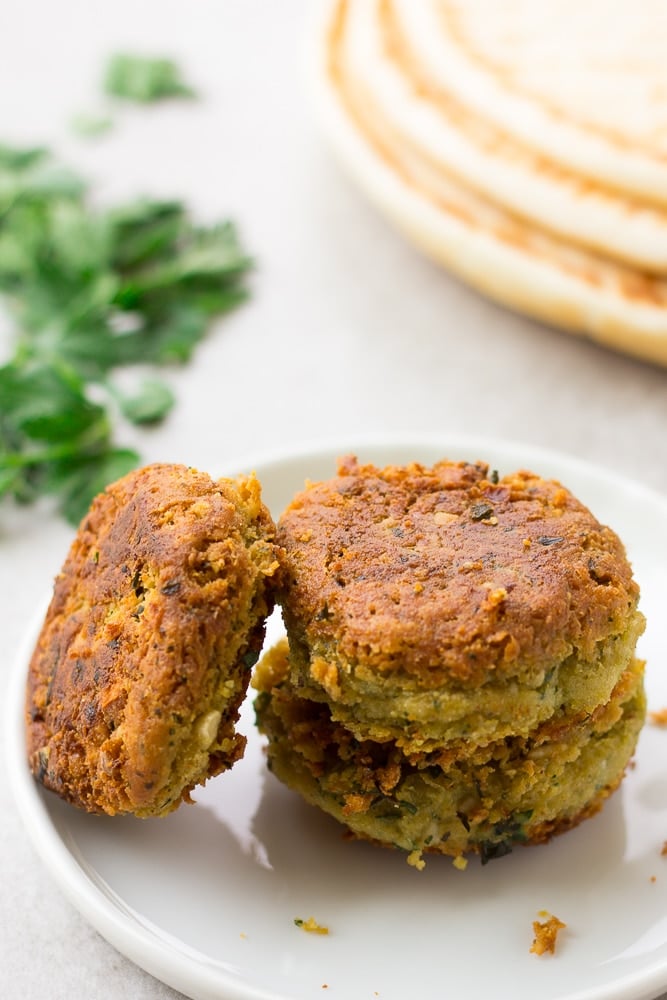 How should I serve the vegan falafel?
Serve with pita or flatbread with fresh tomatoes, sliced cucumbers, lettuce, hummus and Dairy Free Tzatziki Sauce.
You can also make a Falafel nourish bowl by serving over a bed of brown rice or farro, with all the same ingredients.
Or make a Falafel salad!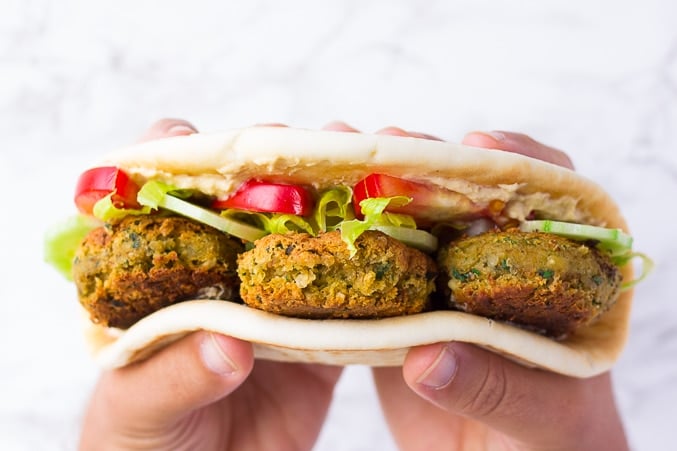 If you make this recipe, let me know how it goes! Rate it, leave a comment and tag a photo @noracooksvegan on Instagram. Enjoy!
Adapted from Minimalist Baker.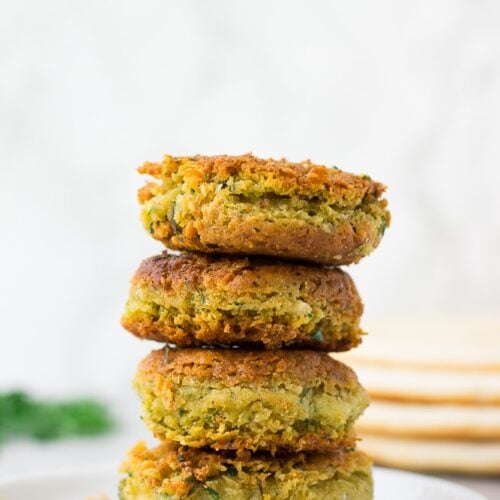 Easy Vegan Falafel
Easy Vegan Falafel- made with just 7 ingredients! A simple, hearty classic Mediterranean inspired plant based meal. Serve in flatbread with
Vegan Tzatziki
and
hummus
. Pan fry or Bake options!
Print
Pin
Rate
Ingredients
2

15-oz

canned chickpeas, drained and rinsed

OR 3 cups cooked

8

cloves garlic, peeled

4

tablespoons

raw cashews

3/4

cup

fresh parsely

1

tablespoon

cumin

1/2

teaspoon

salt

3-6

tablespoons

all purpose flour

3-4

tablespoons

oil for cooking, optional
Instructions
Drain and rinse the chickpeas, and pat them dry with paper towels or a clean tea towel.

Add the garlic and cashews to a food processor and pulse a few times to chop them. Do not blend them up, you just want them chopped. Now, add the chickpeas, parsley, cumin and salt and pulse a few more times, scraping the sides as needed until combined. You want a crumbly dough, not a smooth paste.

Now, add in 3 tablespoons of flour and pulse again until combined. You should have a dough at this point that you can shape into balls without it sticking to your hands. If it's still too sticky, add more flour, 1 tablespoon at a time.

Scoop out about 2 tablespoons at a time and shape into a ball, then slightly flatten into a disc. Repeat until all the dough is used; you will have about 12 discs.

To pan fry: Heat a large, non-stick skillet to medium heat and add the oil (or omit for oil free). Add the falafel discs and cook for 3-4 minutes. Flip, and cook for 3-4 minutes more. Remove and serve.

To bake: Line a baking sheet with parchment paper or a silicone mat and pre-heat the oven to 350 degrees. Add the falafel discs and bake for 15 minutes, then flip and bake 10 minutes more.

Serve in pita or flatbread with fresh tomatoes, sliced cucumbers, lettuce, hummus and vegan tzatziki sauce.
Notes
May use gluten-free flour in place of the all purpose flour with varied results.
FREEZER MEAL: The uncooked falafel patties freeze well. Simply shape them into discs, and lay them on a parchment paper lined pan or plate and stick it in the freezer. Once frozen (a few hours later or overnight), transfer the falafel to a freezer bag or container. To cook, remove from the freezer and bake or pan fry until cooked through, no need to let thaw.
Nutrition