Coconut oil brownies are completely vegan, tall and fudgy with the perfect crinkle top! Easy to make in 1 bowl. They don't taste like coconut!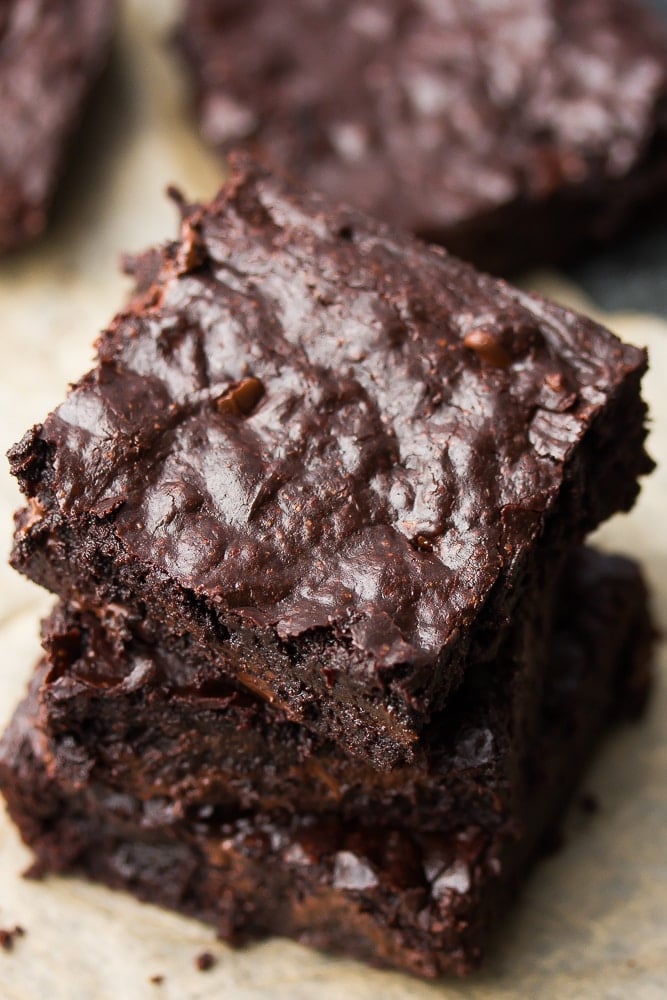 I've created yet another vegan brownie recipe! I may have a bit of a brownie obsession. Already on the blog are the Best Ever Vegan Brownies, Chewy Vegan Brownies and Vegan Peanut Butter Swirl Brownies. All of which I love for various reasons.
But these coconut oil brownies have become my go-to brownie indulgence lately, and I'll tell you why:
They use coconut oil, which is easier to find than vegan butter.
There is no need for flax eggs or any other egg replacer, making the recipe simpler.
They're RIDICULOUSLY easy to make in 1 bowl with just 8 ingredients that I almost always have on hand.
The result is a fudgy, moist but not overly dense, tall brownie with the most perfect crinkle top I've ever been able to achieve with a vegan brownie recipe!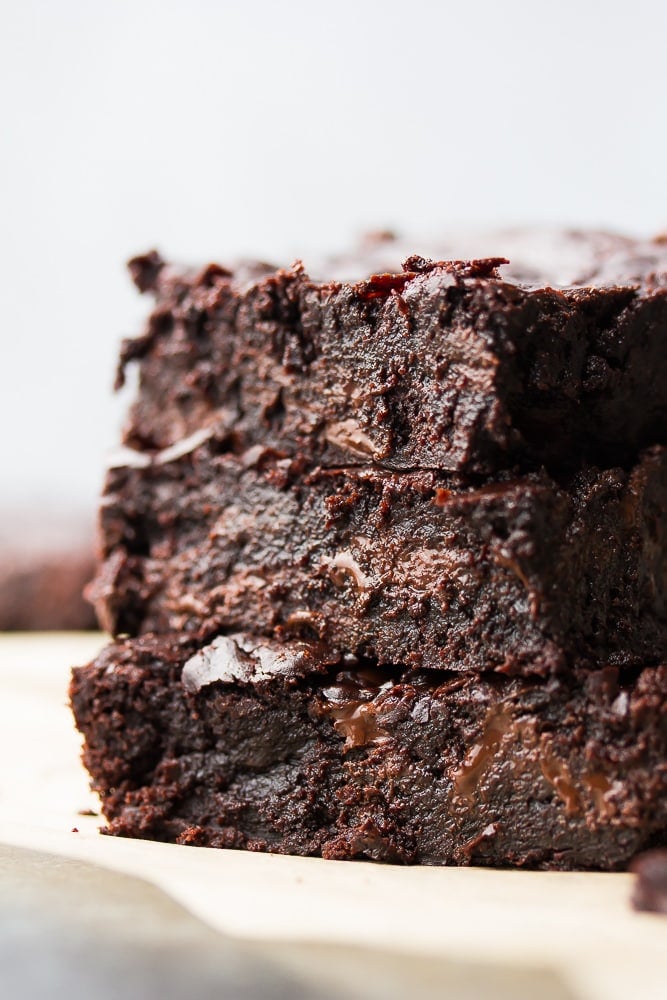 So go ahead and treat yourself with a batch of brownies. You won't regret it!
Special Tips & Substitutions
Unless you don't mind coconut flavored brownies, make sure to use REFINED coconut oil. It took me a long time to realize that refined coconut oil has no coconut taste whatsoever.
If you'd rather use vegan butter such as Earth Balance or another brand (or my homemade Vegan Butter), that is completely fine. It works well, too.
Gluten free: I haven't tested them, but the recipe will probably work quite well with a gluten free flour mix.
Vegan chocolate chips: You don't have to buy the most expensive "vegan labeled" chocolate chips; some everyday brands are already vegan. Guittard is the brand I use most often, or Trader Joe's brand. If you can't find any, use a dairy free chocolate bar, chopped up small.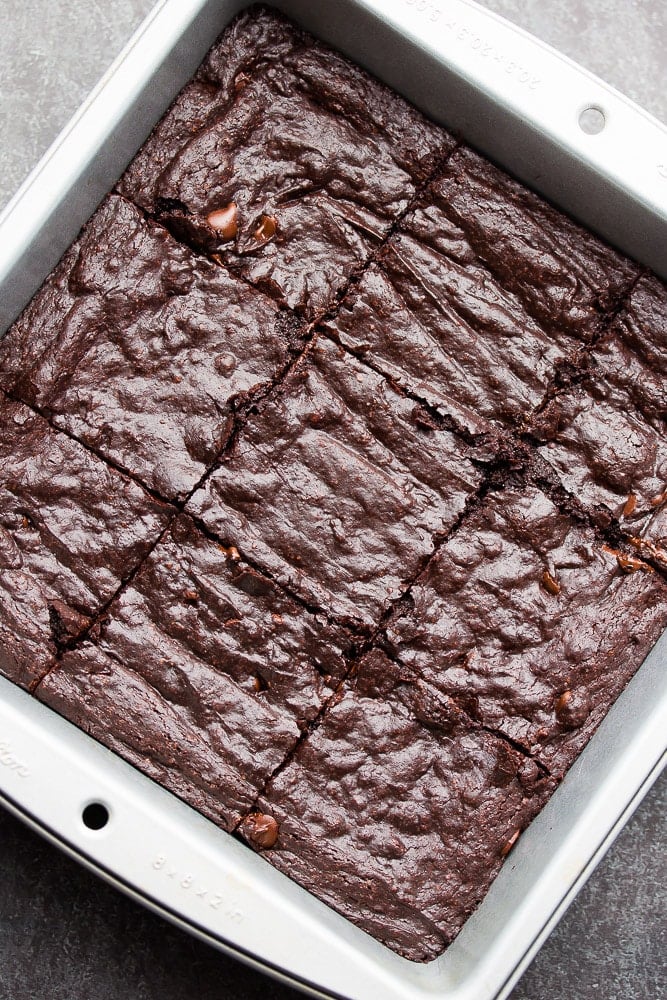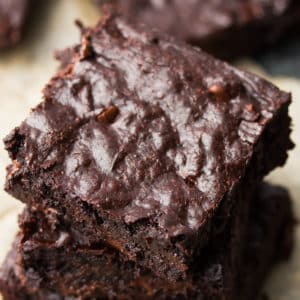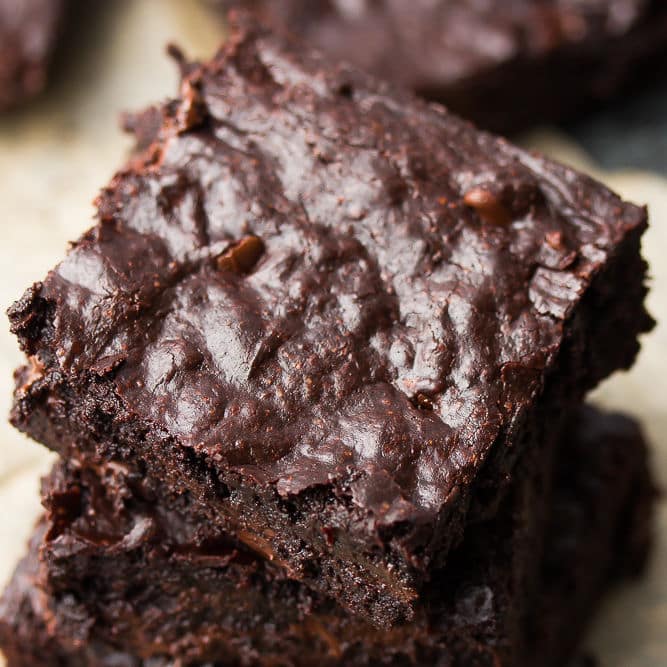 Coconut Oil Brownies
Coconut oil brownies are completely vegan, tall and fudgy with the perfect crinkle top! Easy to make in 1 bowl. They don't taste like coconut!
Instructions
Preheat the oven to 350 degrees F and lightly grease an 8x8 inch metal baking pan.

In a large microwave safe bowl, add the coconut oil and 1/2 cup chocolate chips. Make sure to correctly measure your coconut oil, do not accidentally add too much or too little or the brownies may turn out greasy. Place the bowl in the microwave and cook for about 2 minutes, stirring after 1 minute every 30 seconds until melted and smooth.

Whisk in the sugar until it begins to dissolve in the warm oil/chocolate. Now add the soy milk and vanilla and whisk well to combine.

Add the flour, cocoa and salt to the bowl and stir with a spoon until just mixed, being careful not to over mix. Stir in the extra chocolate chips, if desired (I always do).

Pour into the prepared pan and bake for 30 minutes, until the top is crinkly and the edges are pulling away from the sides a bit. Let cool for a few minutes before enjoying. They will cut better if they cool for at least 30 minutes, but can be eaten sooner for a fudgier, melty experience!
Notes
If you don't want coconut tasting brownies, you must use REFINED coconut oil, which has absolutely no coconut flavor.
Vegan butter works just as well in place of the coconut oil. 
I haven't tested them with gluten free flour, but a gluten free mix may work.
I have tested them using both natural cocoa powder and dutch processed. They both work well.
If you can't find chocolate chips without dairy, you can use a vegan chocolate bar, chopped up instead.
No microwave? No problem! Warm the oil and chocolate chips in a small pot on the stove until melted, then add the bowl and continue with the recipe.
Nutrition
Serving:
1
serving
|
Calories:
297
kcal
|
Carbohydrates:
39
g
|
Protein:
3
g
|
Fat:
16
g
|
Saturated Fat:
13
g
|
Sodium:
136
mg
|
Potassium:
100
mg
|
Fiber:
3
g
|
Sugar:
27
g
|
Vitamin A:
28
IU
|
Calcium:
37
mg
|
Iron:
2
mg