Instant Pot Vegan Alfredo Sauce
This post may contain affiliate links. Read my full disclosure here.
Dinner in 20 minutes or less! Meet the creamiest Vegan Alfredo Sauce, made with cauliflower (frozen for super easy, or fresh), a little bit of cashews and a LOT of garlic. Serve with fettuccine and steamed broccoli for a quick, amazing meal that won't weigh you down!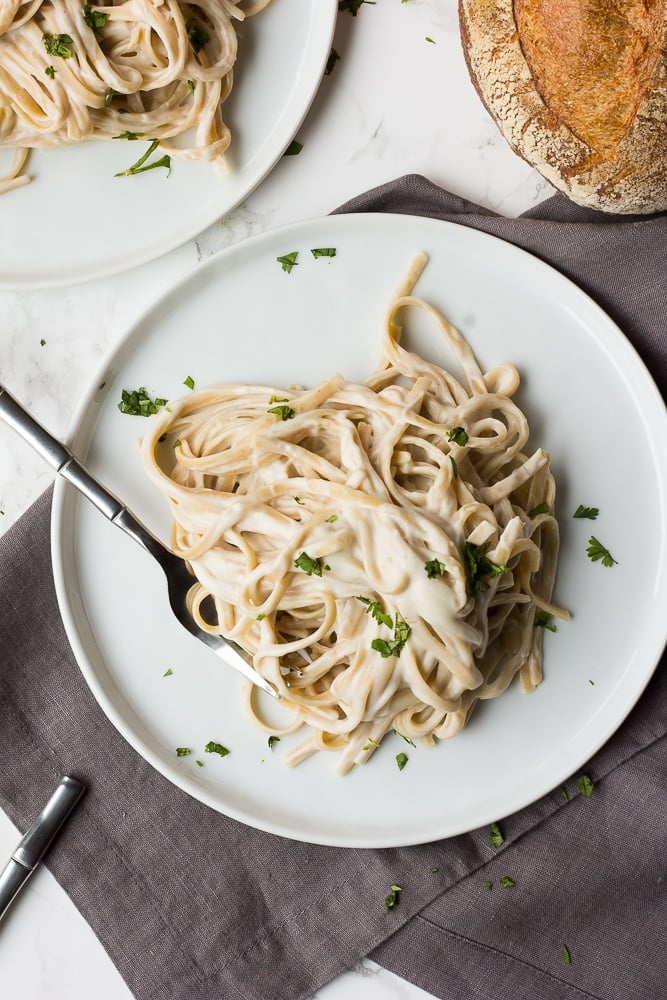 I am SO in love with this vegan alfredo sauce; you have no idea. I've seen cauliflower sauces before, and even tried one once, and thought, "meh…" Kinda watery, definitely not super creamy like I wanted.
I wanted to make a vegan alfredo sauce that was incredibly rich tasting, like the dairy version, but made with whole food plant ingredients. Plus, I wanted to make it super simple and quick.
Mission accomplished.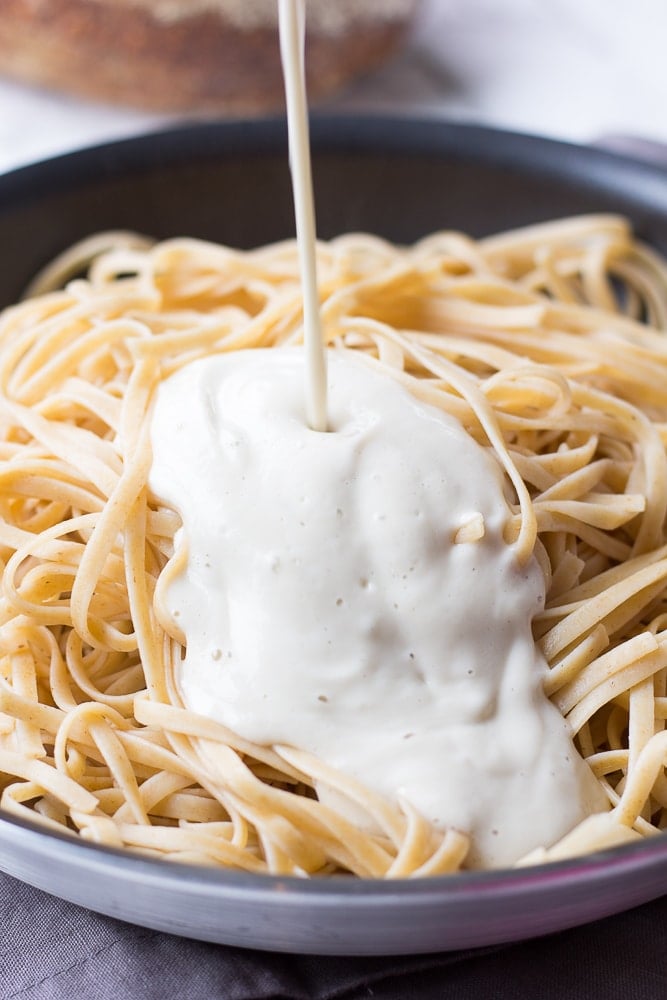 You see, before going vegan several years ago, the husband and I would go to The Olive Garden pretty frequently. And every time, I would get the Fettucine Alfredo. It tasted so good, but I'm telling you, I would feel sick just about instantly from it and stay that way for several hours. It was greasy and dairy filled. Yuck.
Why did I continue to do it over and over again? I don't know! I wasn't very in tune with my body's signals that were screaming at me to eat something different.
So, this recipe for a vegan alfredo sauce was a long time coming. You guys, this alfredo sauce tastes SO much like what I remember, I can't even explain it fully! You will have to try it for yourself. 🙂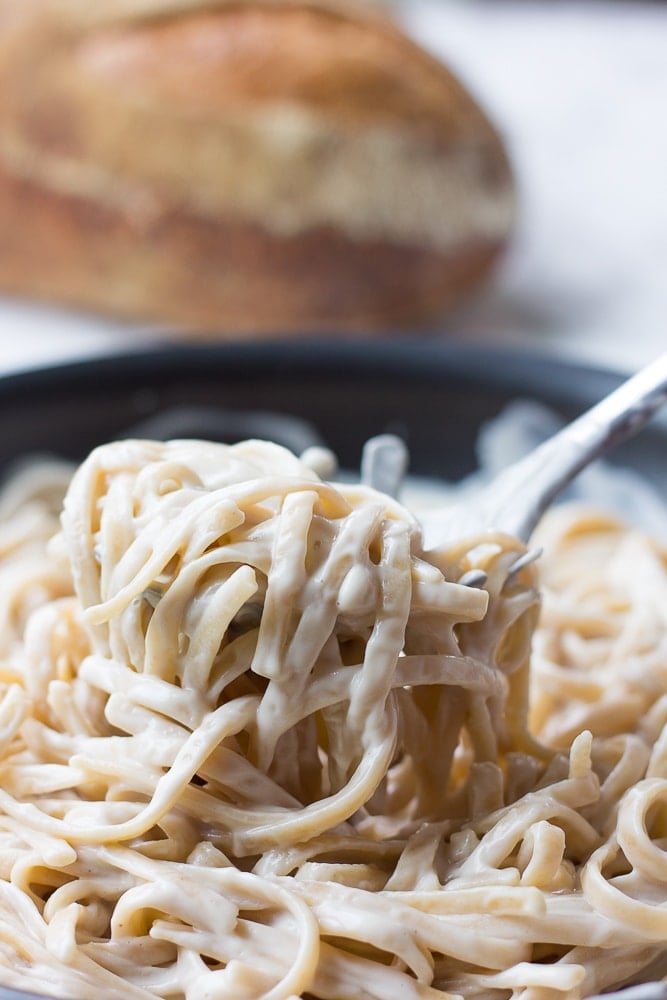 I know you will love this Vegan Alfredo Sauce as much as I do. It's:
"Lick the blender" tasty!
Super kid-friendly (my kids loved it)
Full of whole plant foods
Rich and creamy, but won't leave you feeling weighed down
Quick & Easy (Instant Pot)
JUST 5 ingredients!
Freezable
If you don't have an Instant Pot, don't worry. You can still make this recipe, almost as quickly. I've included both Instant Pot and regular instructions.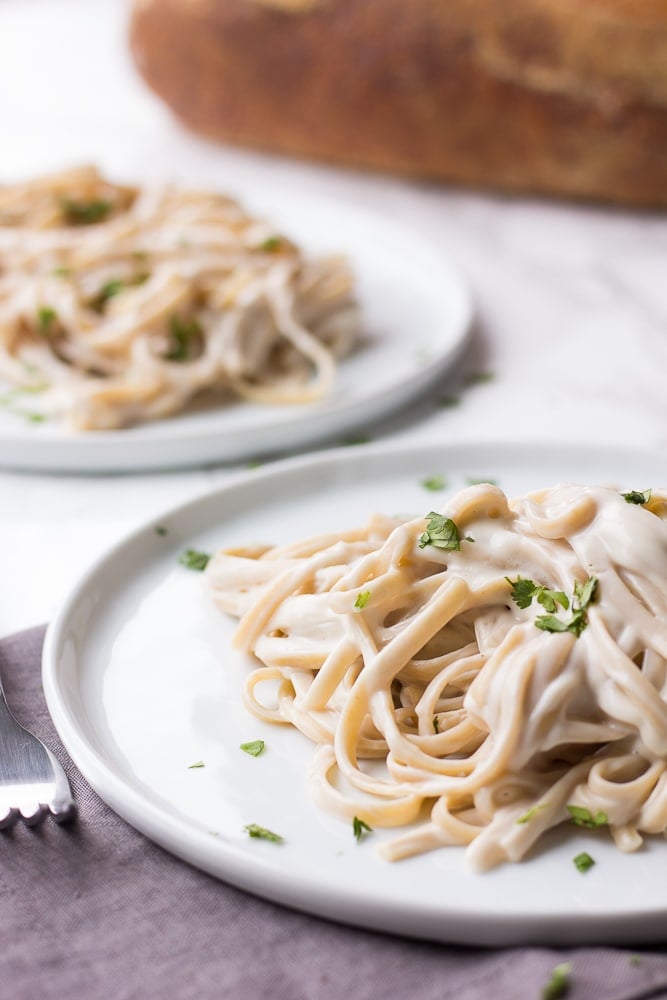 Check out some of the other pasta dishes on the blog:
Vegan Stuffed Jumbo Shells with Spinach
Pesto Pasta with Roasted Brussels and Tempeh
Inspired by Oh She Glows.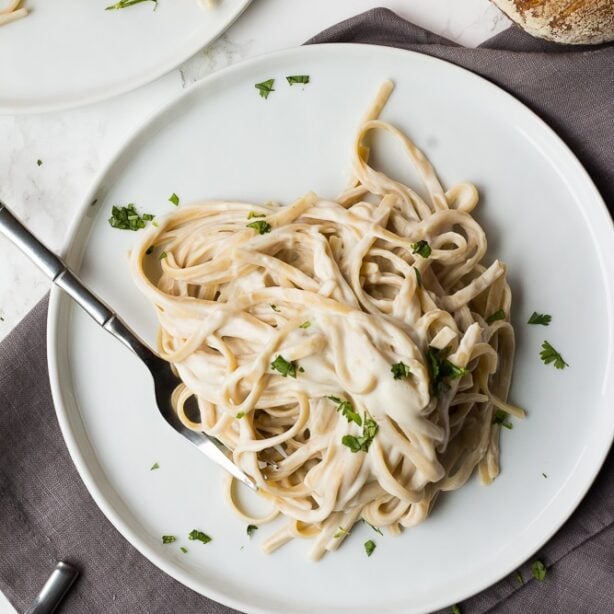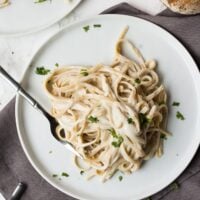 Instant Pot Vegan Alfredo Sauce
Made in the Instant Pot (or not), this Vegan Alfredo Sauce will have you licking the blender clean! It's rich, creamy and made with whole food plant ingredients.
Ingredients
2

tablespoons

olive oil

8

cloves garlic, minced

6

cups

cauliflower florets (fresh or frozen)

3/4

cup

raw cashews

3

cups

vegetable broth

1/2-1

teaspoon

salt, to taste

1

pound (16-oz)

cooked fettuccine pasta (whole grain or gluten free if needed)

Optional: steamed broccoli, kale or green peas
Instructions
Instant Pot Instructions:
Push the saute feature on the Instant Pot. Add the olive oil and minced garlic and cook for a minute or two, until fragrant, but be careful not to burn.

Now turn off the saute, and add the cauliflower, cashews and vegetable broth. Cook in the Instant Pot on high manual pressure for 3 minutes, making sure it's sealed so the pressure can build.

Once it beeps and is done, carefully release the pressure. I always use a towel to protect from burning, so be careful. (If you have time, you can let the pressure come down naturally)

Transfer to a blender, add salt and blend until very smooth. Pour over pasta and stir. If the sauce is a bit thick, simply add in a few tablespoons of water, a little at a time, until the desired consistency is reached. Serve immediately with steamed broccoli, kale or peas if desired.
Regular (Non-Instant Pot) Instructions:
In a large pot, saute the garlic in the olive oil for a few minutes until fragrant. Add the cauliflower, cashews and vegetable broth. Bring to a boil and cook for 10-15 minutes. Transfer to a blender and blend until smooth. Return to the pot, add salt to taste and serve.
Notes
This sauce freezes well. I freeze sauces like this in small glass or BPA free plastic containers. Leave an inch or so of room for expansion. Re-heat in the microwave, stove top or even your Instant Pot.
Use Gluten Free pasta if needed. This sauce is good on all sorts of pasta, and makes a great topping for baked potatoes as well.
You may leave out the cashews if necessary, such as if you have a nut allergy or don't want the fat. It will still be good but not quite as creamy and you will need to use less vegetable broth. You could also try replacing the cashews with white navy beans.
I love this sauce with pasta and steamed broccoli or cooked kale.
Nutritional information is only for the sauce. It will change depending on what kind of pasta and vegetables you use.
Nutrition
Serving:
1
serving
,
Calories:
167
kcal
,
Carbohydrates:
13
g
,
Protein:
5
g
,
Fat:
12
g
,
Saturated Fat:
2
g
,
Sodium:
696
mg
,
Potassium:
421
mg
,
Fiber:
3
g
,
Sugar:
4
g
,
Vitamin A:
250
IU
,
Vitamin C:
49
mg
,
Calcium:
35
mg
,
Iron:
2
mg
*Updated May 2018 with new photos and recipe adjusted with less liquid because I found it worked better this way.*

We are a participant in the Amazon Services LLC Associates Program, an affiliate advertising program designed to provide a means for sites to earn advertising fees by advertising and linking to amazon.com. Read my full disclosure here