This is the best Vegan Alfredo Sauce ever! Easy to make with just a handful of ingredients and ready in 15 minutes or less. No one will know it's vegan!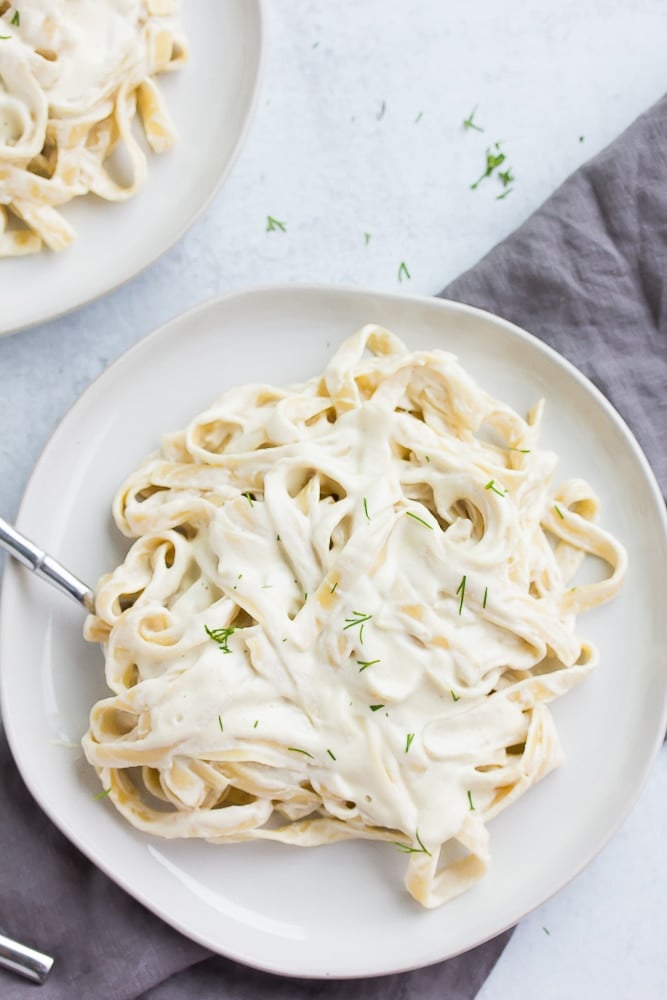 Fettuccine Alfredo is one of the most comforting dishes I know of. I LOVED it before going vegan, but it definitely didn't love me back. I would eat it and then feel terrible, little did I know I was lactose intolerant! Not to mention it was so rich with cheese, cream and butter. It's no wonder I felt bad.
This alfredo sauce reminds me so much of my favorite Italian meal from years ago. It's garlicky, cheesy and creamy but won't leave you weighed down and with a stomach ache for hours. If you've been with me for awhile, you probably remember that I already have a recipe for Instant Pot Vegan Alfredo on my blog. While that recipe is well-loved, this one doesn't need an Instant Pot or call for cauliflower.
I hope you love it as much as I do! It seriously is ready in about 15 minutes (including cooking the pasta), plus it's oil free if you want it to be. My kids love, love, love this dinner, so I make it often. Enjoy!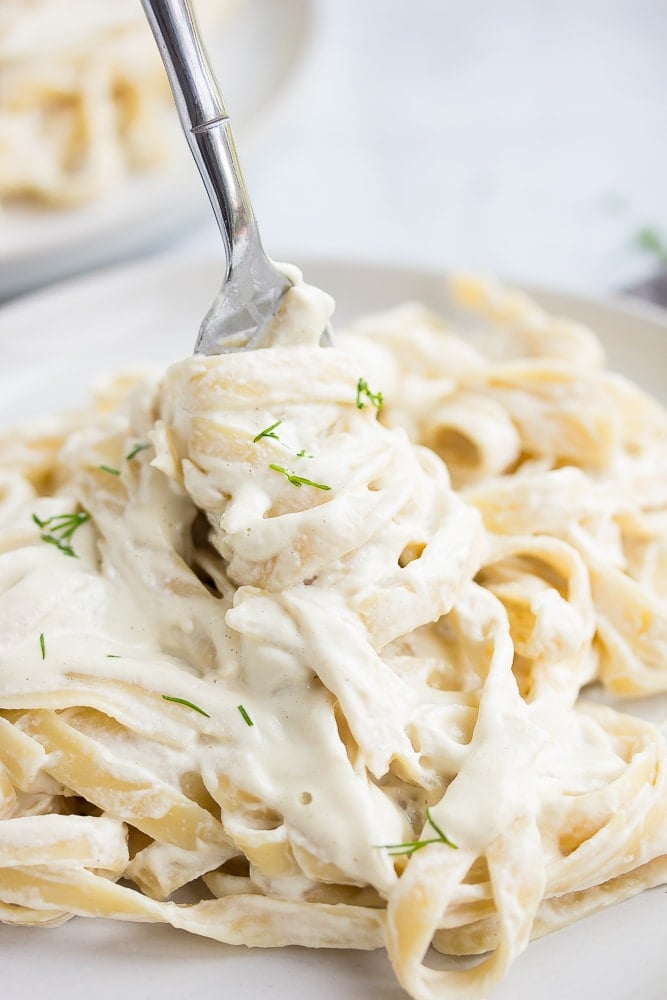 (SEE RECIPE CARD AT THE BOTTOM OF THIS PAGE FOR FULL AMOUNTS AND INSTRUCTIONS)
How to make it
Make the pasta according to package instructions, drain and add back to the pot you cooked it in. We will add the sauce when it's done.
Soak the cashews for 5 minutes in hot water.
Saute 1/2 an onion and 6 cloves of garlic in a small pan for 5 minutes.
Add the drained cashews, onion/garlic, almond milk, nutritional yeast, lemon juice and salt to a blender and blend until creamy and smooth.
Add sauce to pasta, mix and warm. Serve!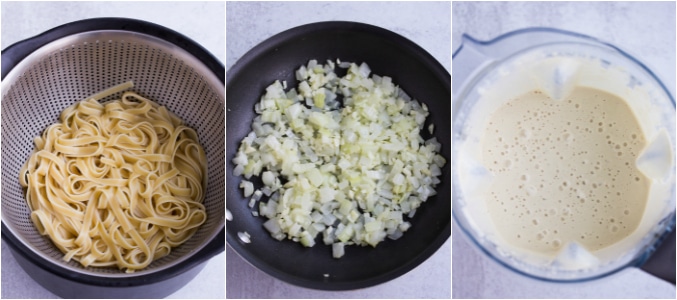 Cashew Alternative
If you can not have cashews, you can substitute raw slivered almonds or even sunflower seeds. While cashews give the sauce the best buttery and cheesy, creamy texture and taste, almonds or sunflower seeds do work.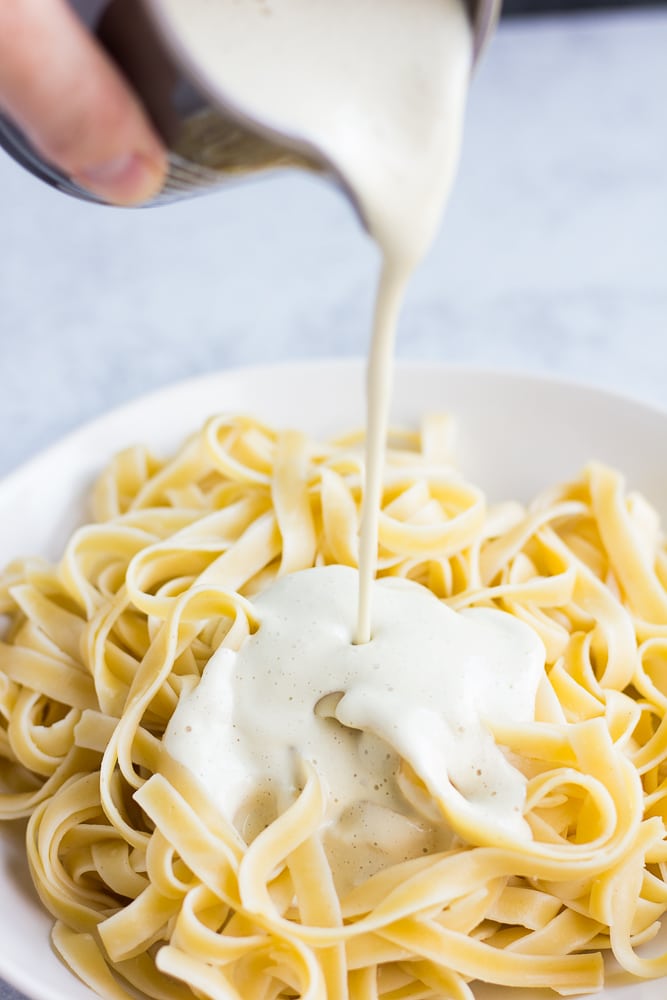 What goes well with the sauce?
Pasta, of course is my first choice. Baked potatoes are a wonderful choice as well, maybe with some steamed broccoli or kale. Most often I serve it as fettuccine alfredo with a side of instant pot kale, steamed/roasted broccoli, cauliflower or thawed frozen green peas. You could even throw some vegan "chicken" nuggets, sliced on top.
How long will this keep in the refrigerator?
The sauce will keep in the refrigerator for 4-5 days.
Can you freeze it?
Yes, the sauce freezes very well. I wouldn't freeze it once mixed with the pasta though. To freeze, pour into freezer friendly containers, leaving a little room for expansion. When ready to use, thaw in the refrigerator overnight if possible. Re-warm in the microwave or on the stovetop.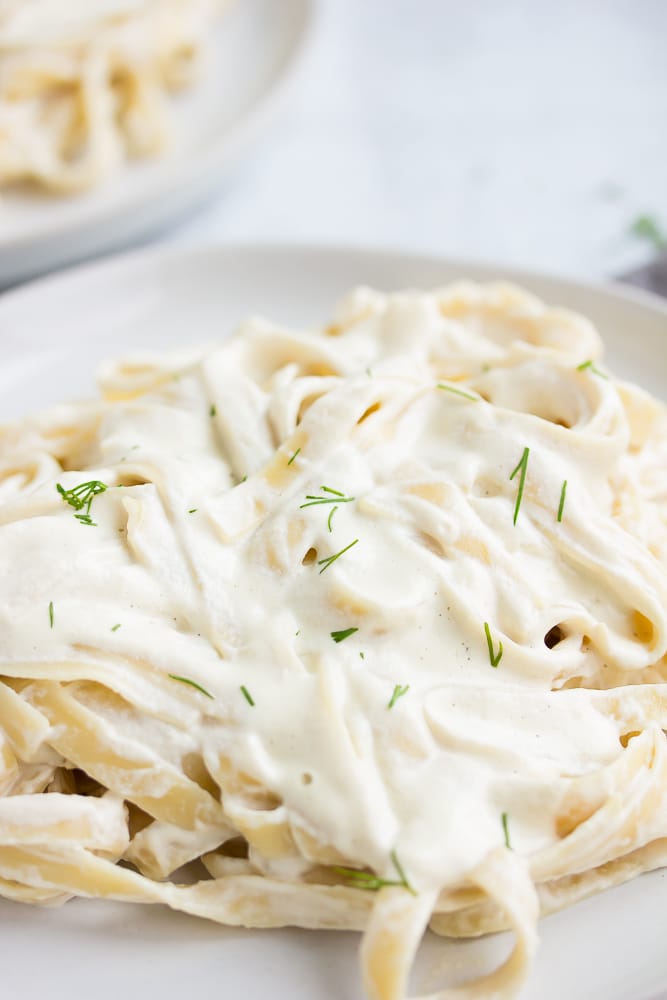 Want more comforting vegan pasta recipes?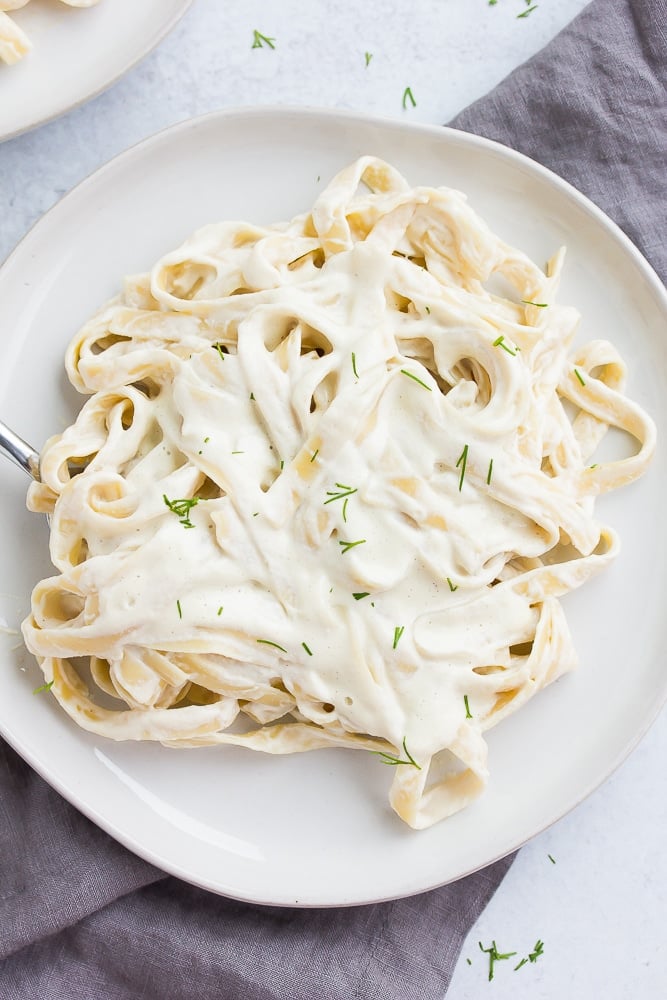 This post contains affiliate links. Read my full disclosure here.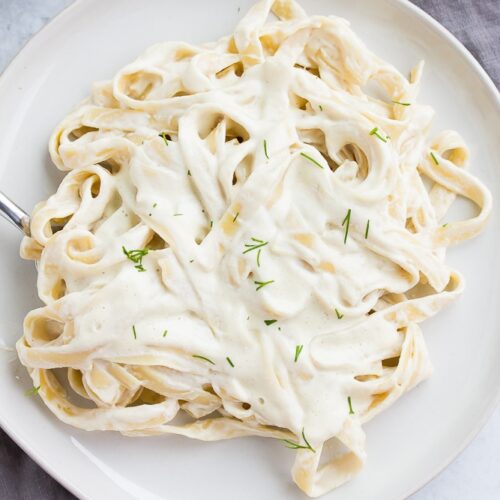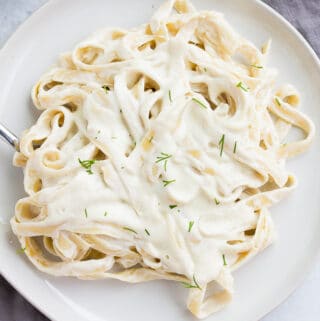 Vegan Alfredo Sauce
This is the best vegan alfredo sauce ever! Easy to make with just a handful of ingredients and ready in 15 minutes or less. No one will know it's vegan! Makes about 4 cups of sauce.
PRINT
PIN
Ingredients
12

ounces

fettuccine or pasta of choice, for serving

1 1/2

cups

raw cashews

1-2

tablespoons

olive oil (or water for oil free)

1/2

medium sweet onion, chopped

6

cloves

garlic, minced

2

cups

unsweetened almond milk

cashew/soy/coconut also fine

1/4

cup

nutritional yeast

1

tablespoon

lemon juice

1

teaspoon

salt, or to taste
Instructions
Bring a large pot of water to a boil, then add the pasta and cook according to package instructions. Drain, then add it back to the pot and cover until the sauce is done.

Boil 2 cups of water (I just heat up water in my tea kettle). Pour the water over the cashews and let soak for 5 minutes.

Meanwhile, heat the olive oil (or water) in a small pan over medium heat. Once hot, add the chopped onion and garlic and saute for 5 minutes, until fragrant and the onion is translucent.

Drain the cashews, and add to a high powered blender along with the onions/garlic, unsweetened almond milk, nutritional yeast, lemon juice and salt. Blend until very smooth.

Pour the sauce over the pasta and stir. If the noodles are still hot, you may not need to cook it any more. If you want, heat the pasta with the alfredo sauce on low heat until warm. Serve immediately.
Recipe Notes
Gluten Free: Use gluten free pasta.
Cashew Free: Use raw slivered almonds instead of cashews, or even sunflower seeds. Cashews give the sauce the best buttery and cheesy taste though.
To Freeze: The sauce freezes well! Freeze in small glass or BPA free plastic containers. Leave an inch or so of room for expansion. Re-heat in the microwave or stove top and then mix with pasta.
If you don't care for nutritional yeast, it is okay to omit it.
This Vegan Alfredo Sauce is also wonderful drizzled on baked potatoes. I usually serve alfredo pasta with steamed kale, roasted or steamed broccoli and green peas (thawed from the freezer). I love mixing the veggies in with my pasta. 
Makes about 4 cups of sauce.
Calories are for 1/6th of the sauce, and does not include pasta.
NUTRITION INFORMATION
Serving:
1
serving
Calories:
439
kcal
Carbohydrates:
52
g
Protein:
15
g
Fat:
20
g
Saturated Fat:
4
g
Cholesterol:
48
mg
Sodium:
512
mg
Potassium:
401
mg
Fiber:
4
g
Sugar:
4
g
Vitamin A:
35
IU
Vitamin C:
2
mg
Calcium:
134
mg
Iron:
3
mg