This easy Vegan Mushroom Risotto is perfect for date night. Simple ingredients and tender mushrooms elevate every bite of the creamy rice for a truly comforting and earthy dish!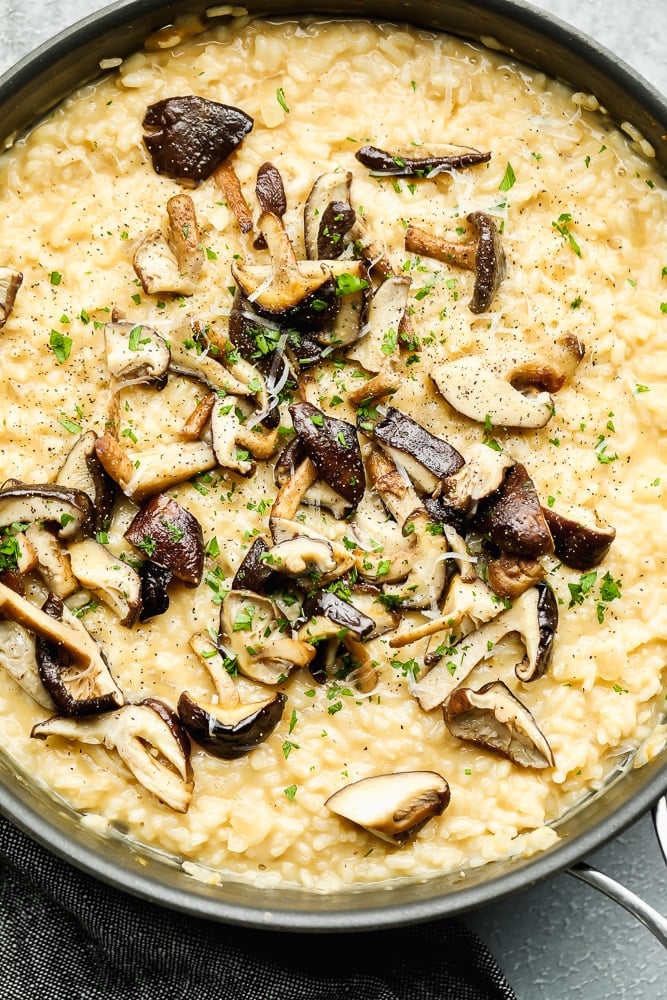 I could make creamy Vegan Sausage Pasta or Vegan Pesto any night of the week but when I really want to impress, I turn to this Vegan Mushroom Risotto. It's creamy, earthy, and just so comforting!
Vegan risotto is really easy to make on the stove using arborio rice, white wine, and warm vegetable broth. These simple and aromatic ingredients are absorbed by the rice and take each bite to the next level. Tender buttered mushrooms and vegan parmesan on top make every bite extra special!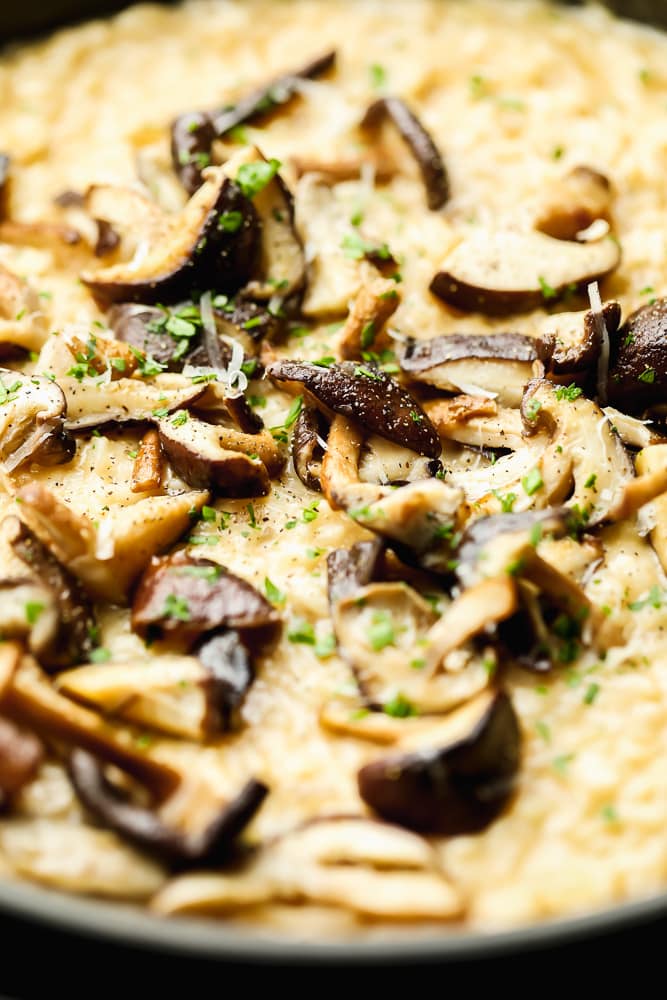 What is risotto?
Risotto is an Italian meal made by stirring short grain arborio rice with (traditionally) cream, cheese, and broth. It needs a lot of attention and stirring as it cooks, or else it could turn out mushy and soupy.
Vegan risotto is just as delicious, comforting, and flavorful as the classic version thanks to simple ingredients like vegetable broth, white wine, and vegan creamer or coconut milk. These basics act as a tasty base to pair with seasonal ingredients, like fresh herbs, butternut squash, or mushrooms.
I already have a recipe for Vegan Risotto with Roasted Butternut Squash, so make sure to check it out as well, especially if you don't care for mushrooms.
How to make vegan mushroom risotto
Find the complete recipe with measurements below.
Start by cooking the mushrooms in a large pan with vegan butter. Sprinkle some salt on top when they're brown. Transfer the cooked mushrooms to a plate.
Using the same pan, sauté the onion and garlic before adding the rice. Pour the white wine over the rice and stir continuously until the wine is absorbed.
Stir in a ½ cup of warm broth at a time until it's absorbed. Continue this process until all of the liquid is absorbed and the rice is al dente.
Take the risotto off of the heat and stir in most of the vegan parmesan. Serve in individual bowls with cooked mushrooms, more parmesan, and parsley on top. Enjoy!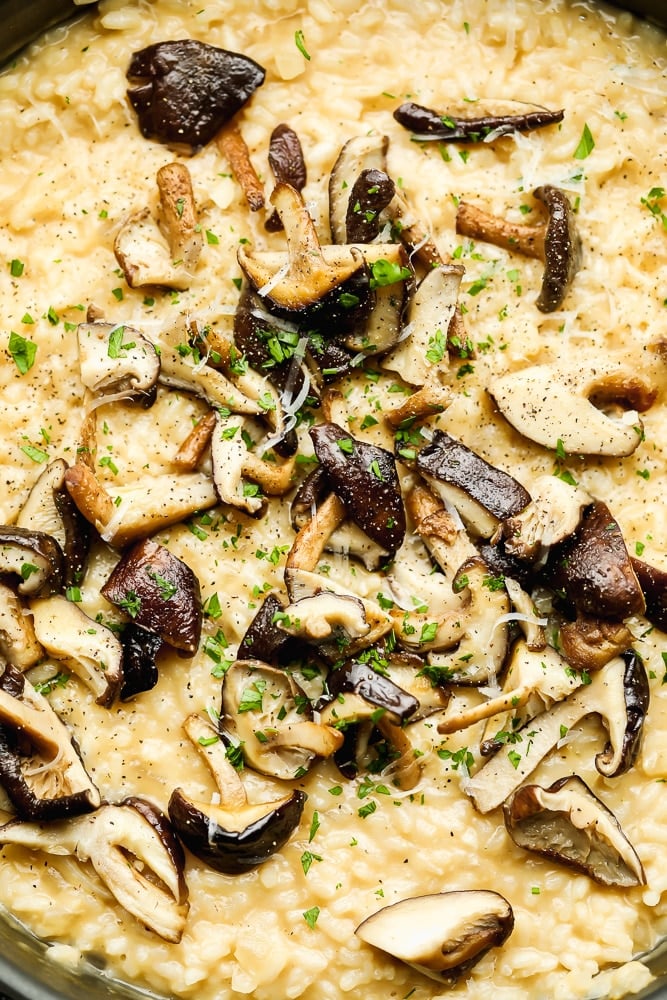 Tips to make the best risotto
Keep the broth warm – To ensure each grain of rice cooks evenly! I like to keep it in a separate pot over low heat on the stove.
Use any mushroom – Make this with any mushroom you love. Shitake and oyster mushrooms will add extra earthy undertones while baby bella's and cremini mushrooms will be meaty but more neutral tasting.
Cook mushrooms separately – You won't want to cook the risotto and mushrooms in the same pan. Instead, cook the mushrooms in a separate pan before covering them with foil to add as a warm topping on each bowl.
Al dente – You need to cook the rice until it's tender and slightly chewy rather than soft. If it's too soft, the finished risotto will taste mushy.
Creamer – Make sure to use an unsweetened creamer or else the risotto will be too sweet. Or full fat coconut milk.
Without wine – Instead of white wine, use a little more vegetable broth and a splash of lemon juice so you don't miss out on the bright flavors.
Serving suggestions
I love a generous sprinkle of Violife vegan parmesan on a bowl of mushroom risotto! You can never go wrong with cashew parmesan, fresh parsley, and cracked pepper on top either.
Risotto is typically served on its own as a main dish but if you're really looking to impress a crowd (or a date), include a fresh green salad and roasted vegetables on the side. Don't forget the vegan tiramisu to complete this Italian feast!
Can it be made ahead of time?
Creamy risotto is at its very best fresh off the stove, therefore, I don't recommend making it ahead of time. Even if they aren't fresh, the leftovers are still tasty! Store leftover risotto in a sealed container for about 3 or 4 days in the fridge.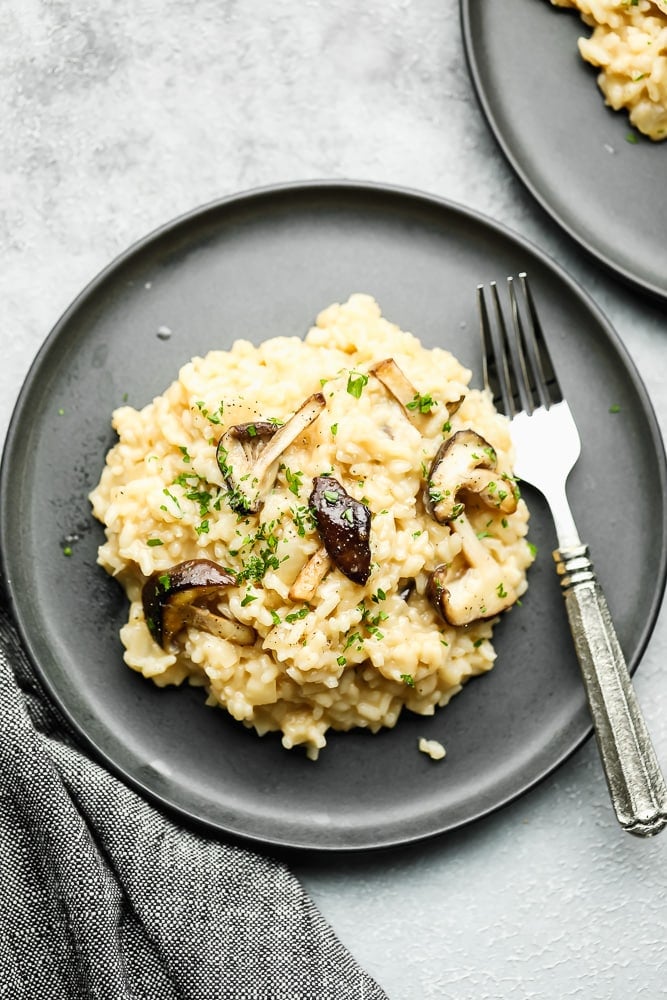 Looking for more vegan date night meals?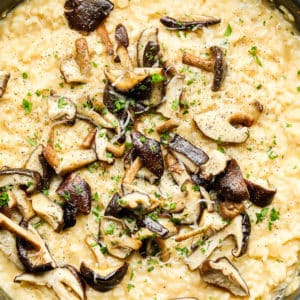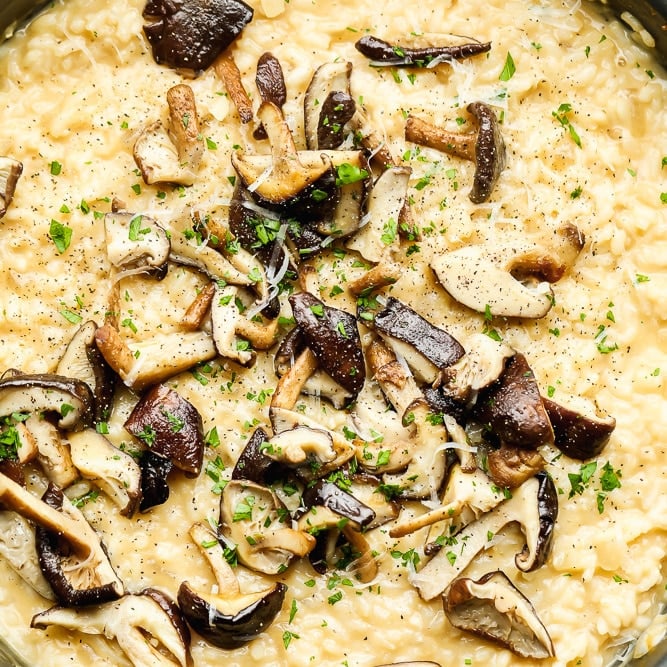 Vegan Mushroom Risotto
This easy Vegan Mushroom Risotto is perfect for date night. Simple ingredients and tender mushrooms elevate every bite of the creamy rice for a truly comforting and earthy dish!
Ingredients
For the mushrooms
8

ounces

cremini or baby bella mushrooms, cleaned and quartered

2

tablespoons

vegan butter

pinch of salt
For the risotto
5

cups

warm vegetable broth

2

tablespoons

olive oil

1

small

sweet onion, diced

3

cloves

garlic, minced

1 1/2

cups

arborio rice

1/2

cup

dry white wine

3/4

cup

full fat coconut milk OR unsweetened vegan creamer

3/4

cup

grated vegan parmesan cheese

(I used Violife)

salt + black pepper, to taste
Instructions
Prepare the mushrooms
In a large non-stick pan (I use the same one I cook the risotto in), melt the vegan butter over medium-high heat.

Add the cleaned and quartered mushrooms to the pan and sauté for about 5 minutes until lightly browned. Once they are browned, sprinkle a little salt on top and sauté for 1 more minute.

Remove the mushrooms from heat, transfer to a plate , cover to keep warm and set aside while you make the risotto.
Make the risotto
In the same pan over medium heat, add the olive oil and warm. Now add the chopped onion and cook for 2-3 minutes, then add the garlic and cook for 1 more minute. Add the rice and stir to coat with the oil, sautéing for about 2 more minutes.

Next, add the white wine and stir constantly until the wine is fully absorbed.

Add 1/2 cup of the warm broth, and stir until absorbed. Continue adding 1/2 cup broth at a time, stirring frequently until absorbed each time, until all the liquid has been absorbed and the rice is al dente (tender, yet slightly chewy), about 20-30 minutes. The heat should be high enough that the rice/broth is bubbling soon after you add it, but not boiling too much or the liquid will absorb too quickly. If you've used all the broth and it still doesn't taste tender enough, keep adding water or more broth until it's done.

Once all the liquid is absorbed, stir in the coconut milk or vegan creamer and most of the parmesan cheese, saving some for the top.

To serve, divide risotto onto plates and top with mushrooms and more parmesan, and parsley if desired. Enjoy!
Notes
Feel free to use any mushrooms you prefer. Wild mushrooms or a combination of mushrooms are fine.
If needed, you can leave out the wine and add a tablespoon of fresh lemon juice instead. 
To keep the broth warm, I like to have it in a small pot on low heat. That way, it will stay warm the whole time the risotto cooks.
Nutrition
Serving:
1
of 6 servings
|
Calories:
389
kcal
|
Carbohydrates:
50
g
|
Protein:
6
g
|
Fat:
17
g
|
Saturated Fat:
8
g
|
Polyunsaturated Fat:
2
g
|
Monounsaturated Fat:
5
g
|
Trans Fat:
1
g
|
Sodium:
961
mg
|
Potassium:
259
mg
|
Fiber:
2
g
|
Sugar:
3
g
|
Vitamin A:
596
IU
|
Vitamin C:
2
mg
|
Calcium:
25
mg
|
Iron:
4
mg