Peanut Butter Blossoms
This post may contain affiliate links. Read my full disclosure here.
Vegan Peanut Butter Blossoms feature a soft, sugar coated peanut butter cookie and are topped with a chocolate kiss. A go-to holiday cookie!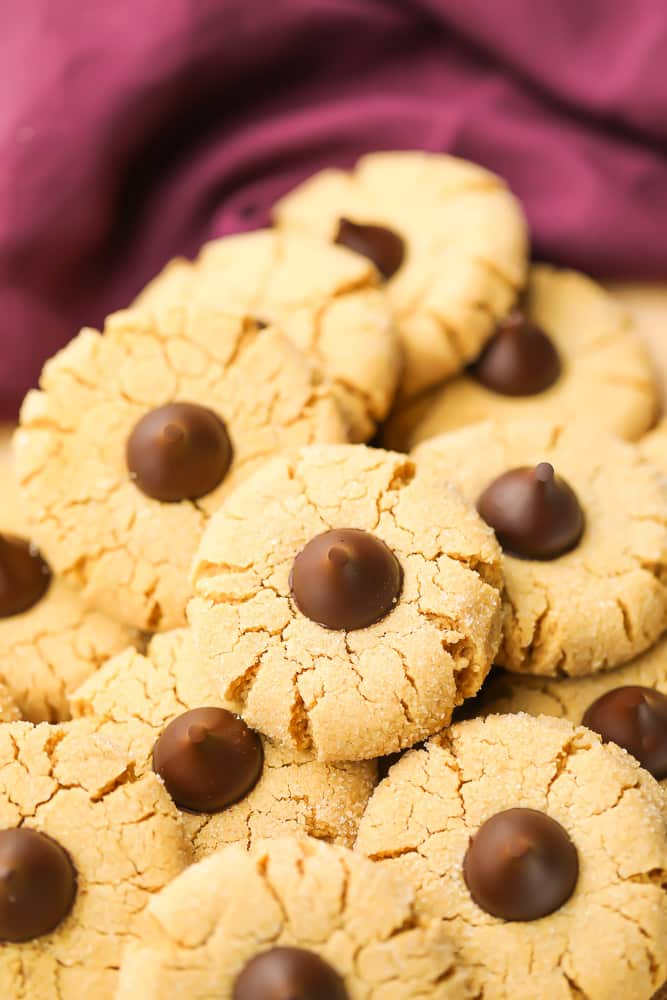 Peanut butter blossoms are such a classic holiday cookie that have been around a long time. They are super cute, plus is there any combination better than chocolate and peanut butter?
Making them vegan is a bit of a challenge because they are typically topped with a Hershey's chocolate kiss, which you really can't find a vegan version of (yet). Hopefully someone will make a dairy free kiss soon, but until then, we have to improvise!
I have a few different options for the chocolate "kiss" topping, so let's get to it.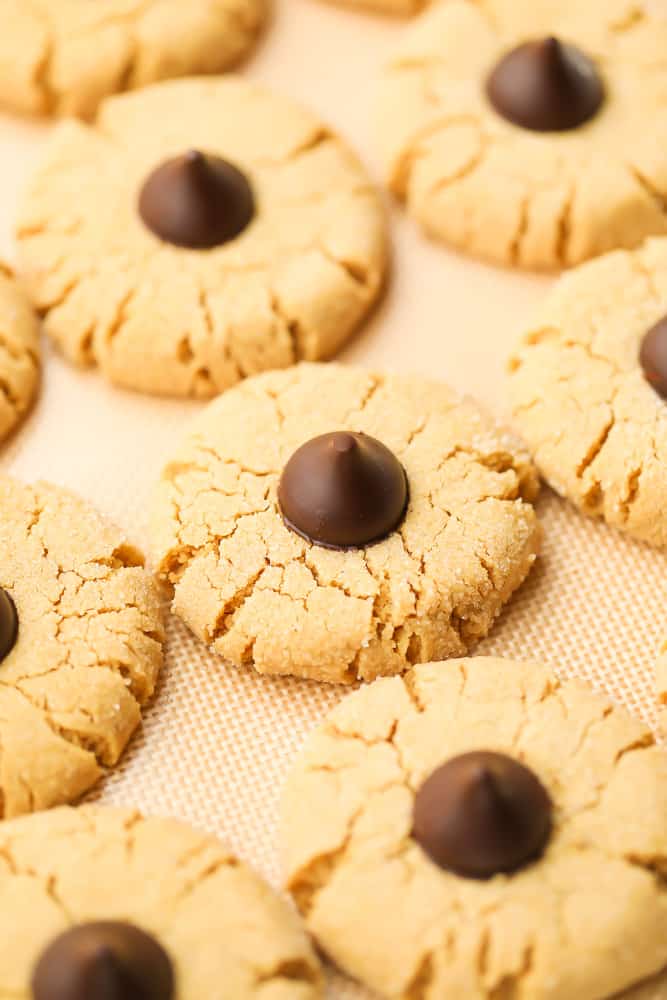 The best thing to do is get yourself a kiss mold and make your own vegan kisses! I found this cute little tray from Etsy. It came quick and it works perfectly. I did find a few other molds but I liked the look of this one best, plus it was very inexpensive.
How to make vegan chocolate kisses
Once you have your kiss mold, simply melt about 1 1/2 cups vegan chocolate chips in the microwave (or stovetop). Carefully spoon in enough to fill each mold, then use a toothpick to gently swirl it around, getting down to the point so your kisses aren't cut off.
Place in the freezer for 20-30 minutes, until they are hardened, then pop them out.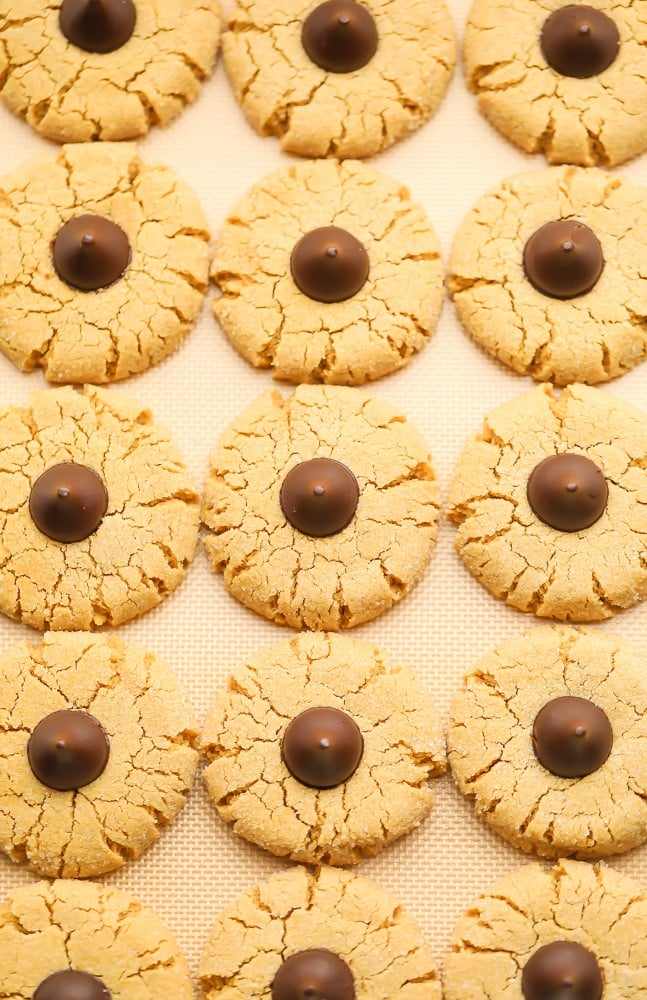 Chocolate Ganache center
Another option is to use a dollop or swirl of vegan ganache instead of a kiss. The trick here is to use it when it's at the correct temperature so it's thick, not too runny but also not too hard. You can pipe it on once it's cool enough that it's rather thick. Then it will firm up more as it cools.
So, just like the kiss, let the cookies cool for 10 minutes after baking, pipe on a little ganache (or just spoon some on), then place immediately in the freezer to set, so it doesn't melt.
Vegan chocolate square or peanut butter cup
The third option is to simple use a chunk or vegan chocolate or a mini vegan peanut butter cup instead of a kiss. This is an easy option, and totally delicious. The instructions are exactly the same as with a kiss.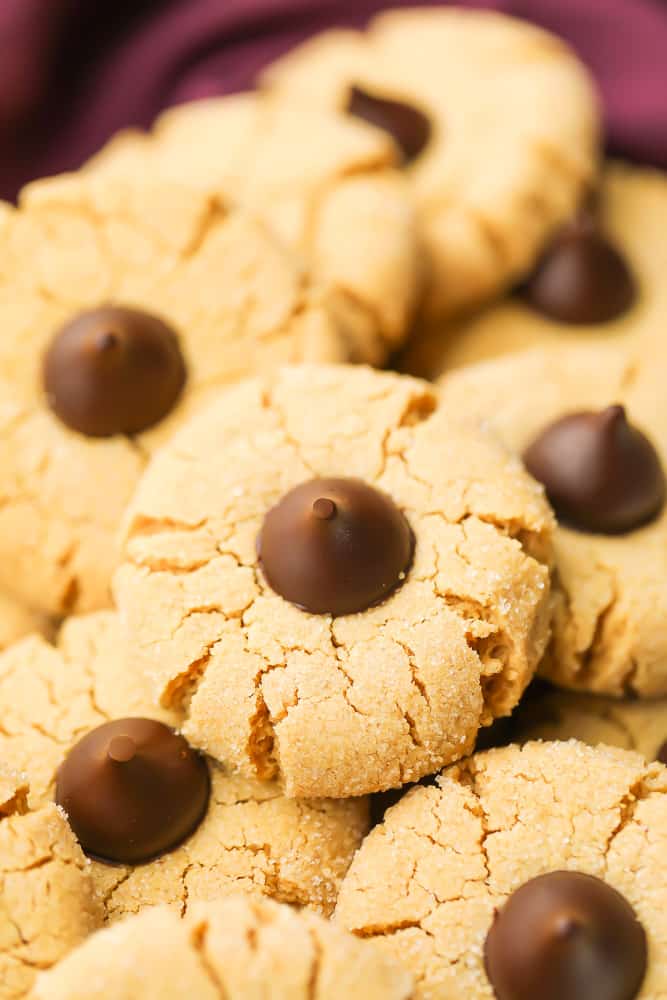 Want more chocolate + peanut butter desserts?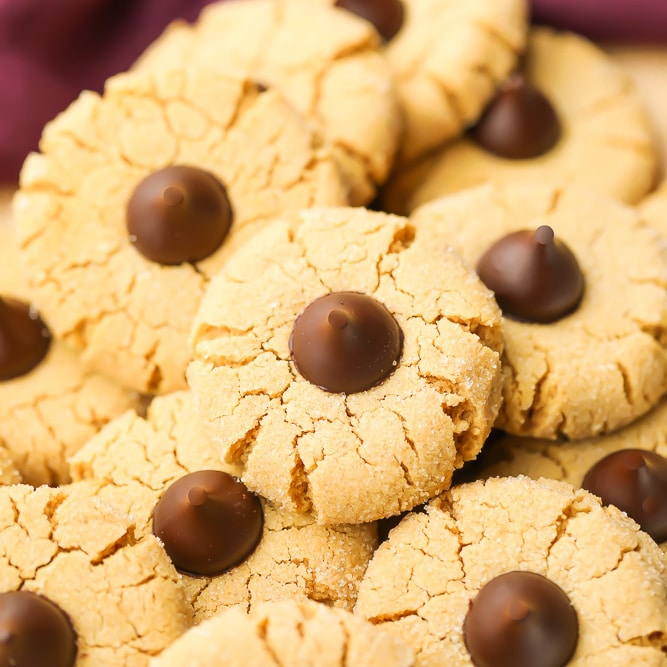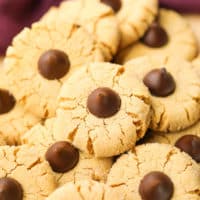 Peanut Butter Blossoms
Vegan Peanut Butter Blossoms feature a soft, sugar coated peanut butter cookie and are topped with a chocolate kiss. A go-to holiday cookie!
Instructions
Preheat the oven to 350 degrees F and line a baking sheet with parchment paper. Add 1/4 cup sugar to a small bowl and set aside (for rolling the cookies in).

In a large bowl, cream together the vegan butter, peanut butter and sugars. Stir in the almond milk and vanilla until well combined. You can use a hand mixer, stand mixer or just a large wooden spoon.

Now add the flour to the bowl, and sprinkle the baking soda, baking powder, cornstarch and salt on top of the flour. Stir (or use the mixer) until just combined and a dough is formed. The dough will be thick, yet sticky.

Roll balls of dough (about 1.5 tablespoons) and then roll in the sugar until coated. Place each one on the prepared baking sheet about 2 inches apart and flatten a little bit with a smooth glass cup, as they won't spread very much in the oven. You can also leave them round if you want.

Bake for 10-12 minutes, until they are lightly golden on top.

Remove from the oven and allow them to cool on the baking sheet for about 10 minutes, then press a kiss (or piece of chocolate, or ganache) into each cookie until it sticks. Immediately place the baking sheet in the freezer for about 10 minutes so the chocolate doesn't melt into the cookie. Only do one baking sheet at a time unless you have a lot of room in your freezer.

Remove from the freezer, eat and enjoy! Leftover cookies will keep for up to 5 days in a covered container at room temperature, and they can also be frozen.
Notes
Vegan Chocolate Kisses: I used this kiss mold from Etsy to make chocolate kisses. I simply melted vegan chocolate chips in the microwave (about 1 1/2 cups) then drizzled in the melted chocolate. Use a toothpick to swirl the chocolate down to reach the tip, then stick in the freezer for 30 minutes or so until hardened.
For other chocolate options, you can use a little chocolate ganache, swirled or dolloped in the middle of the cookie, a square of vegan chocolate, or even a vegan peanut butter cup.
I recommend using regular creamy peanut butter instead of natural if you can, it just works better. But you can use natural if you want.
Gluten free? Use a gluten free mix instead of all purpose flour.
Peanut allergy? Use almond butter instead, or possibly even sunflower seed butter.
Nutrition
Serving:
1
of 22 cookies
,
Calories:
189
kcal
,
Carbohydrates:
22
g
,
Protein:
4
g
,
Fat:
11
g
,
Saturated Fat:
3
g
,
Sodium:
141
mg
,
Potassium:
81
mg
,
Fiber:
1
g
,
Sugar:
14
g
,
Vitamin A:
196
IU
,
Calcium:
25
mg
,
Iron:
1
mg
We are a participant in the Amazon Services LLC Associates Program, an affiliate advertising program designed to provide a means for sites to earn advertising fees by advertising and linking to amazon.com. Read my full disclosure here