Pesto Pasta with Roasted Brussel Sprouts and Tempeh Sausage
This post may contain affiliate links. Read my full disclosure here.
Pesto Pasta with the most perfect roasted brussel sprouts and protein rich tempeh sausage. This is a "stick to your ribs" kind of plant based meal.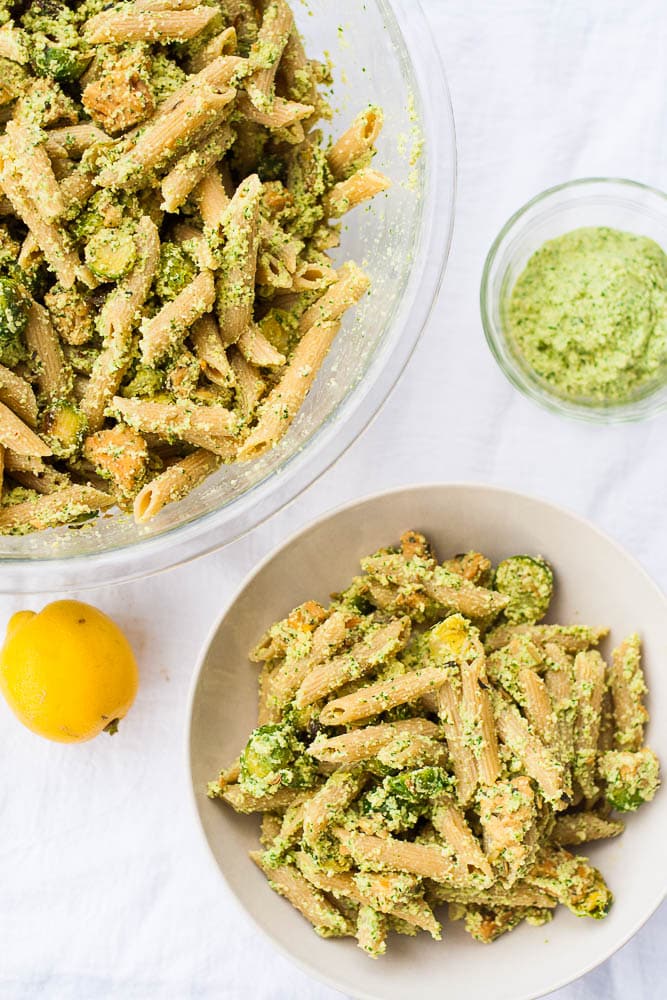 Pesto pasta is one of my most favorite meals to eat. I'm a little bit obsessed. This pesto with a cashew base and no oil is quick to make on a weeknight, but I've added roasted brussel sprouts and tempeh sausage to the mix to bring you a hearty pasta dish that is over the top delicious. You could definitely just make the pesto and pasta if you don't have time for the brussel sprouts and tempeh sausage, but if you can, make them! It brings this simple meal from great to INCREDIBLE.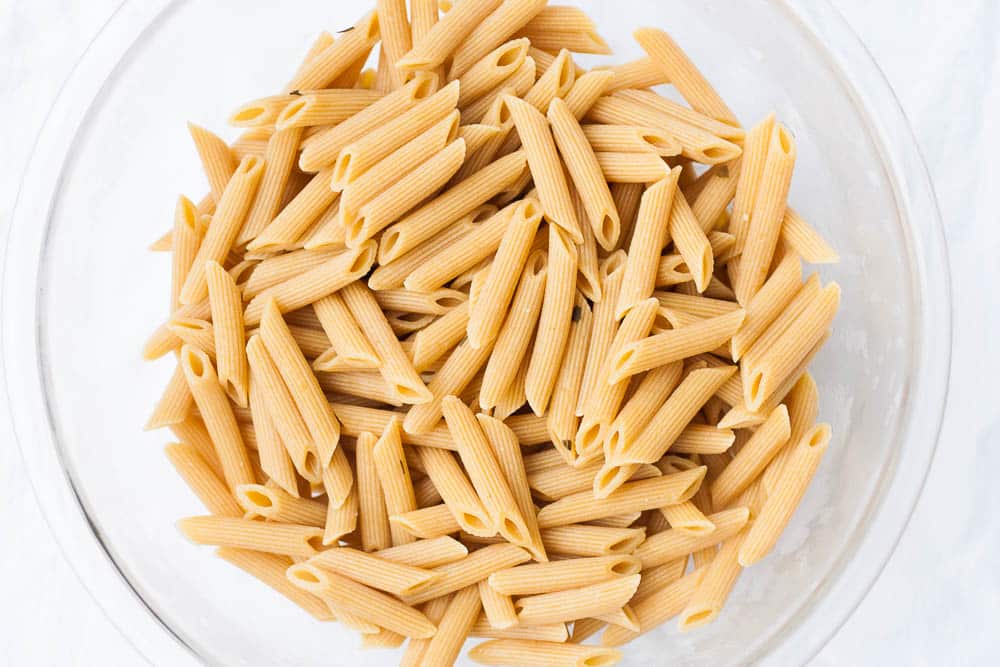 Mmmmmm.. That's just a bunch of goodness in a bowl.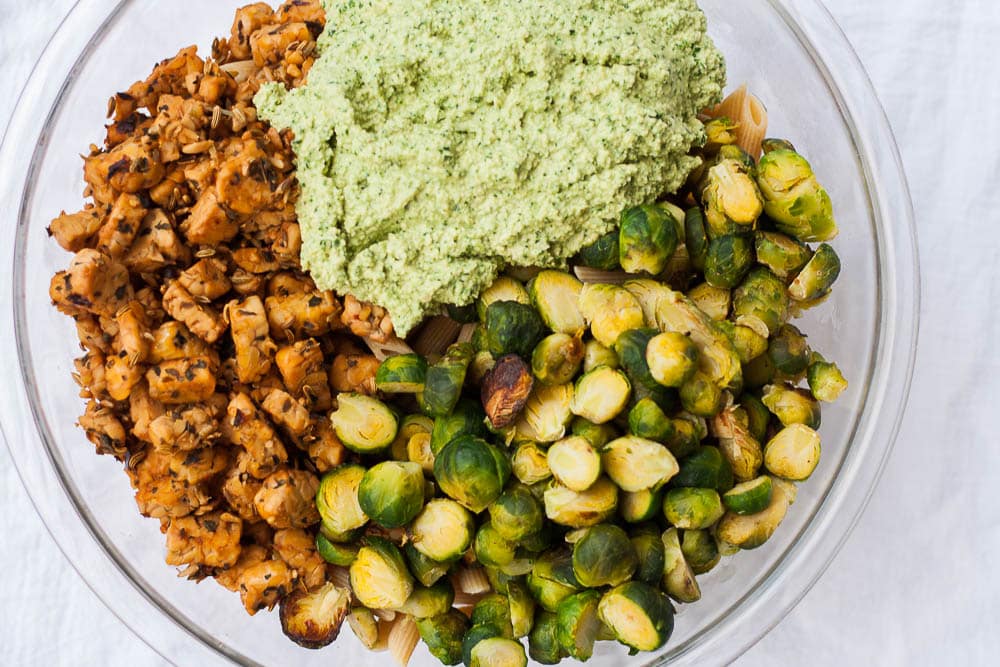 Another benefit to this Pesto Pasta with Roasted Brussel Sprouts and Tempeh Sausage is it makes a TON of food. You should have plenty for leftovers the next day. Lately I am enjoying making a large amount of food one night and having leftovers the next night. That way I'm only cooking a couple of times a week instead of every night. It also really helps me spend less on groceries, and I'm less tempted to grab a quick meal out when I already have food made at home. Especially on LaCrosse nights. Have I mentioned my daughter plays LaCrosse? It's pretty fun, but it keeps us busy on weeknights!
This meal is approved by my kids, in fact my toddler is crazy for pesto! But he's not picky and pretty much likes everything. I know, I got lucky with him. ♥
This Pesto Pasta with Roasted Brussel Sprouts and Tempeh Sausage isn't too difficult to make even though there are 4 parts to it. First, make your pesto. Then get your brussel sprouts roasting. While they're roasting, make your tempeh sausage. Boil your noodles, and then mix it all together and voila! Enjoy.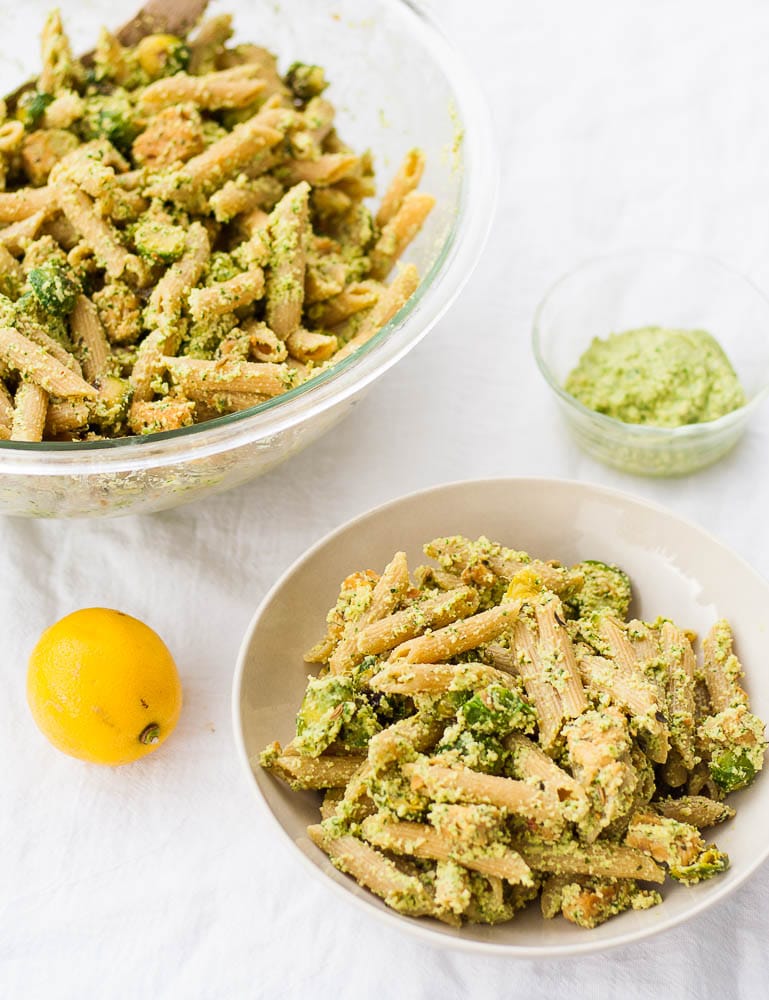 Tempeh Sausage adapted from Isa's Tempeh Sausage Crumbles. 
Pesto inspired by this recipe.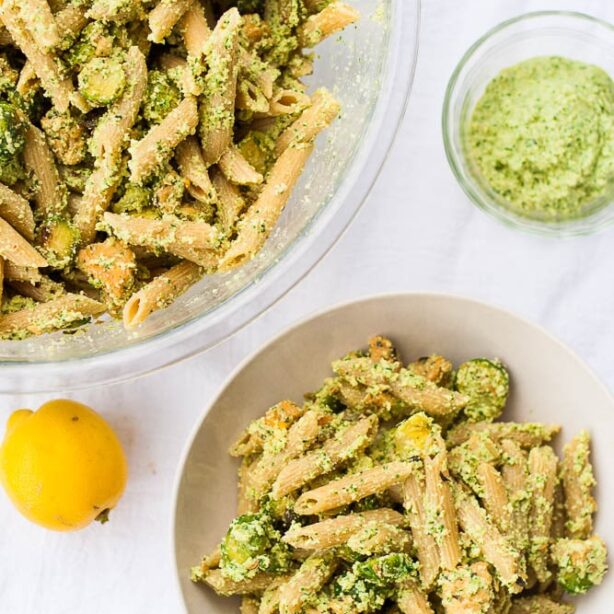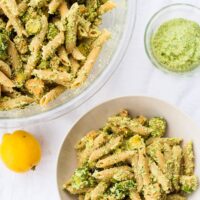 Pesto Pasta with Roasted Brussel Sprouts and Tempeh Sausage
This Pesto Pasta with Roasted Brussel Sprouts and Tempeh Sausage is a hearty, satisfying plant based meal.
Ingredients
Pesto
1 1/2

cups

raw cashews,

soaked in hot water for 20 minutes to an hour

2

cloves

garlic

3

cups

fresh basil

,

loosely packed

4

tablespoons

nutritional yeast

1/3

cup

fresh lemon juice

1/4 to 1/2

cup

water

1/2-3/4

teaspoon

salt

,

to taste
Roasted Brussel Sprouts
1

pound

brussel sprouts

,

fresh or frozen

*optional

,

spray of olive oil
Tempeh Sausage
8

oz

tempeh

,

cubed

1

tablespoon

fennel seed

1

teaspoon

basil

1

teaspoon

oregano

1/2

teaspoon

red pepper flakes

2

cloves

garlic

,

minced

2

tablespoons

soy sauce

1/2

lemon

,

squeezed
1 lb whole wheat or gluten free pasta, I used whole wheat penne
Instructions
Preheat the oven to 425 degrees.
Pesto
Add all the pesto ingredients to a food processor and process until smooth. Set aside.
Roasted Brussel Sprouts
Trim and half your brussel sprouts.

Use a silicone mat, parchment paper or lightly spray a sheet pan with olive oil.

Place the brussel sprouts cut side down on the sheet pan.

Spray lightly with olive oil, if desired. Can omit for oil-free.

Roast for 20 minutes.
Tempeh Sausage
While the brussel sprouts are roasting, make the tempeh sausage.

Add the cubed tempeh to a small pan and add enough water to barely cover it.

Over medium heat, simmer the tempeh until almost all of the water is absorbed, about 10 minutes.

Now add the rest of the tempeh sausage ingredients and cook over medium heat, stirring frequently, until lightly browned, about 5 minutes.
Pasta
Boil pasta according to package instructions and drain.

Add the pasta back to the pot you cooked it in. Now add the pesto sauce, tempeh sausage, and roasted brussel sprouts.

Serve warm! If it seems too thick, add a little bit of water to thin out.
Notes
*The pesto sauce freezes beautifully. I froze some before having my 3rd child and it made for a wonderful meal when I got home from the hospital.
*This also makes for great leftovers! Just reheat and add a few tablespoons of water, as the pesto may thicken overnight.
*Brussel sprouts can be expensive. When they are, I usually buy the frozen brussel sprouts at Trader Joes (my favorite grocery store!). They are only 99 cents per pound at my store!
We are a participant in the Amazon Services LLC Associates Program, an affiliate advertising program designed to provide a means for sites to earn advertising fees by advertising and linking to amazon.com. Read my full disclosure here