This really is the best veggie burger I've ever had and the taste is so much better than store-bought! Hearty and delicious thanks to a meaty mix of black beans, vegetables and whole grains. Budget friendly, too!
These vegan burgers won't fall apart and are easy to pan-fry, grill, bake or air fry. If you love bean and veggie burgers as much as I do, make sure to check out my Chickpea Burgers and Sweet Potato Black Bean Burgers.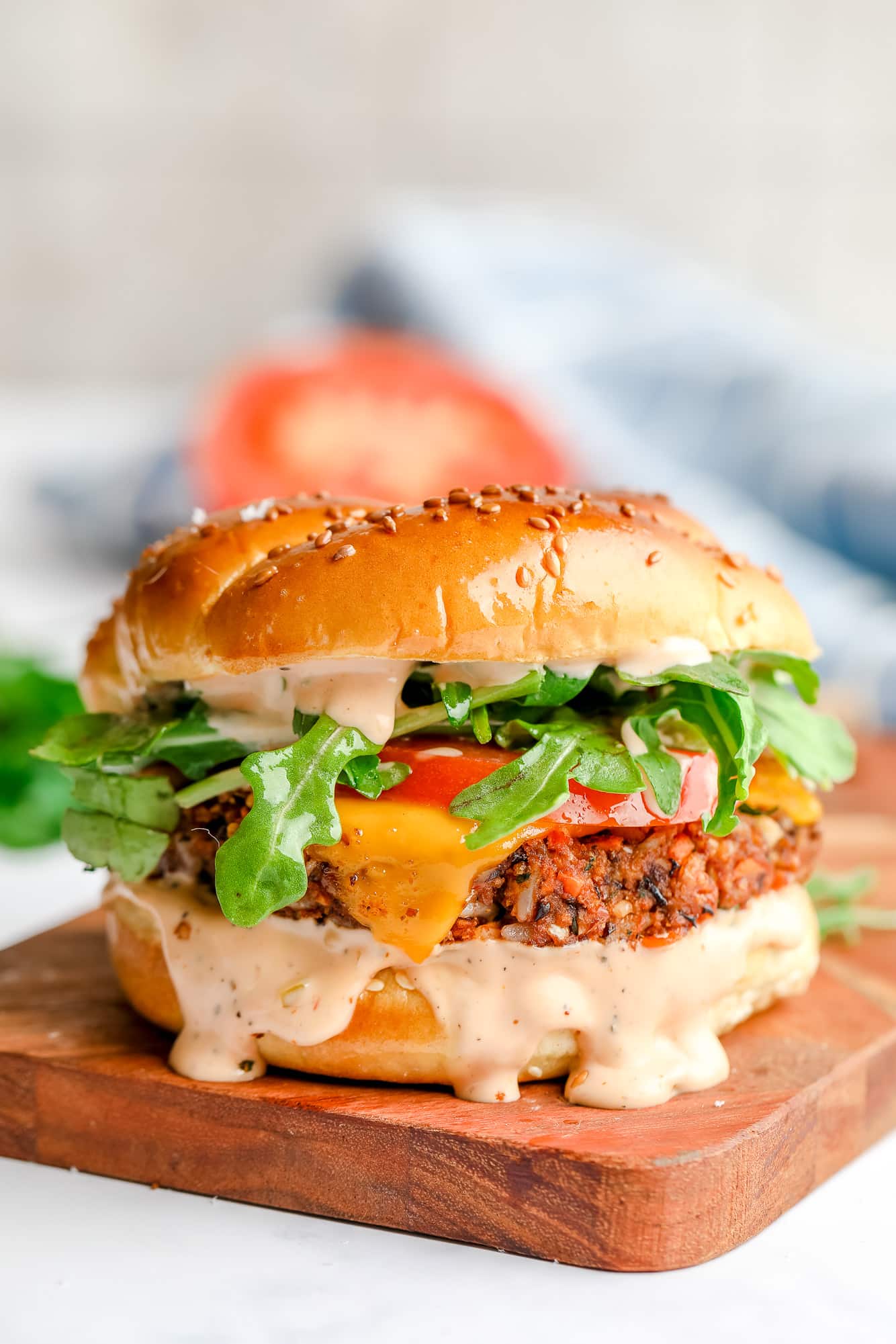 You'll forget all about bland or crumbly vegan burgers after trying the Best Veggie Burger! Made with hearty black beans, brown rice, and vegetables, every bite tastes deliciously hearty and satisfying. Even meat eaters will love these plant based burgers!
To claim the title of "best veggie burger", the patties needs to:
Be easy to make without too many (or any) complicated ingredients.
Have a ton of savory and meaty flavors.
Hold together while they cook, whether that's in a skillet, on the grill, or in the air fryer.
This recipe checks all of the boxes – that's why they're the best veggie burgers!
Make your backyard BBQ complete with Kebabs, Tempeh Ribs, Baked Beans and Watermelon Feta Salad.
If you truly want a burger that tastes just like real beef, I'd go for an Impossible or Beyond burger instead. This recipe isn't pretending to be meat, instead we're celebrating how delicious veggies and beans can be as a burger!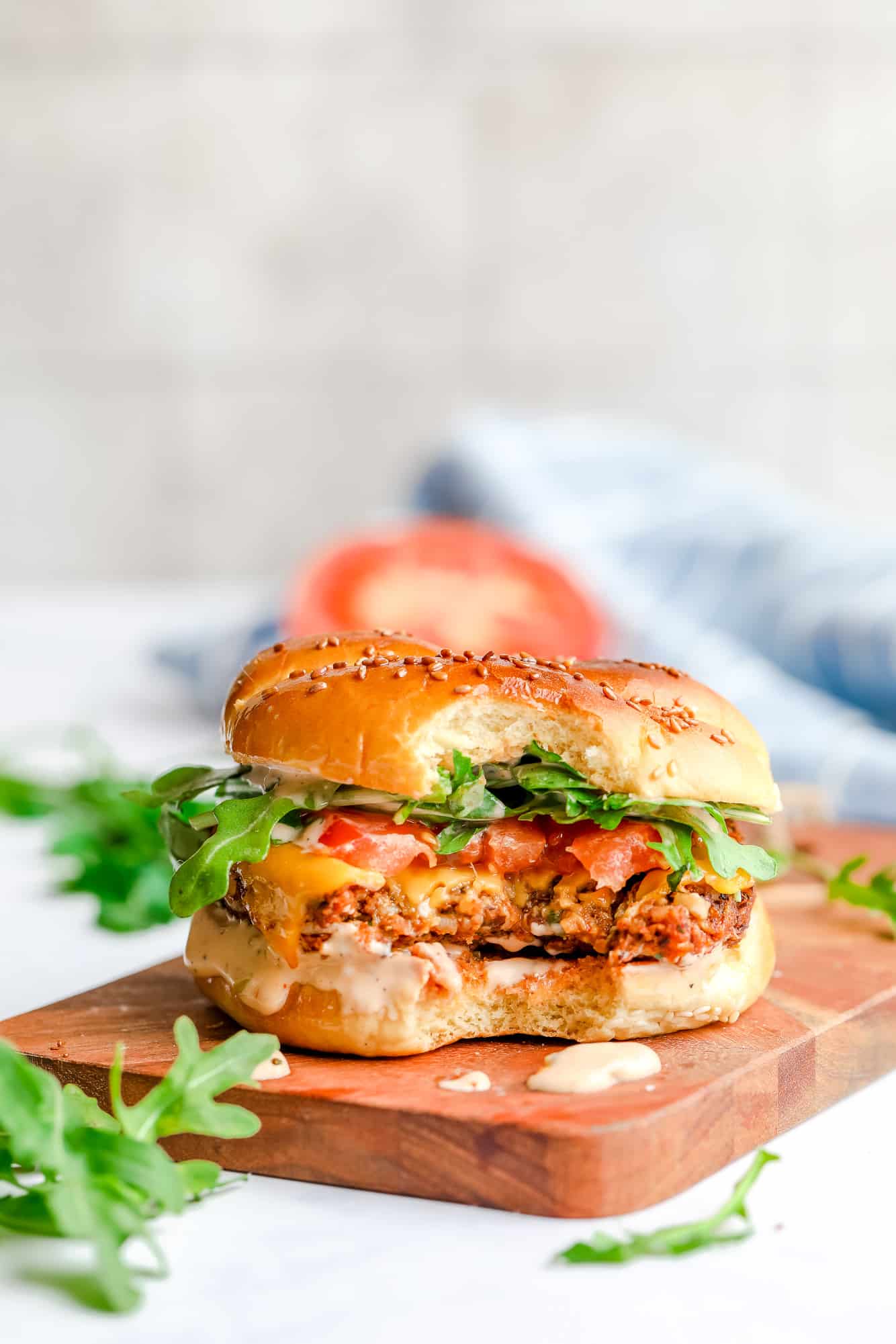 Ingredients needed (with substitutions)
Ground flax – Once it's mixed with water, ground flaxseed takes on the same consistency as real eggs. They bind the meaty mixture together and help prevent the patties from falling apart. If you don't have ground flax at home, use chia seeds instead or replace the flax eggs with another egg substitute, like Just Egg or Bob's Red Mill Egg Replacer.
Water
Black beans – Mashed black beans are responsible for the black bean burgers' meaty texture and flavor! Canned black beans are just fine, or you can substitute them for another kind of bean, such as kidney, chickpea, or pinto beans.
Cashews – Ground cashews give the burgers a nice texture along with a tasty nutty flavor. Almonds work well as a substitute. For nut free, use sunflower seeds or pepitas (no need to chop these first).
Brown or white rice – Use day-old cooked brown or white rice if possible, it makes the recipe so much easier. Feel free to use cooked quinoa instead.
Parsley
Carrots – Shredded, then mixed in with the burgers. They give the burgers more substance, nutrients, and some color, but you can use almost any fresh or pre-cooked veggies you like.
Green onions – They add a ton of flavor, but you can leave them out or substitute another onion if needed.
Breadcrumbs – Oats are a great substitute if you don't have breadcrumbs at home. Keep in mind that oats could make the burgers taste gummy so only use about 1/3 cup. For gluten free, use gluten free breadcrumbs or oats.
Smoked paprika – I like the black bean burgers with a subtle smoky flavor, which is where the smoked paprika and chili powder come in. Feel free to mix it up with even more spices or check out the Variations section for ideas!
Chili powder
Salt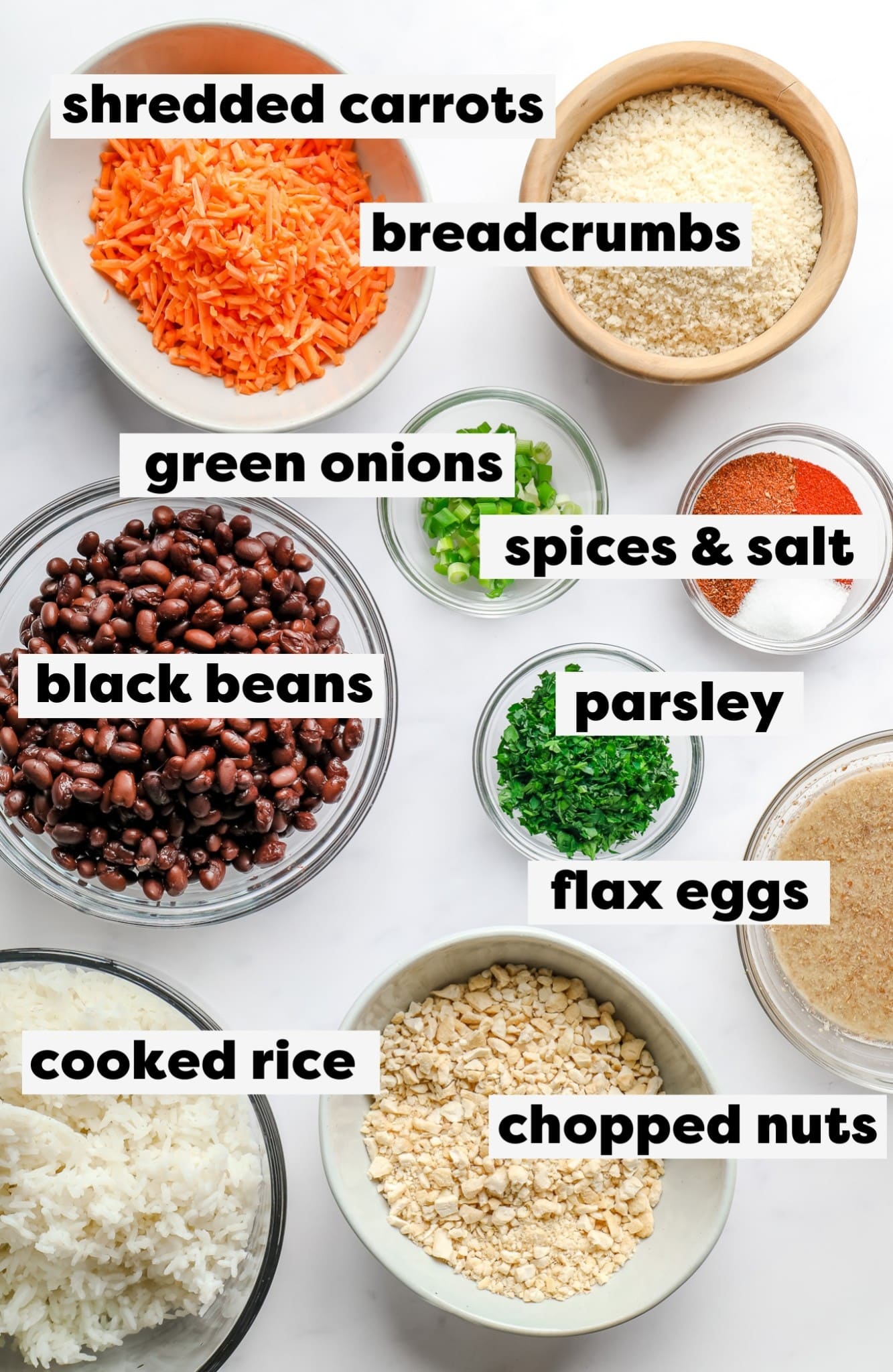 How to make the best veggie burger
Find the complete recipe with measurements in the recipe card below.
Make the flax eggs by stirring the ground flax and water together in a bowl. Set aside while the mixture thickens.
Next, mash the black beans in a large bowl until most have turned into a paste. Leave some beans whole so the burgers end up with more texture.
Use a food processor to pulse the cashews into crumbs (not powder). Pour them into the bowl with the beans along with the flax eggs and the remaining ingredients. Mix well to combine.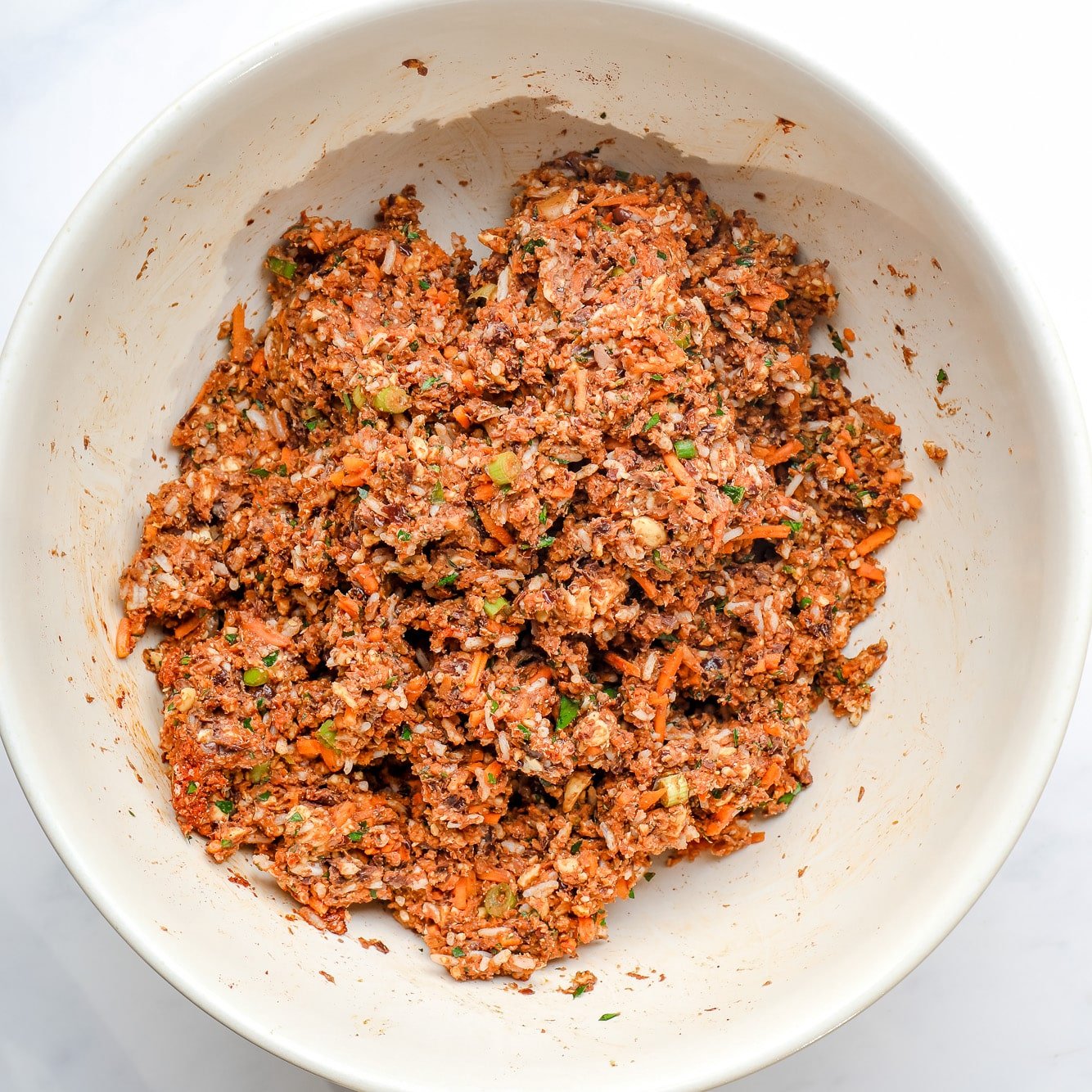 Scoop out about ½ cup of the burger mixture and use clean hands to form it into a patty. Repeat until you have 12 burger patties and have used up all the burger mixture.
Pan fried veggie burgers
Heat the oil in a large skillet over medium heat. Once it's hot, add the patties and pan fry until they're golden and crispy on both sides.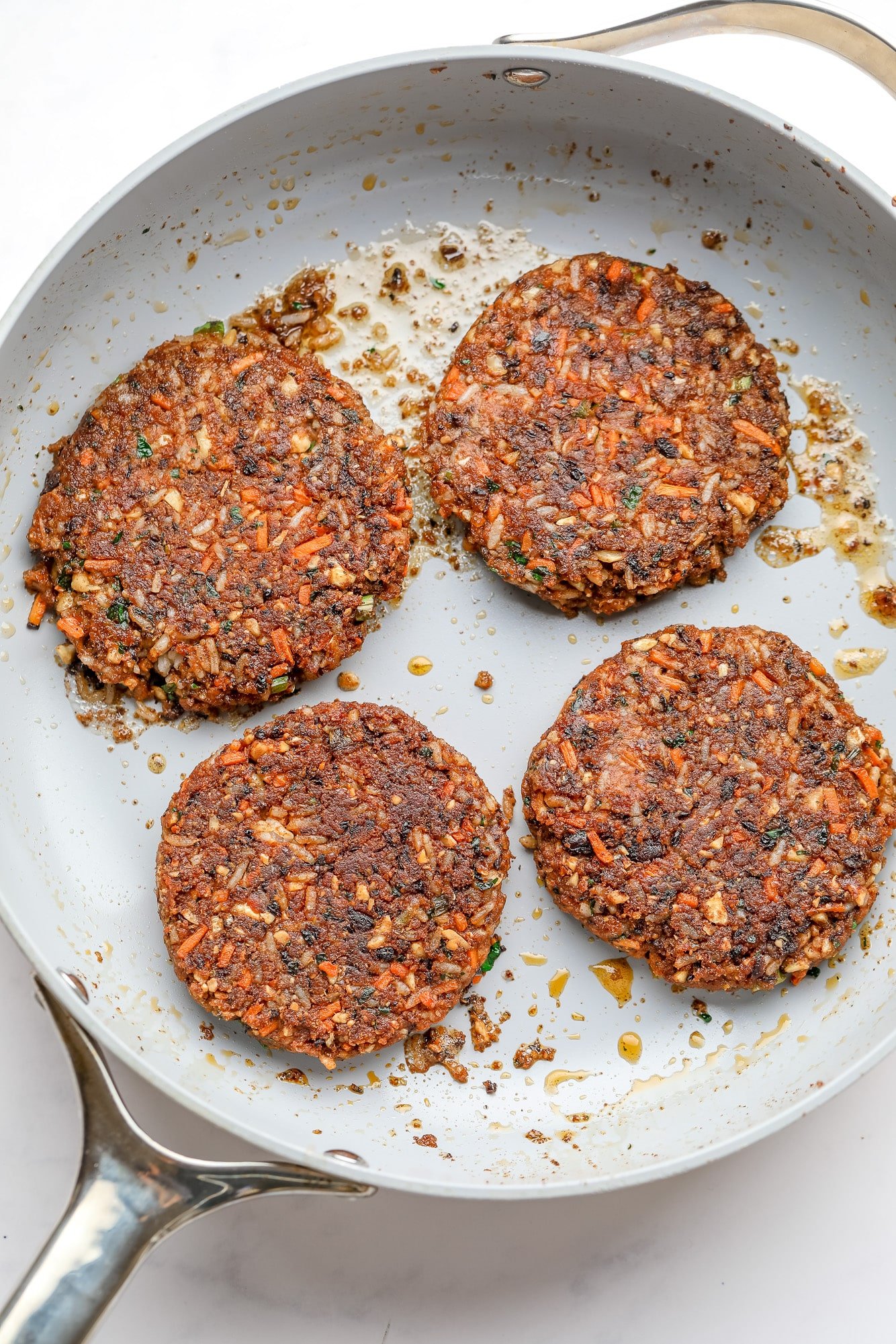 Transfer them to a paper towel-lined plate to drain the excess oil. Assemble the burgers on buns with your favorite toppings, then serve!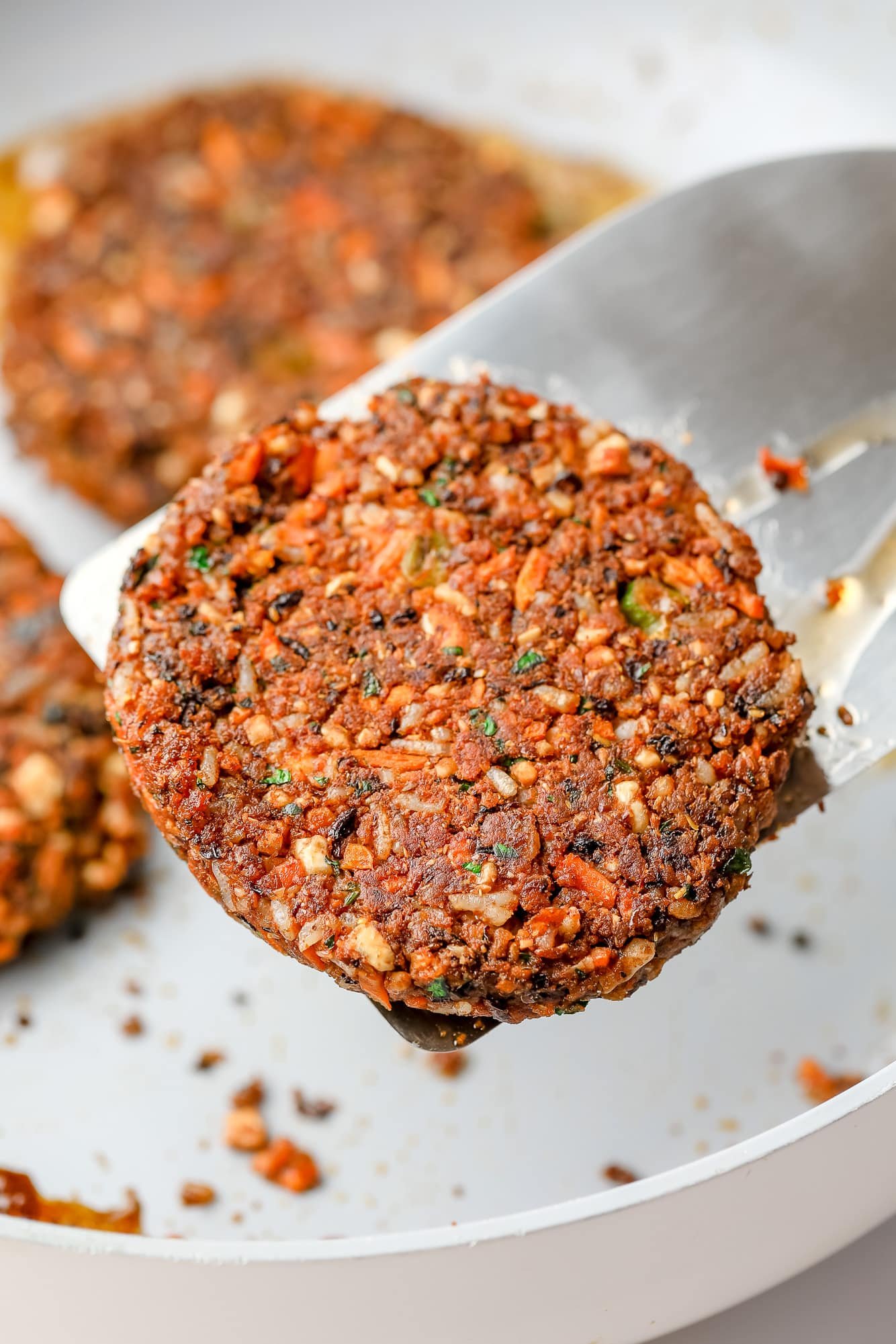 Grilling instructions
Pop the assembled burger patties in the fridge to firm up for about 30 minutes. This will keep them from falling apart on the grill grates. Afterward, grill the vegan burgers on a medium-high, oiled grill until crispy on both sides.
Baking instructions
Place the patties on a parchment-lined baking sheet, then bake in a 350ºF oven for 20 minutes. Flip, then bake for another 15 minutes.
Air fryer instructions
Place 2 burger patties in the air fryer basket (cooking in batches will prevent the burgers from becoming mushy or soft). Air fry the black bean burgers at 400ºF for 10 minutes, then flip and cook for another 5 to 10 minutes.
Veggie burger topping ideas
These hearty burgers only get better with all of the fixings on top! Consider mixing and matching any of the following sauces/toppings you like:
Easy Burger Sauce – recipe included! It's a simple mixture of mayo, ketchup, pickle relish and a few other simple ingredients. Just mix quickly in a bowl; you won't be sorry!
Lettuce, spinach, arugula and/or sprouts
Tomato slices
Ketchup
Mustard
Grilled onions
Red onion or pickled red onions
Vegan cheese slices or easy vegan cheese sauce
Avocado
Pickles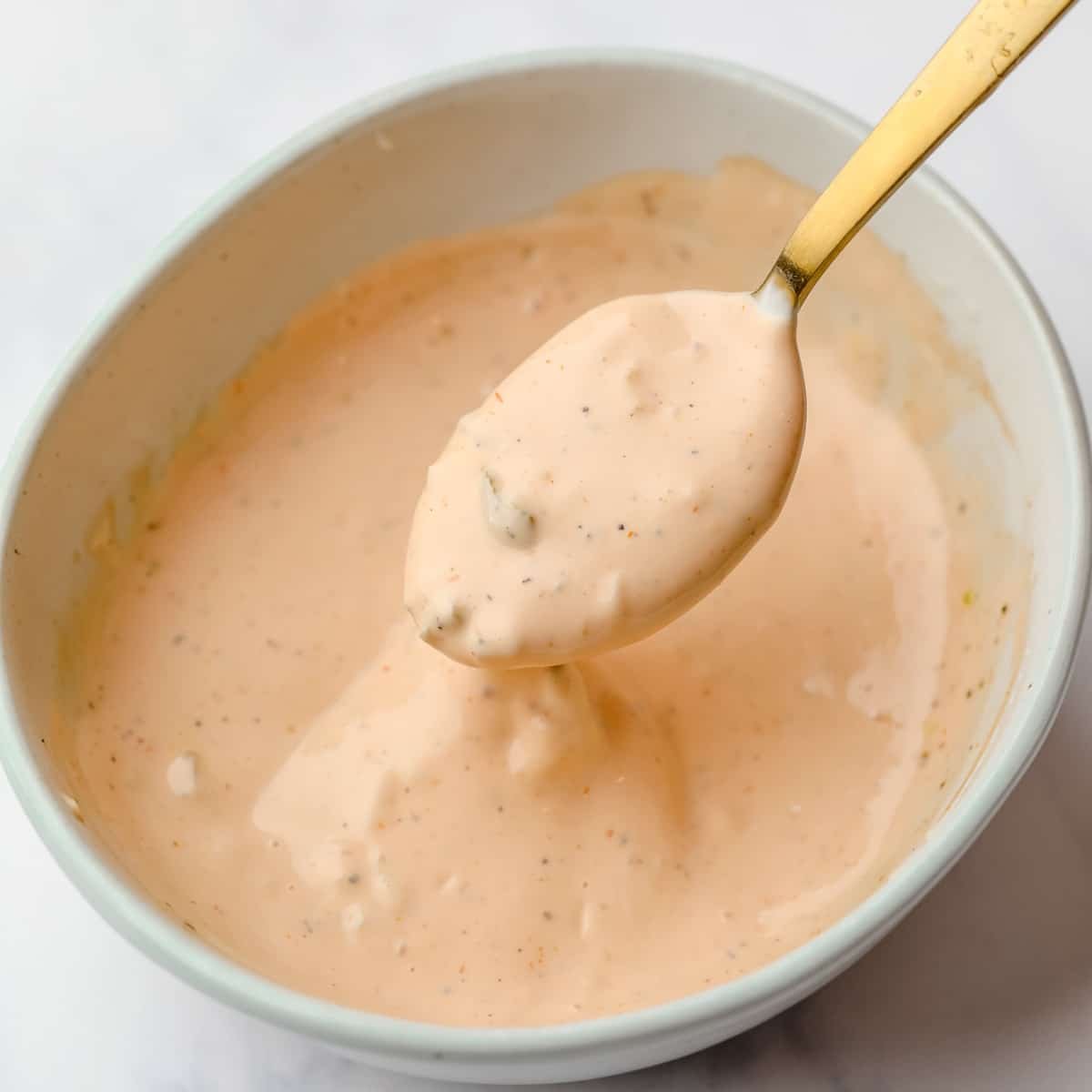 Serving suggestions
There are endless side dishes to choose from but some of the best are Oven Roasted Potato Wedges, Easy Air Fryer Fries, Vegan Potato Salad, Vegan Caesar Salad, or Classic Vegan Coleslaw.
Variations
Nut free – You can use sunflower seeds or pepitas instead of cashews, or simply omit them altogether.
Gluten free – Substitute gluten free breadcrumbs, almond flour, or gluten free certified rolled oats (only ⅓ cup) for the regular breadcrumbs.
Play with the seasonings – Add dried basil, garlic powder, onion powder, cumin, seasoning salt, nutritional yeast, or cayenne in addition or instead of the paprika and chili powder.
Use different vegetables – Both fresh and pre-cooked vegetables can be used in this vegan burger recipe. Try diced celery, kale, broccoli, or red onion. As for cooked veggies, try sauteed mushrooms, onions, garlic, shallots, or roasted sweet potatoes.
Make ahead and storing
The best way to make plant based burgers ahead of time is to mix up the burger mixture and form the patties, then keep them covered and in the fridge for 1 to 2 days. I don't recommend freezing the uncooked burgers.
Once they're cooked, store the burgers in an airtight container in the fridge for 3 to 4 days. They freeze well, too! Just remember to thaw them in the fridge before reheating.
To reheat, either zap the burgers quickly in the microwave or warm them in a skillet on the stovetop.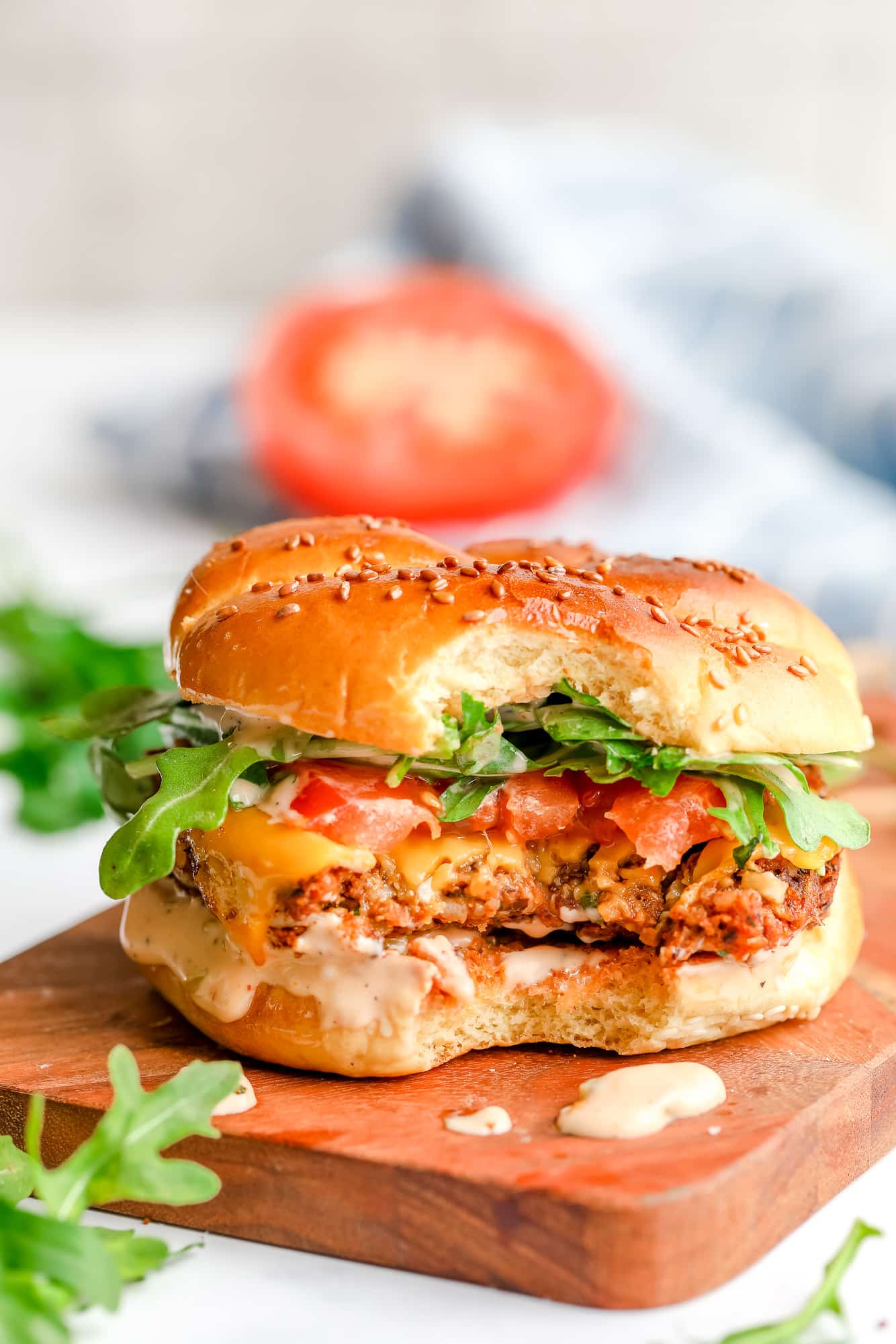 Want more meaty recipes made with plants?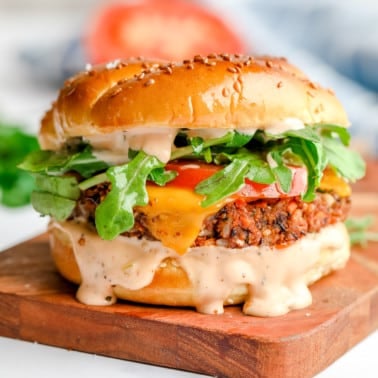 Best Veggie Burger
This really is the best veggie burger I've ever had and the taste is so much better than store-bought! Hearty and delicious thanks to a meaty mix of black beans, vegetables and whole grains. Budget friendly, too!
Ingredients
Veggie burger patties
1/4

cup

ground flax

1/2

cup

water

3

cups

cooked black beans (2 15-oz cans, drained and rinsed)

1

cup

cashews

or almonds, sunflower seeds

1 1/2

cups

cooked brown rice

or quinoa, white rice

1/2

cup

chopped parsely

1 1/2

cups

shredded carrots

1/3

cup

chopped green onions

1

cup

bread crumbs

or gluten free

2

tablespoons

smoked paprika

1

tablespoon

chili powder

1 1/2

teaspoons

salt, or more to taste
Easy burger sauce
1/2

cup

vegan mayo

4

tablespoons

ketchup

2

teaspoons

sweet pickle relish

2

teaspoons

granulated sugar

2

teaspoons

white vinegar

few shakes black pepper
For serving
burger buns of choice

lettuce or arugula

tomato slices

red onion slices

mayo, mustard, ketchup, pickles

cheese slices

I like Violife cheddar
Instructions
In a small bowl, combine the ground flax and water. Give it a little stir and set aside. This is your flax egg mixture.

In a large bowl, add the drained and rinsed black beans. Mash with a potato masher (or fork) until most of the beans are a paste. Leave about 1/4 of the beans whole.

Place the cashews in a food processor, and pulse until they are breadcrumb size, NOT a powder. It's okay if a few larger pieces remain. You could instead chop them with a large knife. Add to the bowl with the beans.

Now add the flax/water mix to the bowl with the beans/nuts as well as all the remaining ingredients. Mix very well with a large wooden spoon. 

Using about 1/2 cup per burger, shape into burger patty shapes about 3/4 inch thick. 
To cook on the stovetop (my preferred method)
Add 2-3 tablespoons of oil on the stove over medium heat. Add 4 patties at a time and cook until gold and crispy on one side, about 4 minutes.

Carefully flip the burgers and cook for 3-4 more minutes. Transfer to a paper towel lined plate.
To bake
Preheat the oven to 350 degrees F and line a baking sheet or two with parchment paper. Place the patties on the pan(s) and bake for 20 minutes. Flip, bake for 15 more minutes. Remove from oven.
On the grill
For easier grilling, refrigerate the patties for at least 30 minutes. Heat the BBQ to medium high, brush the patties with oil and cook for about 4 minutes on each side.
Serve with all the toppings
Make the optional burger sauce: Add all ingredients to a small bowl and whisk well to combine. Refrigerate for up to 1 week.

Serve on hamburger buns and any burger fixings you love! Go with the classic: burger sauce or vegan mayo, ketchup, mustard, pickle slices, lettuce, tomato and onion. Or get creative with barbecue sauce, Sriracha vegan mayo, avocado and arugula, etc. Enjoy!
Notes
Nut allergy? Sunflower seeds, or pepitas also work in place of the cashews, as well as almonds if you can have them. Or simply omit the nuts/seeds altogether.
Gluten free? Substitute gluten free breadcrumbs, almond flour or gluten free certified rolled oats for the regular breadcrumbs. 
May substitute cooked quinoa or white rice for the brown rice.
May use another kind of bean, such as kidney, chickpea or pinto beans.
Will work with ground chia seeds in place of flax. Or another egg replacer like Bob's Red Mill or even JUST Egg.
The recipe makes 12 burgers, so feel free to cut the recipe in half if you don't want that many. However, they do freeze well.
How to store: Leftover cooked burgers keep in the refrigerator for 3-4 days. May also freeze cooked burgers. I like to wrap them individually, then place in a freezer friendly container.
Make ahead: You can make the burger mixture a day or so before if desired before cooking. I don't recommend freezing uncooked burgers.
Nutrition
Serving:
1
of 12 burger patties
|
Calories:
218
kcal
|
Carbohydrates:
31
g
|
Protein:
9
g
|
Fat:
7
g
|
Saturated Fat:
1
g
|
Sodium:
559
mg
|
Potassium:
466
mg
|
Fiber:
8
g
|
Sugar:
2
g
|
Vitamin A:
3684
IU
|
Vitamin C:
7
mg
|
Calcium:
72
mg
|
Iron:
3
mg
*This recipe was posted September 2018 and has been updated with better writing and options. The recipe is unchanged.