Smoky Baked Tempeh Bacon is perfectly crispy, smoky and has just a touch of sweetness. The best thing about this recipe is it's super easy; just slice it up, marinate and bake! No frying here.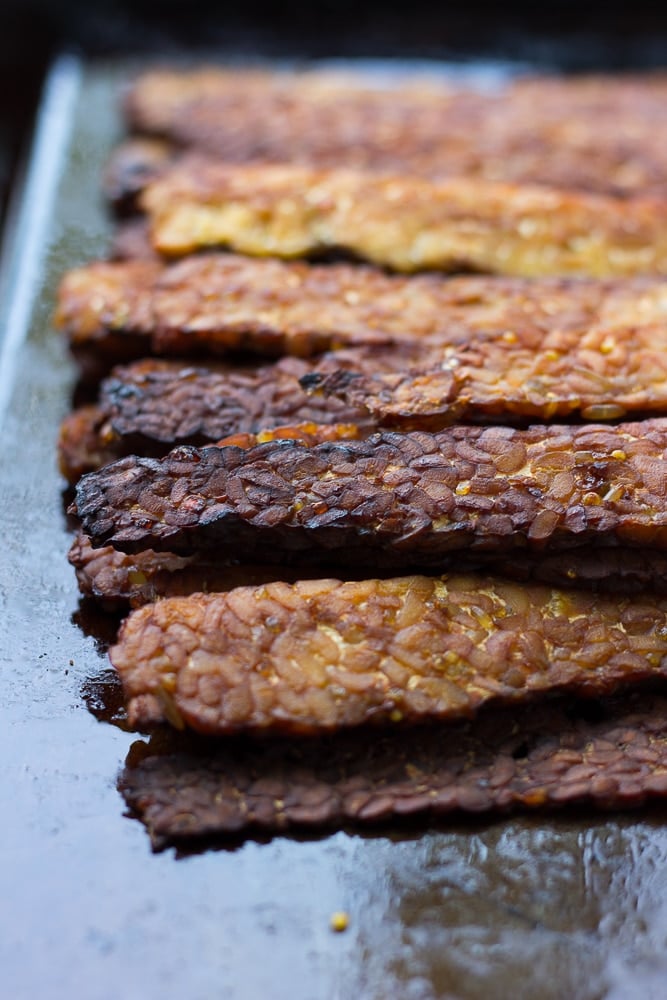 I've made tempeh bacon a handful of times over the past several years. I always love it so much, and think, "I've got to make this more often!". But then, I don't.
I think the reason for this is because the recipe I was loosely following involved frying the tempeh bacon in a pan with a lot of oil. Not only do I not want to consume food fried in a bunch of oil, but I have found with tempeh bacon if you fry without using a fair amount of oil, it sticks really bad, and then I'm just irritated. Nothing worse than food sticking, am I right?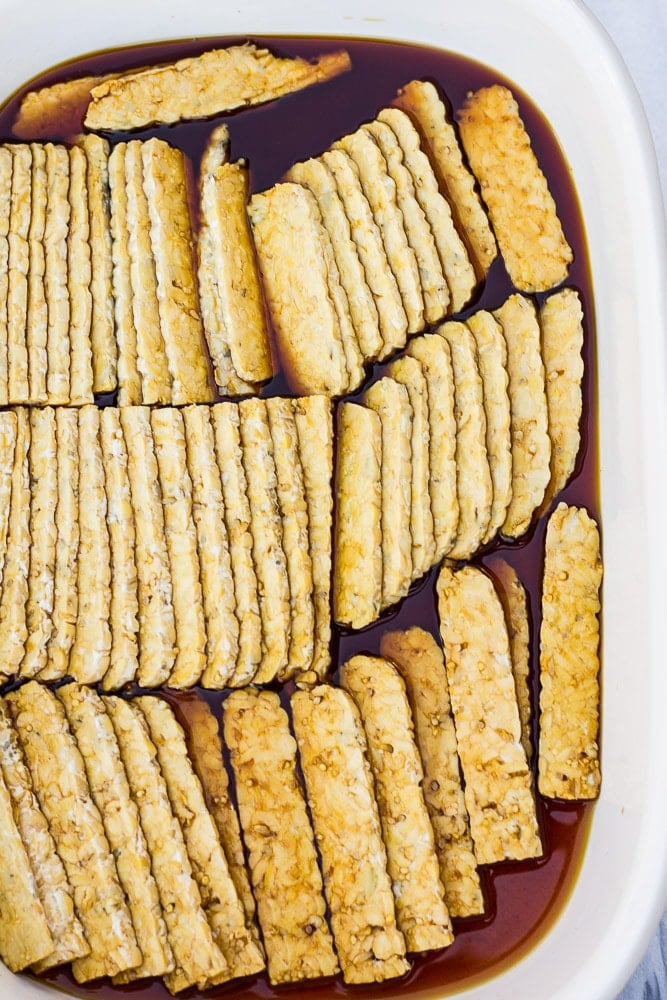 Not to mention I have 5 people to cook for, and one 8 ounce package of tempeh is not going to be enough for all of us! And then I'm just standing in front of the stove FOREVER, frying tempeh in batches until finally it's all done. I don't have the time or patience for it. So baking it is.
Baking this Smoky Tempeh Bacon was the best idea! They get perfectly crispy this way, and they are SO full of flavor, without the mouthful of oil from frying.
I hope you love this recipe! My favorite way to eat them is in TLT's (Tempeh Bacon Lettuce Tomato Sandwiches), of course, but they're also wonderful alongside some waffles, pancakes or tofu scramble.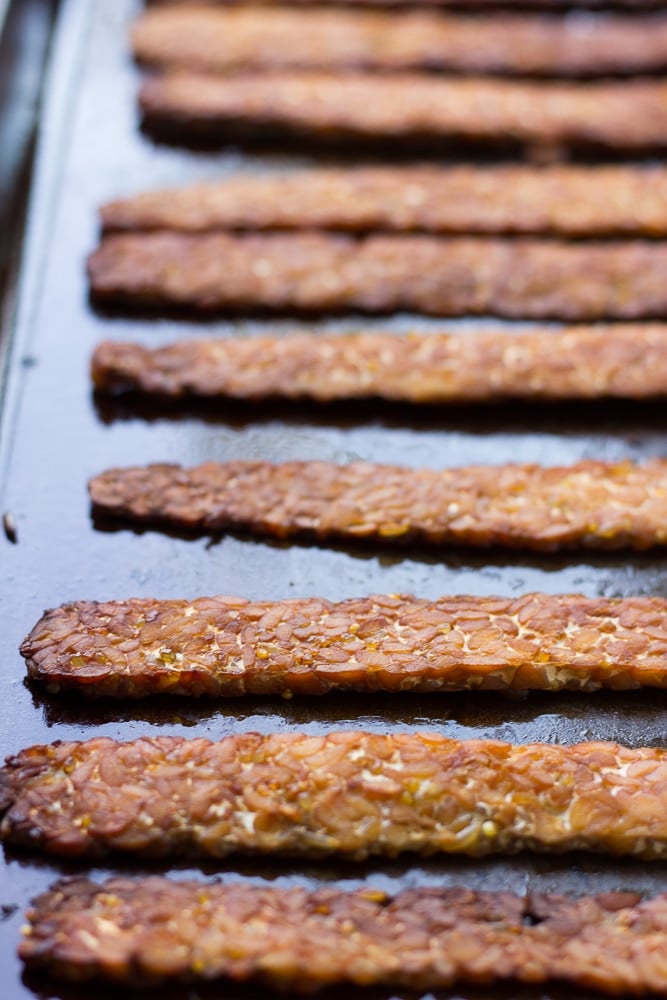 If you make this recipe, let me know how it goes! Rate it, leave a comment and tag a photo @noracooksvegan on Instagram. Enjoy!
Inspired by this recipe.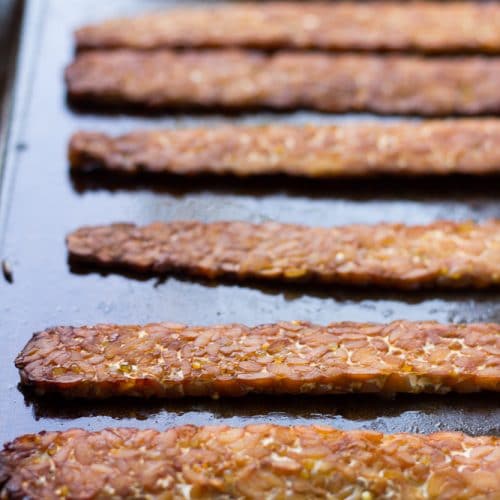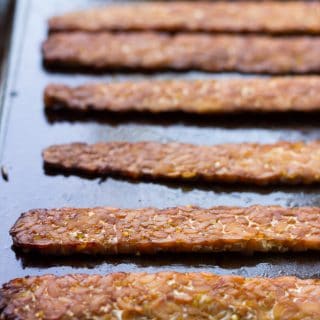 Smoky Baked Tempeh Bacon
Tempeh Bacon, baked instead of fried. Perfect for TLT's or alongside some pancakes or waffles!
PRINT
PIN
RATE
Instructions
Slice the tempeh into 1/4 inch very thin slices. You will get about 12 strips per package of tempeh, or 24 total. This is easiest done with a good, heavy knife. To make it easier, you can cut the block in half and then cut into strips, they will just be shorter and you will have more of them.

To make the marinade, combine the soy sauce, apple cider vinegar, pure maple syrup, cumin and liquid smoke in a medium bowl. Whisk well to combine.

Place the tempeh strips in a 13 by 9 dish, and cover with the marinade. Make sure they are all coated well, and allow to marinate in the refrigerator for at least an hour, overnight if you can.

Preheat the oven to 350 degrees F and line a large baking sheet with parchment paper.

Place the marinated tempeh strips onto the baking pan. Bake for 15 minutes. Flip and bake for 15 minutes more. Remove and serve.
Recipe Notes
*Keep leftover tempeh bacon in a glass or plastic container in the refrigerator for 3-4 days. To reheat, either microwave or put in the oven on a pan for 10-15 minutes, until warmed and crispy. Or eat cold!
*To make gluten free, make sure to use gluten free tempeh, which I believe you can usually find at Whole Foods. Also use tamari instead of soy sauce.
NUTRITION INFORMATION
Serving:
1
serving
Calories:
135
kcal
Carbohydrates:
10
g
Protein:
11
g
Fat:
6
g
Saturated Fat:
1
g
Sodium:
542
mg
Potassium:
284
mg
Fiber:
1
g
Sugar:
3
g
Calcium:
71
mg
Iron:
2
mg