This Easy Vanilla Vegan Gluten Free Cake is made in 1 bowl and requires only 8 ingredients. It's fluffy, moist, tender and bursting with vanilla flavor. Plus there is no added oil to the cake itself!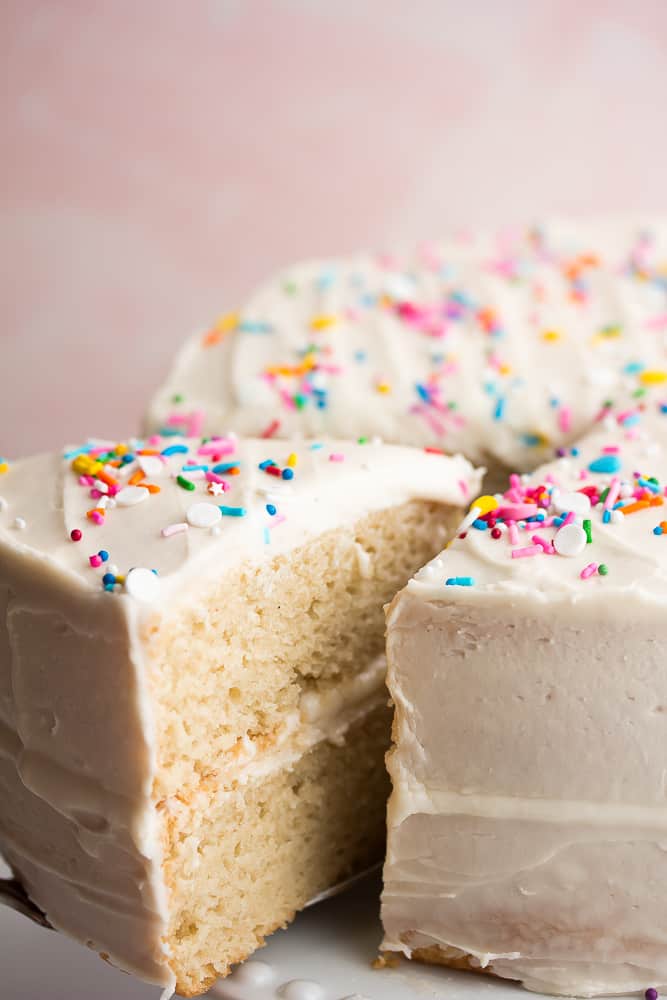 After creating the most perfect vegan vanilla cake, I wanted to help my gluten-free friends by baking a version they could enjoy. Of course, it works quite well to simply replace the all purpose flour in the original recipe with a quality gluten free flour mix, but this cake recipe was created from the start to be gluten free. 
You'll want to dig into slice after slice of this fluffy, tender, and moist cake. You can't even tell that it's gluten-free or vegan! I've had plenty of dry gluten free vegan cakes, so I wanted to avoid that outcome at all costs.
All you need to make this cake is 1 bowl and 8 ingredients. Even without any oil, dairy, or gluten, this dessert is exceptionally delicious! It's beautifully decorated with my simple vanilla frosting and sprinkles, or use my chocolate frosting if you'd prefer! I've included a very simple vanilla icing recipe as well.
The magic of almond flour
Aside from being 100% gluten and dairy-free, this cake is also oil-free! Most cake recipes contain vegan butter or oil to enhance moisture. Instead, this recipe calls for almond flour.
The ground almonds are loaded with natural fats and oils, creating desserts that are rich, moist, and full of healthy fats. Unfortunately, there is not a good substitute for it in this particular recipe. Without it, the cake will taste gummy, low fat and dry.
Make sure to use almond flour (blanched is preferred, fine texture) and not almond meal in this gluten-free cake recipe. Almond meal will completely change the texture.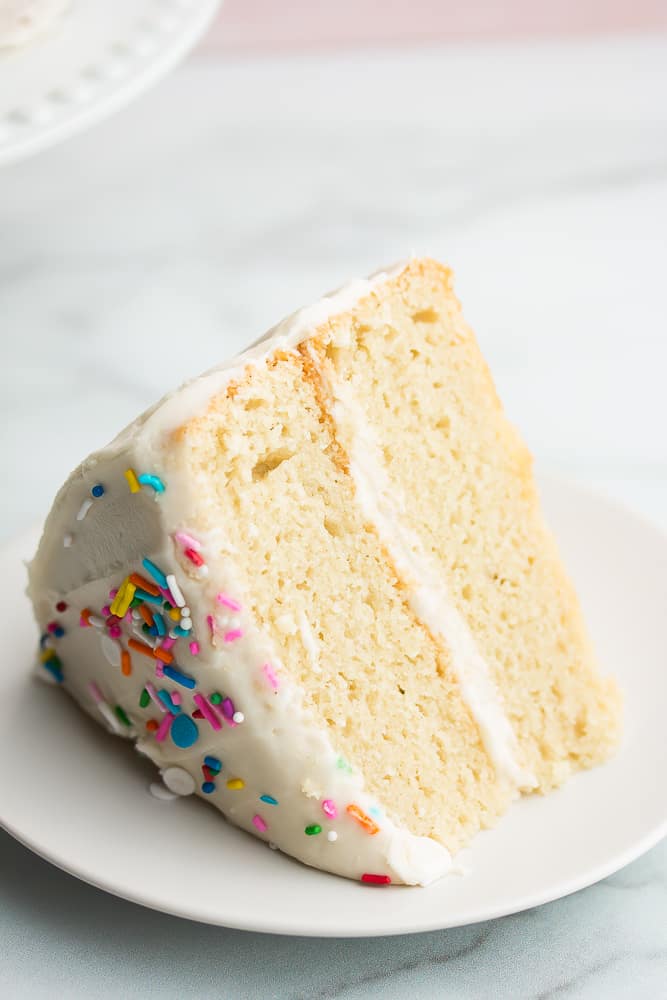 Ingredients Needed
Almond flour – Provides fat and richness in oil-free cakes. Without it, the cake will taste gummy and fat-free. There is no substitute for it here.
Gluten-free all-purpose flour – This will stabilize the cake and help it keep a consistent texture. You can replace this with all purpose flour when you don't need the cake to be gluten free.
Sugar – Use coconut sugar if you prefer.
Baking powder
Salt
Almond milk – Use any plant-based milk you prefer.
Apple cider vinegar – To help the cake rise and bake evenly.
Vanilla – In addition to vanilla extract, you can scrape out the inside of a vanilla bean to add natural flavor and beautiful black specks throughout the cake.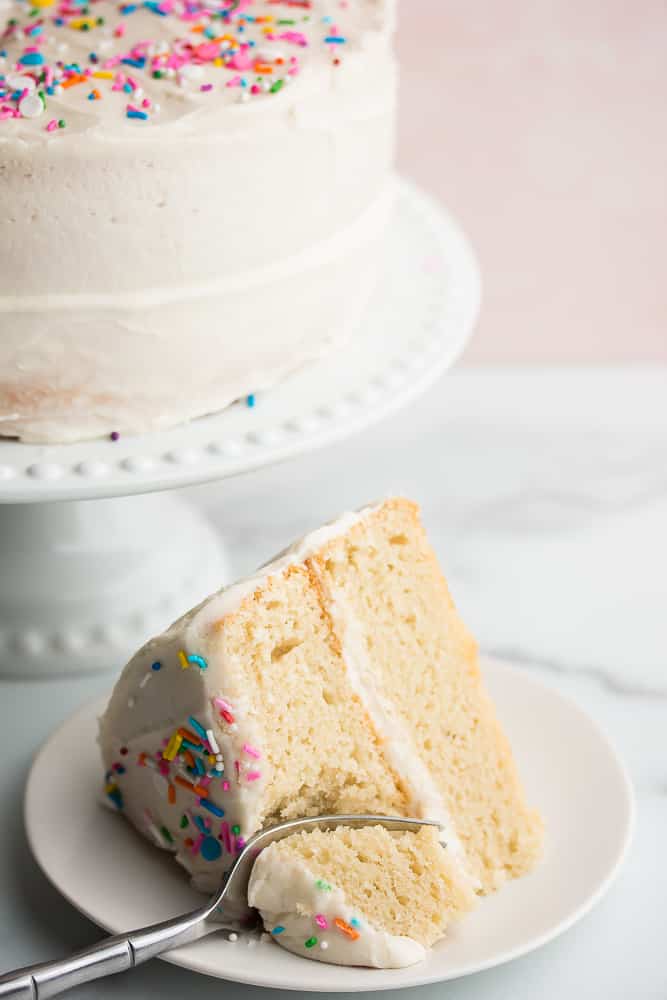 How to make Vegan Gluten Free Cake
Preheat the oven and prepare the pans: Preheat your oven to 350ºF. Lightly grease 2 8-inch round cake pans. Cut out 2 round pieces of parchment paper and place them on the bottom of the pans for easy removal.
In a large bowl, whisk the dry ingredients together.
Next, pour the wet ingredients over the dry ingredients. Stir well but do not over mix. Pour the batter evenly into the prepared pans.
Bake for 30 to 35 minutes. When they're done, remove the cake from the pans and let them cool completely. 
How to decorate the cake
My 4-ingredient simple vanilla frosting is probably the best tasting option for the cake! It's rich, buttery and smooth. One batch will cover the entire cake and satisfy your sweet tooth. 
Or you can make the simple vanilla icing I've included in the recipe. It only has 2 tablespoons of vegan butter, and if you really needed to you could leave it out. For the simple icing, you can mix all of the ingredients in just one bowl. If the frosting is too runny, stir in more powdered sugar, and if it's too thick, add a teaspoon of milk at a time until you reach the desired consistency. 
Check out my Cashew Vanilla Frosting if you're looking for a low sugar and oil free frosting.
This is an easy cake icing that can be made in just 5 minutes. Therefore, it's perfect when you're in a rush or just need something simple! You can always create an extra fun design with colorful sprinkles, shredded coconut, or crushed Oreo cookies.
Can I use this recipe to make cupcakes?
Of course! Make the cake batter using the same instructions. Fill cupcake liners 3/4 of the way full and bake for 20 to 25 minutes, or until a toothpick comes out clean.
You should end up with 18 to 24 cupcakes using this recipe. To decorate, swirl the vanilla frosting on top using a piping bag or simply spread it on with a butter knife.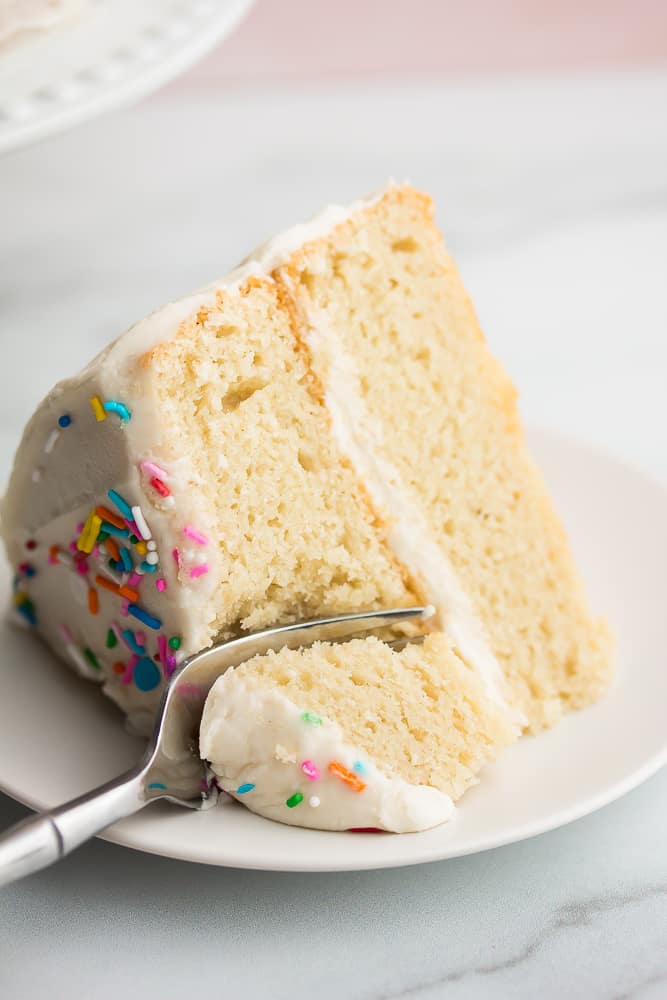 How to store
The cakes can be baked well ahead of time and are even freezer-friendly! Wrap them in plastic and either freeze for up to 3 months, refrigerate for 5 days, or keep them at room temperature for 2 days.
Make the frosting up to 1 to 2 weeks ahead of time and store it in a sealed container in the fridge. It will firm up as it sits in the fridge, so let it sit on the kitchen counter for around 30 minutes before frosting the cake.
Leftovers are best stored covered in the refrigerator. Leftover cake should stay fresh and moist for around 3 days.
Want more vegan cakes?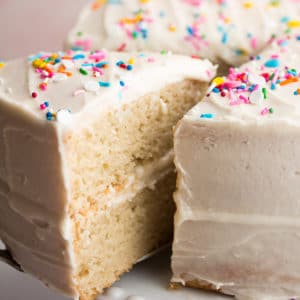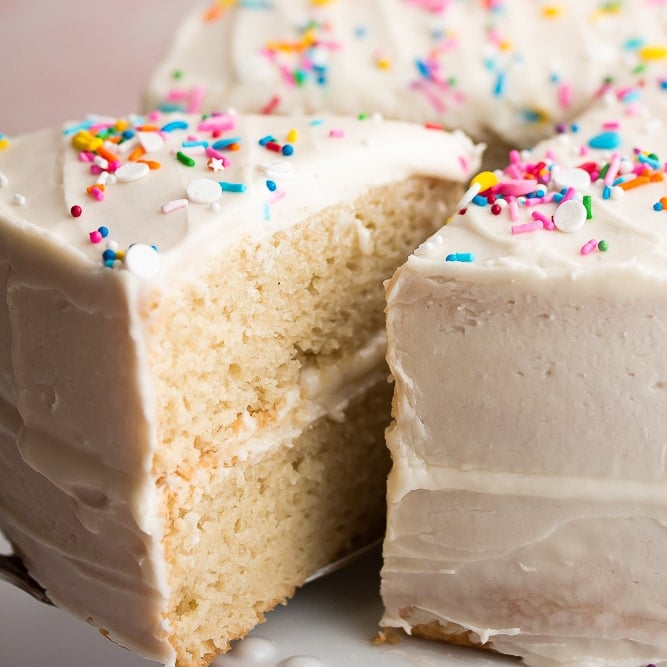 Easy Vanilla Vegan Gluten Free Cake
My Easy Vanilla Vegan Gluten Free Cake is made in 1 bowl and requires only 8 ingredients. It's fluffy, moist, tender and bursting with vanilla flavor. Plus there is no added oil to the cake itself!
Ingredients
Simple Vanilla Icing
2

tablespoons

softened vegan butter

OR omit and use more almond milk for oil free

3

cups

powdered sugar

2-3

tablespoons

almond milk

1

teaspoon

pure vanilla extract

sprinkles, optional for serving
Instructions
Preheat to 350 degrees F and lightly grease 2 8-inch round pans. I also put a round parchment paper piece in the bottom for easy removal.

In a large bowl, whisk the almond flour, gluten free flour, sugar, baking powder and salt.  Then add the almond milk, vinegar and vanilla. Stir well but do not over mix. Pour evenly into the prepared pans.

Bake for 30-35 minutes. Remove from the oven and let cool completely before frosting.

Make the icing: Place the softened vegan butter, powdered sugar, almond milk and vanilla in a bowl and mix on low, then high until creamy and smooth. Add more milk or powdered sugar as needed to make a spreadable frosting.

Frost the cake as desired and top with optional sprinkles. Enjoy!
Notes
For the frosting, you may also use vegan shortening instead of vegan butter. Or leave it out completely if needed but you will need to add a bit more milk.

May also bake the cake in a 9×13 inch pan, but it will take longer to bake, about 40-45 minutes. Check the middle with a toothpick to make sure it's cooked through.

I used King Arthur Gluten Free Flour mix which worked great. Bob's Red Mill also works. Almond flour is essential here since there is no added oil, so don't try replacing it.
Nutrition
Serving:
1
serving
|
Calories:
322
kcal
|
Carbohydrates:
59
g
|
Protein:
5
g
|
Fat:
9
g
|
Saturated Fat:
1
g
|
Sodium:
202
mg
|
Potassium:
152
mg
|
Fiber:
3
g
|
Sugar:
45
g
|
Vitamin A:
67
IU
|
Calcium:
144
mg
|
Iron:
1
mg