Enjoy this rich and hearty Vegan Irish Stew on St. Patrick's Day or any chilly evening. Each bite features tender vegan beef tips, carrots, and potatoes in a thick Guinness broth. Easy to make in one pot and perfect with Irish soda bread, cornbread or dutch oven bread.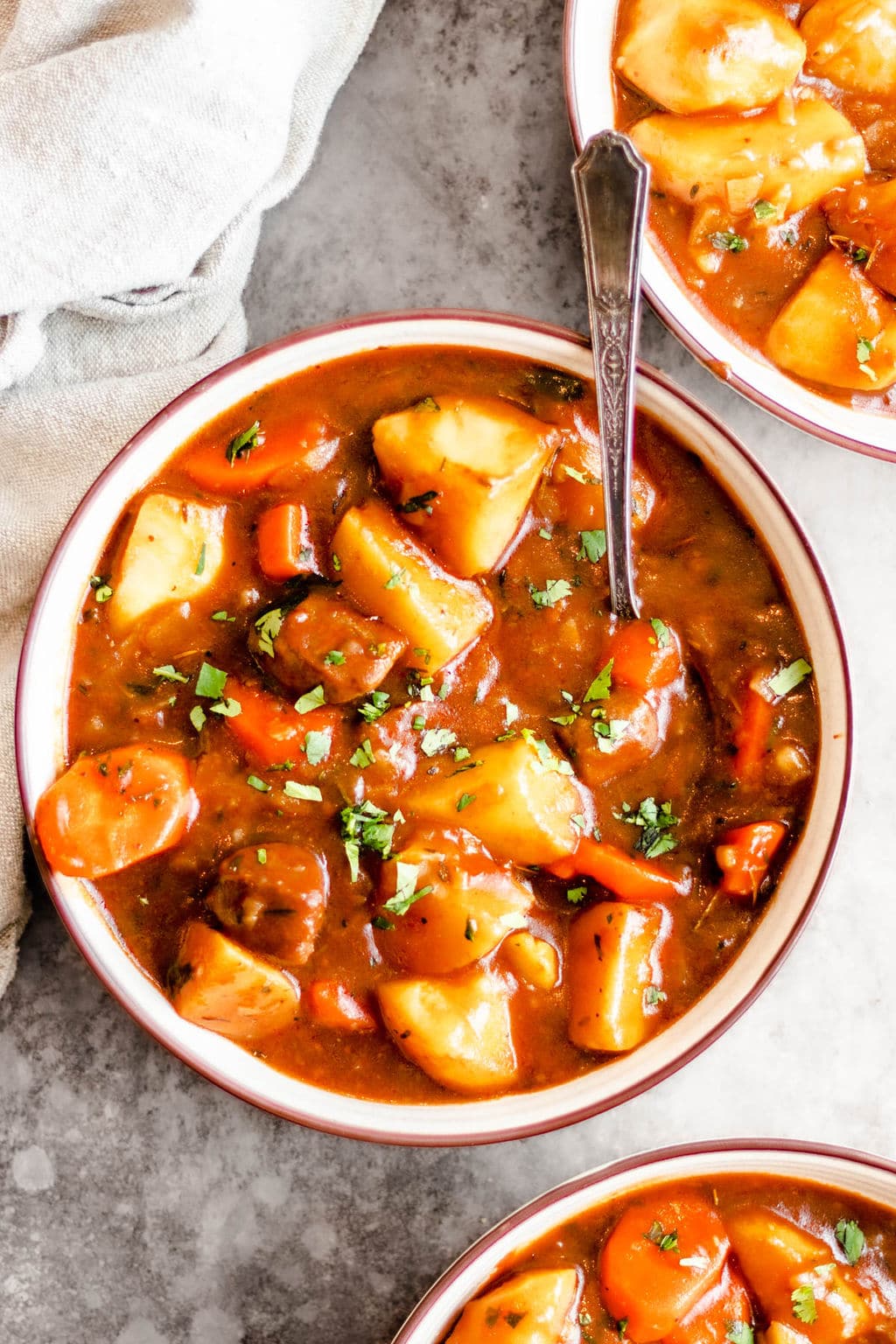 Whether you need a celebratory meal for St. Patrick's Day or are craving a hearty and delicious stew for dinner, you can always rely on this Vegan Irish Stew. This one-pot recipe is packed to the brim with tender root veggies and meaty vegan "beef" tips. Plus, the rich Guinness stout vegetable broth is completely addicting!
All it takes to make this vegetarian Irish stew recipe is a short list of pantry-staple ingredients and a bottle of vegan-friendly stout beer. While I wouldn't call this an authentic Irish stew, the comforting, beefy, and rich flavors are pretty darn close to the original!
Pour yourself a pint and raise a glass to this stew! It's worth celebrating because it's:
Just as delicious as the meaty version.
Super easy to make and freezer-friendly.
Cozy and comforting.
Both adult and kid-friendly.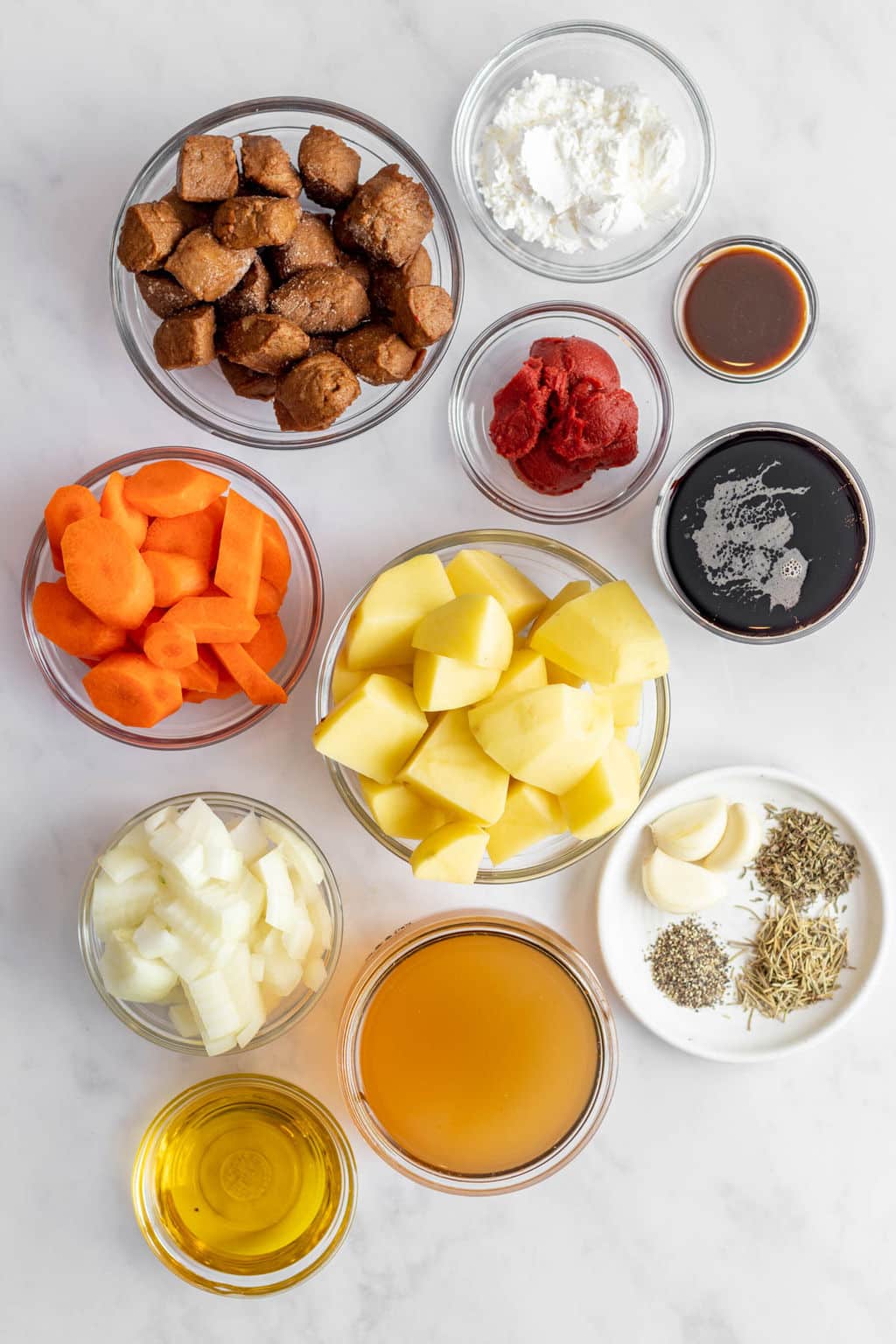 Ingredients needed (with substitutions)
Onion – Sweet onions lend a delicately sweet and savory flavor to the stew, but you can use any type of onion here.
"Beefless" tips – Gardein beefless tips are my favorite because they're tender, juicy, and the perfect vegan alternative in beef stew recipes. If you don't want to use vegan beef tips, replace it with TVP chunks, soy curls, chopped seitan (like leftover vegan steak), mushrooms, or even canned lentils and beans.
Garlic
Dried herbs – For distinct Irish stew flavor, use a combination of dried rosemary and dried thyme.
Black pepper
Guinness stout – Yes, it's vegan! This famous Irish beer is very rich and deeply flavored. You can use any stout beer you like instead (perform a search on Barnivore to find vegan-friendly brands) or swap it for a brown ale or red wine.
Vegetable broth – The bolder the vegetable broth, the richer your stew will be.
Tomato paste – This helps thicken the broth into a sauce-like consistency and richens the flavor.
Worcestershire sauce – A quality vegan Worcestershire sauce will deepen the mouthwatering umami flavors. If you don't have Worcestershire, use soy sauce, tamari, balsamic vinegar, coconut aminos, or miso paste in its place.
Carrots and potatoes – This combination of hearty root vegetables is a staple in Irish cooking. Starchy potatoes, like Yukon Gold and Russet, are best because they'll help thicken the stew and become very tender and soft.
Cornstarch slurry – Cornstarch and water mixed together are added at the end to thicken the broth.
How to make vegan Irish stew
Saute the chopped onion in a large pot with oil until soft and translucent. Next, add the vegan beef and cook until it's brown all over. Finish by sauteeing the garlic in the pot.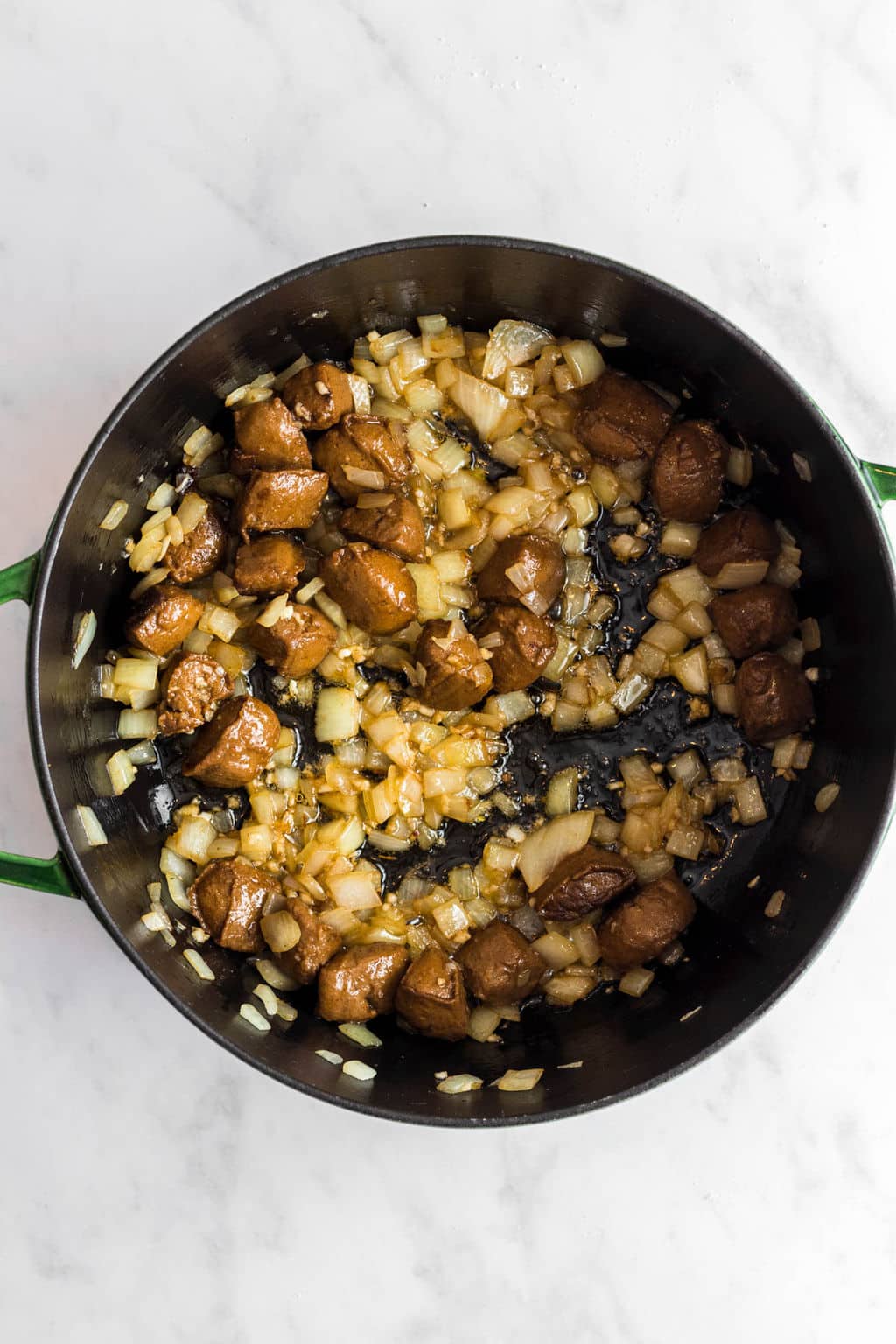 Stir the dried herbs and pepper in with the "beef" and veggies.
Pour the Guinness beer into the stew and give everything a good stir. Add the broth, tomato paste, and Worcestershire sauce next.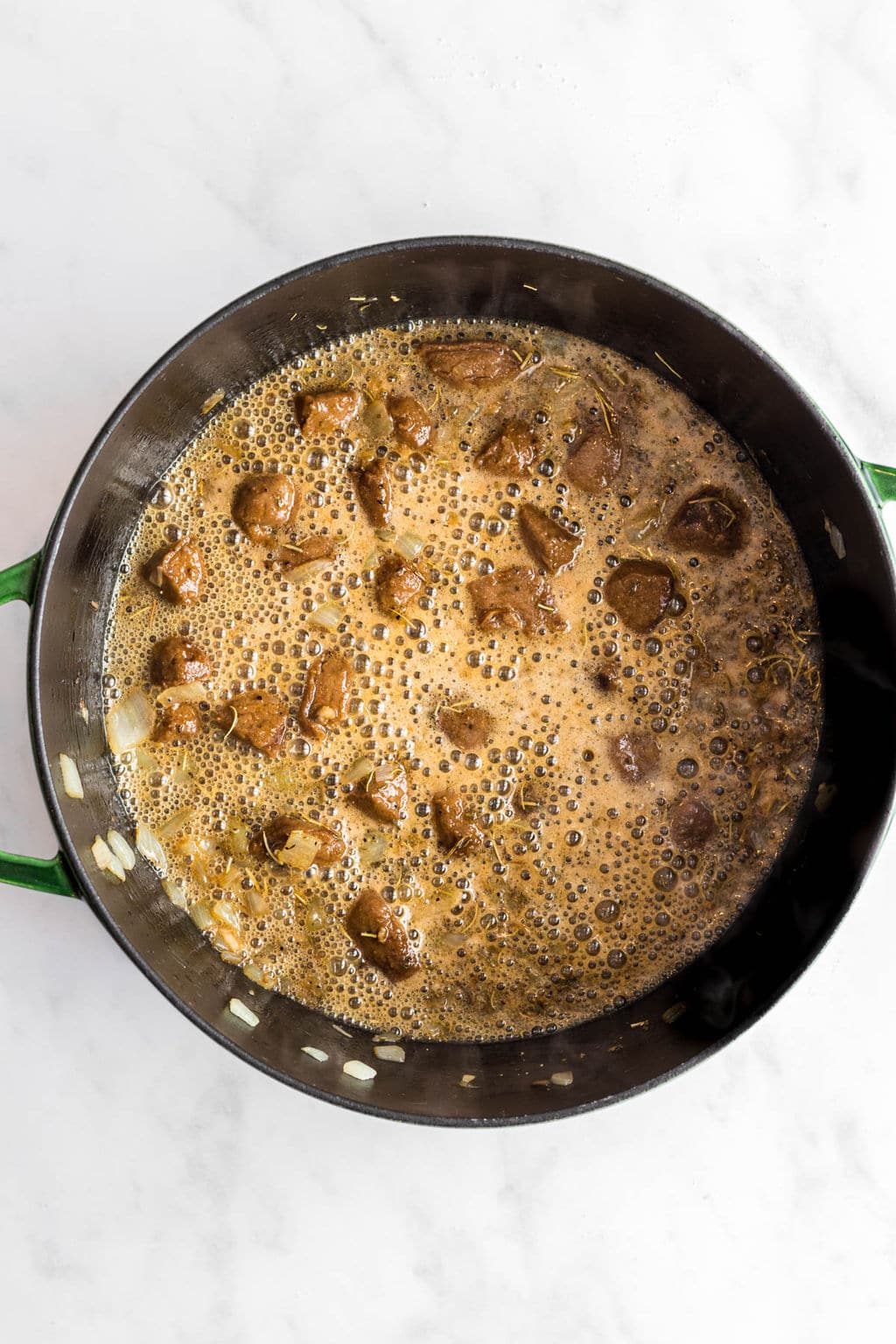 To finish, add the chopped carrots and potatoes. Bring the mixture up to a boil, then lower the heat and cover the pot with a lid. Let it simmer until the veggies are fork tender.
When the stew is almost finished, mix the cornstarch and water in a small bowl to make a slurry. Slowly pour it into the stew and stir until the broth thickens. Season to taste with salt, then serve with Irish soda bread on the side and enjoy!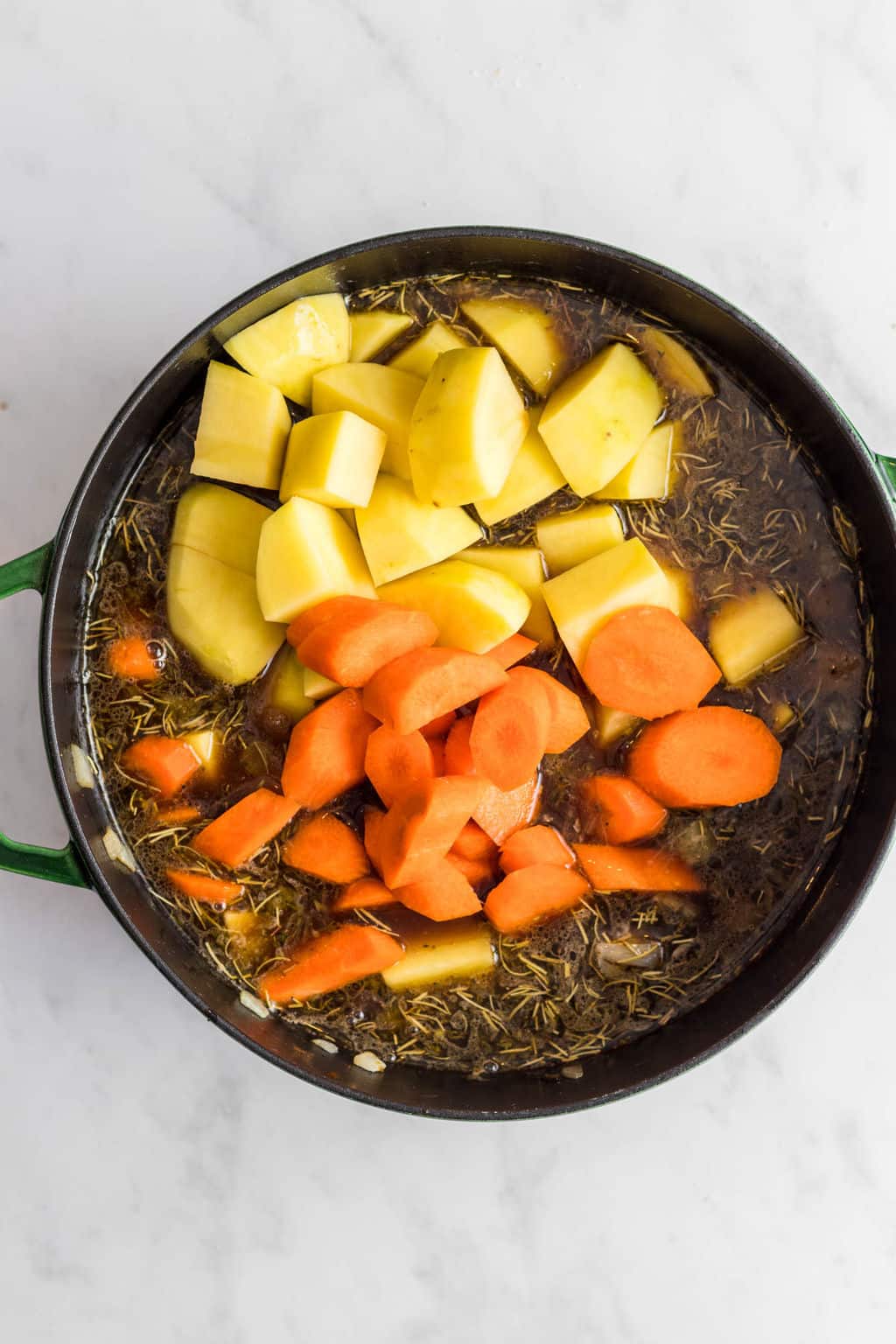 Variations
Gluten free Irish stew – Unfortunately, most beer (including Guinness) is not gluten free. If you'd like to make a gluten free Irish stew instead, simply swap the beer for your favorite gluten free beer, red wine, or more vegetable broth.
Irish stew without beer – The alcohol will cook out as the stew simmers but if you'd prefer to make it without alcohol, replace the stout with more vegetable broth or non-alcoholic beer.
More vegetables – You can add more vegetables to the stew but I recommend using hearty root vegetables that will hold their shape. Rainbow carrots, parsnips, or turnips are all great options.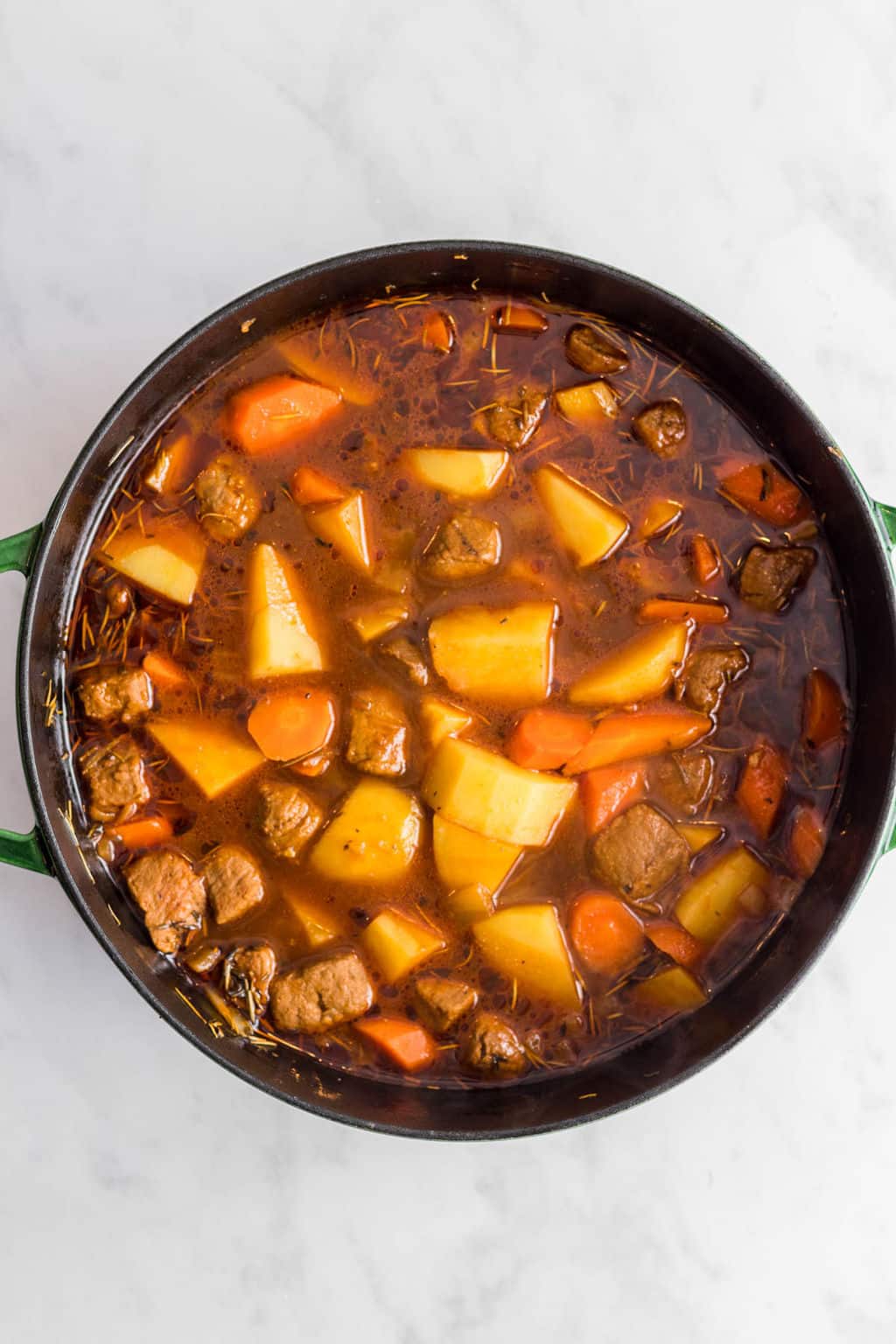 Frequently asked questions
Is Guinness beer vegan? Yes! According to the Guinness website, the new filtration process removes the need for isinglass (a substance in dried fish bladders). This means that Guinness Draught, Guinness Extra Stout, and Guinness Foreign Extra Stout are all vegan-friendly. 
What do you serve with Irish stew? Slices of Irish soda bread and crusty bread or dinner rolls are delicious when dipped in vegan Irish beef stew. Otherwise, it's quite filling on its own or can be served with cabbage salad and roasted vegetables on the side.
How long does Irish stew last? The leftovers will last for 3 to 4 days when stored in an airtight container in the fridge.
Can you freeze vegan Irish stew? Yes! The Guinness stew can be stored in an airtight container in the freezer for up to 3 months.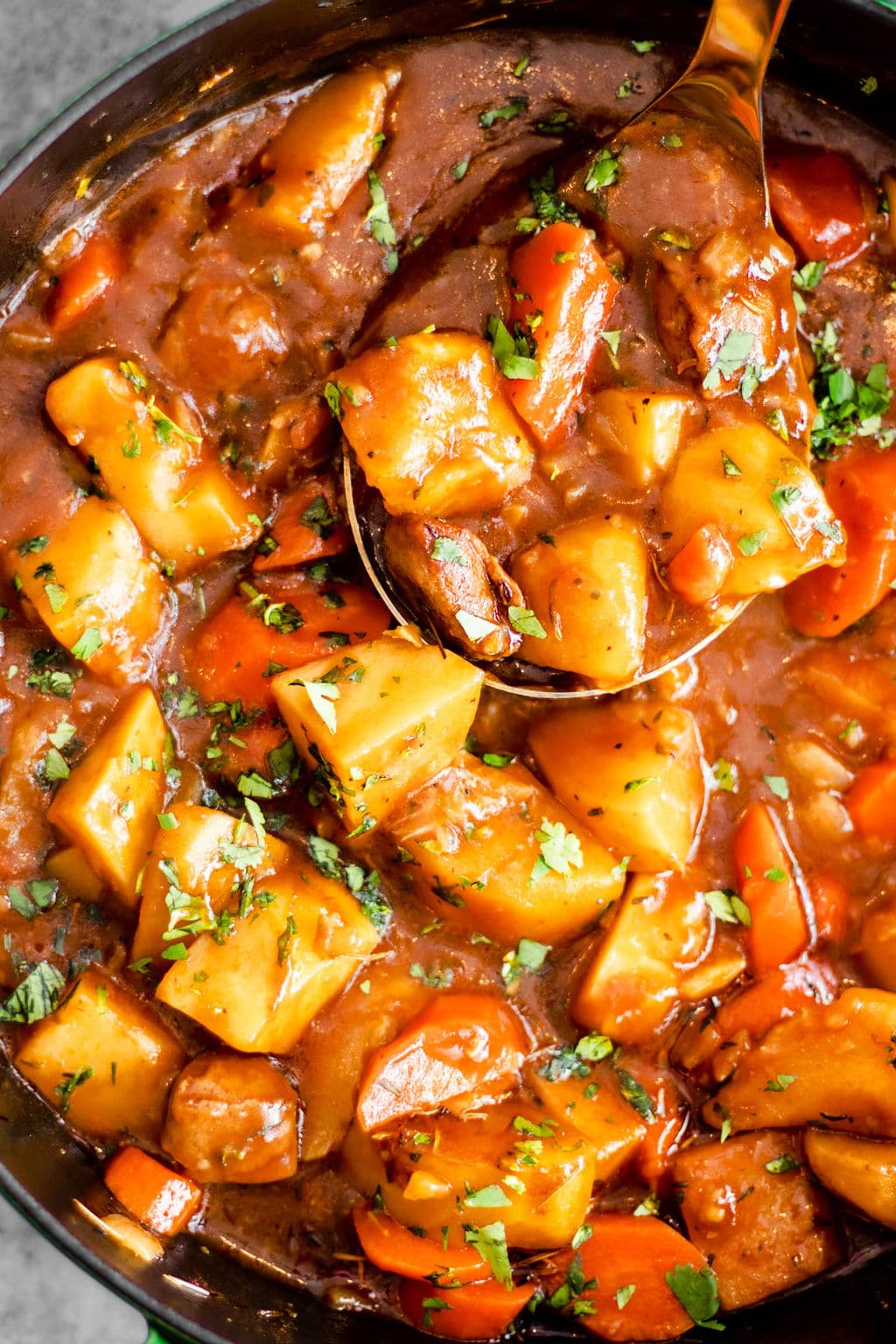 Want more hearty vegan soups and stews?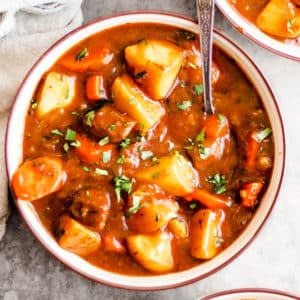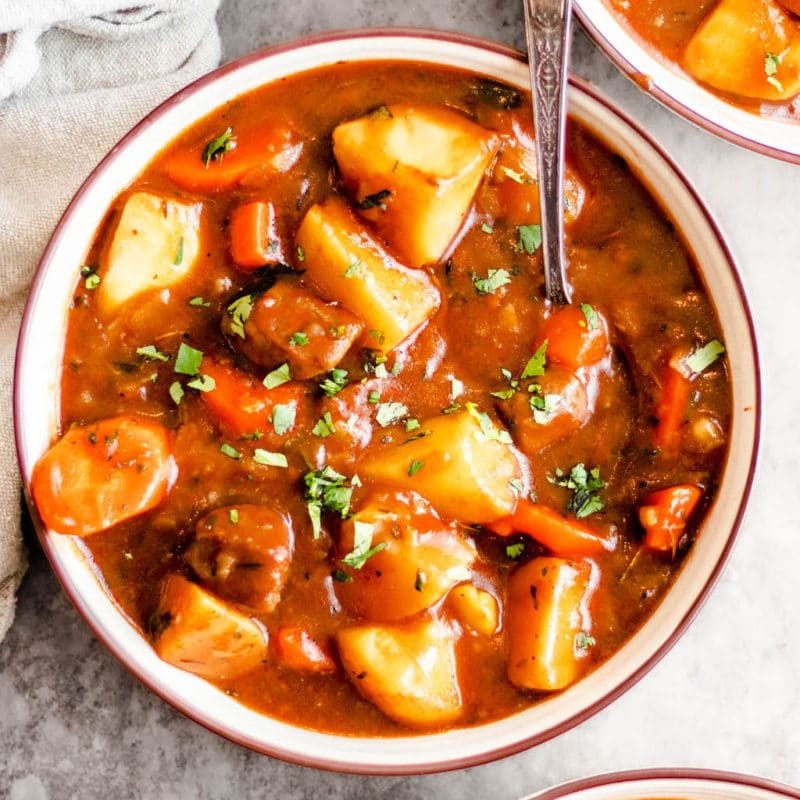 Vegan Irish Stew
Enjoy this rich and hearty Vegan Irish Stew on St. Patrick's Day or any chilly evening. Each bite features tender vegan beef tips, carrots, and potatoes in a thick Guinness broth.
Ingredients
1/4

cup

olive oil

1

large

sweet onion, chopped

1

bag

Gardein beefless tips*

3

large

garlic cloves, minced

1

teaspoon

dried rosemary

1

teaspoon

dried thyme

1/2

teaspoon

ground black pepper

2

cups

Guinness stout

3

cups

vegetable broth

3

tablespoons

tomato paste

1

tablespoon

vegan Worcestershire sauce

4

carrots, peeled and cut into chunks

4

yukon gold potatoes, peeled and cut into chunks

1/4

cup

cornstarch

1/2

cup

water
Instructions
In a large pot, heat the olive oil over medium heat. Add the onion and sauté for 4-5 minutes, until translucent.

Add the beefless tips and sauté for 3-4 minutes, until slightly browned. They don't need to cook all the way through yet. Add the garlic and cook for 1 more minute.

Now add the dried rosemary, thyme and black pepper; cook for 1 minute, stirring constantly. Pour in the beer and stir.

Add the broth, tomato paste and Worcestershire sauce and stir, then add in the carrots and potatoes.

Stir well and bring to a boil, then lower heat so the stew is simmering. Cover and cook for about 30 minutes, stirring a few times throughout.

In a small bowl, mix the cornstarch and water together to make a slurry. Slowly add the slurry to the pot, stirring, until you have reached a thicker consistency. You might not need all the slurry.

Season with salt if needed (this will depend on the saltiness of your broth). Serve hot with crusty bread and chopped parsley, if desired. Enjoy!
Notes
May use something other than Gardein beefless tips, but they are my favorite here. TVP chunks, another beef substitute, mushrooms or even lentils/beans would work as well. Use 2-3 cups of any of the other options in place of the Gardein.

To truly be Irish stew it needs the beer, but if you can't have it you can substitute more broth or alcohol free beer. The flavor won't be the same though.

Leftovers – Store leftover stew in the refrigerator for about 4 days. It can also be frozen.
Nutrition
Serving:
1
of 6 servings
|
Calories:
280
kcal
|
Carbohydrates:
37
g
|
Protein:
8
g
|
Fat:
9
g
|
Saturated Fat:
1
g
|
Polyunsaturated Fat:
1
g
|
Monounsaturated Fat:
7
g
|
Sodium:
599
mg
|
Potassium:
758
mg
|
Fiber:
5
g
|
Sugar:
6
g
|
Vitamin A:
7179
IU
|
Vitamin C:
29
mg
|
Calcium:
47
mg
|
Iron:
2
mg