You won't believe how easy it is to make Vegan Peppermint Patties from scratch! These no-bake treats feature just 6 simple ingredients and are perfect for the holidays and gifting.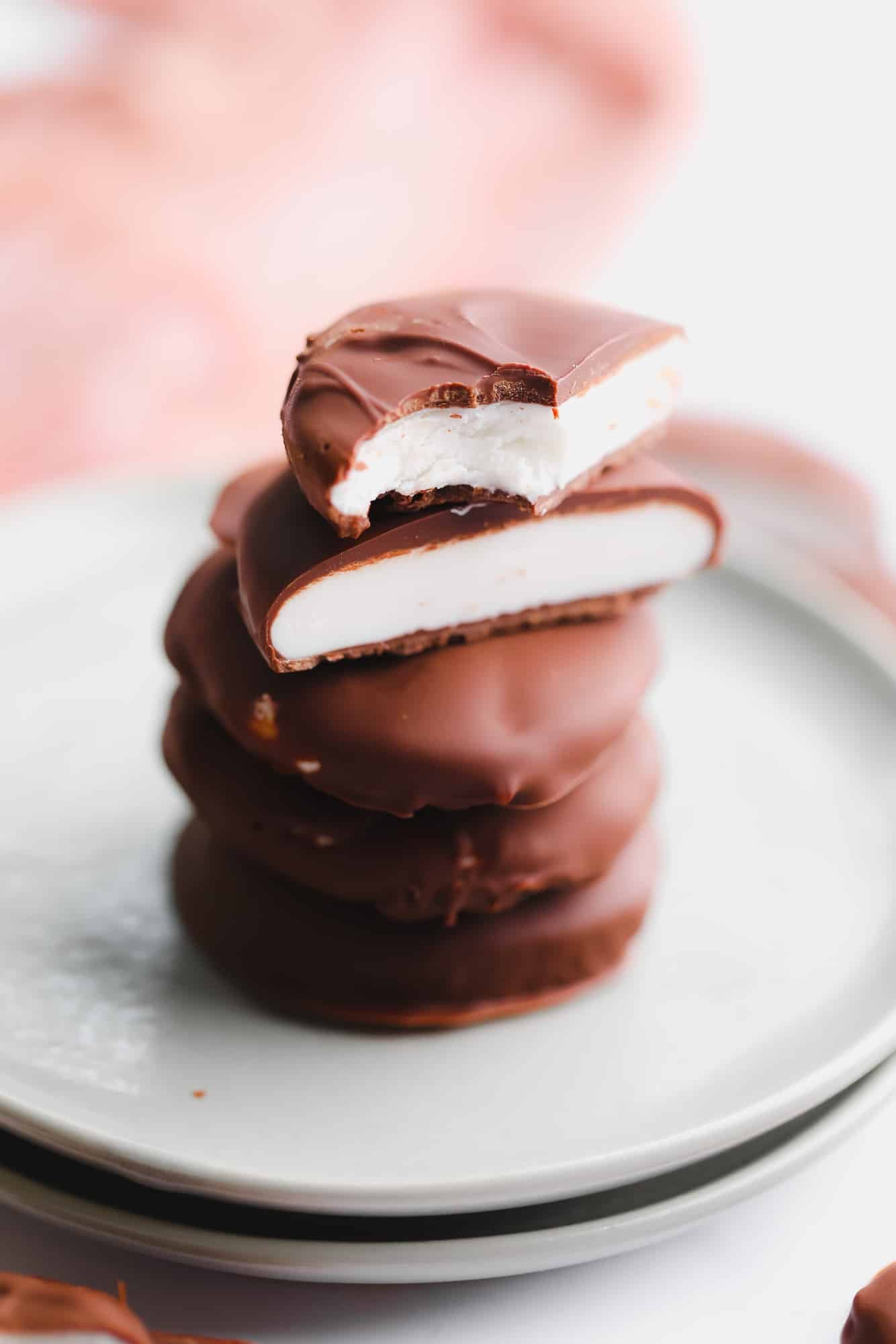 There's something special about biting into a peppermint patty… There's a crack with the first bite as you break through the chocolate layer, only to discover a refreshing burst of creamy, minty goodness in the center. It's no wonder why peppermint and chocolate are the perfect pair!
You'll experience all of this chocolatey, pepperminty goodness in my Vegan Peppermint Patties as well. They're easy to make with only 6 ingredients and you don't even need to turn your oven on! Just like my Vegan Peanut Butter Cups, this is a no-bake copycat dessert you'll love even more than the original.
Are peppermint patties vegan?
This recipe is inspired by the York Peppermint Patties from Hershey's. They use ingredients like milk fat and egg whites, which means classic peppermint patties are not inherently vegan-friendly.
Thankfully, it isn't hard to recreate the minty, creamy, and chocolatey qualities of the classic in a vegan version! My vegan peppermint patty recipe is made with only 6 ingredients you might already have in your cupboard and are free of dairy and eggs.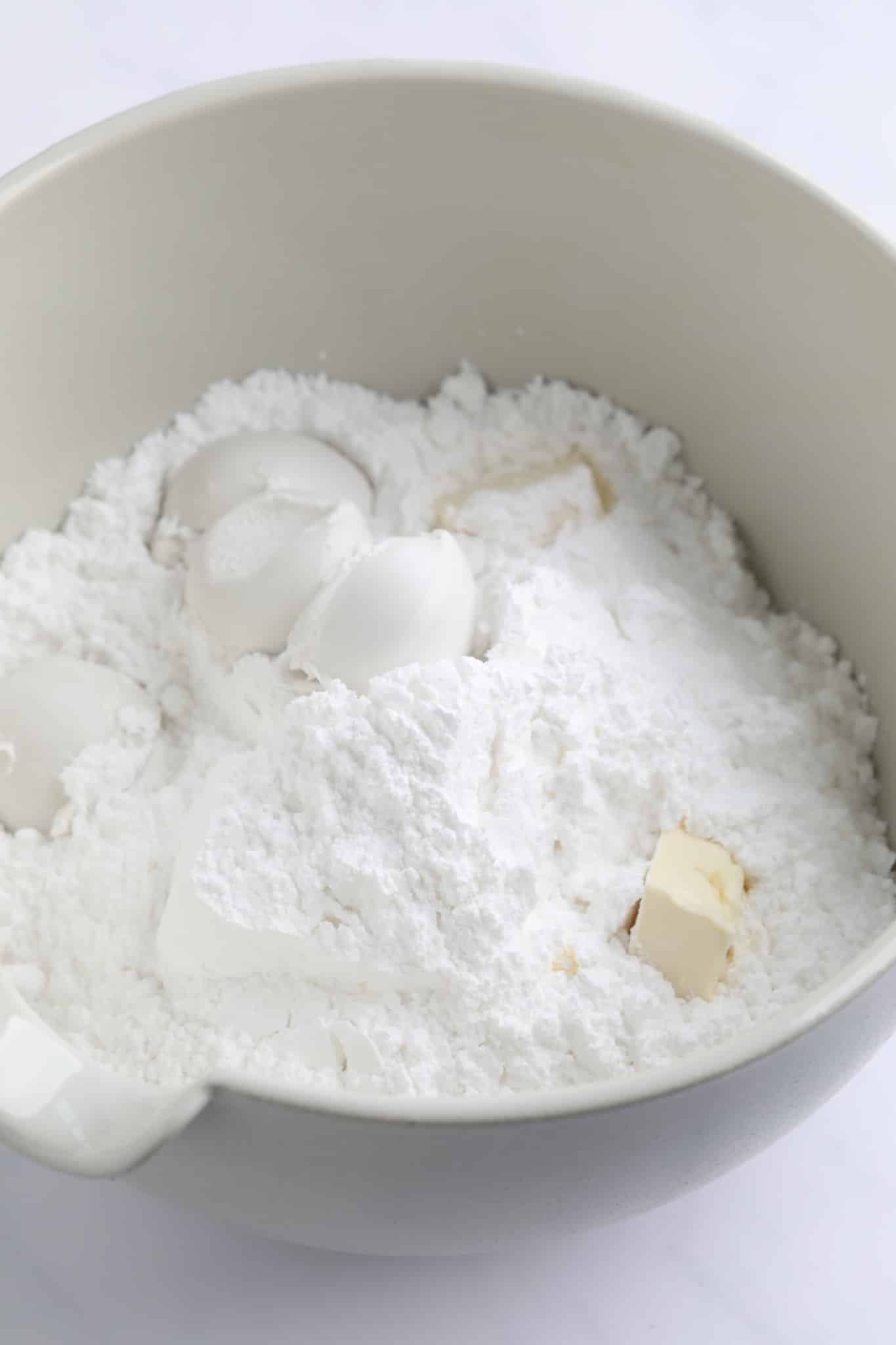 Ingredients needed (with substitutions)
Powdered sugar – Just like buttercream frosting, powdered sugar helps sweeten and stabilize the peppermint filling.
Vegan butter – You might be able to use softened (not melted) coconut oil as a substitute, but I haven't tried it.
Peppermint extract – A little goes a long way here, but you can always add an extra .5 to 1 teaspoon if you really love the peppermint flavor. You could also try mixing crushed candy canes right into the filling for an extra festive feel.
Coconut milk – Use only the solid white cream from a can of full fat coconut milk. Plant cream will also work, like my vegan Heavy Cream Substitute.
Vegan chocolate chips – Any brand of non-dairy chocolate chips will work well, as will a chopped up dark chocolate bar. Two of my favorite vegan chocolate chip brands are Trader Joe's and Enjoy Life.
Coconut oil – Stirring melted coconut oil in with the melted chocolate helps the coating solidify around the peppermint filling. In other words, it gives you that signature 'crack' with every bite. Use refined coconut oil to prevent the chocolate from tasting like coconut.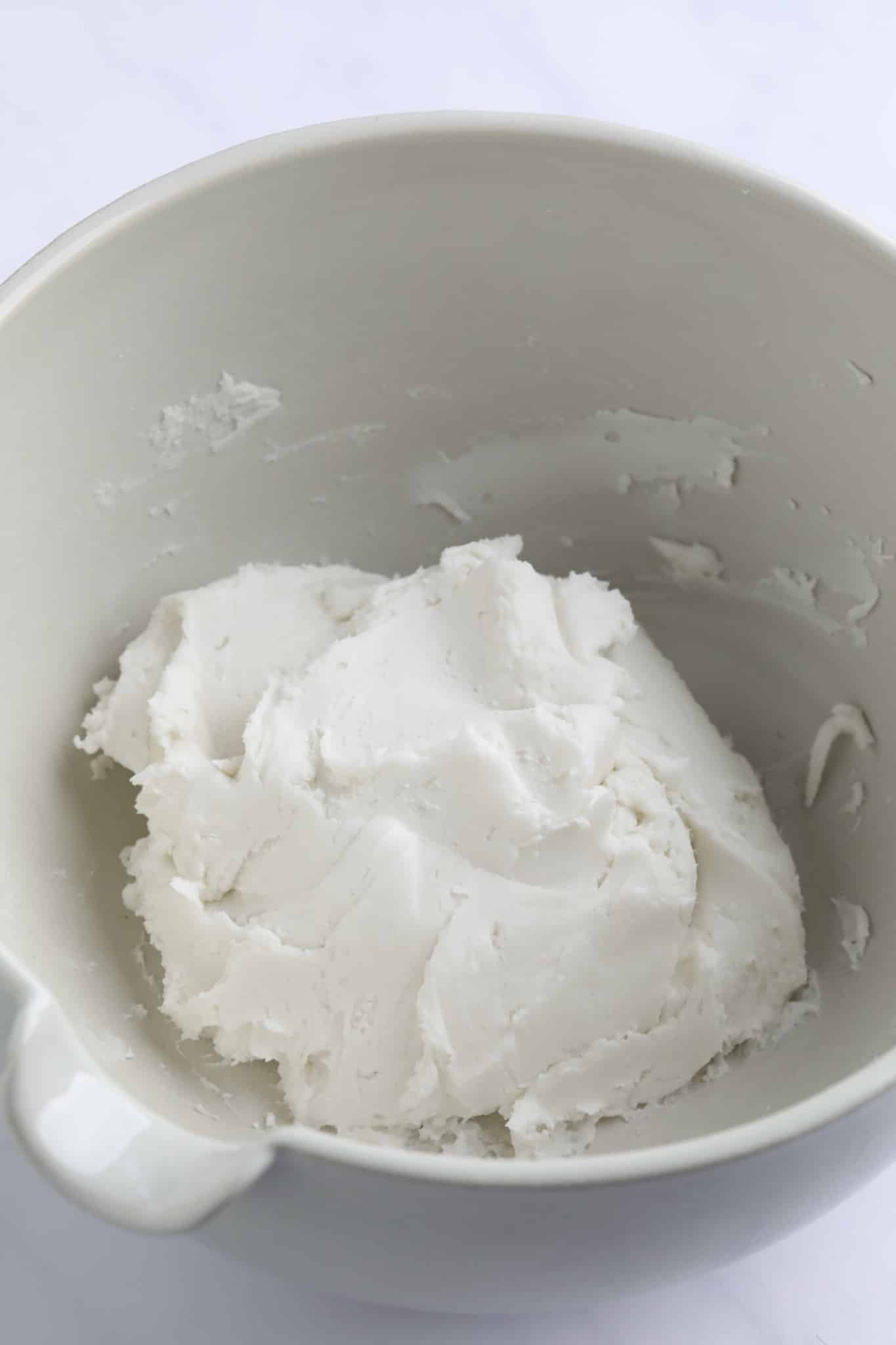 How to make vegan peppermint patties
Find the complete recipe with measurements below in the recipe card.
Add the powdered sugar, softened vegan butter, peppermint extract, and coconut milk to a mixing bowl. Beat together with an electric mixer, starting on low and slowly increasing to medium speed.
Tip: If the dough is too wet, add more powdered sugar to help it get to that play dough consistency.
Scoop out a tablespoon of the peppermint "dough", form it into a disc, and place it onto a parchment-lined baking sheet. Repeat until you run out of the filling.
Chill the peppermint discs until they're solid.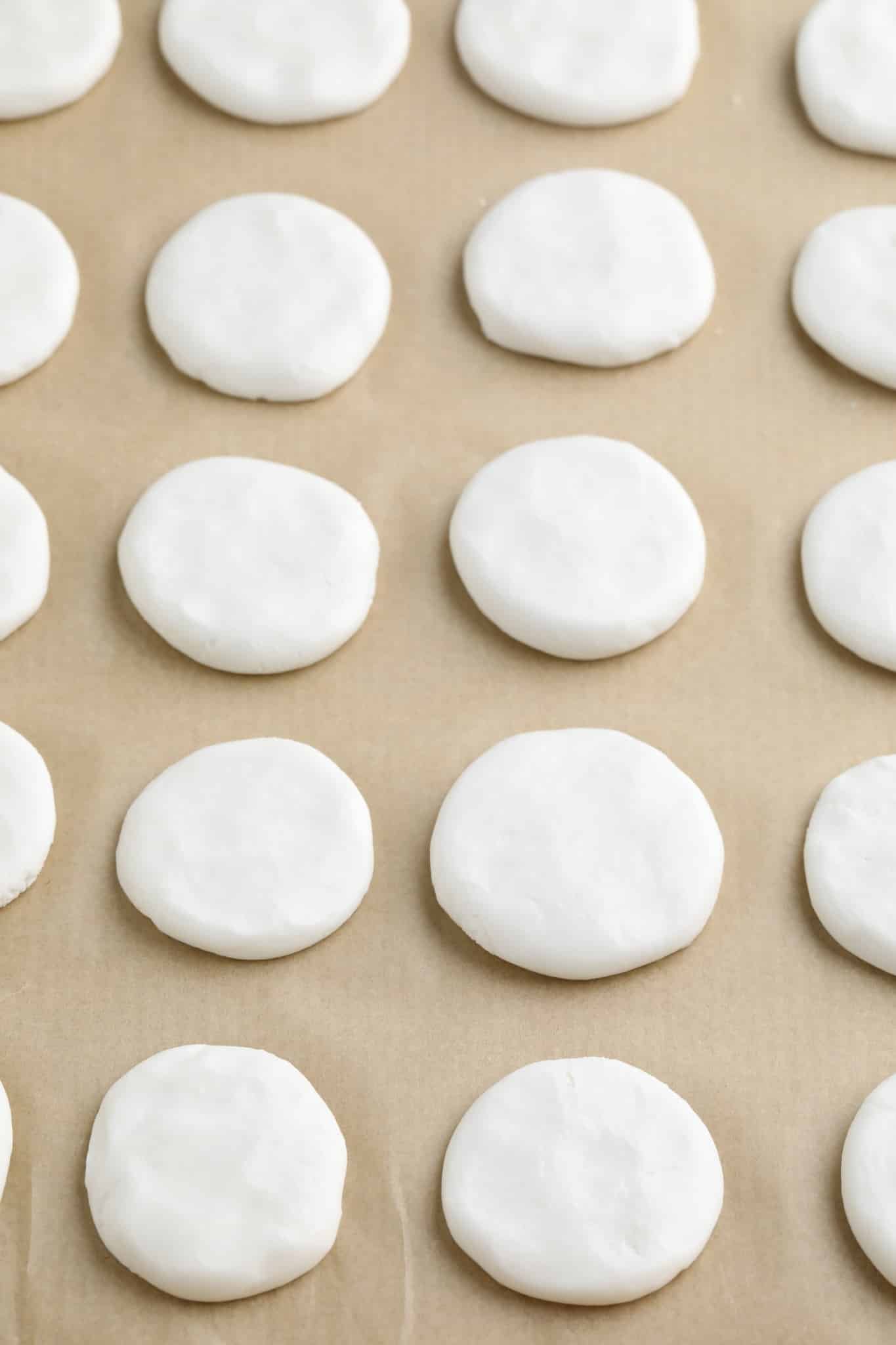 Melt the chocolate and coconut oil together while you wait for the peppermint. You can do this in a double boiler or the microwave.
Dip one peppermint patty into the melted chocolate/coconut oil at a time. Use a fork to help flip and coat it on all sides. Place it back on the baking pan and repeat for the rest of the peppermint discs.
Let them chill and harden once more before serving. Enjoy!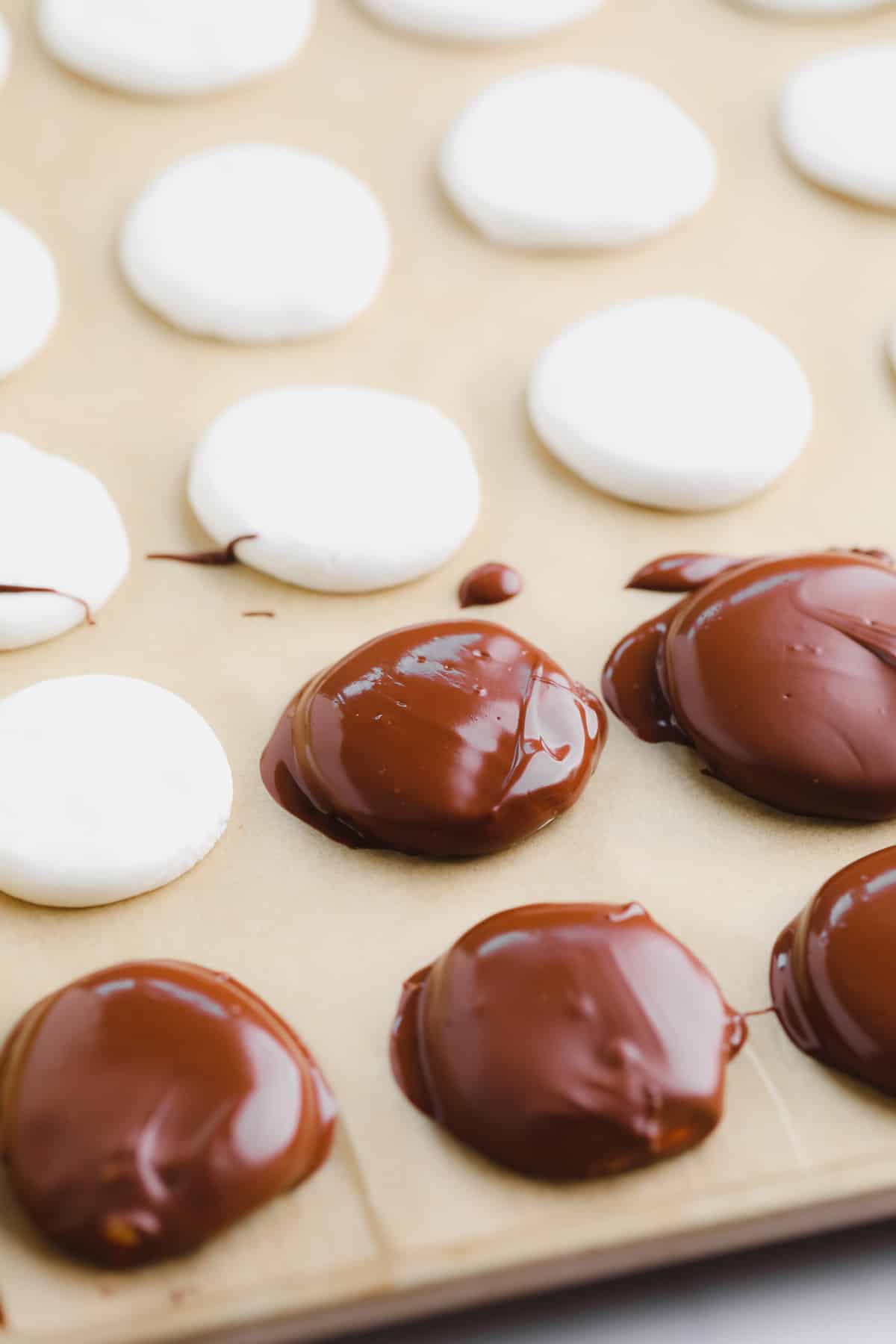 Topping ideas
The right decorations can take your homemade peppermint patties over the top! Just make sure to add them on top right after the peppermint discs are coated in chocolate to help them stick.
Top each one with a sprinkle of:
Crushed candy canes
Flake salt
Chocolate sprinkles
Festive sprinkles
Shredded coconut
Crushed nuts
Or, once they're set, finish with a drizzle of extra melted chocolate or vegan white chocolate. The options are endless!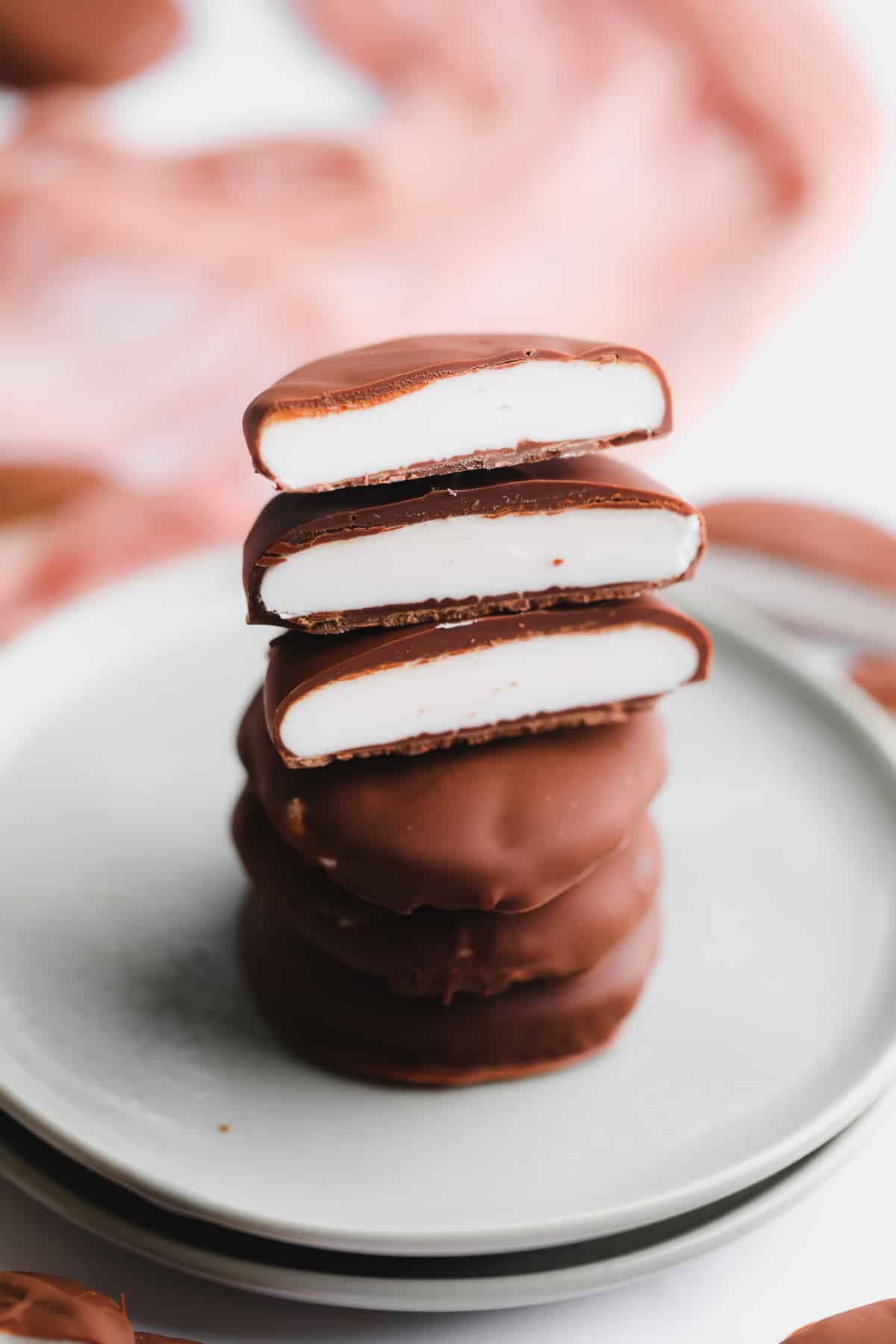 Tips and tricks
Try sifting the powdered sugar into the bowl if you're worried about clumps.
Experiment with the size of the peppermint filling discs. They can be thick, thin, wide, or small – it all depends on what you're craving!
Once coated, the patties take about 15 minutes to harden in the refrigerator or 5 minutes in the freezer.
Vegan peppermint patties make for lovely gifts for friends, family, neighbors, and coworkers. Wrap 4 or 5 in cellophane tied with a festive bow or tag, or pop a few into small gift bags.
Storing
Once the chocolate layer has hardened and set, store the peppermint patties in an airtight container in the fridge. The chocolate will melt if they're kept at room temperature.
They'll stay fresh for up to 2 weeks in the fridge and even longer in the freezer.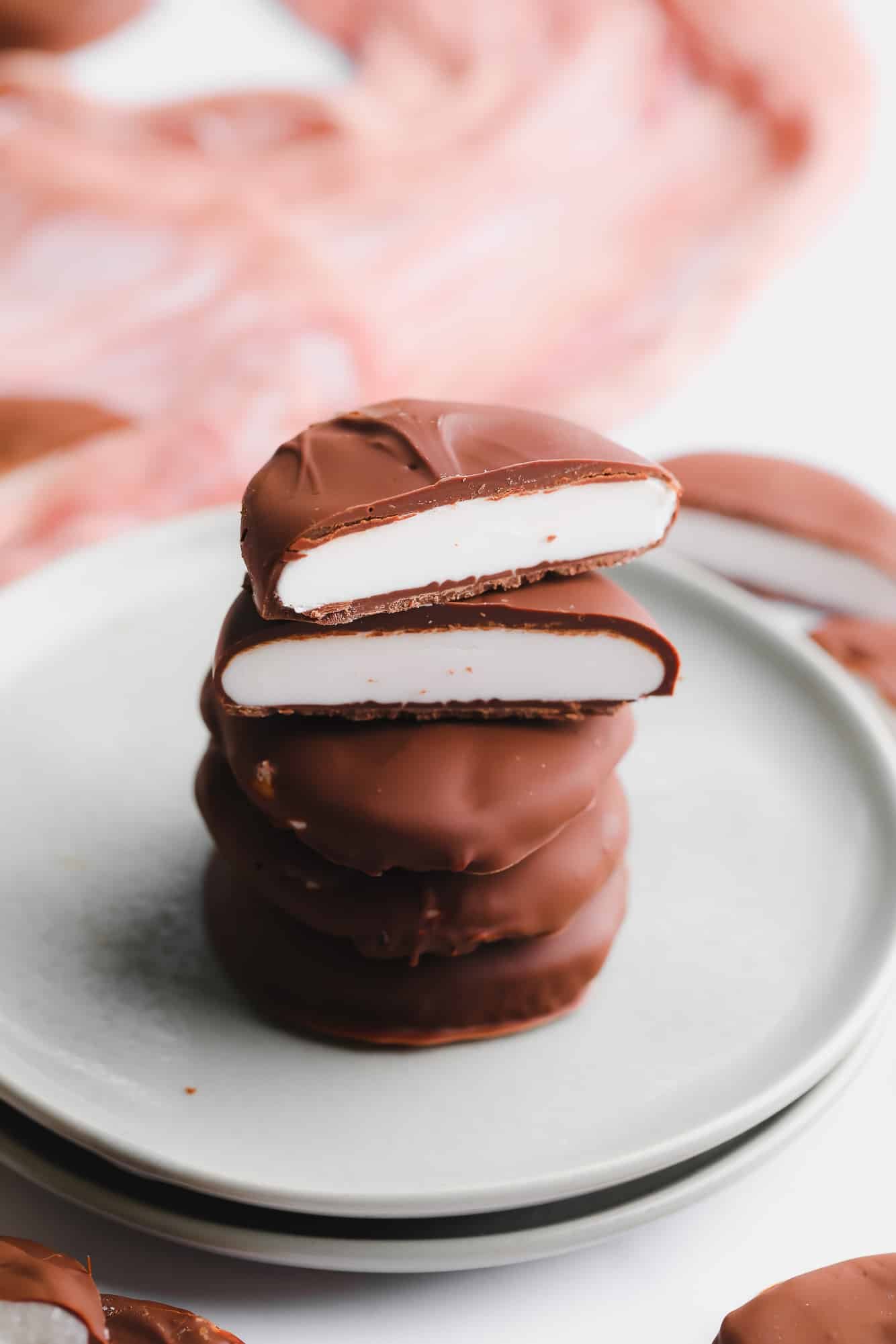 Want more festive vegan desserts?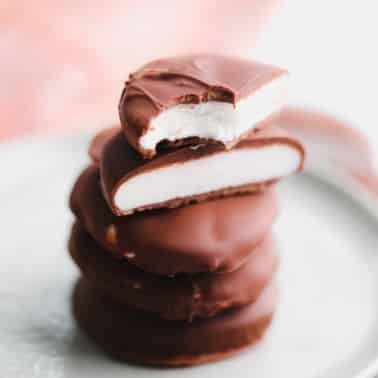 Vegan Peppermint Patties
You won't believe how easy it is to make Vegan Peppermint Patties from scratch! These no-bake treats feature just 6 simple ingredients and are perfect for the holidays and gifting.
Instructions
In a large bowl, add the powdered sugar, softened vegan butter, peppermint extract and coconut milk. Using a handheld mixer or stand mixer with the paddle attachment, mix, starting on low and increasing to medium speed. At first it will look very dry and crumbly, but after a few minutes it well soften and be more of a dough. If it's too wet and sticky, add a little more powdered sugar. It should feel like play dough. Set aside.

Line a baking sheet with parchment paper. Scoop about a tablespoon at a time of the peppermint mixture and shape into a disc. Place the patties in a single layer on the prepared pan, and repeat until you have used all of the mixture.

Place the patties in the refrigerator for 45 minutes, or freeze for 15 minutes. This will help them harden a bit and set.

Melt the chocolate and coconut oil over a double boiler, preferably, or in the microwave. Stir well so it's smooth. Let it cool for just a few minutes.

Remove the patties from the refrigerator or freezer and dip one patty at a time into the chocolate mixture, using a fork to help you coat it on all sides. Return back to the parchment lined pan.

Place the pan back in the freezer for 5 minutes to harden, or the refrigerator for 15 minutes. Once set, place in a container with a lid and store in the refrigerator. At room temperature, the chocolate will start to melt. They will keep for about 2 weeks or longer in the freezer. Enjoy!
Notes
You can use some sort of plant based cream instead of coconut milk, if desired.
Nutrition
Serving:
1
pattie
|
Calories:
142
kcal
|
Carbohydrates:
23
g
|
Protein:
1
g
|
Fat:
6
g
|
Saturated Fat:
4
g
|
Polyunsaturated Fat:
0.2
g
|
Monounsaturated Fat:
0.3
g
|
Sodium:
7
mg
|
Potassium:
6
mg
|
Fiber:
1
g
|
Sugar:
21
g
|
Vitamin A:
38
IU
|
Vitamin C:
0.02
mg
|
Calcium:
17
mg
|
Iron:
1
mg