This Vegan Strawberry Cheesecake is a total showstopper! It's made with an oreo cookie crust, a dreamy cream cheese filling, and homemade strawberry sauce to take every bite to the next level.
Obsessed with strawberry desserts like I am? Make sure to try this Vegan Strawberry Cake, Vegan Strawberry Pie or Easy Vegan Strawberry Shortcake!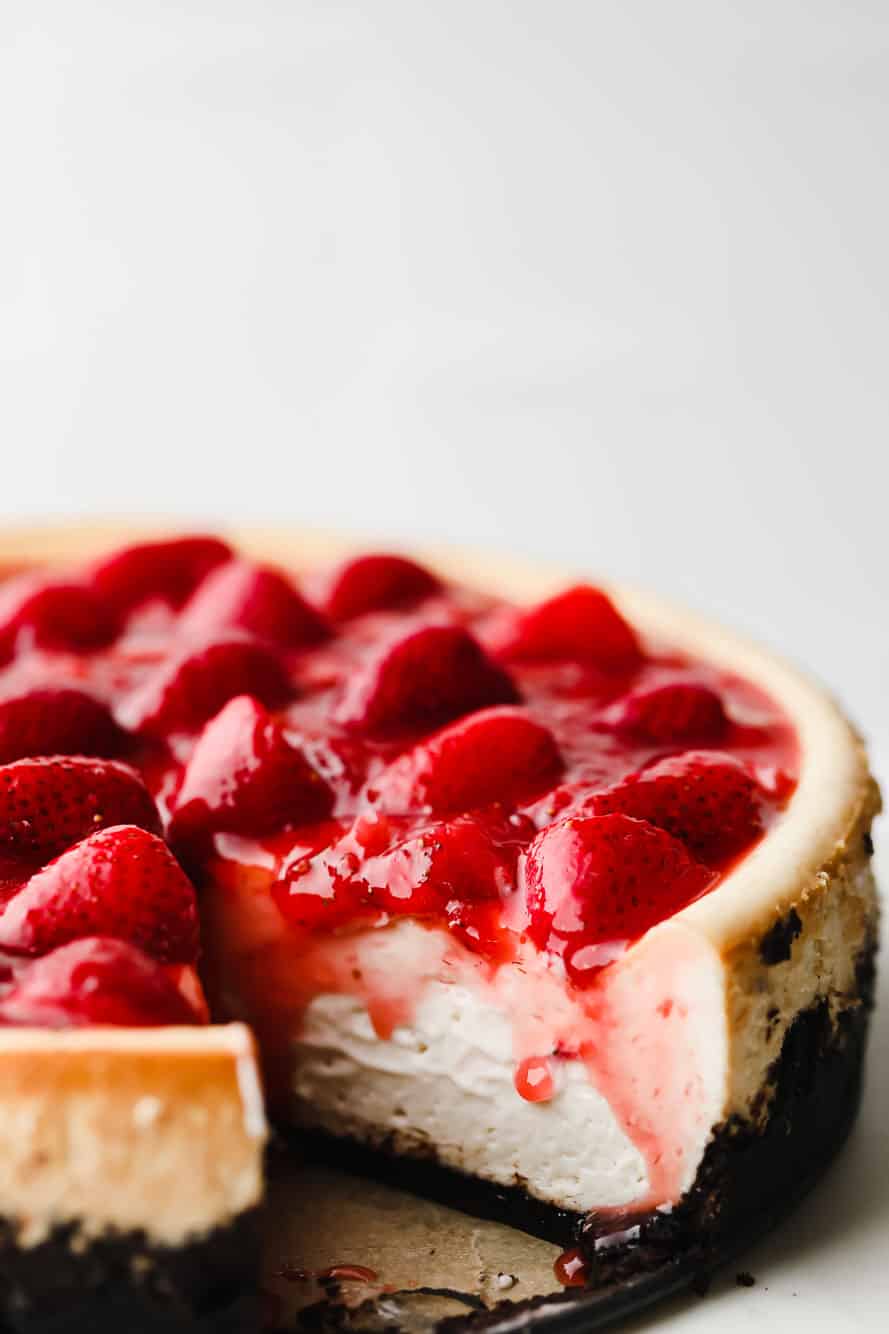 Not your average strawberry cheesecake
This Vegan Strawberry Cheesecake is incredibly decadent, creamy, light, and fruity. Make it during spring or summer, or whenever you're craving a berrylicious dessert. It's welcome at all kinds of celebrations and get-togethers!
This vegan strawberry cheesecake recipe is made up of three layers:
An easy oreo cookie crust.
The smooth and tangy cream cheese filling from my classic vegan cheesecake.
And homemade strawberry sauce.
Regardless of the silky smooth texture and impossibly creamy and fruity flavors, this cheesecake is surprisingly easy to make. The ingredients list is simple and doesn't include any nuts, dairy, dates, or other fancy ingredients. Plus, the only equipment you need is a springform pan and a blender!
You and your guests are going to love this vegan cheesecake with strawberry sauce. It's the ultimate summer dessert!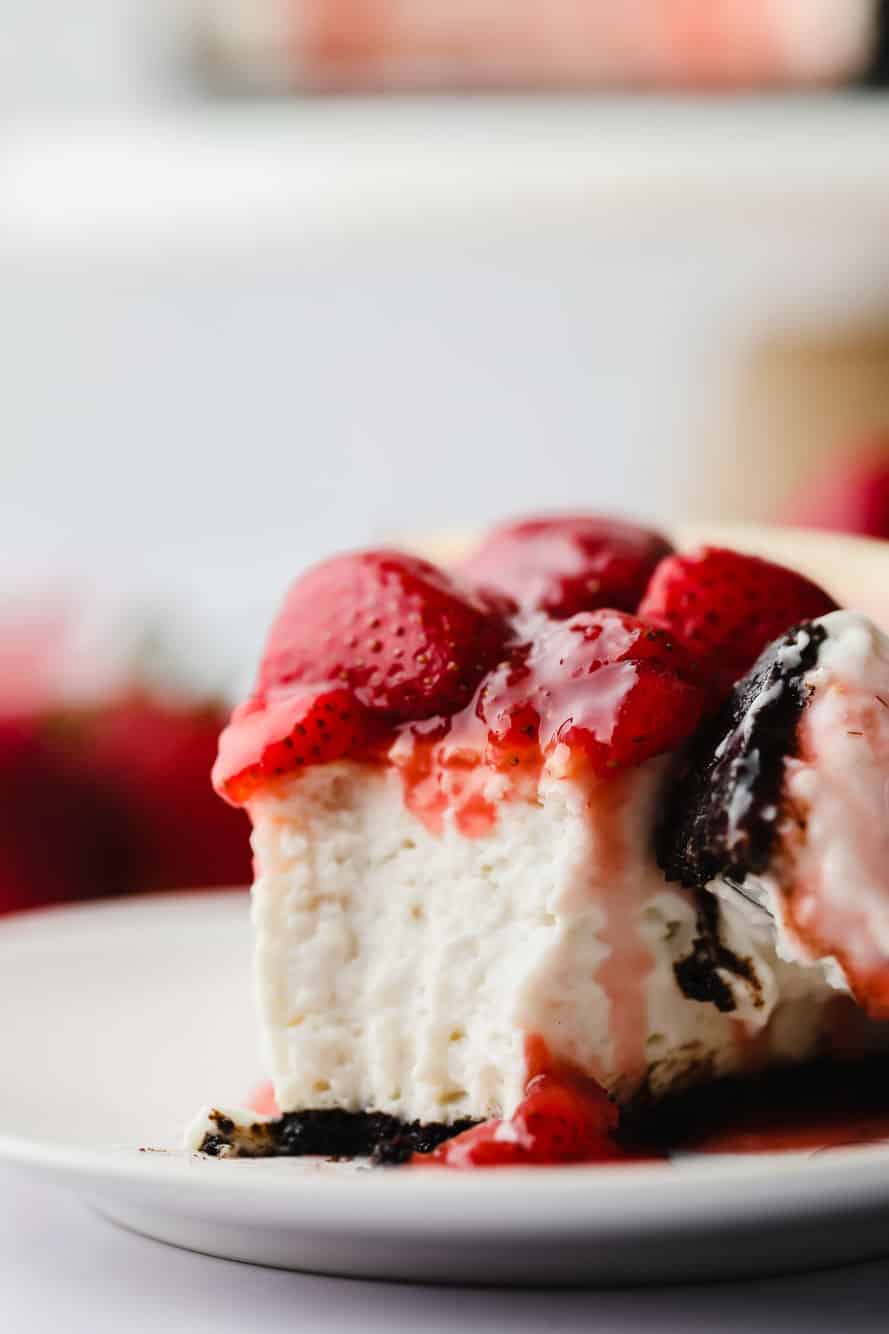 Ingredients needed (with substitutions)
Oreo cookies – Another oreo-like vegan cookie or chocolate graham crackers also work.
Vegan cream cheese – Tofutti is the best option here. The Trader Joe's brand used to work in my vegan cheesecake recipes but it no longer does. Violife and homemade cream cheese do not work either. 
Vegan yogurt – Or use canned coconut cream.
Sugar – Granulated sugar will give you the best results but cane sugar or coconut sugar can also be used.
Cornstarch – This will thicken and stabilize the cheesecake filling and strawberry sauce. I haven't tested it, but arrowroot and tapioca starch may work instead.
Vanilla extract
Lemon juice 
Strawberries – Fresh are preferred, but frozen berries can be used in a pinch. Strawberries come into season around June in the USA. Do your best to buy fresh, local, and bright red berries for the absolute best strawberry sauce! 
Water
How to make vegan strawberry cheesecake
Find the complete recipe with measurements below in the recipe card.
Wrap a 9-inch springform pan with a few layers of aluminum foil before you begin. This will prevent leaks so don't skip this part!
After your pan is prepped and the oven is preheating, you can start on the oreo cookie crust:
Pulse the cookies in a food processor or blender until they're crushed into fine crumbs. Transfer the crumbs to a bowl and stir them together with the melted vegan butter.
Dump the mixture into your springform pan. Press the crust into the bottom and slightly up the sides.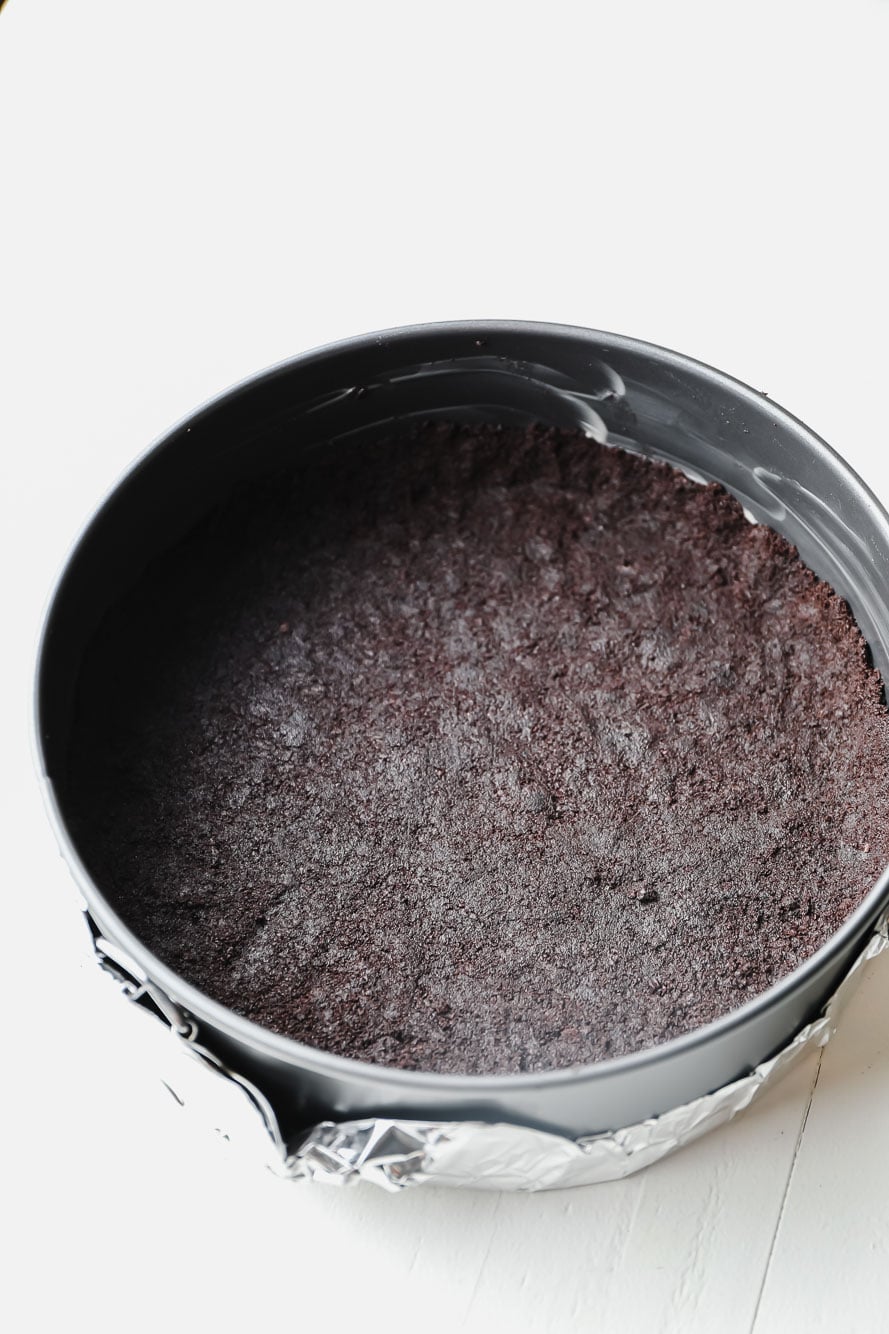 Set the crust aside while you work on the cheesecake filling:
Use an electric mixer to beat the cream cheese until smooth. Add the rest of the filling ingredients and beat until smooth and creamy.
Pour the filling into the pan with the crust, then bake.
Take the baked cheesecake out of the oven and let it firm up in the fridge overnight.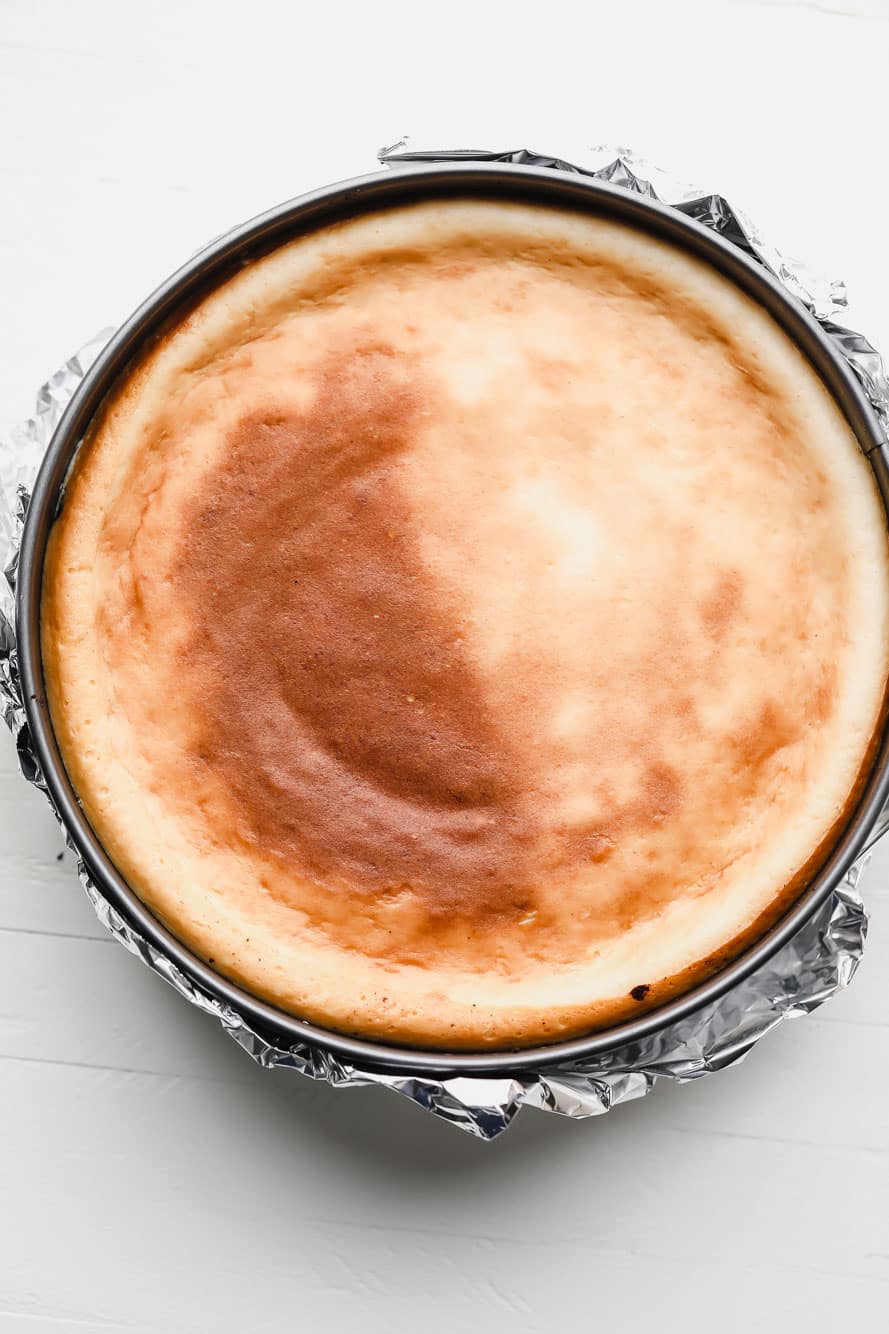 It's almost cheesecake time! All you have to do now is make the strawberry sauce:
Add the strawberries, water, sugar, and vanilla to a saucepan. Keep stirring and simmering until the strawberries break down.
Make a cornstarch slurry in a separate bowl. Stir it into the strawberry sauce.
Add the halved strawberries and cook for 1 minute. Take the sauce off of the heat and leave it to cool fully.
Spoon most of the sauce on top of the cheesecake and place it back in the fridge to chill.
Serve the vegan cheesecake with more strawberry sauce on each slice and enjoy!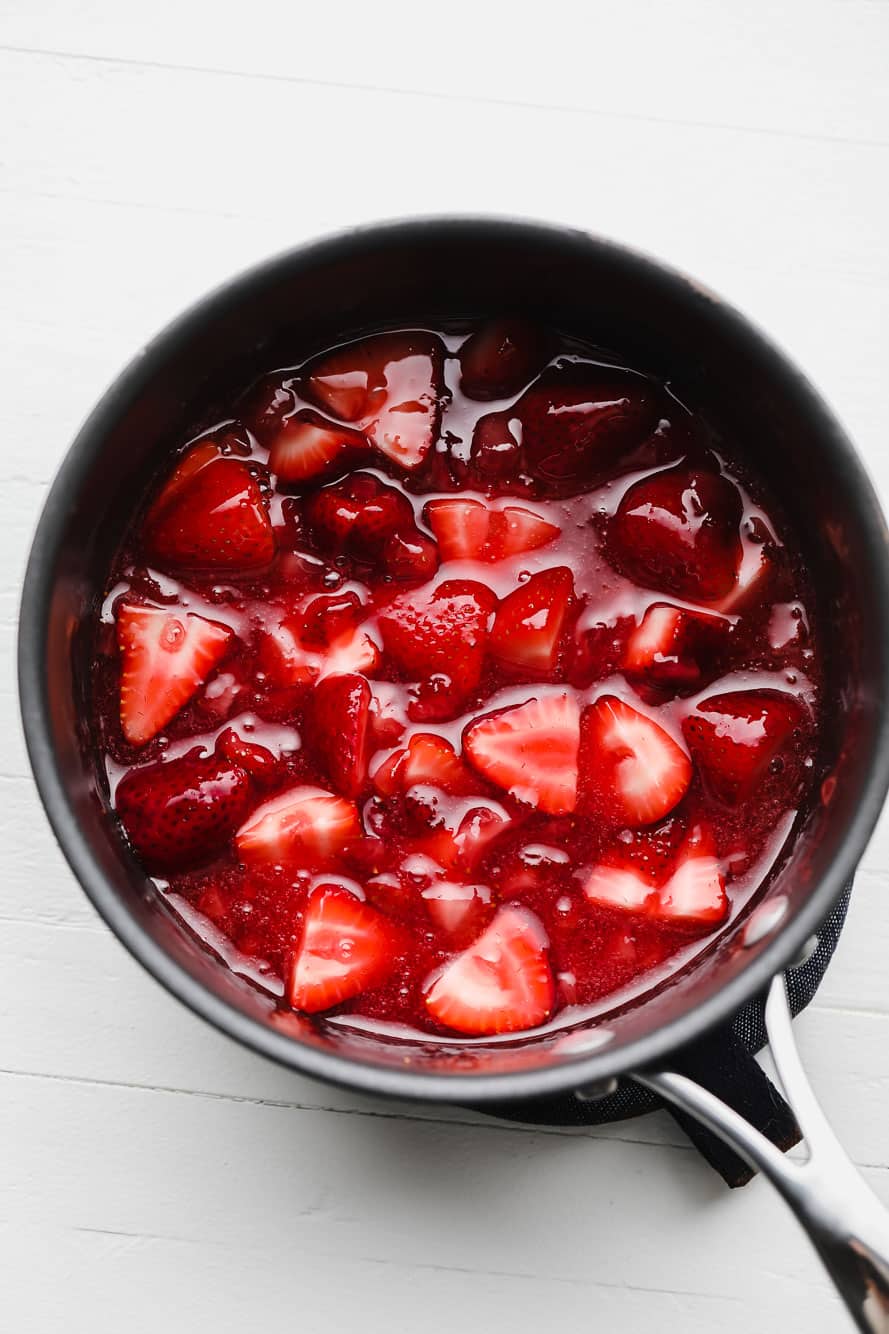 Tips for success
Yes, you need a lot of cream cheese, but this is a large cheesecake! You should end up with at least 12 slices. Make it for summer get-togethers, celebrations, Fourth of July parties, and picnics.
Don't open the oven door! I know it can be tempting to check on your cheesecake but opening the door will lower the temperature and cause the cheesecake to sink or crack.
Another way to prevent a cheesecake from cracking is to let it cool in the oven. Turn off the oven once it's done baking but leave it in there for at least 10 minutes.
The baked cheesecake will be jiggly when it's done. Don't worry! It will firm up once it chills in the fridge.
Leave it to set overnight. The cheesecake will still be soft even after 4 to 6 hours, so overnight is best.
For the cleanest slices, run a large knife blade under hot water first. Wipe it dry, then slice into the cake.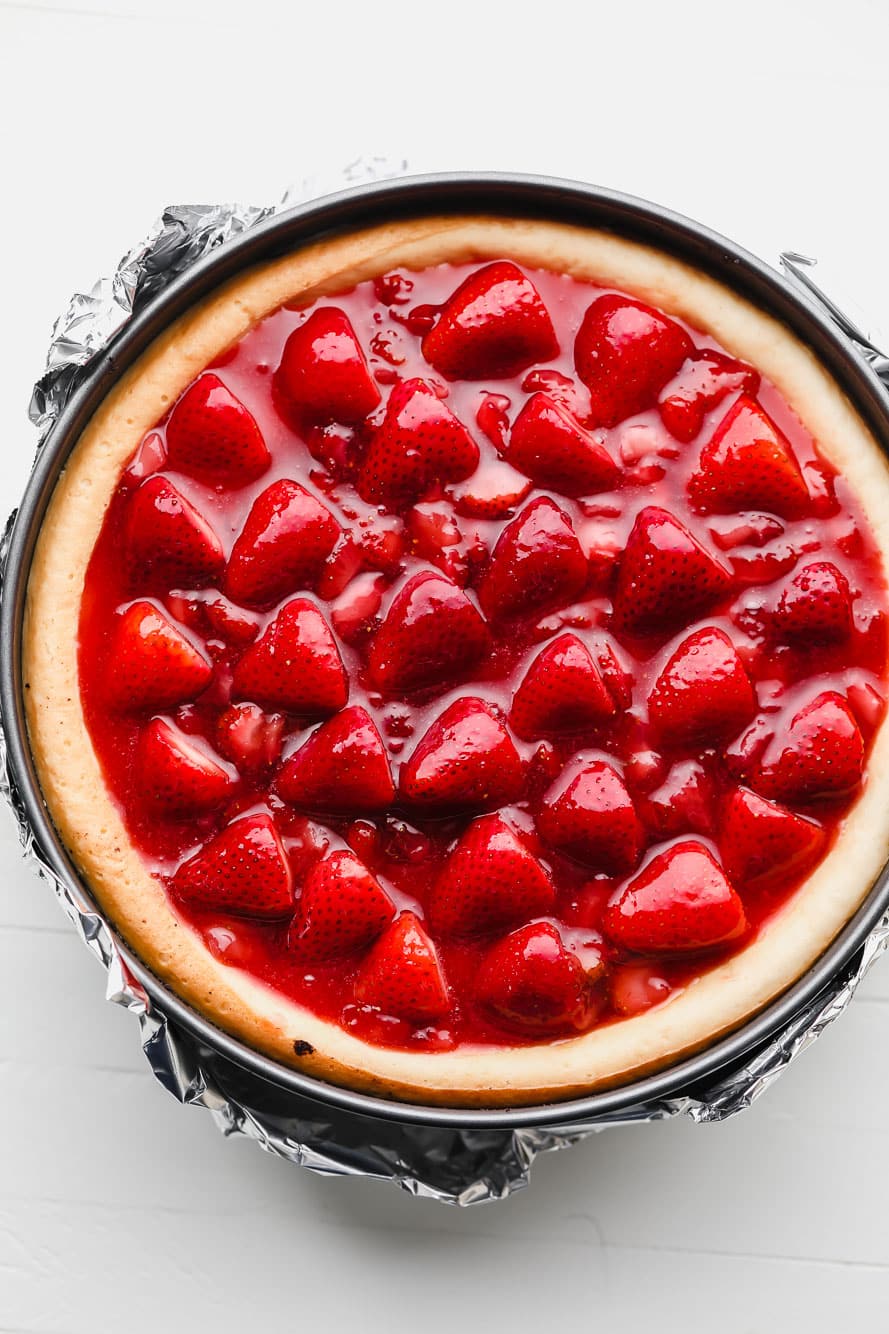 More cheesecake toppings
Not into strawberries? No problem! The fruity sauce can be made with blueberries, blackberries, cherries, or raspberries if strawberries aren't your thing.
Otherwise, there are plenty of more toppings you can decorate your cheesecake with:
Crushed nuts
Mint leaves
Lemon zest
Fresh berries
Oreo cookie crumbs
Frequently asked questions
Do I have to use a springform pan? No. If you don't have a springform pan, cut the cheesecake filling ingredients in half and use a regular 9 inch pie plate instead. It will only need 40 minutes in the oven, but leave it to cool another 10 minutes.
Is the cheesecake gluten free? Substitute regular oreos for a gluten free alternative to make a gluten free cheesecake.
Are oreo cookies vegan? Classic Oreos are made without any dairy, eggs, honey, or other animal-derived ingredients, meaning they're vegan-friendly. Even if you don't want to use the Oreo brand to make this cake, Nature's Own, 365 Brand, or another oreo-type cookie will work.
How long does strawberry cheesecake last? The baked cheesecake will keep for up to 1 week when stored in an airtight container in the fridge. To freeze, cover the baked cake (without the strawberry sauce) in foil and freeze for up to 3 months.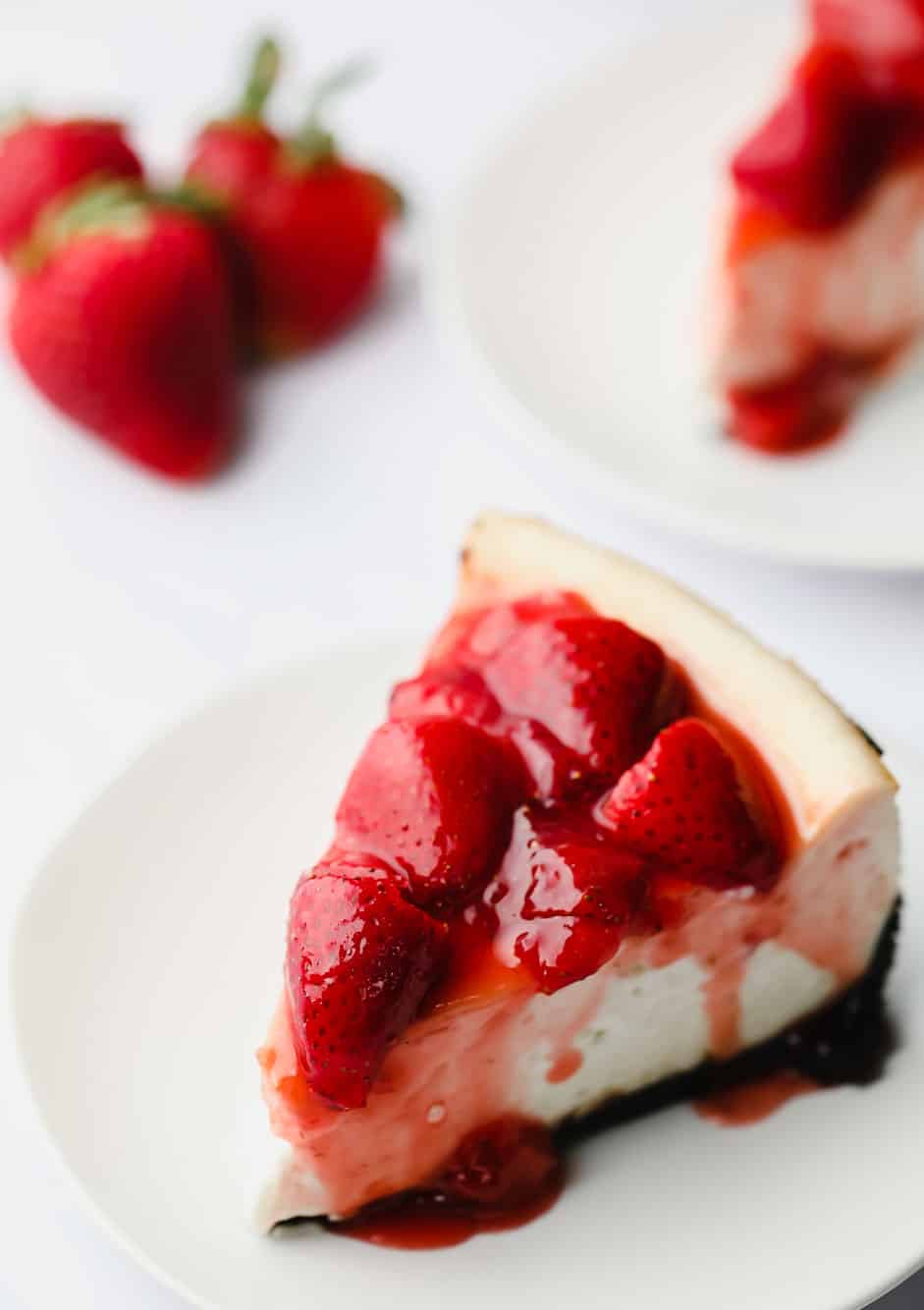 Want more vegan cheesecake recipes?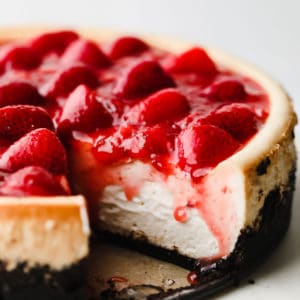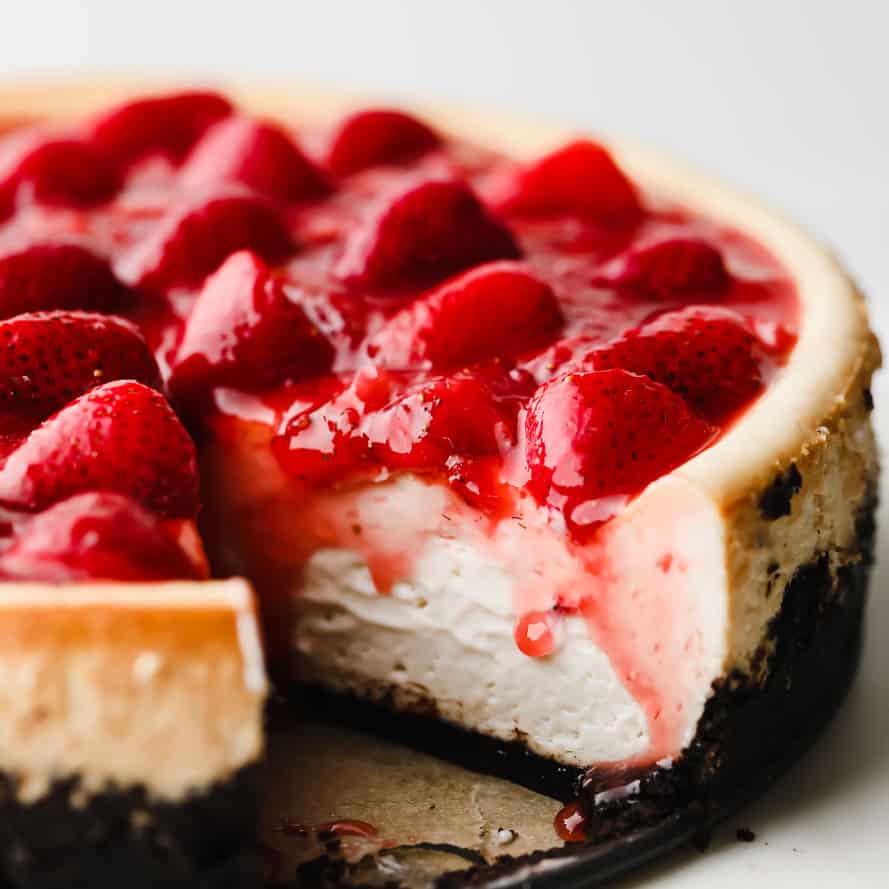 Vegan Strawberry Cheesecake
This Vegan Strawberry Cheesecake is a total showstopper! It's made with an oreo cookie crust, a dreamy cream cheese filling, and homemade strawberry sauce to take every bite to the next level.
Ingredients
Oreo crust
25

Oreo cookies

4

tablespoons

vegan butter, melted
Cheesecake
32

ounces

(4 8-oz packages) vegan cream cheese

Tofutti brand is best, see Notes

1 1/2

cups

coconut cream

or plain vegan yogurt

1 1/4

cups

granulated sugar

4

tablespoons

cornstarch

2

teaspoons

pure vanilla extract

2

tablespoons

fresh lemon juice
Strawberry sauce
1

pound

fresh strawberries, half diced and half halved

2

tablespoons

water

1/2

cup

granulated sugar

1/2

teaspoon

pure vanilla extract

1

tablespoon

cornstarch

2

tablespoons

water
Instructions
Prepare the pan and preheat oven
Preheat the oven to 350 degrees F. Wrap a 9-inch springform pan with 1-2 layers of aluminum foil, covering the bottoms and the sides. Place a circle of parchment paper on the bottom of the pan, and spray the bottoms and sides of the pan with non-stick spray.
Prepare the crust
In a food processor or blender, pulse the Oreo cookies until they are fine crumbs.

Pour the crumbs into a large bowl and stir in the melted vegan butter until well combined.

Dump the crumbly crust into the bottom of the prepared pan. Press down firmly and evenly, going up the sides a bit. Set aside.
Make the cheesecake filling
In the bowl of a stand mixer with whisk attachment, or using an electric hand mixer, beat the vegan cream cheese until smooth, about 1 minute.

Add the rest of the cheesecake ingredients (coconut cream or yogurt, sugar, cornstarch, vanilla and lemon juice) and beat until smooth and creamy, scraping down the sides and bottom of the bowl as needed.

Pour into the prepared crust and spread it evenly.
Bake and chill
Place in the center rack of the oven and bake for 50 minutes. Do not open the oven door during this time. After 50 minutes, turn off the oven but let it sit in the oven for another 10 minutes. It will still be jiggly and not look super done, but it firms up as it chills.

Remove from the oven and let cool at room temperature for 15 minutes. Transfer to the refrigerator and let cool overnight, or at least 4-6 hours. It firms up considerably the longer it chills. Even after 6 hours the middle will be pretty soft, so chill overnight if at all possible.
Make the strawberry sauce and serve
Place the diced strawberries, 2 tablespoons water, sugar and vanilla in a small pot on the stove. Bring to a simmer over medium heat, stirring.

Simmer gently for 10 minutes until the strawberries break down, stirring frequently.

In a small bowl, stir the cornstarch with the other 2 tablespoons water, then stir into the strawberry mixture on the stove. The sauce will thicken slightly.

Now add the halved strawberries and cook for 1 minute. Remove from heat and let the sauce cool for about 30 minutes.

Spoon most of the sauce onto the cheesecake and use all of the halved strawberries. Flip them all facedown if desired. Place back in the refrigerator to chill for another hour if possible.

Slice and serve with additional strawberry sauce for each piece, if desired. Enjoy! It will keep in the refrigerator for up to a week, and can also be frozen.
Notes
Gluten free – Use gluten free Oreo cookies, or another gluten free cookie for the crust.
Coconut free – If you can't have coconut, make sure to use Tofutti cream cheese (I believe it's coconut free, but double check the ingredients list) and vegan yogurt in place of coconut cream.
Cream cheese – I can only guarantee the cheesecake will work with Tofutti brand cream cheese, I haven't had luck with any other brand. DO NOT USE Violife, it will just melt and be a mess. Trader Joe's brand does not work either.
Different fruit – Make it a blueberry cheesecake by subbing blueberries for the strawberries, or raspberries/blackberries.
Nutrition
Serving:
1
of 12 slices
|
Calories:
601
kcal
|
Carbohydrates:
62
g
|
Protein:
8
g
|
Fat:
40
g
|
Saturated Fat:
19
g
|
Polyunsaturated Fat:
2
g
|
Monounsaturated Fat:
4
g
|
Trans Fat:
1
g
|
Sodium:
422
mg
|
Potassium:
220
mg
|
Fiber:
7
g
|
Sugar:
44
g
|
Vitamin A:
183
IU
|
Vitamin C:
24
mg
|
Calcium:
64
mg
|
Iron:
5
mg