Vegan Strawberry Pie is the perfect summertime dessert, made with plenty of fresh strawberries and a sweet homemade sauce with no Jell-O! Only 6 ingredients and easy to make.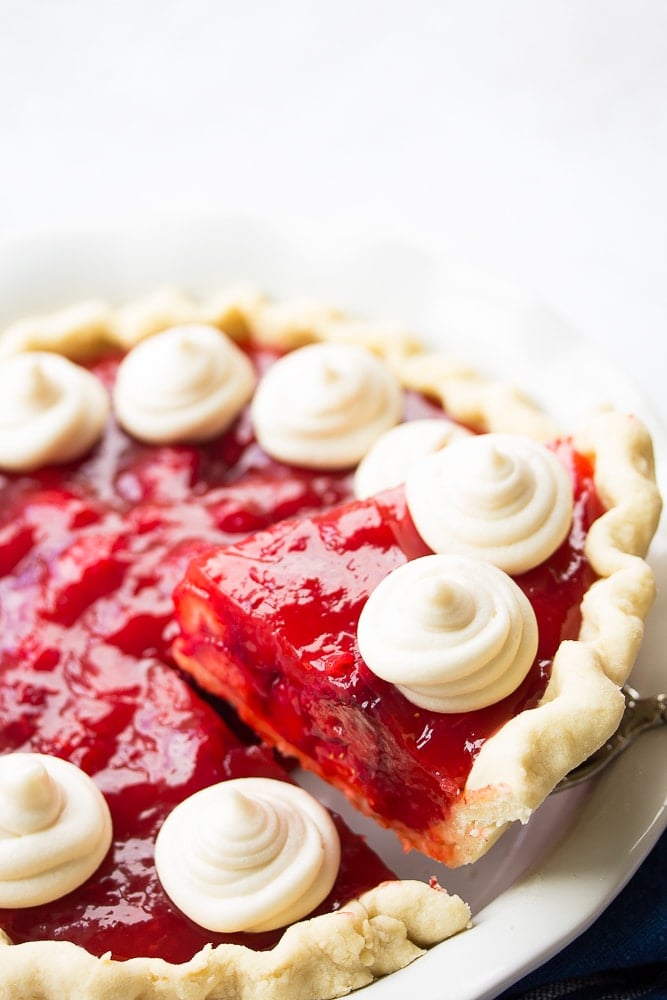 This beautiful pie will be the star of your next Summer get together! It's incredibly easy to make, even easier if you use a store bought vegan pie crust. No one will guess it's vegan!
I recommend making this pie during strawberry season for the best tasting pie. I picked up some amazingly sweet strawberries at my local Farmer's Market last week and they were perfect. Luckily I bought a ton because I ended up making this pie a few times to get the recipe just right!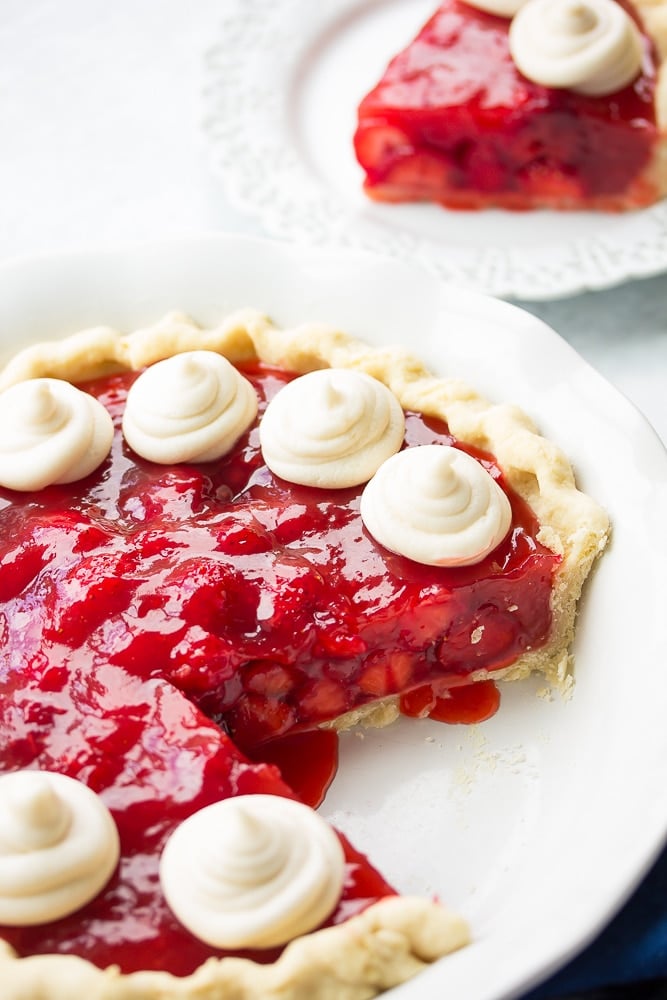 How to make No-Bake Strawberry Pie without Jell-O:
Oftentimes, no bake strawberry pies are made with Jell-O, or gelatin. Well, that's a no go for vegans, so this version uses cornstarch as a thickener. It's works perfectly and tastes a lot better than Jell-O, in my opinion!
Most of the strawberries are layered right into a pre-baked pie crust, while about 3/4 cup get mashed and then mixed with some sugar, water, cornstarch and lemon juice. This mixture is heated until thick, then poured over the top of the fresh strawberries. Then you simply chill for 4-6 hours so it can firm up and become sliceable.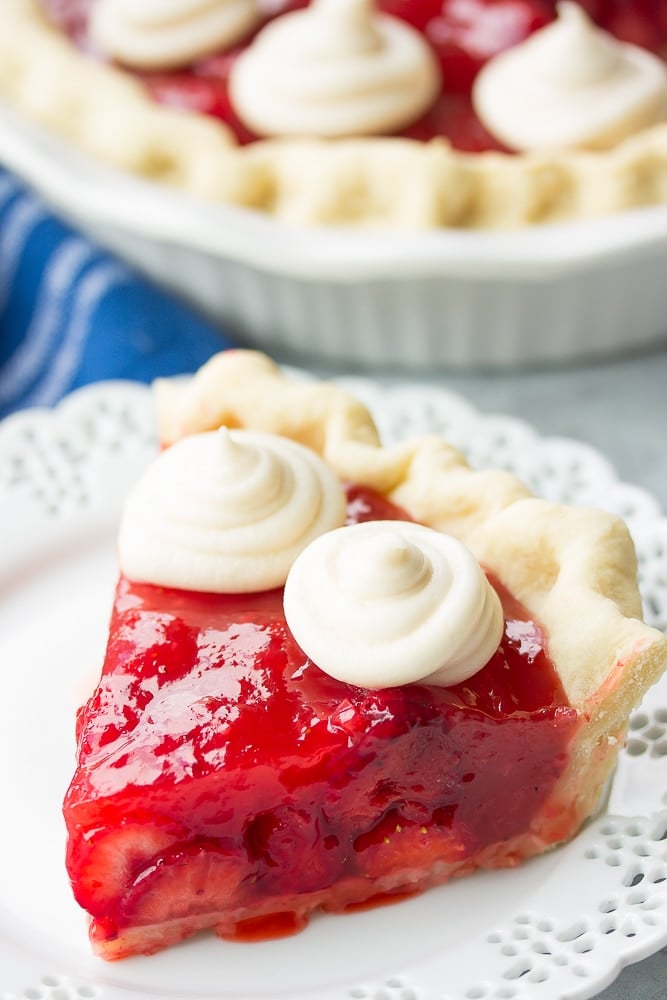 Can Strawberry Pie be frozen?
This pie can be frozen. When you thaw it the strawberry juices may be extra runny, but that's not a huge deal.
Can Strawberry Pie be made gluten free?
Yes! The strawberry filling is already gluten free, so you just need a gluten free pie crust. You can use my recipe: Gluten Free Pie Crust, another recipe you love, or a store bought vegan gluten free crust if you can find one.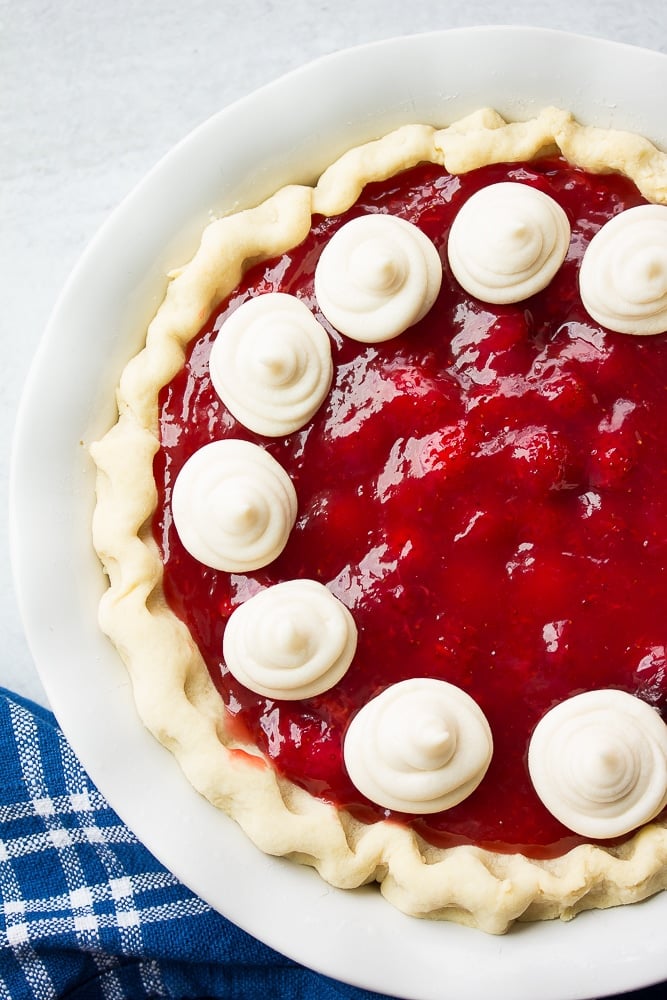 Want more summertime vegan desserts?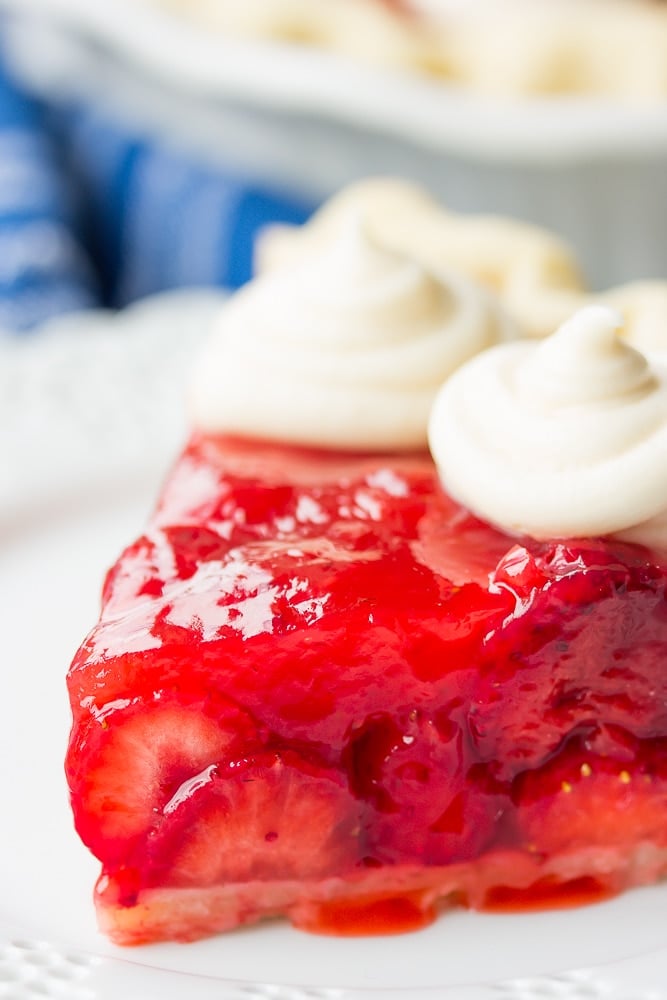 Sign-up to get new recipes by email and receive a FREE 5 Day Family Friendly Vegan Meal Plan! SUBSCRIBE NOW.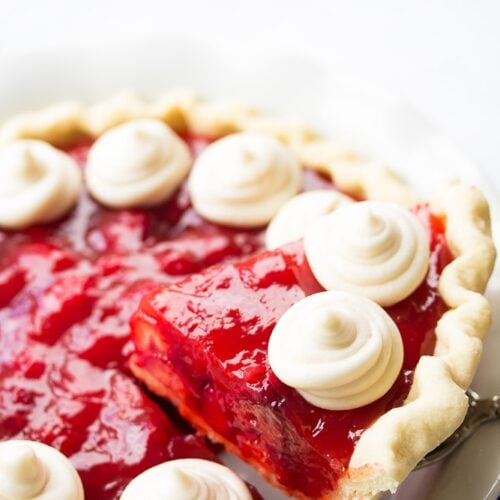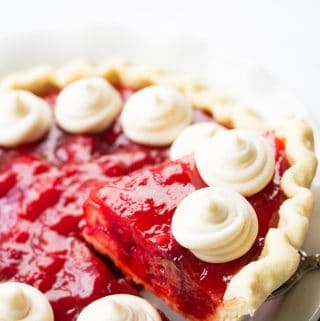 Vegan Strawberry Pie
Vegan Strawberry Pie is the perfect summertime dessert, made with plenty of fresh strawberries and a sweet homemade sauce with no Jell-O! Only 6 ingredients and easy to make.
PRINT
PIN
Total Time:
4
hrs
40
mins
Instructions
Bake the pie crust: Preheat the oven to 400 degrees. If using my pie crust recipe, prepare the crust according to instructions and line a 9 inch pie pan with the crust, trimming the edges as needed. Poke all over the bottom with a fork and bake for 15-20 minutes. If worried about the crust puffing up, you can place a piece of parchment paper inside the crust and put about 1 cup of dried beans or rice on top. Let cool for 10 minutes.

Meanwhile, wash and hull the strawberries. Slice if desired (I left them whole).

Take 3/4 cup of the strawberries and add to a saucepan. Mash them with a fork or potato masher, then stir in the sugar, water, cornstarch and lemon juice. Bring to a boil, stirring frequently, and cook for 2-3 minutes until thickened. Remove from heat.

Place the rest of the strawberries in the cooked pie crust, pointy side up (for prettiness!). You will probably have 2 layers of strawberries; simply arrange them fairly evenly.

Pour the thickened strawberry sauce into the pie pan with the strawberries, evenly distributing the sauce over the berries.

Chill in the refrigerator for 4-6 hours before serving. The pie will thicken and become sliceable. Serve with a dollop of Coconut Whip Cream if desired and enjoy!
Recipe Notes
For gluten free, use my Gluten Free Pie Crust.
If you want to lower the sugar, you could probably go down to 1/2 cup sugar, or use coconut sugar or even maple syrup if desired.
Try serving with swirls of Vegan Cream Cheese Frosting for a delicious alternative to whip cream. It's quite tasty, like a strawberry cheesecake!
The nutrition facts do not include the pie crust, as it will vary greatly depending on which crust you use.
NUTRITION INFORMATION
Serving:
1
serving
Calories:
146
kcal
Carbohydrates:
37
g
Protein:
1
g
Fat:
1
g
Saturated Fat:
1
g
Sodium:
3
mg
Potassium:
181
mg
Fiber:
2
g
Sugar:
31
g
Vitamin A:
14
IU
Vitamin C:
70
mg
Calcium:
19
mg
Iron:
1
mg
This post contains affiliate links. Read my full disclosure here.