This recipe makes the most perfect basmati rice every time, and it's so simple! Light, fluffy and aromatic.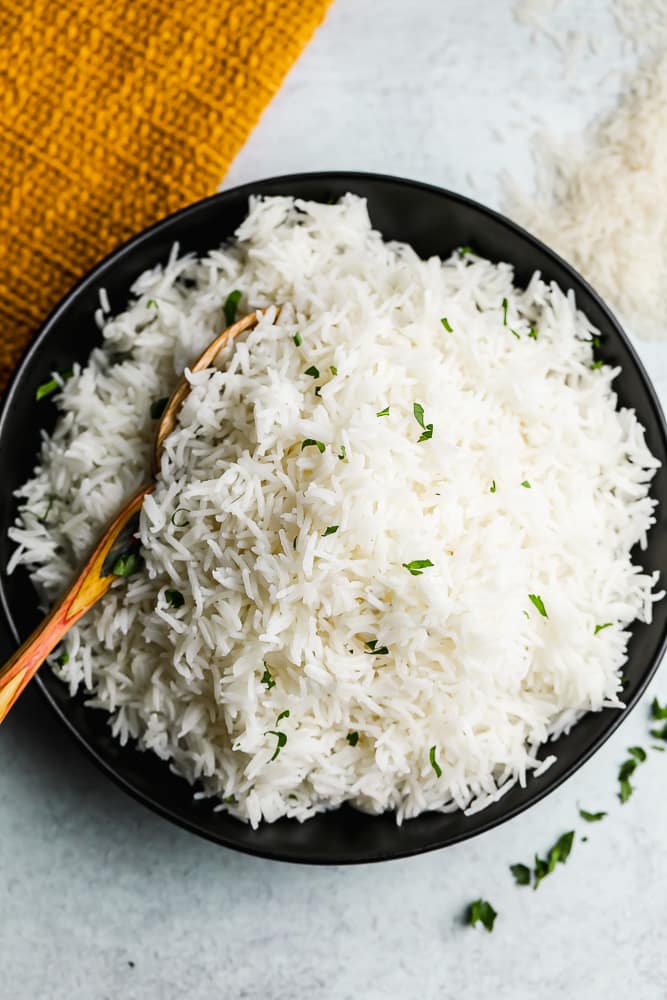 Who knew a tiny grain could be so complicated? I had the hardest time cooking rice forever, until my dear mother-in-law taught me her tricks. She lived in the middle east for several years and in that time learned how to make the BEST rice. I finally begged her to teach me, and she did.
Thankfully, this recipe will show you how to cook perfect Basmati Rice every time! So soft and tender, this white long grain rice is the best go-to when you need some grains to enjoy with Easy Vegan Curry, Buddha Bowls, or Sesame Tofu. It has so much more flavor and depth compared to white or brown rice.
This recipe can easily be adjusted depending on how many serving you desire. If you want to increase the amount, just remember the magic rice to water ratio: 1 cup of rice to 1 ½ cups of water. This will give you the best basmati rice every time!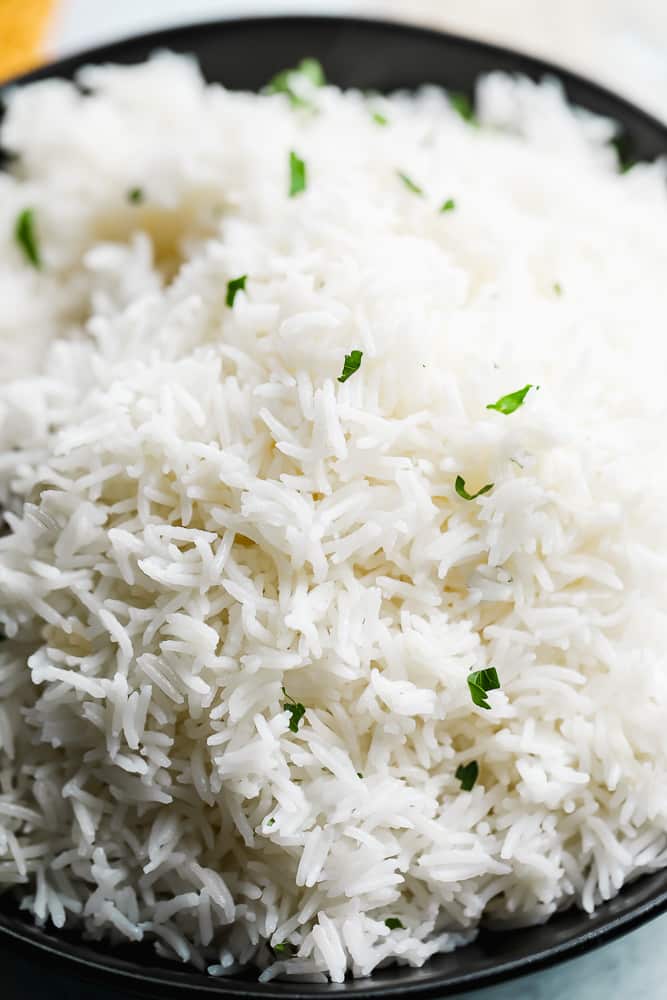 What is basmati rice?
Basmati rice may look like regular white rice but it has some key differences. This is a long grain variety that's mainly grown and harvested in India and Pakistan. Its signature nutty and aromatic flavor stands out and goes well with a variety of dishes, like curries, soup, and tikka masala. It's my go-to rice for just about every meal!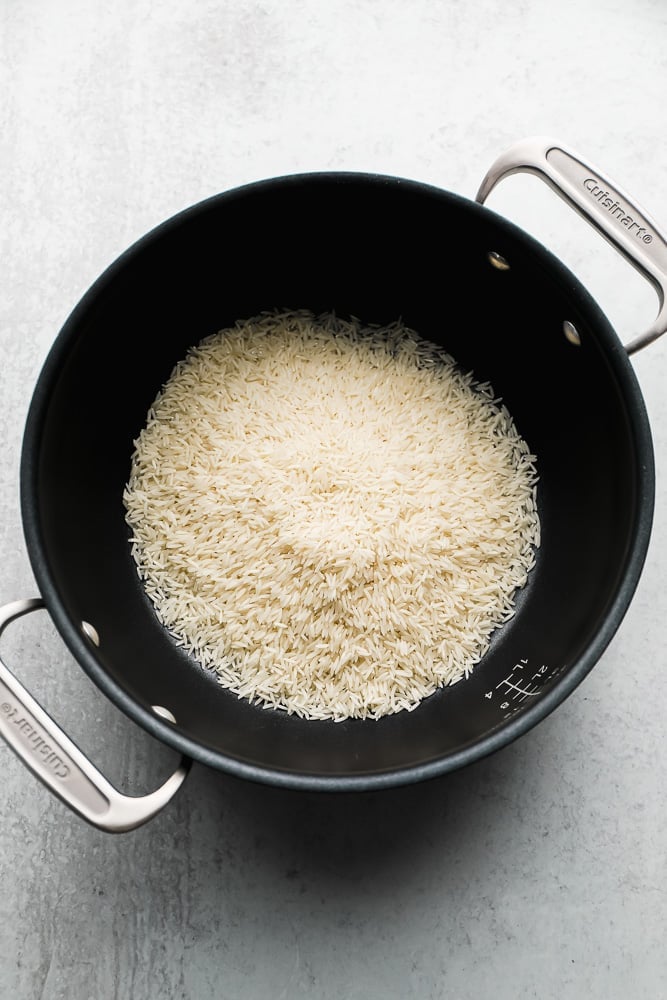 How to cook perfect basmati rice
Pour the rice and water together in a medium sized pot. Swish them both around using your hands to rinse the grains, and then carefully drain the cloudy water. Keep doing this until the water is nearly clear.
With the rinsed rice already in the pot, pour 1 ½ cups of water over top along with the oil and salt. Bring it to a boil (uncovered), cover with a lid, and turn the heat down low.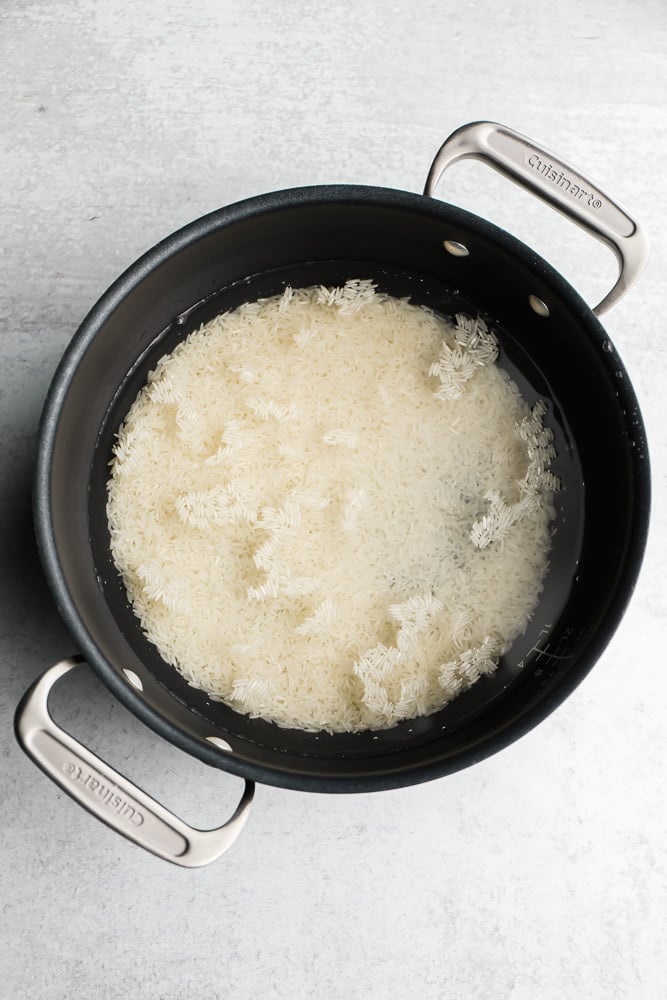 Let the rice simmer until all of the water has been absorbed. Remove the pot from the heat and let the rice steam for at least 5 or 10 minutes. Fluff the finished rice with a fork and serve!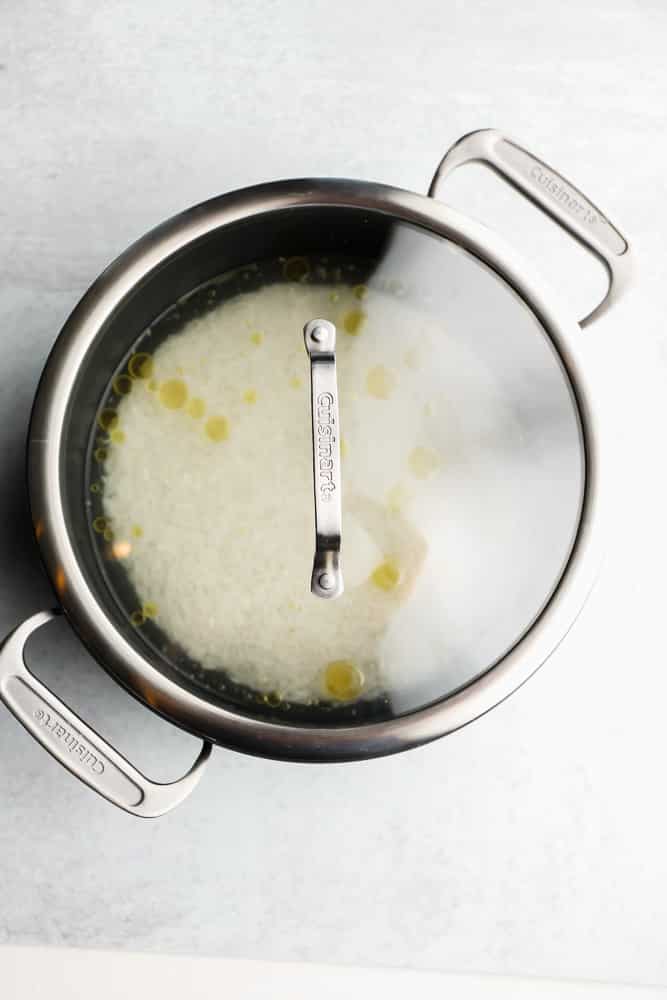 Rice cooker instructions
Rinse the rice before adding it to your rice cooker. Pour 1 3/4 cups of water over top and cook using the Normal (Regular/Sushi) Rice setting. When it's done, fluff the rice with a fork and serve.
Instant Pot instructions
Again, rinse the rice well before placing it in the Instant Pot. Pour 1 cup of water over top, place the lid on top, and seal the venting knob. Cook at High Pressure for 6 minutes with 10 minutes on Natural Release. Fluff with a fork when it's done and enjoy!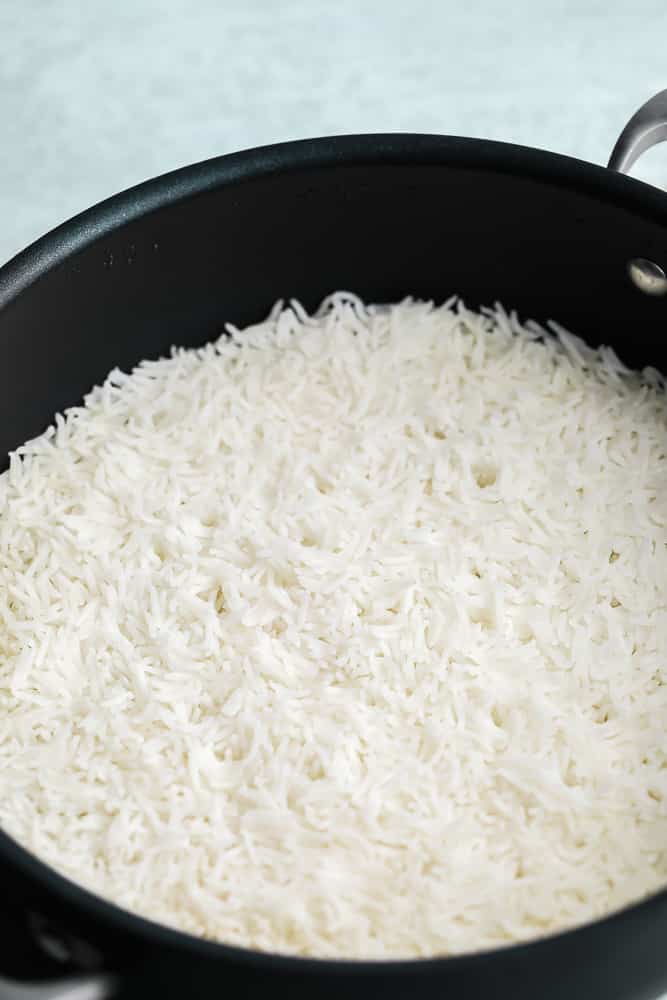 Tips and substitutions
Oil free – Personally, I think basmati cooked with a little oil or fat gives it a boost of flavor. However, if you're oil free, you may leave it out of the recipe.
Don't open the lid – As it cooks on the stove, leave the pot covered until all of the water is absorbed. Releasing the steam will result in uneven cooking.
Let it rest – This is essential at the end! If you don't give the cooked rice time to rest and finish steaming, it will end up wet and sticky.
Coconut rice – Substitute ½ cup of the water for full fat coconut milk to make coconut basmati rice.
Flavored rice – Once it's done cooking, feel free to flavor the rice any way you like. Add cilantro and lime for a Mexican grain bowl, with frozen peas and cumin on the side of Indian dishes, or cook it in vegetable stock and add garlic and onions to increase its savory flavors.
Storing – Store the rice in an airtight container in the fridge as soon as it's done being served. Letting it sit out at room temperature will attract unhealthy bacteria.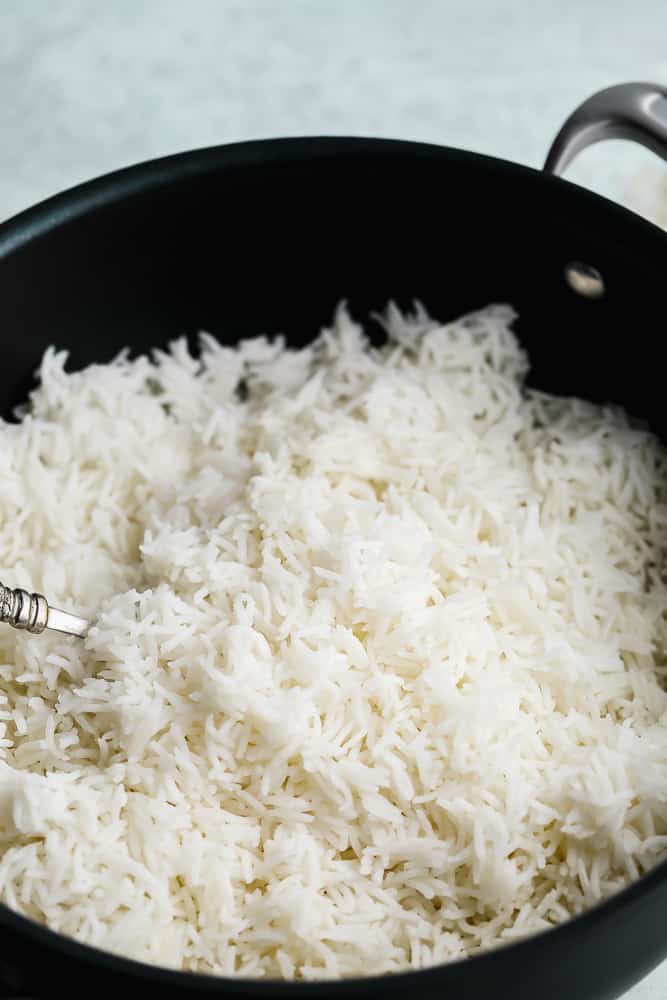 Can you freeze basmati rice?
Yes! After it has cooked, transfer the rice to an airtight freezer-safe container or sealed ziploc bags. It will freeze nicely for up to 3 months.
No need to thaw it out beforehand! You can reheat the rice right from frozen for a few minutes in the microwave. Heat it with an additional 1 or 2 tablespoons of water so it doesn't dry out.
Frequently asked questions
Do I have to rinse the rice? While this does help remove any dirt and excess starch, rinsing the rice is optional. It isn't necessary to get fluffy rice.
What kind of basmati rice should I buy? White long grain basmati rice is the easiest to cook and doesn't require any additional water.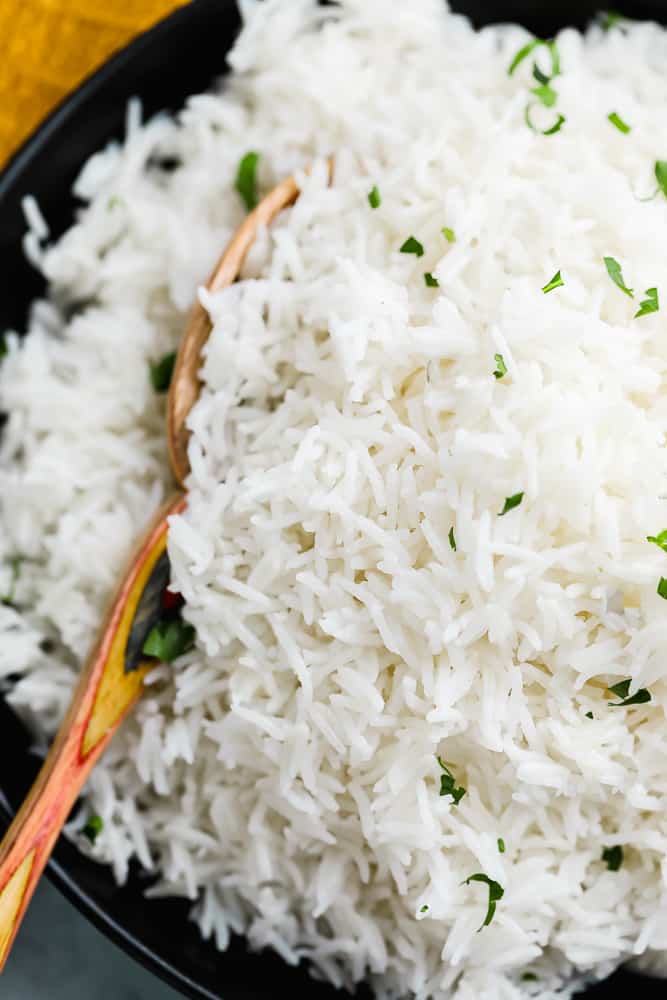 Enjoy your rice with any of the following recipes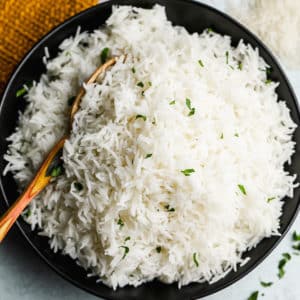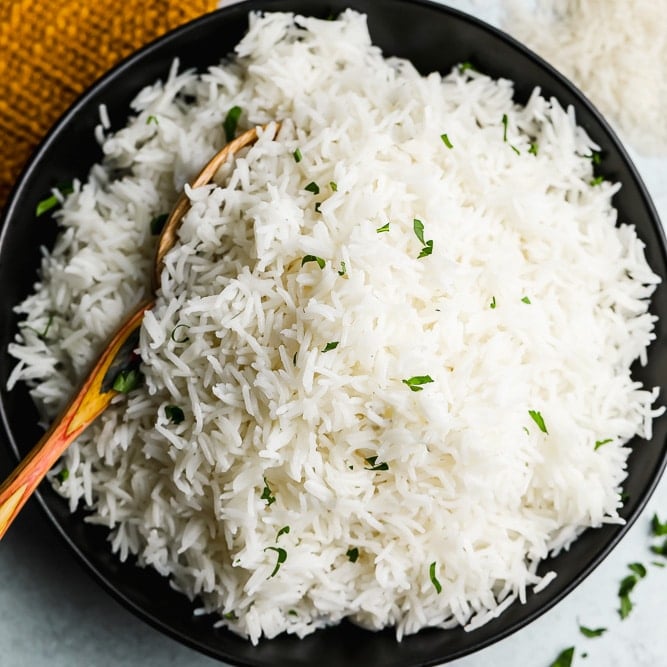 How to Cook Basmati Rice
This recipe makes the most perfect basmati rice every time, and it's so simple. Light, fluffy and aromatic.
Instructions
Place the rice to a medium sized pot and add enough water to cover it by a few inches. Use your hands to swish the rice around, then carefully pour off the cloudy water. Repeat 3-4 times until the water is nearly clear. Drain off the rest of the water, or use a fine mesh strainer to completely drain it, then add the rice back to the pot.

Now add 1 1/2 cups fresh water to the rice along with the oil and salt. Bring to a boil, uncovered at first, then once boiling cover the pot with a tight fitting lid and turn the heat down so the rice is simmering. Cook for 15 minutes, until the water appears absorbed. Remove from heat and let it steam for another 5-10 minutes.

Fluffy the rice with a fork and serve.
Notes
For coconut basmati rice, replace 1/2 cup water with full fat coconut milk.
The recipe can easily be increased to feed more people or meal prep for the week.
Cooked basmati rice freezes well once cooled. I like to use freezer friendly 2-3 cup containers to freeze rice.
Rice will keep in the refrigerator for about 4 days. Simply reheat in the microwave or stovetop when ready to serve.
Nutrition
Serving:
1
of 4 servings
|
Calories:
200
kcal
|
Carbohydrates:
37
g
|
Protein:
3
g
|
Fat:
4
g
|
Saturated Fat:
1
g
|
Sodium:
298
mg
|
Potassium:
53
mg
|
Fiber:
1
g
|
Sugar:
1
g
|
Calcium:
16
mg
|
Iron:
1
mg