The Stretchy Vegan Mozzarella Cheese of your dreams, made with just 5 ingredients and in 15 minutes! Perfect for grilled cheese, lasagna, pizza and more!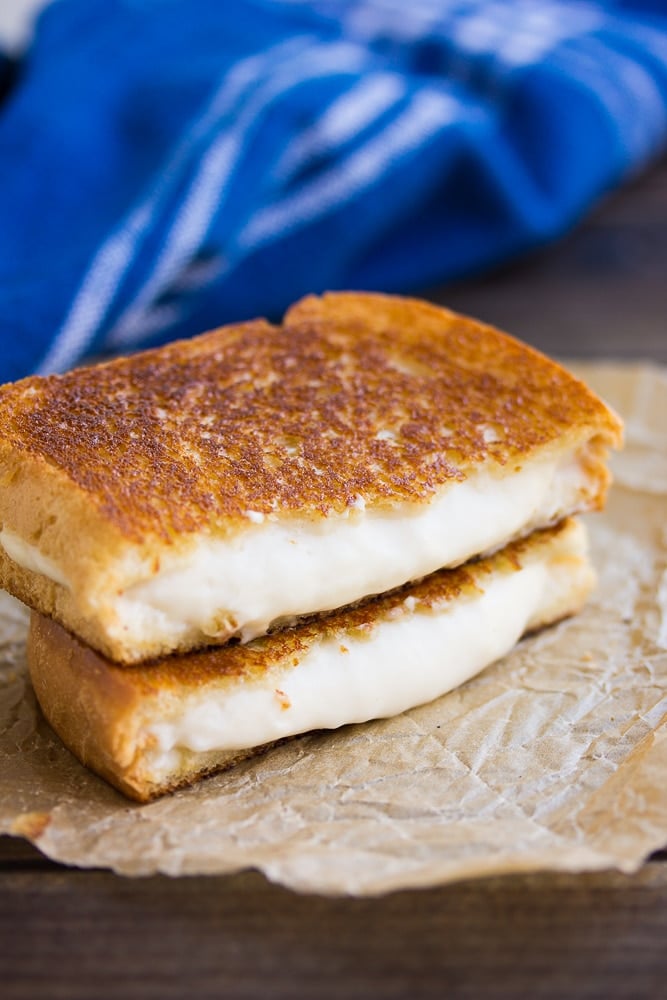 Meet the vegan mozzarella cheese of your dreams! Stretchy, tangy and oh-so-delicious. I love using this mozzarella on pizza and my new favorite place for it is on top of Vegan Lasagna. Oh my goodness, it takes the lasagna to a whole new level of amazing!
This cheese also makes a mouthwatering vegan grilled cheese sandwich, which I love alongside tomato soup. Talk about an easy meal that kids and grown-ups will love!
I'm sure you could use this vegan mozzarella in many more ways that I haven't even discovered yet. I'm thinking french onion soup, eggplant parmesan, quesadillas, dips… The possibilities are endless.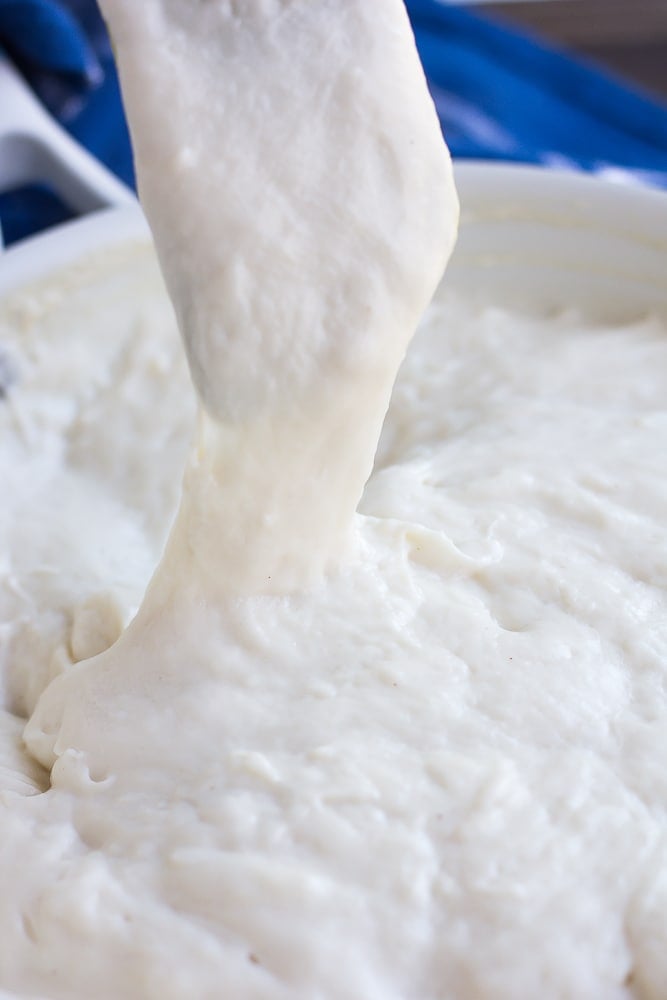 How do you make Vegan Mozzarella?
It's very easy. First, you soak your cashews in hot water for 5 minutes (or up to an hour). Drain them, and add to a high powered blender with all the other ingredients. Blend; the mixture will be very watery.
Add to a small saucepan and stir constantly over medium heat. After a few minutes, it will start to get clumpy. Keep stirring. And then all of a sudden it magically turns into smooth, stretchy vegan mozzarella! That's it, it's ready to use.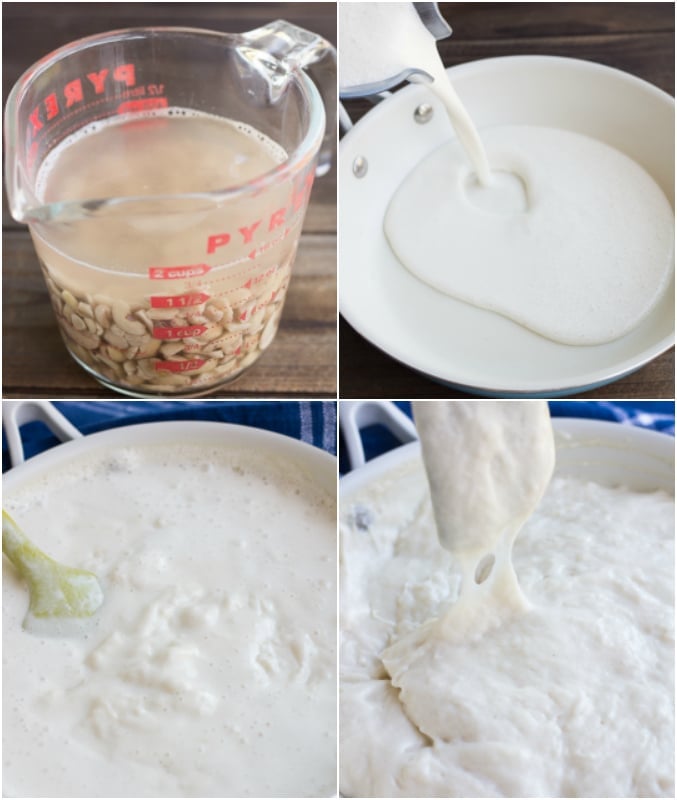 How to brown vegan mozzarella in the oven:
I've discovered something new lately about this cheese. It will totally brown and bubble in the oven, like real mozzarella would! Simply spray the cheese with a little oil (I used olive oil spray), and broil for 5-10 minutes in the oven. I spread some cheese on sourdough bread and broiled it, and wow, it was incredible cheesy bread. I think this would work on top of casseroles (like lasagna), pizza and more.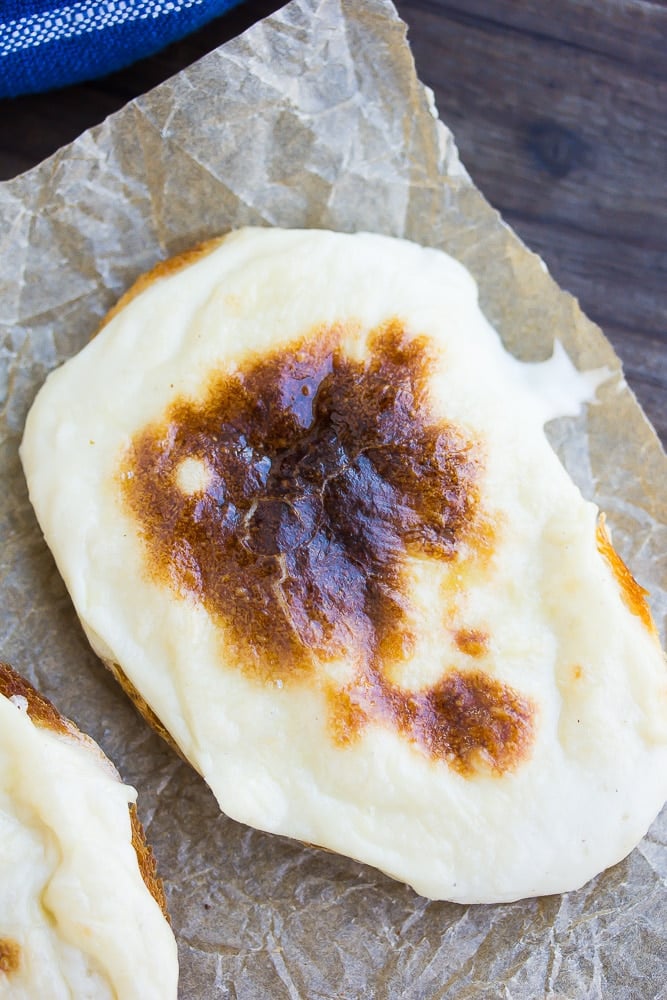 What is tapioca starch and where can I find it?
Tapioca flour is a starch extracted from cassava. Tapioca starch and flour are usually the same thing, but not always.
It's a white powder and works similarly to cornstarch as a thickener. The difference is it's the key to making cheeses like this stretchy instead of just thickened. It's absolutely necessary and perfect for making this vegan mozzarella.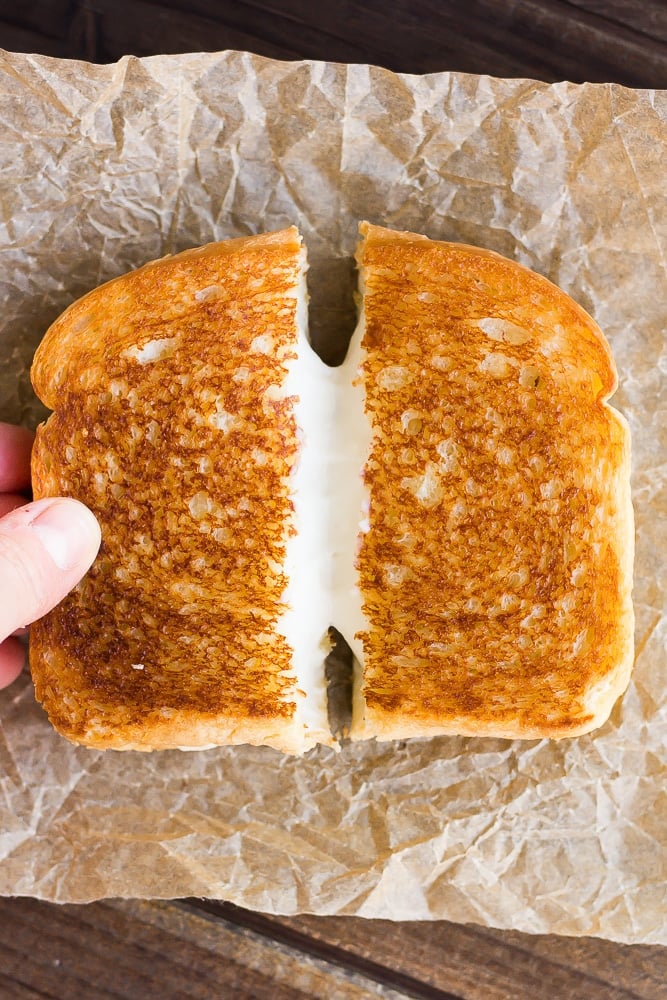 How to use vegan mozzarella:
Grilled Cheese – Spoon the cheese between two slices of (vegan) buttered bread and grill for a fantastic grilled cheese.
Pizza – Spoon dollops of cheese on top of pizza crust along with other toppings of choice and cook as you normally would. You can also try to spread it all over the pizza (this works best when the mozzarella is very fresh).
Lasagna – Spoon the cheese all over the top of the lasagna in the last 20 minutes of baking in the oven. Bake uncovered with the cheese, and broil if desired to brown in spots.
Anywhere else you'd like! Dip chips into it, make quesadillas, in enchiladas, etc.


Recipe adapted from Minimalist Baker.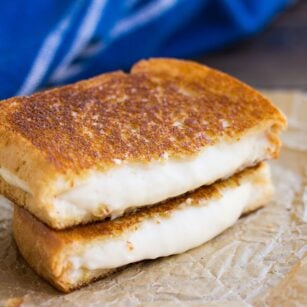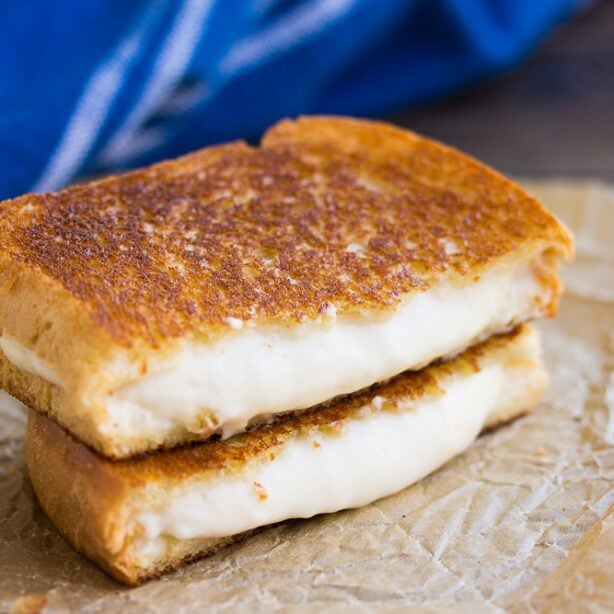 EASY Stretchy Vegan Mozzarella Cheese
The Stretchy Vegan Mozzarella Cheese of your dreams, made with just 5 ingredients and in 15 minutes! Perfect for grilled cheese, lasagna, pizza and more!
Instructions
Boil 2 cups of water (I just heat up water in my tea kettle). Pour the water over the cashews and let soak for 5 minutes and up to an hour.

Drain the cashews, and add them to a blender along with 1 1/3 cups fresh water (not the water you soaked the cashews in), lemon juice, apple cider vinegar, salt and tapioca starch. Blend until very smooth, scraping down the sides of the blender as needed. It will be very watery at this point.

Now pour the watery mixture into a small saucepan and bring the heat to medium. Begin to stir with a spatula or spoon.

After a few minutes, it will begin to get clumpy. Keep stirring, constantly until suddenly it will become super gooey, stretchy, thick and smooth. It will become one big mass of stretchy vegan cheese. Remove from heat as soon as this happens.

Use immediately, or store in a covered container in the refrigerator. It is easiest to use immediately, because it will thicken up more in the fridge and be less stretchy. So if possible, especially for using on pizza or lasagna, make right before using.

For pizza, drop 1-2 tablespoon sized balls onto the crust and pat down a little bit. Or spread it all over. It will brown in the oven. For lasagna, drop dollops of the cheese all over the top towards the end of cooking time. Or place between bread and grill for grilled cheese.
Notes
Tapioca starch/flour is essential in this recipe, cornstarch will not create the same "stretchy" quality.
I've never tried it with another nut, but I suspect raw slivered almonds could work.
If you want the cheese to brown in the oven (like it looks on the bread in the post above), simply spray with a little oil and broil for 5-10 minutes, watching carefully. This is wonderful for lasagna, pizza, or just atop bread for cheesy bread. 
I have frozen this and while it is still edible, it definitely tastes best fresh. It will keep in the refrigerator for 4-5 days. But again, it will be the most stretchy and easy to work with immediately. 
Nutrition
Serving:
1
serving
|
Calories:
59
kcal
|
Carbohydrates:
6
g
|
Protein:
1
g
|
Fat:
4
g
|
Saturated Fat:
1
g
|
Sodium:
149
mg
|
Potassium:
53
mg
|
Fiber:
1
g
|
Sugar:
1
g
|
Vitamin C:
1
mg
|
Calcium:
3
mg
|
Iron:
1
mg