Smoky with a little bit of sweet, these Easy Sweet Potato Black Bean Burgers are easy to throw together, especially if you prep a little the night before. They freeze well, so double the recipe and have dinner ready for next week too!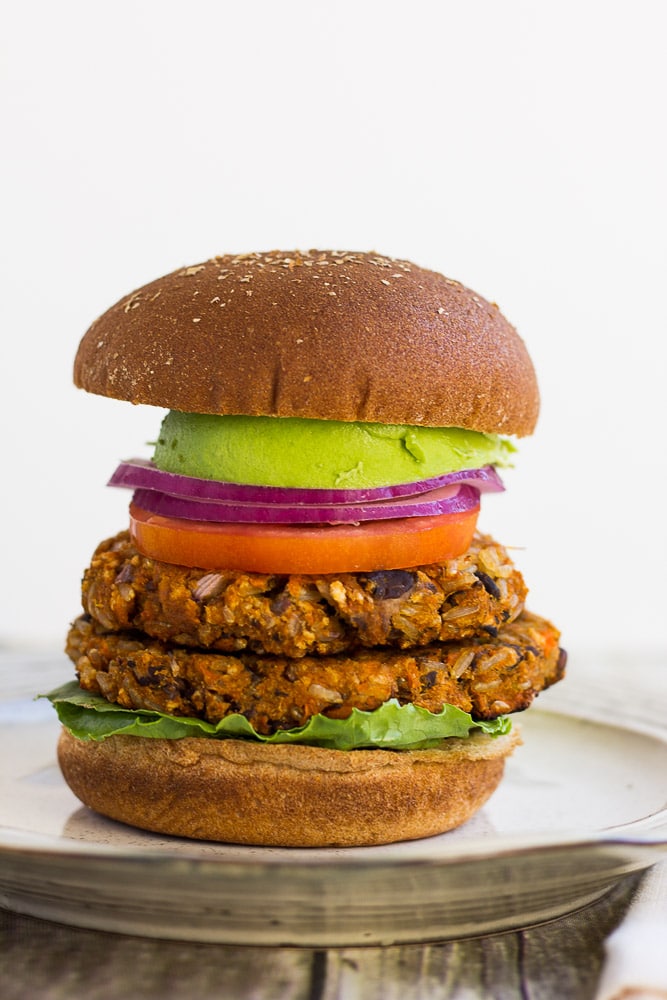 Start out by roasting sweet potatoes that have been halved. Place them face down on a lightly greased baking sheet (or use parchment paper and no oil) and roast at 400 degrees for 30 minutes. They will look like this when they're done: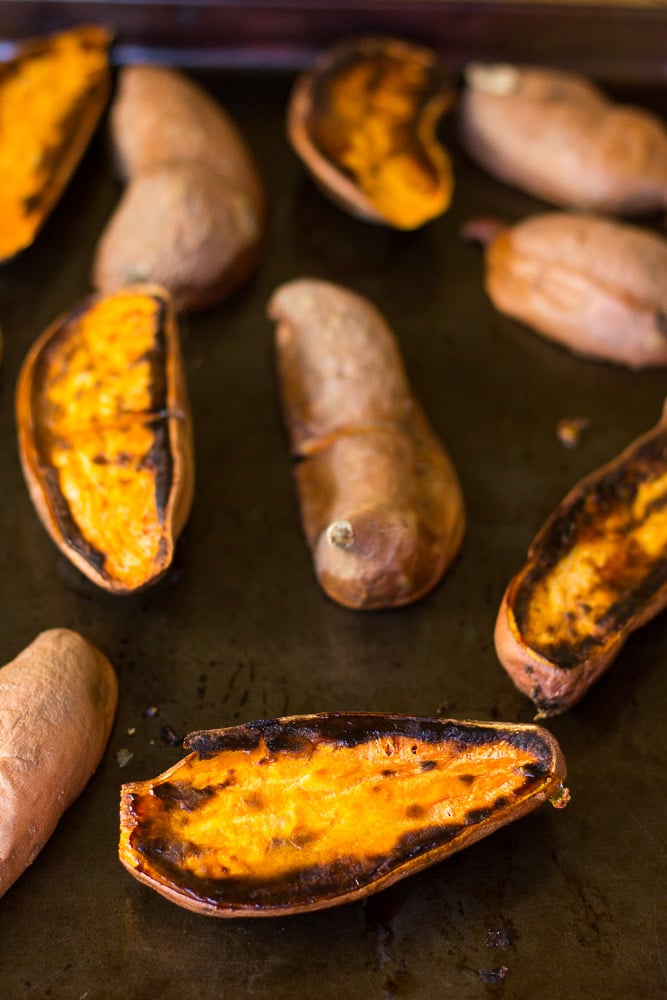 While the sweet potatoes are roasting, cook up a batch of brown rice if you don't already have some leftover in the fridge. I always seem to have brown rice in the fridge, because we eat it so often!
Then, in a large bowl, mash up your sweet potatoes, add your beans and mash them a bit, throw in the rest of the ingredients, form into burgers and bake for 30 minutes, flipping once in the middle.
I think you will love these Easy Sweet Potato Black Bean Burgers! They're:
Very mildly smoky and spiced, so kid-friendly
Subtly sweet and savory
Filling and satisfying
Crispy on the outside, tender inside
7 ingredients!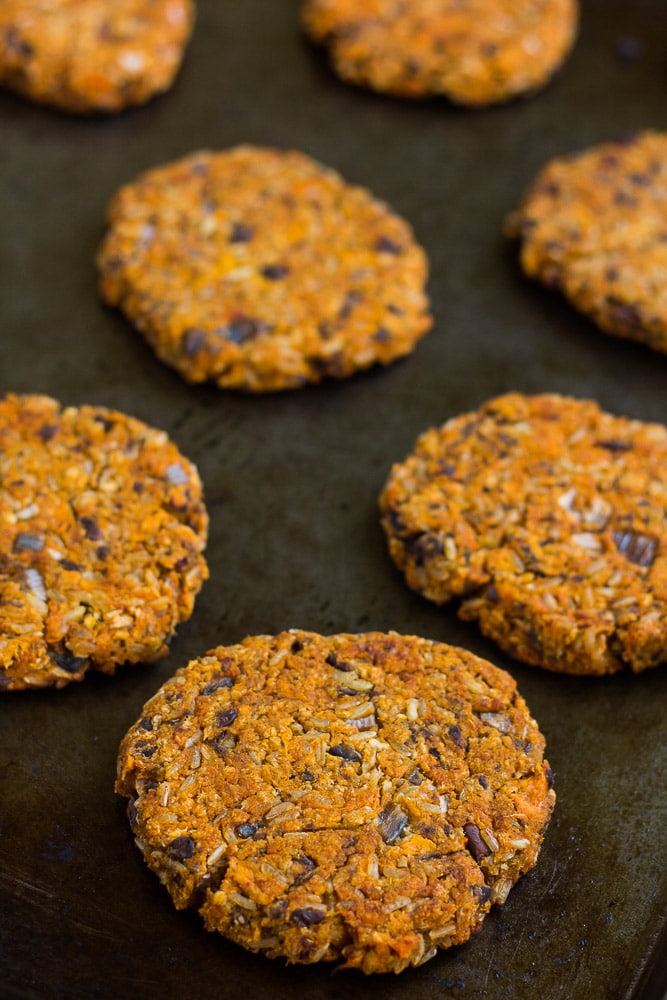 All 3 of my kids approve of this burger, but my toddler loves these the most! He could not stop eating them right out of the oven. He likes to dip them in ketchup. The kid LOVES dipping, so we eat a lot of things with ketchup and hummus. 🙂
I hope you enjoy these simple plant based burgers. They are especially delicious with avocado slices, red onion, tomato and lettuce. The burgers can easily be made gluten free, just use a gluten free bun and gluten free bread crumbs. 🙂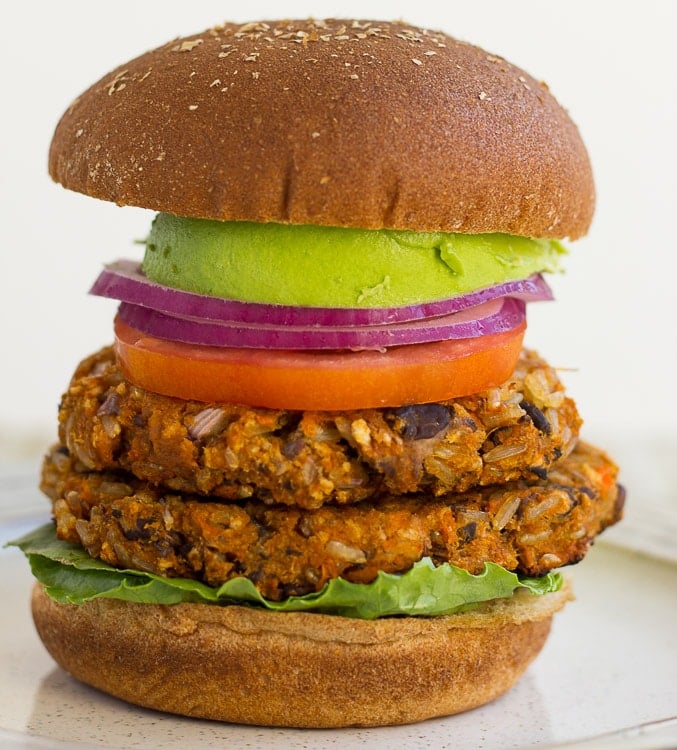 Adapted from this recipe.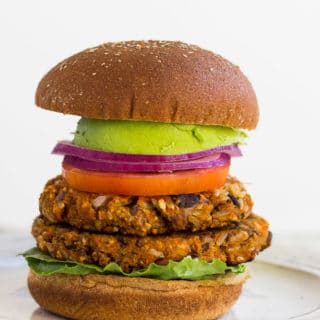 Easy Sweet Potato Black Bean Burgers
Crispy on the outside, tender on the inside, these Easy Sweet Potato Black Bean Burgers are kid-friendly, mildly spiced and excellent served on buns with avocado. They also freeze well, so double the recipe!
PRINT
PIN
Ingredients
4

large sweet potatoes

1 1/2

cups

(or 1 can) black beans, drained and rinsed

2

cups

cooked brown rice

1

cup

bread crumbs (use gluten free if needed)

1/4

red onion

chopped small

2

teaspoons

cumin

2

teaspoons

smoked paprika

1

teaspoon

salt
Instructions
Preheat oven to 400 degrees. Lightly spray a large pan with olive oil or use parchment paper. Cut sweet potatoes in half lengthwise and place facedown on the pan. Bake for about 30 minutes, until fork tender and cooked through. Remove from oven. Lower the oven to 375 degrees.

Cook the brown rice while the sweet potatoes are baking. I used my Instant Pot which takes about 30 minutes (including the time it takes for the pressure to build). Even better, make the rice the night before or when prepping for the week!

When the sweet potatoes are cool enough to handle, peel off the skin and add the flesh to a large bowl. Mash with a potato masher, add the black beans and slight mash into the sweet potatoes, leaving some beans whole.

Next, add the brown rice, bread crumbs, diced red onion, cumin, smoked paprika and salt. Stir well. Taste, add more salt if desired.

Prepare a baking sheet for the burgers by either lightly spraying with oil or using parchment paper or a silicone mat.

Fill a 1/2 cup measuring cup, then form into a burger shape, about 1 inch thick. You can make them thinner or thicker as you prefer. Place burgers on a prepared baking sheet (or two). Bake for 15 minutes, flip and bake for 15 minutes more. Remove from oven.

Serve on buns (gluten free or whole grain) with avocado, ketchup, mustard, lettuce, tomatoes and red onion. Or go bunless and wrap it in romaine.
NUTRITION INFORMATION