A delicious, simple and healthy gluten-free waffle recipe made with oats and almond flour. Oil-free.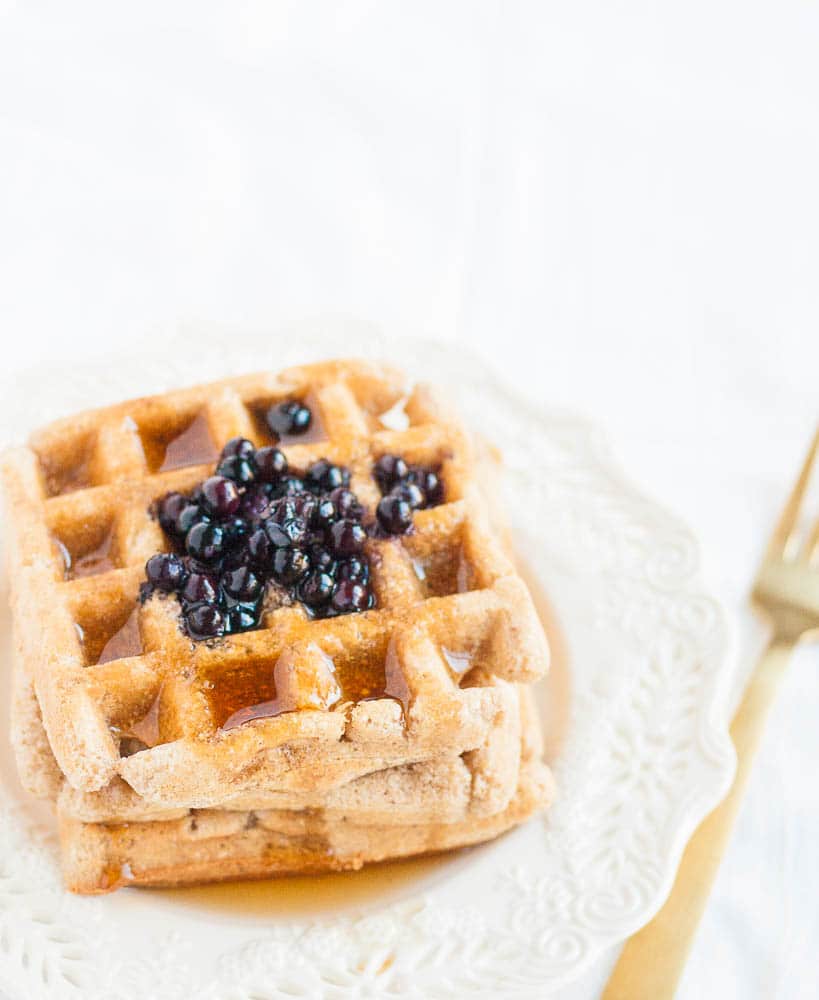 Waffles are a real thing at our house. Ever since my twins were little, waffles (or pancakes) have been their breakfast of choice. Which I guess I kind of pushed on them, because I found I could stick some really healthful ingredients in waffles and they would never know the difference! Here's one recipe we used for ages: Whole Grain Blender Waffles. Millet in a waffle? Yup.
Though my kids will occasionally have cereal (a somewhat healthy one), I never wanted that to be their daily breakfast. I don't understand how so many kids eat a sugary bowl of cereal and then go to school and wait until lunch time for real food, sometimes 5 hours from breakfast. Aren't they starving? How can they think straight? Definitely not brain food! I know it's what I ate almost every day growing up, and I was starving most of the day at school.
Here are some other healthful breakfast ideas for kids
Blender Banana Oat Pancakes (toddler loves these!)
Peanut butter banana toast on whole grain bread
Smoothies
Oatmeal and fruit
Non-dairy yogurt, fruit and granola
Healthy Muffins like these
I tend to make a lot of waffles at once and then freeze them for easy breakfasts for the kids. They like them with peanut butter and a little (not too much, that stuff is expensive!) pure maple syrup.
If you need to avoid gluten, make sure to use gluten free oats in this recipe. You can use almond flour or almond meal for these; almond flour will yield fluffier results.
You will love these waffles! They are
Oil-free
Crispy on the outside
Tender on the inside
Not too sweet
Super Easy
Kid-friendly
Full of nutrition
For the oat flour, just add some rolled oats to a blender and blend for 30 seconds or so until they become a flour. If you have a decent waffle iron, you shouldn't need any oil. I like this one : Belgian Waffle Maker.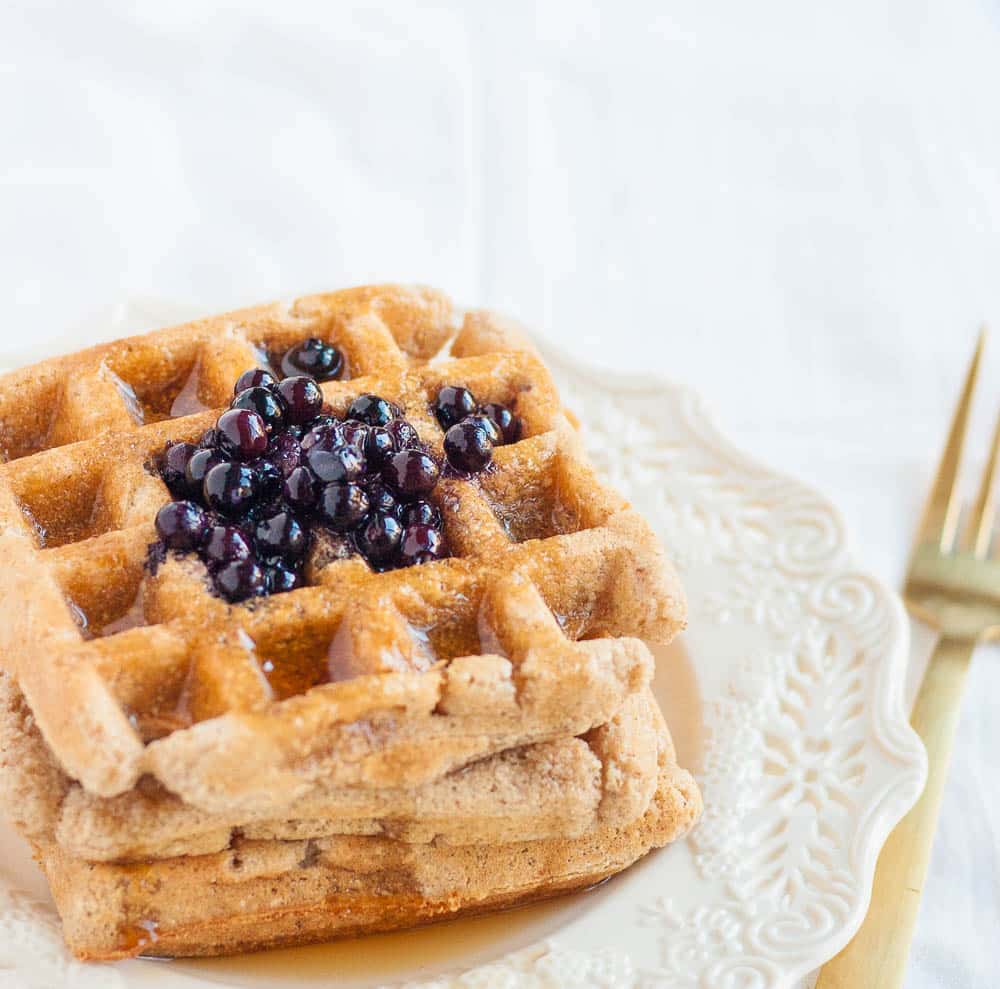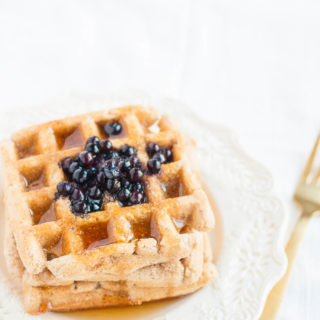 Gluten-free Plant Based Waffles
These gluten-free plant based waffles are oil-free, vegan and made with almond flour and oats!
PRINT
PIN
RATE
Instructions
In a large bowl, mix together all of the dry ingredients. Now add the almond milk and vanilla to the bowl and mix until just combined.

Heat waffle iron according to instructions. Once the waffle iron is ready, cook the waffles according to the manufacturer instructions. If you must, you can spray lightly with oil. I did not use any oil and mine popped out just fine with a fork.

Serve with blueberries, chopped apples, sliced banana and chopped walnuts or other toppings of your choosing. And a little pure maple syrup if you wish!

To freeze: Allow the waffles to cool completely. Place in a large freezer ziplock bag in stacks and freeze. When ready to serve, place waffle either in the toaster or oven until warmed through.
NUTRITION INFORMATION