This is The Best Vegan Mushroom Stroganoff! Made with tender mushrooms, a creamy gravy-like sauce, and noodles, this one-pot recipe is perfect for family dinners and can easily be made gluten free.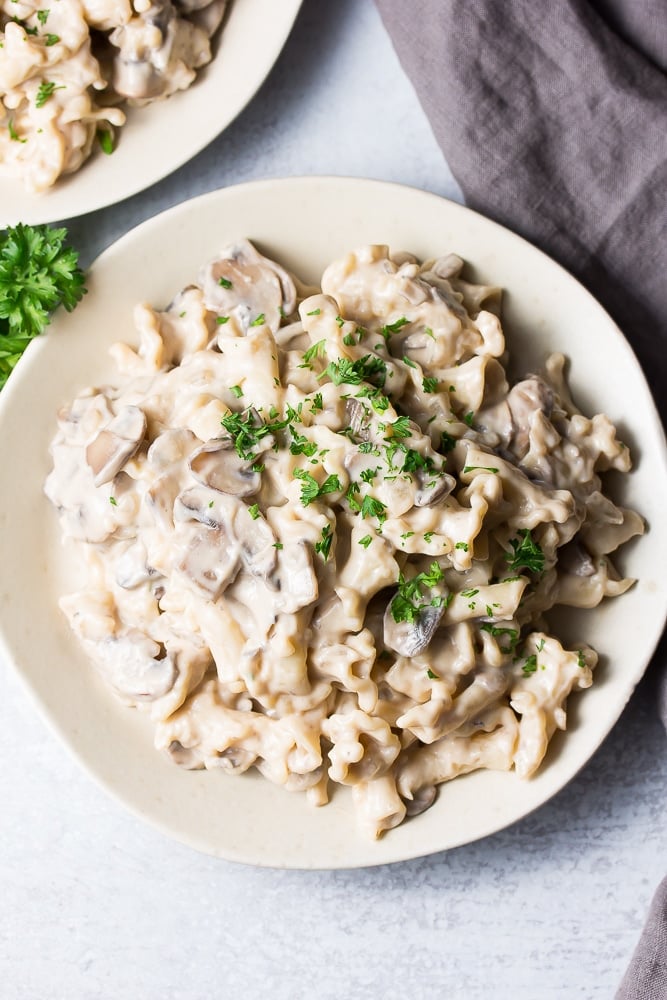 Looking for a warm and comforting family dinner that's ready in less than 30 minutes? This creamy mushroom stroganoff is the answer!
Just like my Vegan Alfredo, Baked Ziti, and Spaghetti and Vegan Meatballs, The Best Vegan Mushroom Stroganoff was easy to "veganize" using simple ingredients. Tender mushrooms are mixed together with a gravy and cashew cream sauce before your favorite cooked noodles are stirred into the mix. After one bite, you'll have to agree that vegan stroganoff is the ultimate comfort food!
Looking for a gluten free stroganoff? No problem! Simply swap the pasta noodles and the all purpose flour with your favorite alternatives. You can even freeze the sauce and heat it up for a quick, easy, and warming dinner to enjoy later on.
What is mushroom stroganoff?
Stroganoff is a Russian dish traditionally made with beef, noodles, and a sour cream (smetana) sauce. The popular vegetarian alternative swaps the beef for mushrooms and in this vegan version, a cashew cream sauce is used instead of dairy. It's hearty, comforting, and so delicious!
How to make creamy vegan mushroom stroganoff
Cook your pasta according to the package instructions, then drain it well and set it aside.
If you haven't already, quick soak the cashews by pouring boiling water over the nuts in a bowl. Let them soak for 5 minutes, then place them in a blender with fresh water and apple cider vinegar. Blend until smooth.
Add the onions and mushrooms to a large pot on the stove.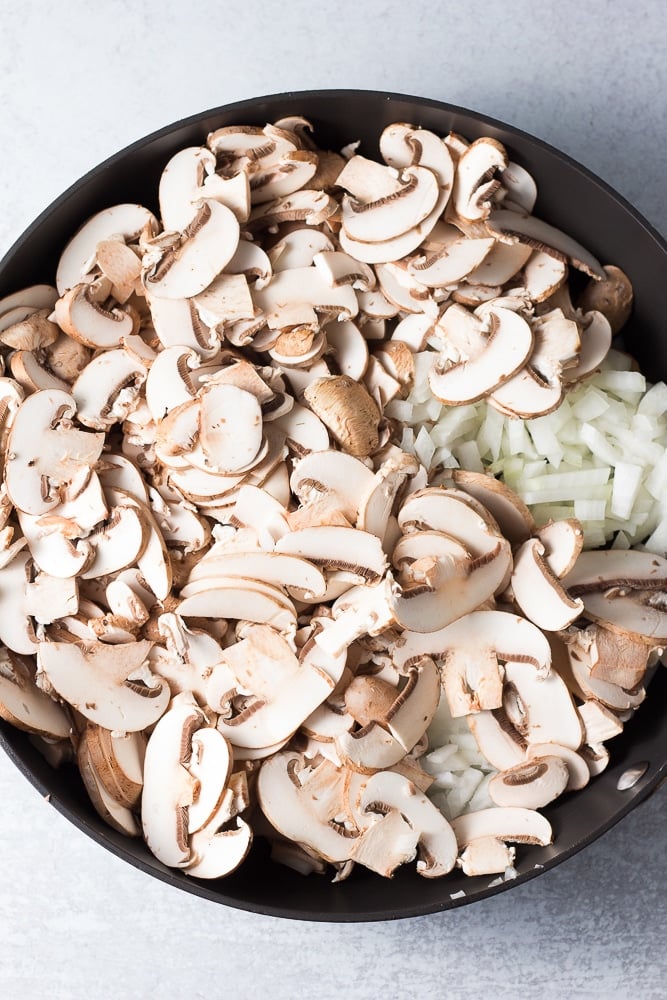 Cook them over medium-high heat until the mushrooms are tender. Stir in the garlic.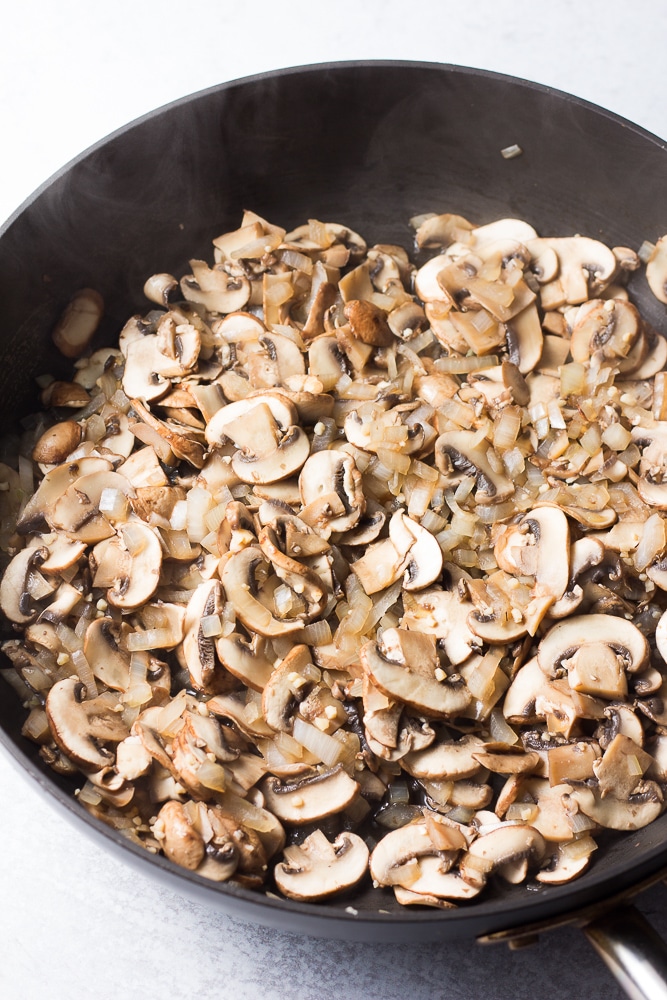 Sprinkle on the flour, then stir it in.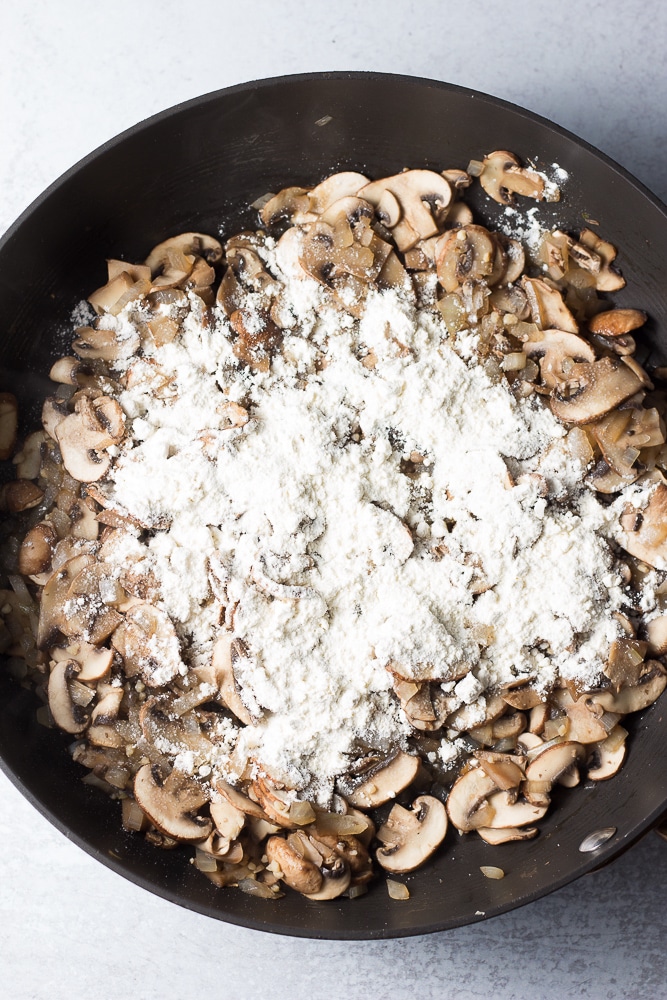 Slowly stir in the vegetable broth and dijon mustard next.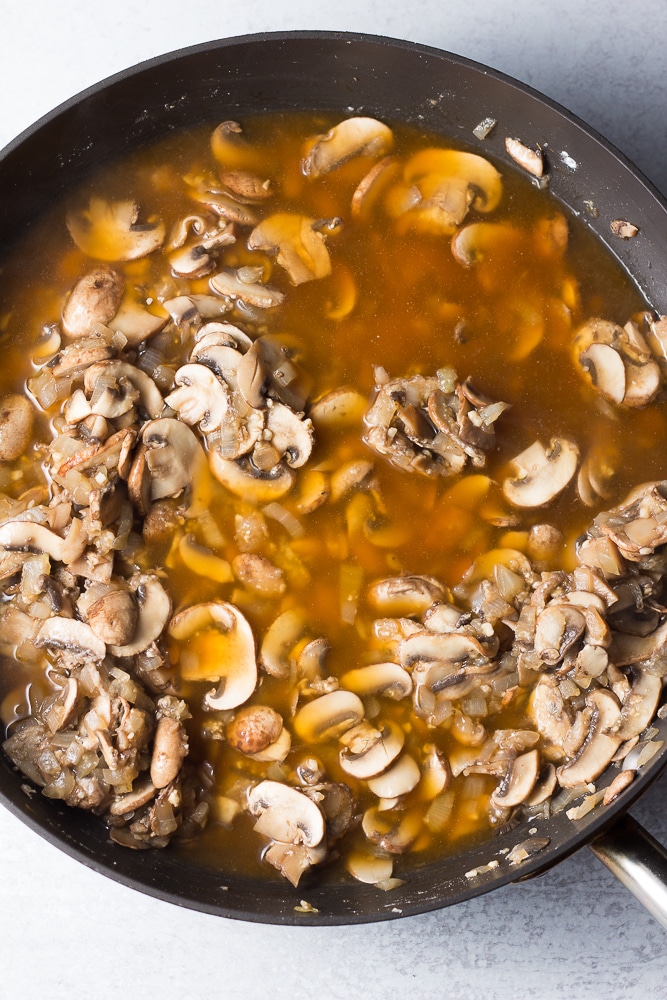 Bring the mixture up to a boil, then reduce the heat and let it simmer for a few minutes. Once it's thick, stir in the cashew cream.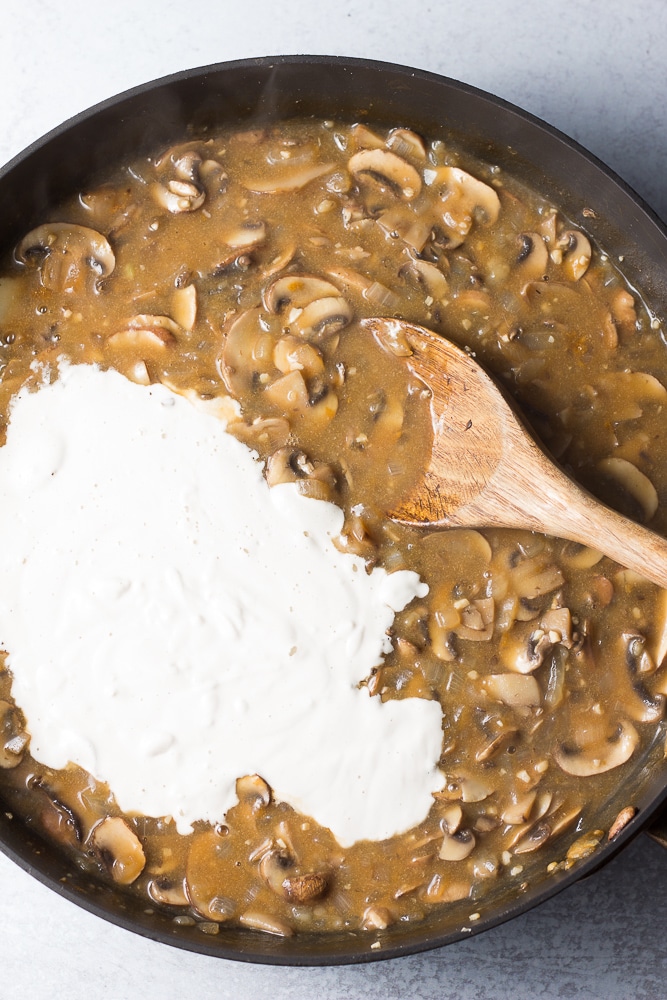 Finally, stir in the cooked pasta. Taste and add more seasonings as needed, then serve!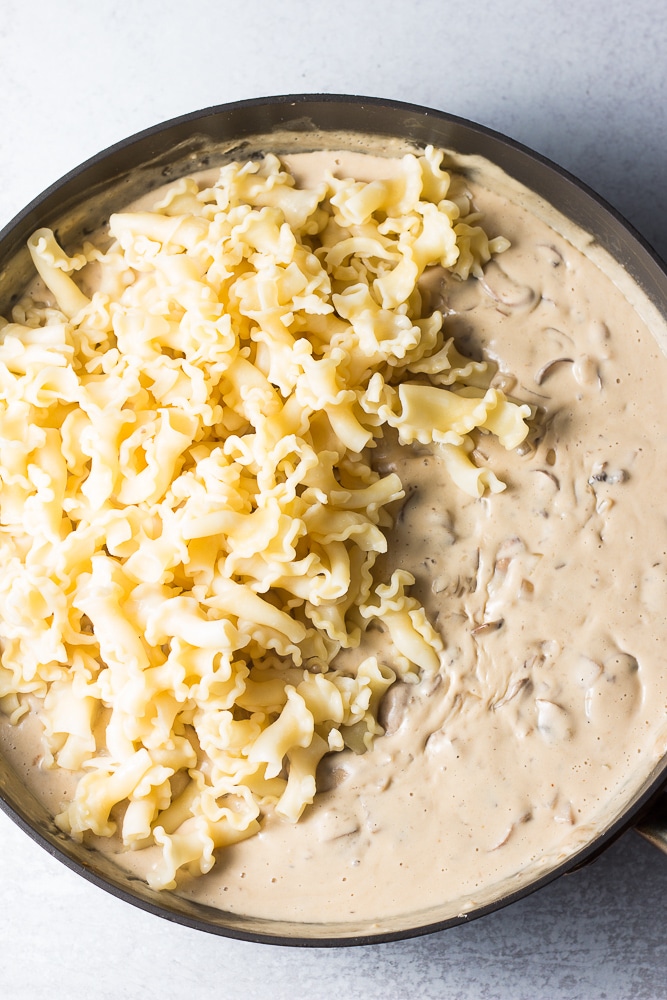 Frequently asked questions
How do you thicken mushroom stroganoff? The stroganoff gets plenty thick due to the flour and cashew cream.
Can I freeze it? The mushroom cream sauce can be frozen separately from the pasta. It can be frozen with the pasta, but when you reheat the pasta will be pretty mushy, so I would avoid that if possible.
Tips & Substitutions
Gluten free – Swap the pasta noodles with your favorite gluten free pasta and the all purpose flour with brown rice flour or a gluten free flour mix. You can also serve the sauce over rice, spaghetti squash, or "zoodles".
Nut free – Replace the cashews with store bought sour cream (like Tofutti) or full fat coconut milk.
Instead of cashews – Replace the cashew cream with store bought or homemade vegan sour cream.
Noodles – Instead of mixing pasta noodles into the sauce, serve your vegan mushroom stroganoff with mashed potatoes instead.
Make it creamier – Stir in a tablespoon or two of tahini to double down on the stroganoff's creaminess.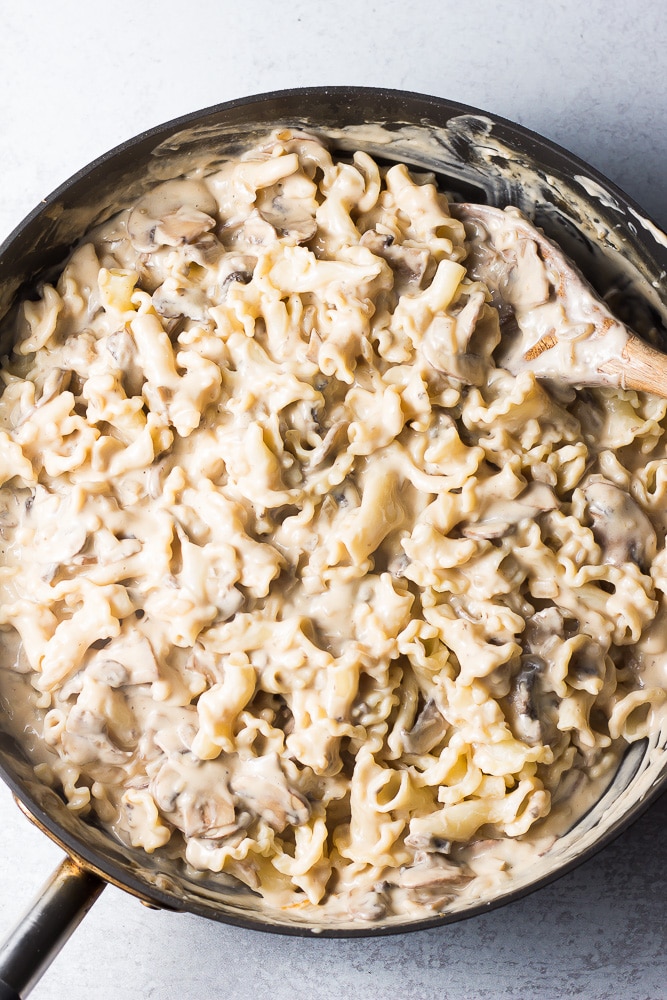 Serving suggestions
Stroganoff is a hearty dish, so I recommend serving it with fresh parsley or dill on top and lighter, vegetable-forward side dishes. My favorites are green salad, steamed kale, air fried asparagus, and steamed or roasted broccoli.
Storing and reheating leftovers
For the best results, serve this as soon as it comes off the stove. The leftovers will last for 2 or 3 days in the fridge. It will thicken as it sits, so feel free to stir a few tablespoons of water into the stroganoff before reheating.
To reheat, add the leftovers to a pot over medium heat on the stove or heat them for 1 or 2 minutes in the microwave.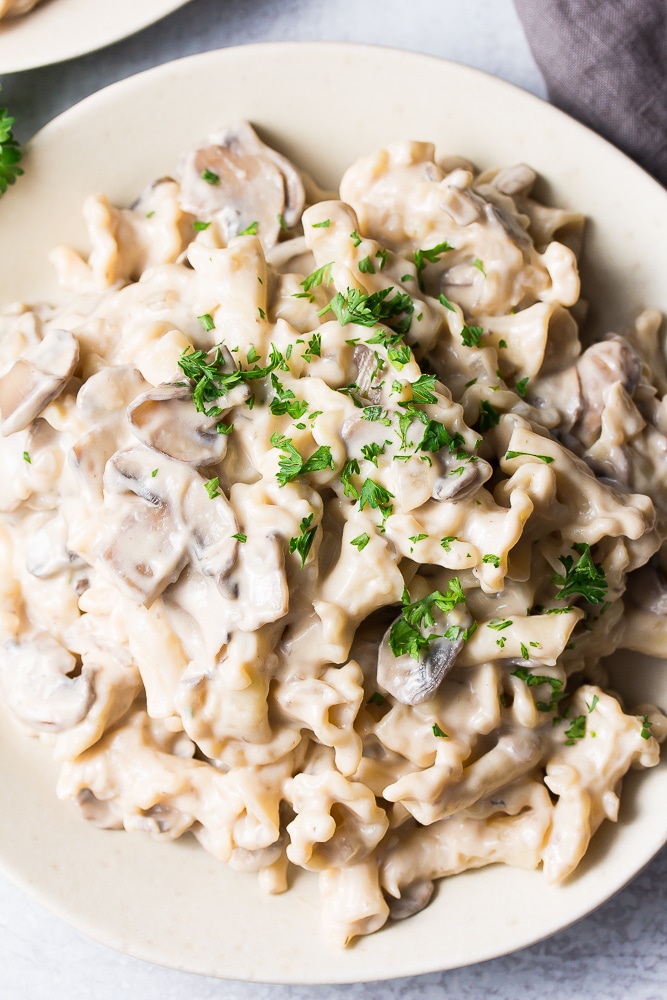 Want more comforting vegan dinners?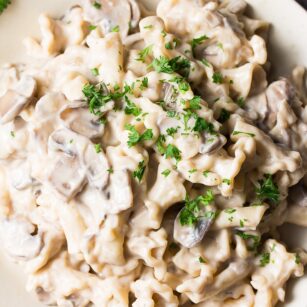 The Best Vegan Mushroom Stroganoff
This is the BEST Vegan Mushroom Stroganoff! Ultra creamy, comforting and made in 30 minutes or less!
Ingredients
10

ounces

pasta of choice

1

medium

onion, chopped

1

pound (16 ounces)

cremini mushrooms, thinly sliced

4

cloves

garlic, minced

3

tablespoons

all purpose flour

2

cups

vegetable broth

2

teaspoons

dijon mustard

salt, to taste
Instructions
Cook the pasta: In a large pot of boiling salted water, cook the pasta noodles according to package instructions. Drain well and set aside.

Make the Cashew Cream: Bring 3 cups of water to a boil. Pour the hot water over the cashews and let soak for 5 minutes. Drain the cashews and discard the soaking water. Add them to a blender along with the 3/4 cup fresh water and apple cider vinegar. Blend until very smooth. Set aside.

In a large pot or pan, add the onions and mushrooms and turn the heat to medium-high. Stir frequently until the mushrooms start to release their moisture, and then cook until the mushrooms are tender and have shrunk in size. You really don't need to add any oil here, but you could start with a tablespoon or two of olive oil if you want. The mushrooms release a ton of oil on their own. Season with a little salt + pepper.

Stir in the garlic and cook for 1 more minute, then sprinkle the flour on top and stir it into the vegetables. Gradually pour in the vegetable broth and dijon mustard, stirring. Bring to a boil, then lower the heat and simmer for 4-5 minutes until it thickens slightly.

Now add the cashew cream and stir it in. You should have a very creamy mushroom gravy at this point. Stir in the cooked pasta and cook until heated throughout, about 1-2 minutes. Taste, add salt as needed. Sprinkle with parsley, if desired, and serve immediately.
Notes
Gluten free: Use your favorite gluten free pasta and instead of all purpose flour, use brown rice flour or a gluten free flour mix.
May also serve mushroom stroganoff over rice, spaghetti squash or "zoodles". 
If you want to skip slicing mushrooms, buy pre-sliced mushrooms!
Cashew cream substitutions: You could use store bought vegan sour cream, such as Tofutti brand. Use the entire container for the recipe. Or you could substitute a can of full fat coconut milk.
Store leftover mushroom stroganoff in the refrigerator for 2-3 days. You may freeze the sauce separate from the pasta, but it doesn't freeze well once the pasta is added.
Serving suggestions: I like to serve mushroom stroganoff with a side of salad, steamed kale, steamed or roasted broccoli or any other vegetable you like.
Nutrition
Serving:
1
serving
|
Calories:
340
kcal
|
Carbohydrates:
50
g
|
Protein:
13
g
|
Fat:
11
g
|
Saturated Fat:
2
g
|
Polyunsaturated Fat:
2
g
|
Monounsaturated Fat:
5
g
|
Sodium:
250
mg
|
Potassium:
425
mg
|
Fiber:
4
g
|
Sugar:
6
g
|
Vitamin A:
190
IU
|
Vitamin C:
4
mg
|
Calcium:
20
mg
|
Iron:
4
mg
This recipe was originally posted September 2019 and has been updated with improved writing. The recipe is the same.