So smooth and sweet, this best-ever Edible Vegan Cookie Dough is delicious by the spoonful! Egg and dairy free, freezer friendly, and ready to eat in just 10 minutes.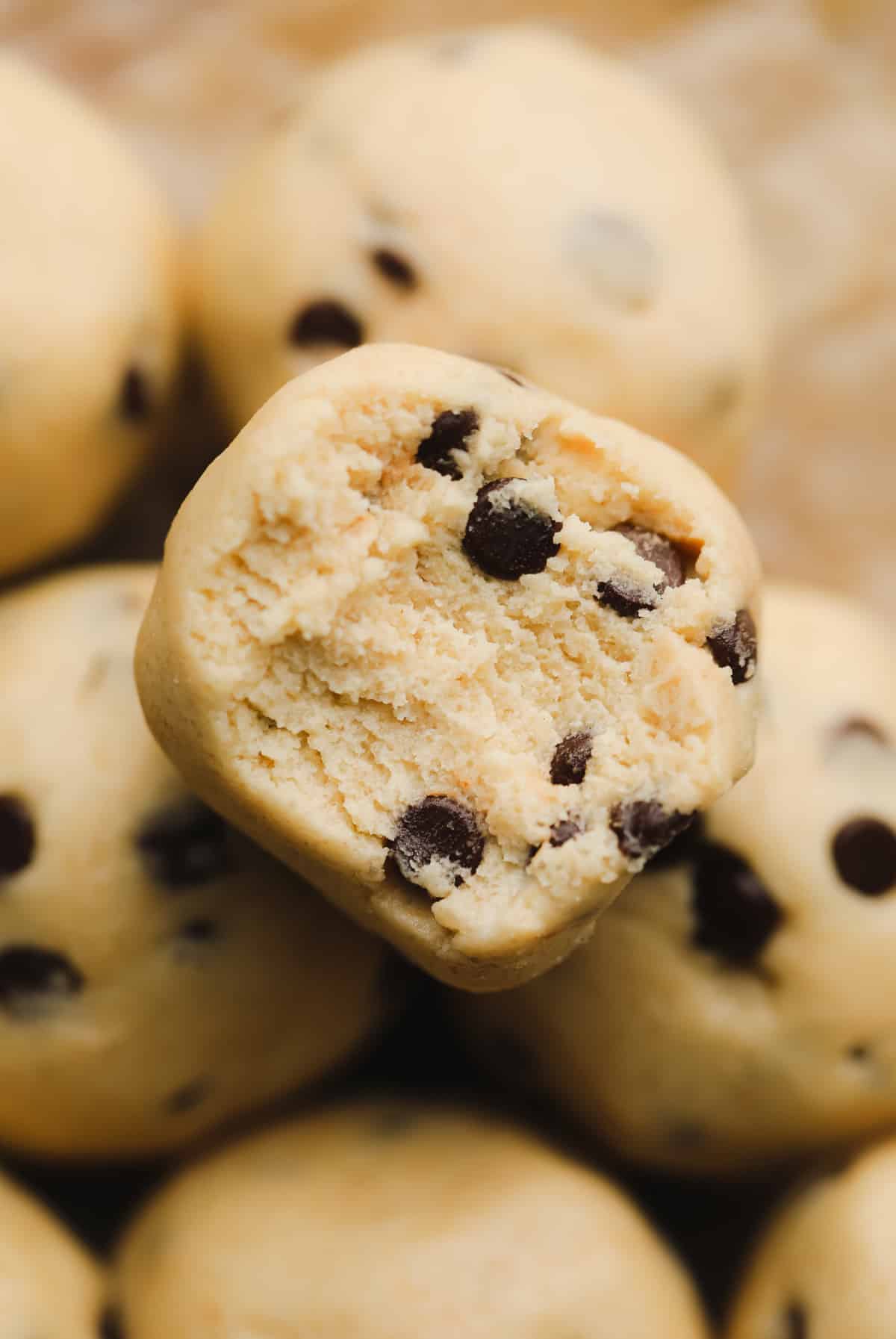 Looking for a quick vegan dessert without all of the extra work? Then you're going to love this Vegan Cookie Dough! Made in one bowl using a handful of simple ingredients, the finished edible plant based cookie dough is so sweet, decadent, and one of the easiest kid-friendly desserts around.
Want to bake cookies instead? Then go make my Perfect Vegan Chocolate Chip Cookies. You won't be sorry! If you love chocolate chip desserts, you'll love my Vegan Chocolate Chip Cookie Bars and Chocolate Chip Muffins.
Sweet chocolate chips, two kinds of sugar, and heat treated flour gives this safe-to-eat cookie dough irresistible qualities. It's so easy to fall in love with every spoonful, just like I did!
For another super-simple and FAST dessert, make this Chocolate Vegan Mug Cake, one of my most popular recipes!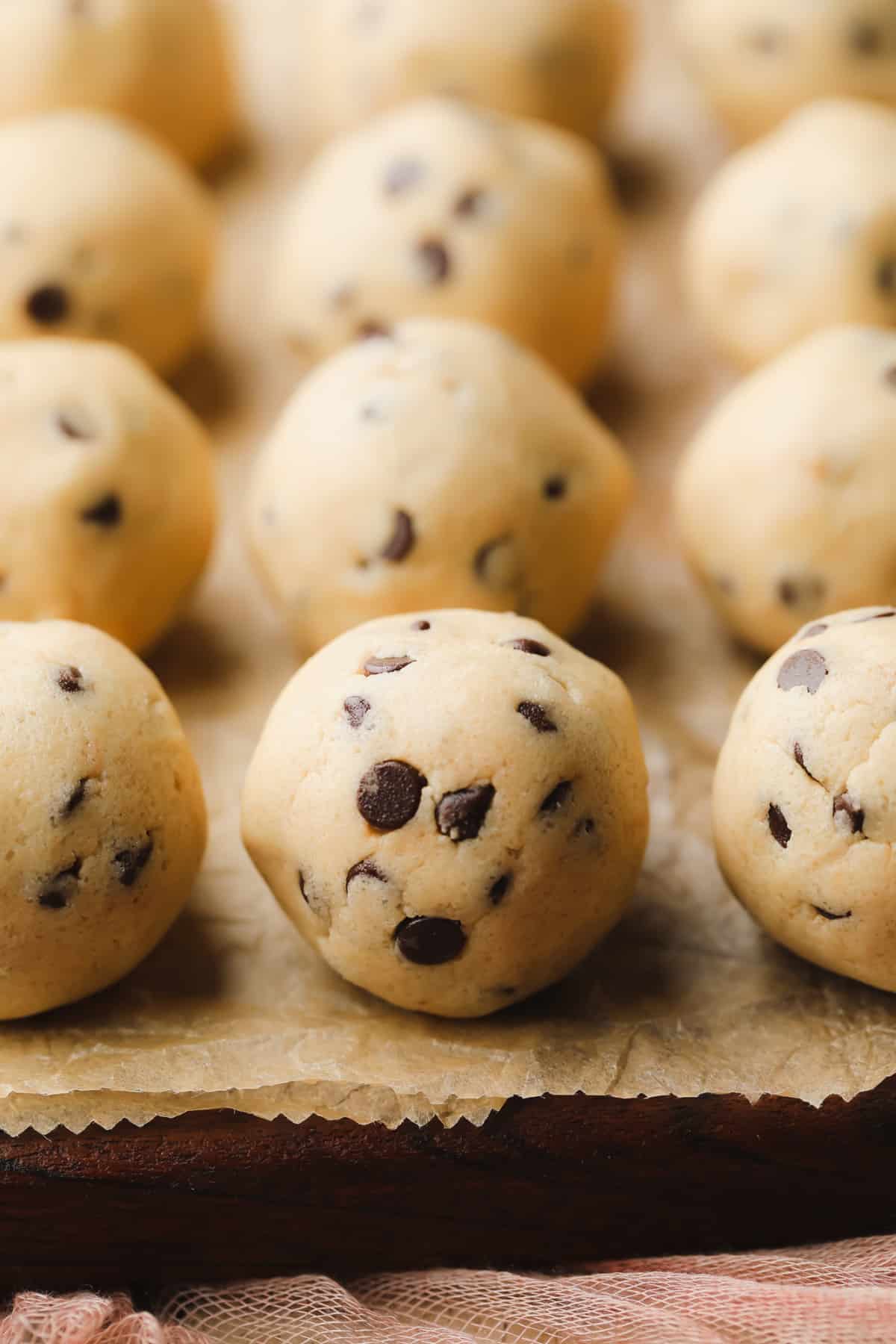 Edible cookie dough is bound to become your new favorite no bake dessert because it's:
Dairy free, egg free, and easy to make gluten free or even oil free.
Made with a handful of pantry-staple ingredients.
A one bowl, no bake recipe. You can even mix it by hand if you don't have a mixer!
Easier to make than Peanut Butter and Oatmeal Chocolate Chip Cookies.
So soft, sweet, and smooth!
Vegan chocolate chip cookie dough is best eaten right out of the bowl with a spoon but it can also be shaped into balls and refrigerated for quick sweet treats or frozen and added to ice cream! No matter how you serve it, you can't go wrong with this foolproof vegan dessert.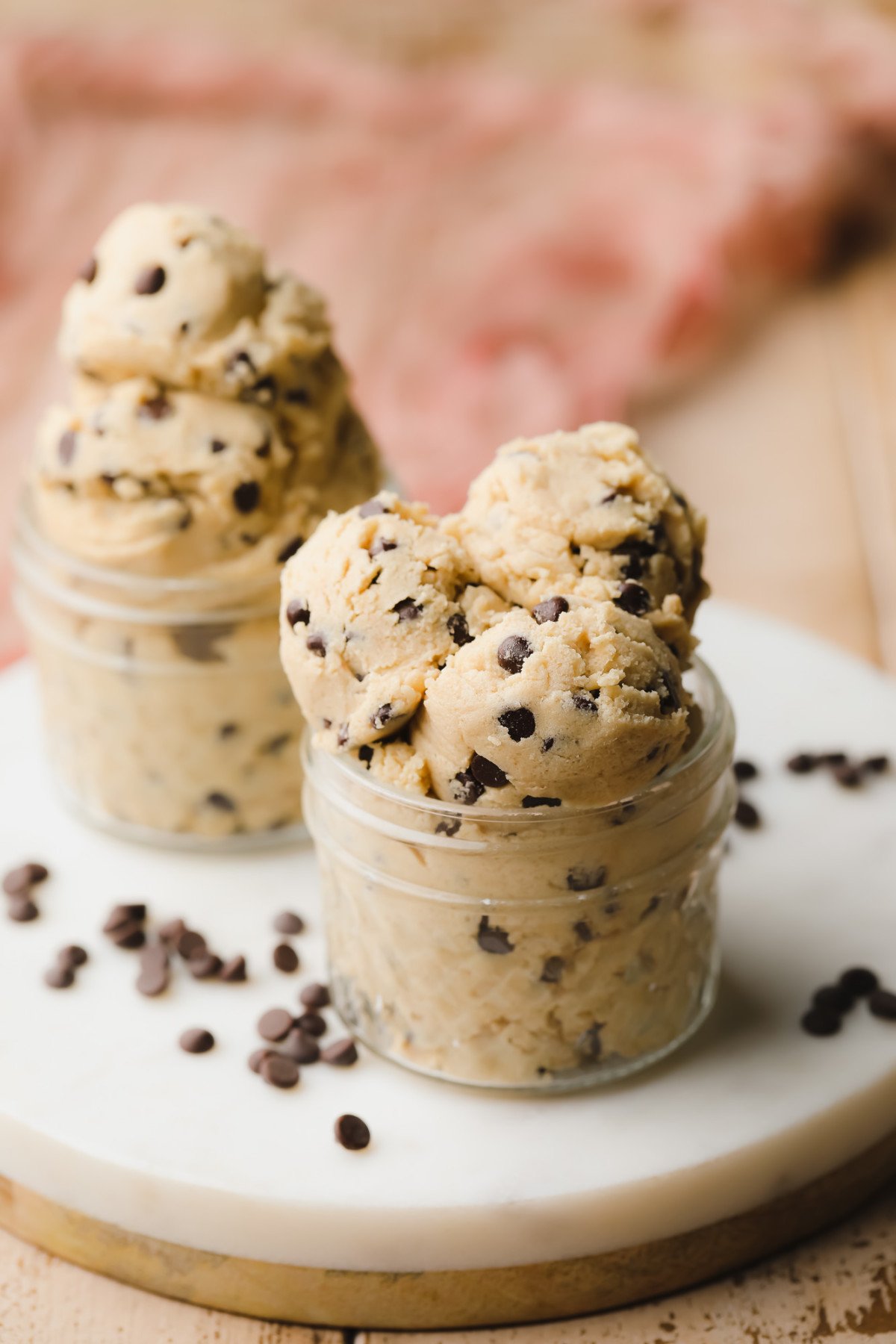 Ingredients needed (with substitutions)
All purpose flour – I used regular all purpose flour here, but you can use a gluten free mix or possibly even almond flour, since we aren't baking the cookies. Heat treating flour makes it safe to consume.
Vegan butter – Use one you like the taste of. My favorite is probably Miyoko's, but I also like Earth Balance and Country Crock. Softened coconut oil can also be used. For oil free, substitute half applesauce and half peanut butter.
Brown sugar – Light brown sugar is best for that authentic chocolate chip cookie taste. If you must, sub coconut sugar or even some monk fruit.
Granulated sugar – Again, you can sub coconut sugar or monk fruit if desired for both the white and brown sugars, but the flavor will be different.
Vanilla
Salt
Plant milk – Most often I use oat milk, but almond, cashew, coconut or soy milk all work.
Vegan chocolate chips – I like using mini vegan chocolate chips here (Enjoy Life brand). You can use regular sized chocolate chips or a chopped up chocolate bar if you prefer. Or switch it up with rainbow sprinkles
How to make vegan chocolate chip cookie dough
The process is so easy – heat treat the flour in the microwave or oven, mix everything together in a bowl and you're done! Find the complete recipe below in the recipe card.
How to heat flour for edible cookie dough
Raw flour isn't safe to eat on its own, so it must be heat treated before it's used in edible cookie dough. Either of these methods will kill any unwelcome germs and bacteria:
Microwave method: Place the flour in a microwave safe bowl and heat on high for about 1 minute. The internal temperature should read 166ºF when done (I use a food thermometer to check this).
Oven method: Bake the flour on a rimmed baking pan for 7 minutes at 350ºF until the internal temperature reads 166ºF.
Give the heat treated flour a good stir when it's done and set it aside to cool. Sometimes it gets a little chunky and stuck the the bowl, which is why it's important to stir it right after heating. If it's very clumpy, whisk it or even sift it into the wet ingredients.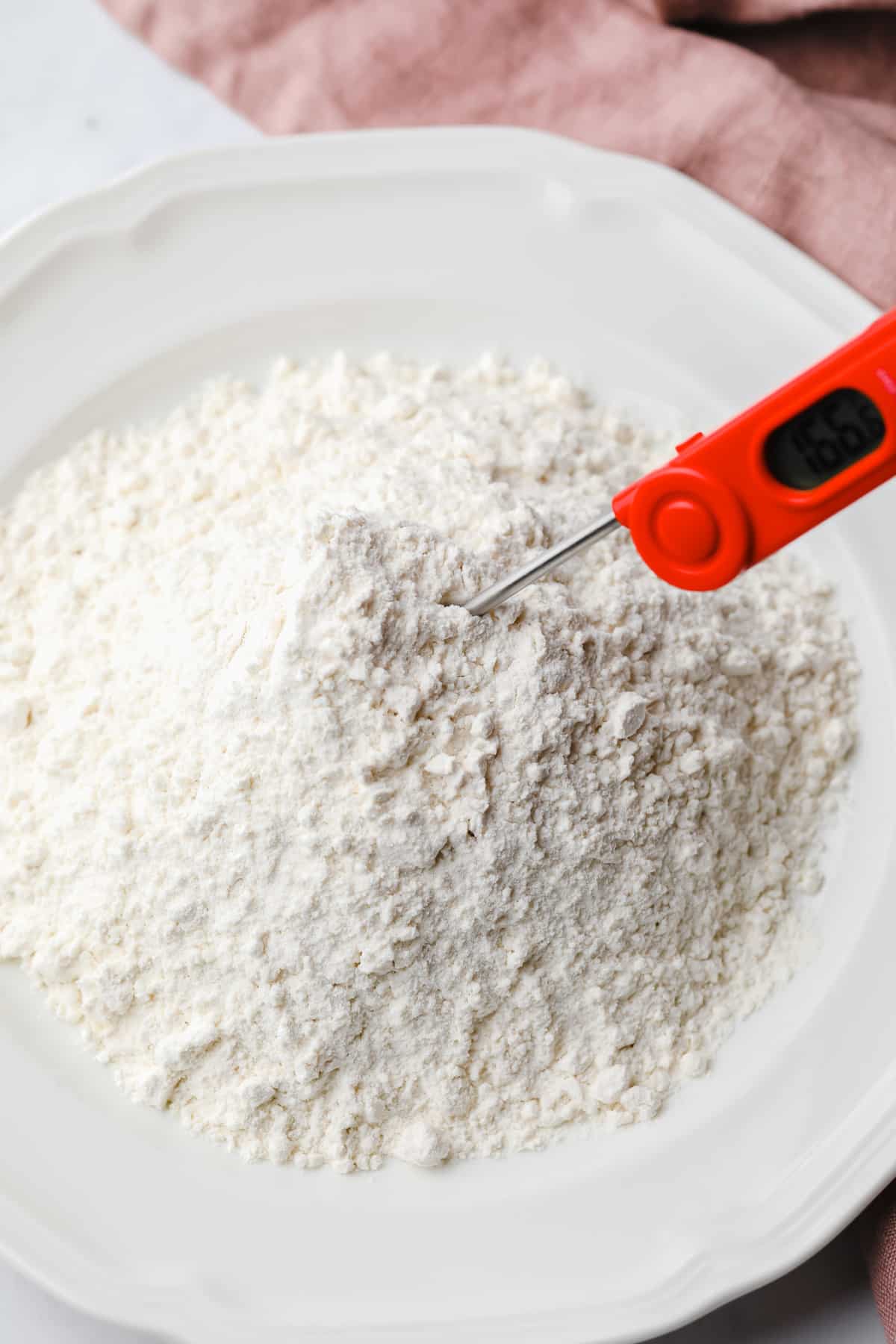 Start making the dough by mixing the vegan butter and sugars together using a stand or hand mixer (or simply use a large spoon). When it's fluffy and creamy, beat in the vanilla.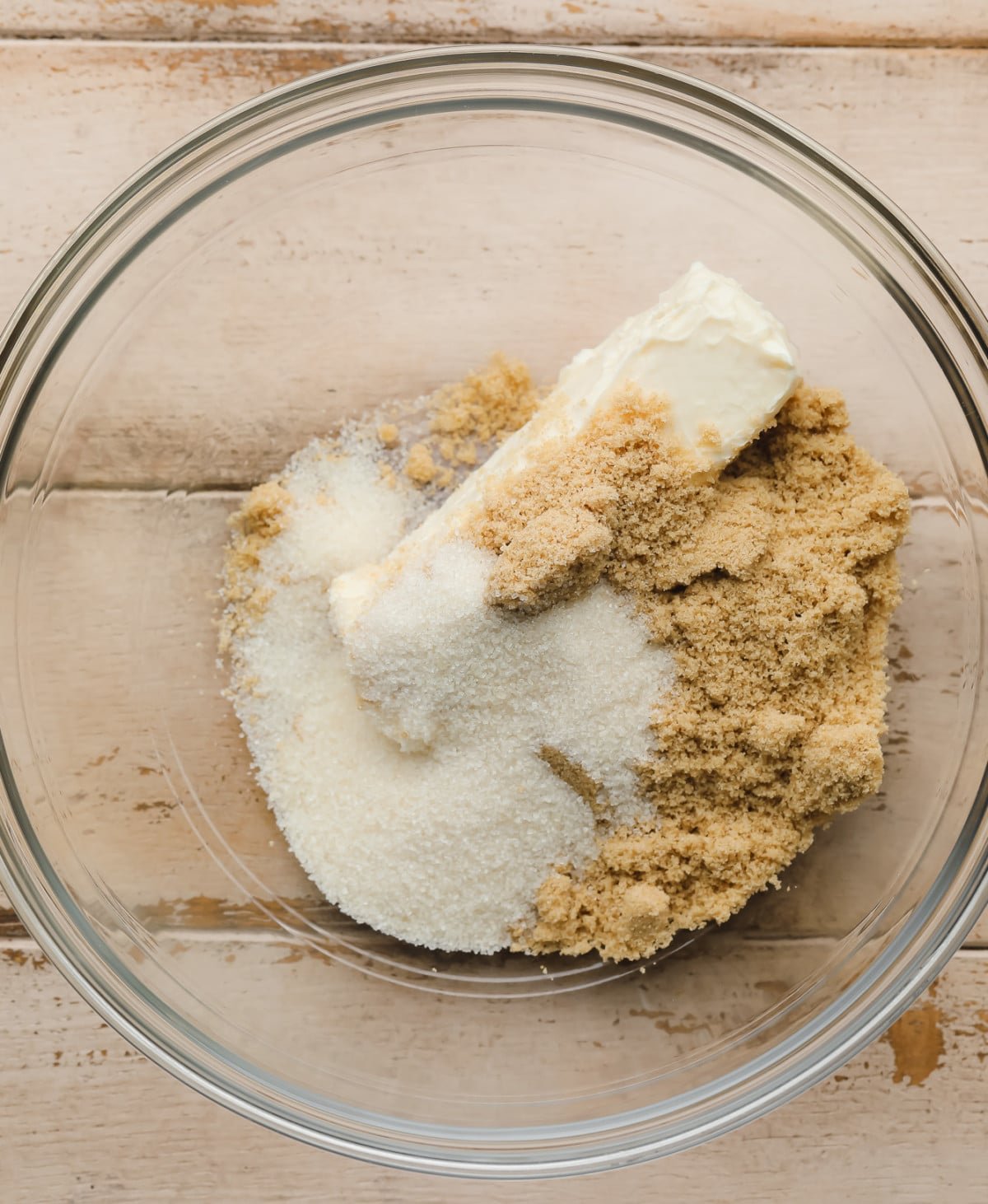 Mix in the flour and salt until everything is just combined.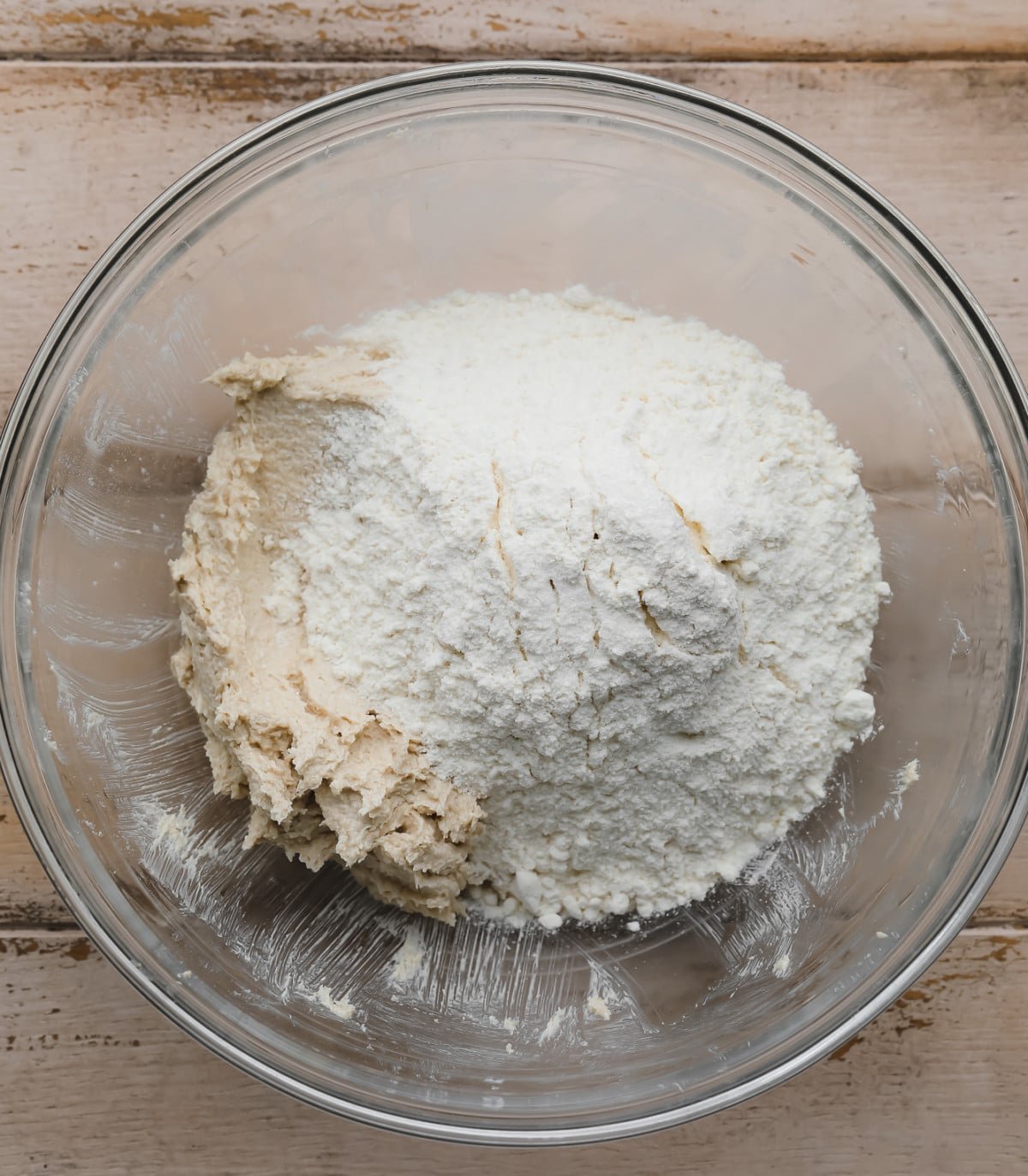 Fold in the chocolate chips or sprinkles and enjoy by the spoonful. There is nothing better than eating raw cookie dough, yum!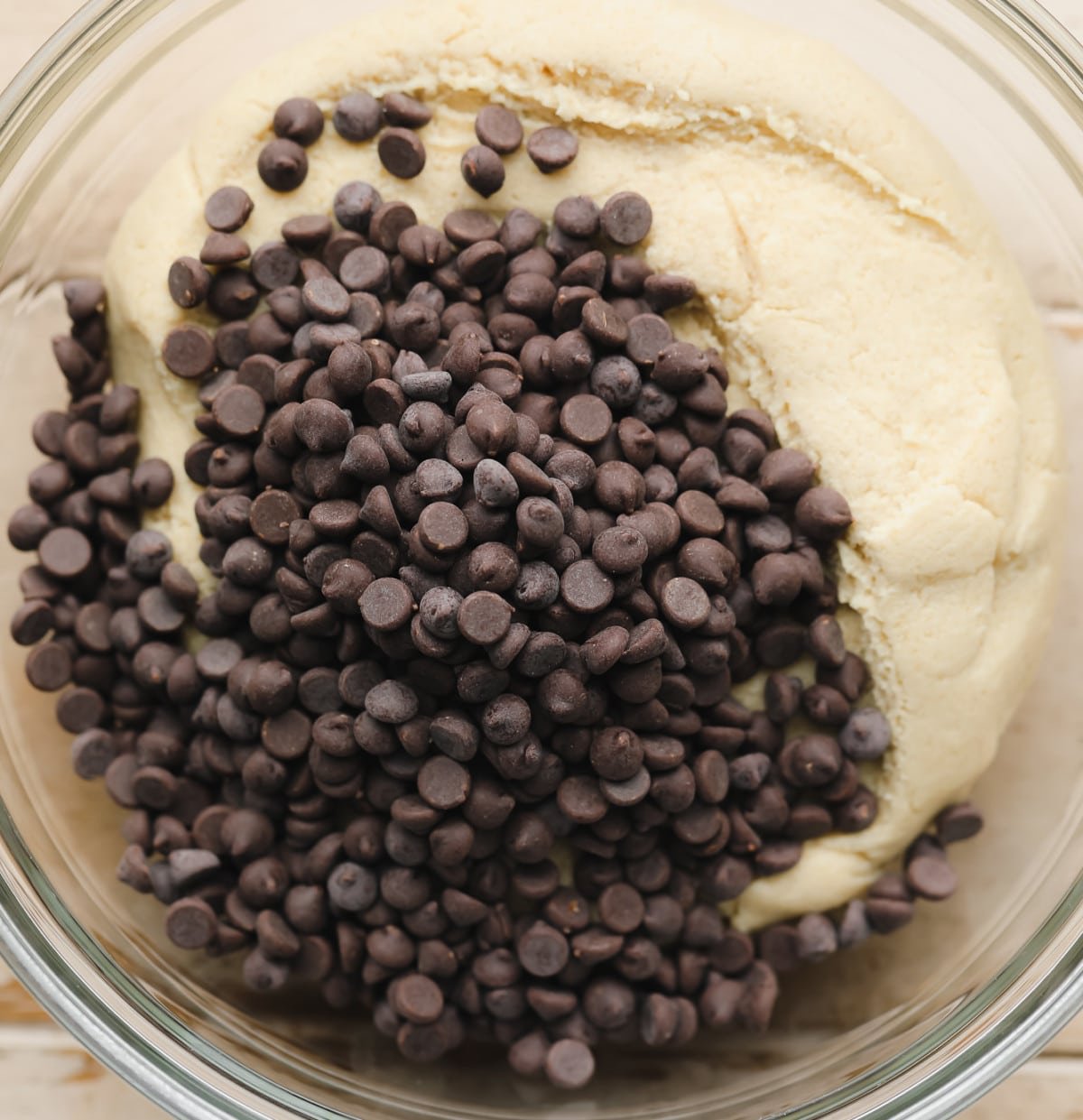 Serving suggestions
Add fun mix-ins – Leave the recipe as-is and fold in chocolate chips, sprinkles, peanut butter cups, chocolate chunks, leftover brownie pieces, vegan marshmallows, nuts, vegan white chocolate, and more to the finished cookie dough.
Ice cream – Roll pieces of cookie dough into small balls to freeze and use in vegan ice cream.
Snacking – You could also freeze it in little balls so when a craving strikes you can just grab a ball!
You could also up the protein by replacing 1/2 cup of the flour with vanilla protein powder (vegan friendly, of course). Or make this Protein Cookie Dough instead, which looks pretty good!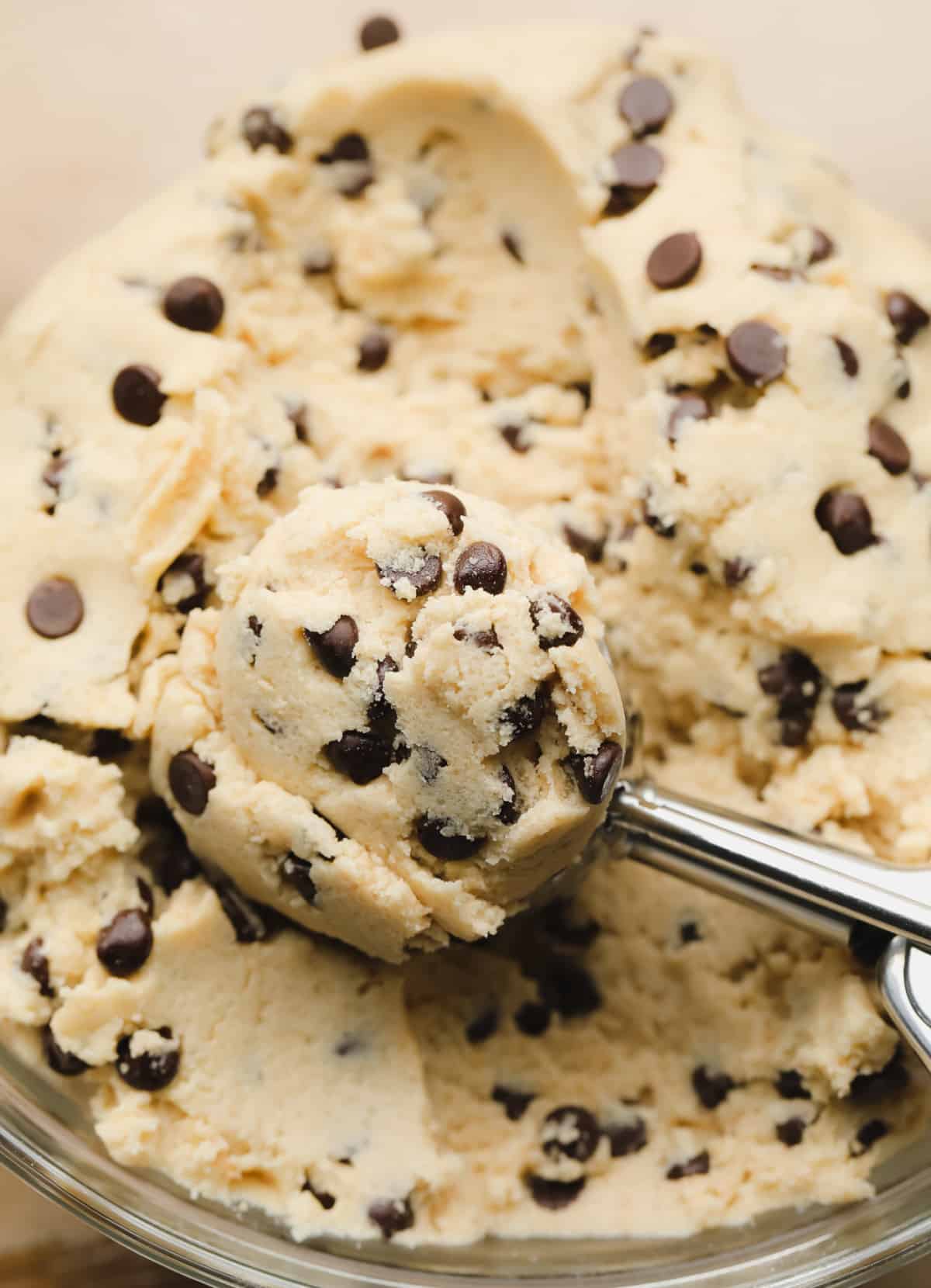 Frequently asked questions
Can vegans eat cookie dough? Of course! I'm not sure about you, but eating raw eggs and flour sounds a bit icky to me! Instead, this vegan cookie dough recipe is completely safe to eat for both vegans and non-vegans. It's made without raw eggs and the flour is heated beforehand so any unwelcome bacteria is removed.
What's the difference between edible cookie dough and regular cookie dough? Basically to make it vegan we are using vegan butter and plant based milk, since regular edible cookie dough doesn't contain eggs, but it does have dairy butter and milk.
Can I bake edible cookie dough? No. Edible cookie dough skips the key ingredients needed when baking regular vegan chocolate chip cookies. If you were to bake the dough, the cookies wouldn't rise or hold together.
Can it be made gluten free? Yes! Just use your favorite gluten free flour instead of the all purpose flour to enjoy vegan gluten free cookie dough.
Can I store leftover cookie dough? The dough will last in the fridge for up to 1 week or in the freezer for 2 months. It will get crumbly if left in a bowl in the fridge or freezer, so I like to roll the dough into little balls and store in a covered container. The balls are perfect for grabbing and eating, with much less mess.
How do I know if chocolate chips are vegan? There are several brands that just happen to be vegan friendly, so I suggest checking the ingredients list for things like milk fat and butter oil. I love Enjoy Life and Trader Joe's brand, among others.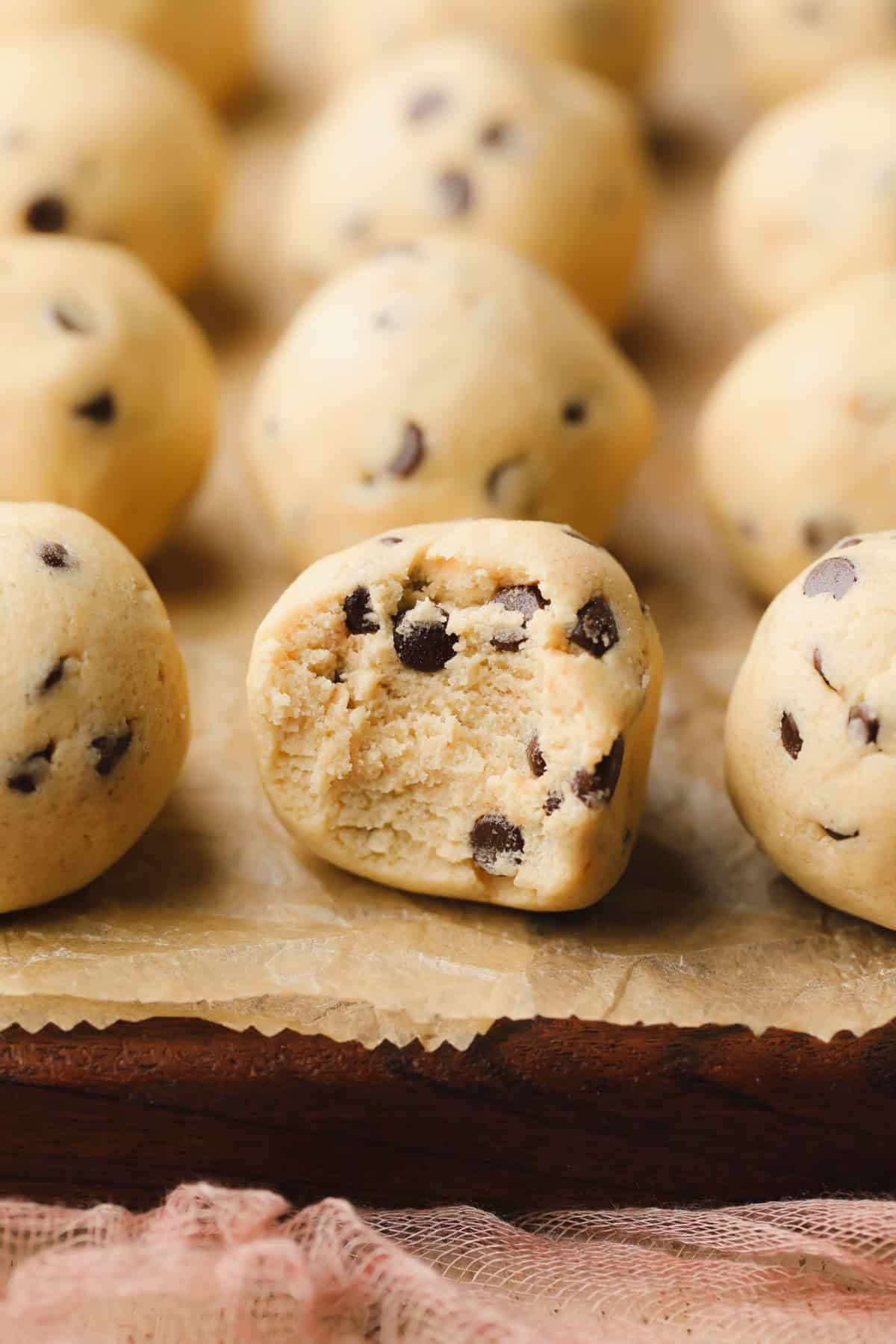 Looking for more no bake vegan desserts?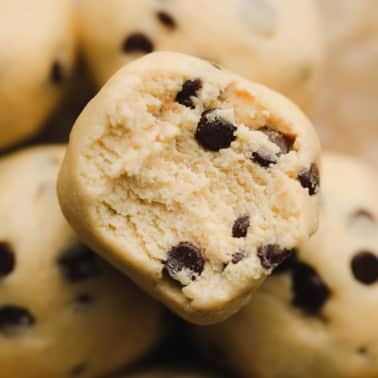 Best Edible Vegan Cookie Dough
So smooth and sweet, this best-ever Edible Vegan Cookie Dough is delicious by the spoonful! Egg and dairy free, freezer friendly, and ready to eat in just 10 minutes.
Ingredients
1

cup

all purpose flour

1/2

cup

vegan butter, softened

1/2

cup

brown sugar, packed

1/8

cup

granulated sugar

1/2

teaspoon

pure vanilla extract

1/4

teaspoon

salt

1-2

tablespoons

plant milk, if needed

1/2

cup

mini vegan chocolate chips

or sprinkles
Instructions
Heat treat the flour so it's safe to eat. Place the flour in a microwave safe plate or bowl and heat on high for about 1 minute, until the internal temperature reaches 166 degrees F. I use a food thermometer to check it. Give it a good stir or whisk if chunky and set aside to cool.

In the bowl of a stand mixer or a medium bowl using a hand mixer (or even using a large spoon), beat together the softened vegan butter, brown and white sugars. Scrape the sides as needed and beat for about a minute until fluffy and creamy.

Beat in the vanilla. Now add the flour and salt, and mix in until just combined. If the dough is dry, add in a tablespoon of plant milk at a time until the dough comes together. Don't add too much milk or the dough will be wet.

Fold in the mini chocolate chips or sprinkles. Enjoy immediately with a spoon or roll into balls and refrigerate in a covered container. Freeze for 2 months in a freezer safe bag or container. It will last for about 1 week in the refrigerator.
Notes
Bake the flour instead – Instead of microwaving the dough, you can bake it on a rimmed baking pan for 7 minutes at 350 degrees F, until the temperature reads 166 degrees.

Storage – I like to freeze or refrigerate balls of cookie dough for quick treats!
Oil free – For oil free, substitute the butter with 1/2 applesauce and 1/2 peanut butter.
Gluten free – For gluten free cookie dough, use a gluten free all purpose flour or almond flour.
Sugar free – For a sugar free option, substitute some monk fruit or you can use coconut sugar (which is still basically sugar).
Add ins – Consider adding in more ingredients, such as chopped nuts, mini vegan marshmallows, chopped dark chocolate, vegan white chocolate, sprinkles and more.
Nutrition
Serving:
1
of 16 servings
|
Calories:
261
kcal
|
Carbohydrates:
35
g
|
Protein:
2
g
|
Fat:
13
g
|
Saturated Fat:
5
g
|
Sodium:
171
mg
|
Potassium:
39
mg
|
Fiber:
1
g
|
Sugar:
22
g
|
Vitamin A:
539
IU
|
Calcium:
31
mg
|
Iron:
2
mg